Many exhibitors at GSX 2019 saw the show as a success, despite slower booth traffic on the second and third days. According to show sponsor ASIS International, there were more than 20,000 registrants from 125 countries around the world, including those who attended the conference as well as the exhibition.
Exhibitors definitely put their best feet forward, enthusiastically promoting their technology breakthroughs, but how convincing were they? The comments from at least one attendee – a large corporate end user who represents a key demographic for show organizers – bluntly suggest that healthy skepticism was on display side-by-side with the promotional energy in play.On this floor, there are some lies being given out. Ask the tough questions, make the exhibitors show you"
"On this floor, there are some lies being given out," said Rudy A. Wolter, CTO, Security and Investigative Services for Citigroup, a financial services corporation. He advised fellow attendees to "listen for them, ferret them out, ask the tough questions. Make [the exhibitors] show you."
"Don't be afraid to ask these men and women questions," added Wolter. "Don't be afraid to challenge them. If you don't challenge them, they're not getting any better which means we aren't getting any better. At the end of the day, they're the leaders; they're the ones making change; they're the ones touching systems; they're the ones helping integration."
Banking security with Verint
At Citigroup, Wolter oversees 1,300 bank branches in North America that use Verint systems, including 23,000 cameras tied into a single command center. Skepticism aside, Wolter also provided evidence that even tough customers can be brought around. Specifically, he is sold on Verint: "When you have a problem, this company listens," he told attendees at a Verint gathering on the show floor.
New at GSX 2019 is the Verint Video Investigator, which is software that empowers investigators to quickly find the data they need to identify security threats in near real-time.
In all, Verint serves in excess of 2,300 individual financial institutions, with tens of thousands of branches. Wolter was one of several end users willing to sing their praises publicly. Other GSX exhibitors were also proud to have their own real-world success stories.
Placing the emphasis on outcomes
At GSX, I heard more than once that outcomes are more important than technologies. Customers don't want to hear about technologies, but rather about what those technologies can do for them.
Avigilon, now a subsidiary of Motorola Solutions, is another company that is focused on outcomes rather than technology per se. "Instead of focusing on megapixels and terabytes, the end user is focused on perimeter security, loss prevention and risk management," says John Kedzierski, Sr. VP of Video Solutions at Motorola Solutions. "We are working to provide that outcome."
The end user is focused on perimeter security, loss prevention and risk management" How operators work to ensure outcomes is another aspect that is changing, says Kedzierski. "Watching video is obsolete," he says. Using Avigilon's new system, the operator instead is looking at color-coded hexagons; one color means motion, another means an analytic event. Operators click on various hexagons to view video.
Also at GSX 2019, Avigilon featured its new H5A camera line, with expanded object classification analytics, detailed object detection, and tracking in crowded scenes; and focused on the Avigilon Blue cloud system. They are working to make every camera capable of detecting faces, which can be matched to a watch list.
How technology addresses marketplace changes
Addressing the changing marketplace was another GSX theme. As the workplace changes, ASSA ABLOY Americas is adapting its technology to address new employment practices such as "hot-desking," and remote and mobile workers, says Peter Boriskin, Chief Technology Officer. Systems have to be able both to protect assets and also to provide flexibility to accommodate the changing workforce, he said.
Corporate acquisitions are directly expanding the capabilities that ASSA ABLOY brings to the market. For example, they recently acquired Luxer One, a locker company that enables secure delivery of packages without customers needing to stand in line or wait for service. Deliveries can be made in seconds.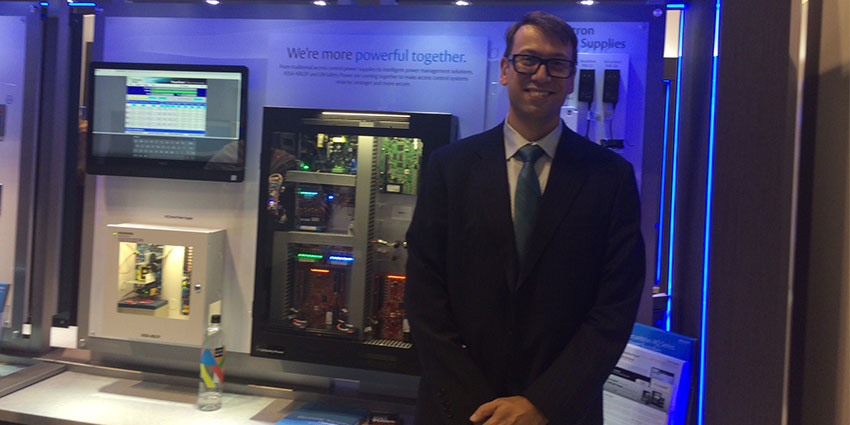 Peter Boriskin of ASSA ABLOY Americas led a booth tour, including new power capabilities gained in the acquisition of LifeSafety Power
Another recent ASSA ABLOY acquisition is LifeSafety Power, which is expanding the company's capability to provide proactive data on wired systems by tracking power usage. For example, a spike in current might mean a problem with a component. Compiling "intelligent triggers" enables creation of a dashboard to provide analytics of wired systems.
ASSA ABLOY has also been devising predictive analytics of wireless locks to predict battery life, for instance, and to address other maintenance challenges. "We want to know what's going on at a door without visiting it," says Boriskin.
New exhibitors make their mark
New exhibitors were part of the GSX mix. One new exhibitor was Vaion. It's their first trade show after launching at IFSEC in London in June. Vaion combines a small camera portfolio with on-premise servers and software managed through the cloud for an end-to-end solution. Tormod Ree, co-founder and CEO, calls it a "hybrid cloud delivery model".
Vaion is also a "more proactive security model," said Ree. Video is analyzed for anomalies, and the server "learns" what is normal and not normal. The system provides alerts and notifications, occupancy counting and traffic control, among other features. And "overlays" are employed to present information on a map. Vaion can highlight video that is more likely to be relevant and prioritize feeds that have more activity.
Vaion designs the hardware, which is manufactured in Taiwan.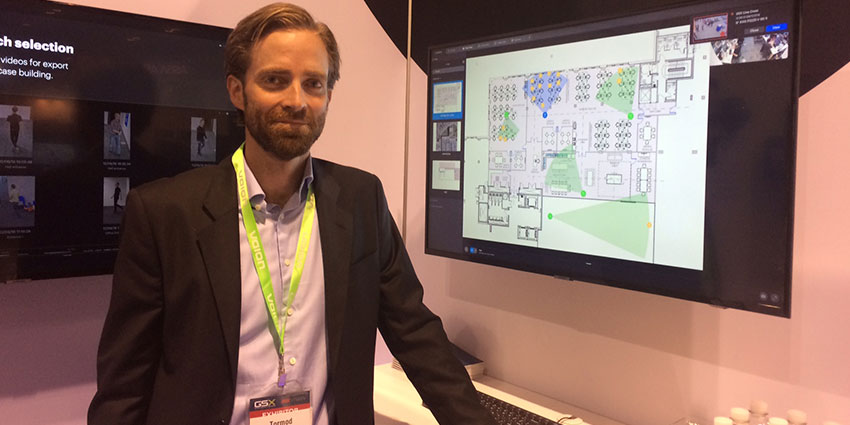 Vaion was a first-time exhibitor at GSX 2019 with their end-to-end video system; Tomod Ree is co-founder and CEO
Gunshot detection technology
EAGL Technology displayed their "Firefly" gunshot detection technology at GSX 2019. Based on technology originally developed for use in the military for sniper detection, the U.S. Department of Energy adapted it to civilian uses after the Sandy Hook School shooting.
Boaz Raz, CEO, said the technology is the "most advanced and affordable, wireless for use indoors or outdoors, and it can control doors and cameras". It doesn't "listen" for gunshots like some competitors; rather it measures energy for "6 sigma" accuracy (almost 100%).
Defining, and redefining, end-to-end solutions
End-to-end solutions were all the rage at GSX 2019, but Allied Universal was one exhibitor that pondered what, exactly, is an end-to-end solution? It means different things to different people. For example, a video company's end-to-end solution would not include access control.
When Allied Universal claims to offer an end-to-end solution, they mean it in the broadest definition of the term, including all security systems deployed for a customer as well as the important human element (i.e., manguarding). "The industry's emphasis on 'end-to-end' doesn't encompass a full solution," says Mike Mullison, Allied Universal's Chief Information Officer. "When somebody uses the term end-to-end, you have to ask: What's at both ends?" The lines between cyber and physical threats are blurring. Clients want full-service solutions"
"The lines between cyber and physical threats are blurring," adds Mullison. "Clients want full-service solutions."
Allied Universal is adding new technology elements to its offering, and Mullison says "the next phase of growth will be fueled by technology."
Allied Universal recently introduced the Heliaus product, a smart phone app that accesses an analytics engine to predict outcomes and prescribe optimum responses. It literally puts technology in a security guard's hand. One customer has found that use of the technology resulted in a 20% reduction in safety and security incidents.
The latest in access control among exhibitors
In addition to video, access control had a big profile at GSX 2019, as evidenced by ASSA ABLOY America and many other companies. Another example is SALTO Systems, featuring its new NEO cylinder for wireless access control and the SALTO Virtual Network (SVN); the SVN-Flex extends and increases the number of updating points directly to the door.
The SVN-Flex extends and increases the number of updating points directly to the door The compact SALTO NEO Cylinder is designed for doors where fitting an electronic escutcheon is not possible or required and can be installed on standard doors, server racks, gates, cabinets, electric switches, or sliding doors. Low energy consumption results in 110,000 cycles with just one set of batteries.
Other SALTO products are SALTO KS (Keys as a Service); SALTO BLUEnet Wireless for Bluetooth RF-driven real-time control of doors; the XS4 One Deadlatch stand-alone electronic lock; and JustIN Mobile, which replaces the need for an access card by securely sending a mobile key Over the Air (OTA) to an iOS or Android device from SALTO's ProAccess SPACE management software.
The next step in integration
A new company reflecting the GSX emphasis on integration is Security and Safety Things (SAST), which is still in launch mode but expects to have its first pilot customers in the Q4. The first camera vendors embracing the SAST platform will have cameras for sale at ISC West in the spring. SAST is creating an Internet of Things (IoT) platform for the next generation of security cameras. The SAST App Store will allow developers to build and market new applications, similar to today's app stores for smartphones.SAST is creating an IoT platform for the next generation of security cameras
"SAST is a technology platform, but it is also a business platform and a relationship platform," said Emmanuel Ventadour, VP Sales and Marketing. For app developers, SAST also provides non-technical commercial services (i.e., easing their route to market.)
Hartmut Schaper, CEO, emphasizes the "openness" of the company. Even though they are a spinoff of Bosch, they are treating every camera manufacturer equally, he says.
For integrators, the use of apps can expand their field of play. Apps will empower integrators to use video for more business processes – not just security – and expand their reach with customers, says Schaper.
From skepticism to sales
There were plenty of product claims at GSX to feed the skepticism of even the toughest of potential customers. Fortunately, product claims were only the beginning of conversations with attendees at this year's show. No doubt manufacturers were put through their paces more than once, and a few of them even came out on the other side with potential new business to show for their efforts. That's the true measure of success at GSX 2019, or any trade show.
Click here to read our reviews from Day One and Day Two of the show.
Download PDF version
Download PDF version