SALTO Systems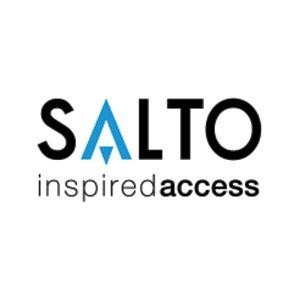 1780 Corporate Dr., Suite 400, Norcross, Atlanta, Georgia, 30093, United States of America (USA)
(770) 452-6091
SALTO Systems Overview:
From its inception in 2001, SALTO was created with one objective: to devise a world-class access control system that was simple to use and extremely efficient, giving users the ability to control all their access needs and secure all their doors without complex and expensive wiring. Such a solution had to be simple to install and set up, cost-effective, reliable, complete and future-proof. What resulted was our pioneering SVN platform -- the first stand-alone, battery-powered electronic locks for access control.
Since that ground-breaking start, the small group of enthusiastic and highly experienced professionals who founded SALTO has gone on to introduce a series of other innovations that have had a major impact on electronic security. With its online and real-time technology, our market-leading XS4 platform enhances the usability of virtually every building environment by securing nearly every door and enabling the monitoring and control of every user. SALTO hardware and software can be networked without wires to provide real-time intelligence and instant control, while enabling integration with existing systems to improve manageability and enhance end-user experience.
Having revolutionized access control around the world in sectors where security is critical -- from airports and healthcare to government education and hotels -- we continue to deliver the most advanced and flexible electronic locking solutions on the market.
Company Certifications
ISO 9001:2008
Products
SVN (virtual network)
Wireless system
Electronic locks
Panic bar solutions
Electronic cylinders
Mortice locks
Wall readers
i-lockers
Energy management devices
Control units
Software
Monitored linear power supply units
Control units
Software
Monitored linear power supply units
Identification media
Access control management tools
Industries
Education
Corporate
Government
Airports
Healthcare
Hotels
SALTO Systems news
SALTO's XS4 One Deadlatch Brings Electronic Access Control To Commercial Aluminum-Framed Glass Doors
The SALTO XS4 One Deadlatch (DL) is a revolutionary stand-alone electronic lock thanks largely to the level of technology packed inside that brings together the convenience of a smart stand-alone access point - easy to retrofit, install, and no wires - with virtually the same power and performance of an online traditional access control point. This innovation brings electronic access control and convenience to a number of retail and commercial operations that commonly use aluminum-framed glass doors that previously had limited options for electronic locks. The XS4 One DL electronic lock combines proven robustness, the latest technologies, and elegant design, making it suitable for a wide range of applications. With its intelligent product design, the XS4 One DL offers more functionalities in less space. Access control readers Furthermore, SALTO remains true to using only high-quality materials and as few components as possible, which results in durability and longevity of the products. Thanks to its robust construction, the electronic escutcheon is therefore suitable not only for standard doors but also for access points with high intensity use. The SALTO XS4 One DL is part of the proven XS4 platform adding a new design with a totally new built-in reader. With the reader available in both black and white, the XS4 One DL has a narrow profile It includes the latest electronic components - RFID (MIFARE DESFire and HID iCLASS Seos) and BLE - Bluetooth Low Energy NFC - Near Field Communication - which ensures current and future compatibility. With the reader available in both black and white, the XS4 One DL has a narrow profile and is designed to fit most aluminum-framed doors. Smart keys technology Using smart keys and mobile technology with the SALTO XS4 One DL electronic lock allows users to manage access rights - quickly and keylessly - which is more secure than using mechanical keys. There is also additional value in the flexibility, convenience, and operational efficiency provided by the XS4 One DL wireless technology. Because the SALTO XS4 One DL is compatible with SALTO SVN, SALTO BLUEnet Wireless, and the SALTO KS - Keys as a Service - cloud-based technology, it can be switched to any of SALTO's technology platforms at any time without changing the hardware. This allows businesses to decide which technology fits better with their security, operations, and IT needs. Access management platform The SALTO XS4 One DL has more functionality and performance capability than any other smart electronic door locks on the market, allowing businesses to connect to their on-premises network via advanced SVN-based technology SALTO Space data-on-card platform or the cloud with the SALTO KS cloud-based access management platform. SALTO delivers profit-driven keyless smart access for retail. Say goodbye to mechanical keys and the cost of replacing them and the worry associated with lost keys Businesses can connect a SALTO XS4 One DL front door lock with management and security software (BMS) and third-party systems to automate tasks and connect alerts. Save time and money with quick installation on almost any type of door and access point. Achieve faster onboarding for new staff members by sending keys even before their first day. Say goodbye to mechanical keys and the cost of replacing them and the worry associated with lost keys. Operating platform system Control who goes where - and when - for any or all retail locations. And when expanding to new properties, affordably scale and establish access management across a number of properties. Grant specific access for one's staff, suppliers, or delivery services Monitor real-time access and entrances without disturbing the store's customer flow XS4 One DL features and characteristics: Compatible with market standard deadlatches Simple installation is possible on any type of door, including those with narrow, medium, or wide-stile frames Body and escutcheon made of steel The lock can always be opened from the inside (single action panic feature works in conjunction with the relevant mortise lock) Reversible latch guard comes with all models Version for use with a paddle (paddle not included) Technology: SVN / BLUEnet Wireless / JustIN Mobile Operating platform system: SALTO Space - Data-on-Card - SALTO KS - Keys as Service Smart key: RFID (MIFARE DESFire and HID iCLASS Seos), NFC, and BLE Finishes and models are available in a wide variety of reader colors and lock finishes
Virdee And SALTO Systems Partner To Deliver Contactless Access Control Solutions Across The Built Environment
Virdee, a SaaS company serving the lodging, multi-family and commercial real estate industries, has announced a partnership with SALTO Systems, a globally renowned manufacturer of electronic access control solutions. The integration provides a powerful answer to the market's demand for contactless arrival options by leveraging Virdee's advanced ID verification module and the ability for guests to video chat with a remote agent before accessing a property. Virdee Concierge Under the partnership, SALTO Systems customers can use Virdee Concierge, a cloud-based platform that provides contactless check-in and check-out technology. Virdee's hotel and commercial real estate properties can provide their guests with ID-verified and authorized access via mobile keys on iOS or Android devices that work at thousands of locations with SALTO Bluetooth Low Energy (BLE) lock systems. Guests can also obtain SALTO-compatible, RFID keycards from one of Virdee's in-lobby stations. In an era where the new paradigm for customer experiences and engagement is increasingly contactless, the Virdee-SALTO partnership provides critical layers of technology necessary to deliver on a complete solution. End-to-end remote and contactless solution SALTO Systems is pleased to partner with Virdee to deliver end-to-end remote and contactless solutions Colin DePree, Residential Business Leader at SALTO Systems, said "SALTO Systems is pleased to partner with Virdee to deliver end-to-end remote and contactless check in/check out solutions to our joint customers. Our convenient and robust electronic access control solutions work seamlessly within Virdee's API-first system to provide hoteliers and real estate management companies with a safe, secure entry ecosystem." Using an API-first approach, Virdee's subscription-based technology enables check-ins for 100% of hotel guests, visitors to multifamily properties, and more without the need for a human interaction. By integrating with best-in-class platforms like SALTO Systems, Virdee is setting a new standard for convenient, contactless entry across real estate types. Virdee – SALTO Systems integration Branigan Mulcahy, Virdee Founder, said "As demand for a contactless customer experience continues to grow, this integration combines Virdee's powerful user-onboarding software with SALTO's world-renowned iOS and Android compatible BLE lock systems to meet a critical client need." Branigan adds, "It represents another important step in bringing our powerful solutions to the market for owners and operators looking to provide state of the art arrival solutions - achieving operational cost efficiency and superior guest experiences at the same time." Cutting-edge technology Nadav Cornberg, Virdee Founder and Chief Technologist, said "Virdee will continue to provide the most cutting-edge functionality to our customers and their guests, and SALTO is the ideal partner to make this a reality." Nadav adds, "Through this partnership, Virdee will be one step closer to achieving its goal of using technology to simplify property operations, reducing costs, and improving the user experience for people in the built-environment."
SALTO Systems Contributes In Helping Achieve Sustainable Development Goals Laid Down By The UN
SALTO Systems, a renowned manufacturer of electronic access control solutions, has committed to helping achieve the 17 Sustainable Development Goals (SDGs) as defined by the United Nations (U.N.) General Assembly. "SALTO Systems has undertaken a profound transformation towards an increasingly sustainable model to respond to its environmental and social impacts, as well as to the main challenges which the world is facing today in the access control and security market. By proactively responding to social issues, SALTO contributes to the achievement of specific SDG objectives through its responsible corporate policies," said Javier Roquero, SALTO Systems CEO. Keyless smart access technology There is an urgent need for the world to find a more sustainable development path" In September 2015, all 193 U.N. member states adopted the 17 SDGs. The SDGs set a global agenda for overcoming poverty, protecting the planet, and promoting peace and prosperity. SALTO is doing several things to help achieve these SDG goals. Many of the goals are specific to environmental sustainability, such as climate change, sustainable operations, responsible consumption, and product eco-design. SALTO takes this very seriously and has achieved ISO 14001 certification and becoming 100% carbon neutral in its factory headquarters - a significant step in making keyless smart access technology sustainable. Implement meaningful sustainability practices "We are proud to contribute to the U.N.'s Sustainable Development Goals. There is an urgent need for the world to find a more sustainable development path. As part of the 2030 Agenda for Sustainable Development, the U.N. 17 Sustainable Development Goals provide a framework for collective action to protect our future" said Roquero. SALTO's commitment to sustainability arises from a corporate culture that includes integrity, respect for others, and a commitment to community service. To implement meaningful sustainability practices and optimize the management of sustainability aspects across the organization, SALTO involves all company group departments, functions, and levels of employees, from the top of the management chain to workers in the factory and workplaces around the world. Corporate social responsibility SALTO also actively promotes environmental and social responsibility among the company's many suppliers. "SALTO's commitment to corporate social responsibility requires us to be thoughtful about the impact of our business practices and policies. We believe the way we work, the technology we develop, and the solutions we provide help contribute to many of the U.N. SDGs - ranging from our company practices to our commitment to moving towards a circular economy," said Roquero. SALTO has joined companies worldwide in carrying out business actions and responsible corporate policies "At SALTO, we strive to be a pioneer in shaping the transformation to a better, safer, more digital, more climate-friendly, more sustainable world across our locations worldwide." In Spain, more than 1,590 organizations have joined the Global Compact Network, which makes it the local network with the highest number of member entities and, therefore, the most important in the world. Electronic access control solutions Joining the Global Compact implies that SALTO is committed to aligning its operations with Ten Principles universally accepted in the areas of human rights, labor safety standards, environment, and fight against corruption, and adopting measures in support of the objectives of the U.N.'s SDGs. SALTO has joined thousands of companies worldwide in carrying out business actions and responsible corporate policies and practices to create a better world. SALTO Systems revolutionised access control with the introduction of the SALTO Virtual Network SVN data-on-card technology and the battery-operated wire-free electronic lock range in 2001. For nearly 20 years SALTO has been synonymous with innovative solutions, including stand-alone, cloud-based and mobile applications, that set new standards in security, manageability, flexibility and design that bring real-world benefits to virtually any type of door. Across a broad range of industries and applications, SALTO is widely recognized as a globally renowned provider of electronic access control solutions.
Latest SALTO Systems products