Wise words
Expert commentary
At ISC West this year, emerging technologies will be on display to help organizations manage their environments, from the building itself to who's on the premises and what's going on at any given moment. Top of mind this year is cybersecurity, compliance and management of security assets as threats rise and governing bodies put regulations in place that businesses need to react to. The good news is that the shift in approach to holistic monitoring of cyber and physical assets can move enterprises to a place of digital transformation and proactive management rather than reactive practices based on threats and changing regulations. The show provides an opportunity for both vendors and potential customers to learn from each other about what's out there and what's needed in terms of future solutions as the industry evolves. Are you in cyber and physical security compliance? At this year's show, we'll continue to see developments focused on integration of cyber physical security that will lead to deeper understanding of the relationship between devices, device monitoring and spaces in which all devices physically reside. Digital solutions help achieve a digital transformation which stitches the data relationships together to provide better threat vector impact and overall understanding of risk. The technologies in smart buildings are subject to cyberattacks, which pose not just a threat to data and privacy but can compromise the physical space as well. Think of the locked door in a smart building that now is opened with access control via key cards or mobile devices given only to certain members of staff. These integrations increase safety and restrict access across the enterprise, but a bad actor can access and duplicate the necessary data to open the door with a copycat device while hiding the event from the surveillance system. By having a comprehensive cyber whitelist of installed devices, potential rouge devices are prevented from transmitting on the network, therefore providing an automated guard against internal and external attacks. When systems are compromised due to a hack or physical intervention, it puts what's behind the door at risk, whether it's money in a bank or information in a sensitive work environment, such as a laboratory. Digital solutions help achieve a digital transformation which stitches the data relationships together It's increasingly important to highlight the relationship between cyber and physical security. A great illustration of this is the digital twin. A digital twin is a replica of a physical space that uses both informational and operational technology to give real-time information about what's going on in a space. These can include things like floor plans for the building as well as real-time sensor data from the building management system, HVAC systems, lighting, fire, security, and more. By getting a complete picture of the physical and digital assets of an organization, it becomes possible to monitor all systems from one central location to see how they're working together and act on the insights they provide. So, in the example of a breach from before, it's possible to flag that hack, isolate its exact location and devices involved, and resolve it quickly while maintaining preservation of evidence. Compliance: how to get there safely, efficiently and effectively As these threats evolve, governing bodies are taking action to ensure that data is protected to minimize these kinds of threats and ensure that organizations feel confident in the security of their data. Norms and compliance measures are emerging quickly, such as General Data Protection Regulation (GDPR) which began to be enforced in March 2018, and the California Cybersecurity Law, which went into effect in the US just this past January. The regulations of what can be done with data mean that companies need to react or face penalties such as fines, which can be as high as 4% of worldwide annual revenue of the previous year. These are also fluid and can change rapidly, meaning flexibility is important in compliance solutions. However, this presents an opportunity for companies to invest in innovation to ensure they're prepared for those changes and to protect the safety of not just employees, customers and target markets, but of the larger organization. Getting to a place of compliance can seem costly and time consuming at the beginning Getting to a place of compliance can seem costly and time consuming at the beginning, especially for larger organizations. They may have thousands of security assets (cameras and sensors, for example) and might not even be fully aware of what they have, where they are, and whether those assets are functional, never mind compliant with data protection legislation. The right solution takes all the steps to becoming safe and compliant into account, beginning with inventory and mapping of all assets to get a complete picture of where things stand and where changes need to be made. One large financial institution, upon embarking on this journey, identified an additional 10% of assets that they didn't know they had, and additional ones that were nonfunctioning and needed to be repaired or replaced for compliance and safety. Monitoring: centralized and remote for rapid response Once assets and data are centralized and a complete inventory is taken, it's much easier to effectively monitor the complete enterprise. At this year's show, smart technologies will be on display that reduce cybersecurity risks and monitor assets for compliance. If something changes, that can be flagged, and appropriate parties can be quickly notified to act and neutralize security threats or avoid the expensive penalties that come with noncompliance. Since all these components are centralized in one location, it becomes possible to monitor much more effectively and fix issues remotely in minutes rather than scheduling a trip to a location that may not happen for days or even weeks. A security camera for a large chain enterprise such as a retail store or bank in a small-town location deserves service just as quickly as one in a major city, since the threat that each non-functional device poses is the same to who and what it is there to protect. Keeping it up: a proactive approach to service and maintenance One of the ways that emerging technologies can be a game changer is when it comes to the cost and approach One of the ways that emerging technologies can be a game changer is when it comes to the cost and approach to systems maintenance and operation. In addition to performance and compliance, other types of data, such as historical events, can also be monitored centrally. This gives context to security events and can move organizations from a reactive to a proactive approach to their security as well as operations. If small problems are identified and resolved before they become larger problems, it means that security events can be mitigated more quickly or prevented entirely due to early intervention. On the operations side, early insights into asset performance means that fewer resources are expended on noncompliance fees and large-scale, emergency repairs. These resources can take the form of money, but also of time spent by employees and enforcement agencies to ensure continued compliance. Staff can spend time engaged in active monitoring rather than generating reports, since that can now be automated. In the new decade, it's time to use the technological resources available to better protect systems for smarter, safer and more sustainable environments. On every level, compliance is important not just for its own sake, but so are the other benefits associated with intelligent management. The show presents an educational opportunity for vendors and customers alike. Walking around the show floor and talking to everyone is a unique way to see what's out there and evaluate what is and isn't working for a business while getting information from all the industry experts. Even if they're not ready for a complete overhaul, taking stock of what's available, where things are heading and how their operations and mission can be better served by implementing one or more of the solutions showcased is more important than ever. On our end, those conversations about needs and concerns are invaluable in driving innovation.
ISC West, the world's largest security industry trade show, is just around the corner. This in-person show gathered more than 1,000 manufacturers and over 30,000 visitors from all over the world in 2019. On top of that, more than 200 brands exhibited at ISC West for the first time. This year's event promises to be just as exciting, if not more so. Let's overview some leading security trends in video management systems development, and what's worth your time and attention at ISC West 2020. AI analytics Emerging two or three years ago, the AI-based video analytics market is experiencing a boom in growth. The prototypes and ideas displayed at ISC West 2019 could This year's event promises to be just as exciting, if not more soalready be part of a functioning system today. There's a lot of hype around this new trend. So, if you're looking for solutions for your needs, it is important to be able to tell the difference between technologies that work and marketing bluster. To do that, you have to understand what today's AI-based analytics (also often referred to as a neural network, deep learning, or machine learning) can and can't do. Let's start with what AI can't do in video surveillance. It can't analyze the sequence in which events occur or understand the 'logic' of what's happening in the scene. In other words, there's no such thing as a 'suspicious behavior detection tool'. Nevertheless, neural networks are really good at recognizing and classifying objects. For instance, they can distinguish humans from vehicles, vehicles from other moving objects, and cyclists from pedestrians. Neural network trackers This technology is primarily used as a neural network tracker or object tracker that can identify and track objects of a specific type. Usually, it's applied to complex scenes with a large amount of non-relevant details where a classic tracker would drown in false alarms. The neural tracker can be used to detect people in dangerous areas at production facilities, cyclists riding on pedestrian lanes, or poachers trying to sneak into a nature preserve. Neural networks are really good at recognizing and classifying objectsObject identification function can be used for other site-specific tasks, such as detecting people without a helmet or a high-visibility vest at facilities where those are required by safety regulations. It can also be used to detect fire and smoke in open spaces, or at big premises with high ceilings or active air circulation, where common fire alarm systems can't be used or may go off too late. Behavior analytics Behavior analytics is another field of analytics based on artificial neural networks. Even if recognizing suspicious or inappropriate behavior is nearly impossible, it can detect risky situations based on human postures, such as an active shooter pose, raised arms, crouching, or man down. In addition to that, AI has been successfully used to perform facial and license plate recognition for quite some time now. Although these systems aren't new, their recognition quality improves each year. Looking for solutions? You'll definitely find some interesting and new options from developers specializing in VMS and modular AI analytics at ISC West 2020. Even if recognizing suspicious or inappropriate behavior is nearly impossible, AI can detect risky situations based on human postures Smart search The ability to perform a quick, flexible search in a video archive is one of the most important features of a video surveillance system. In many ways, it's even more AI has been successfully used to perform facial and licence plate recognition for quite some time nowimportant than real-time monitoring itself. Constantly keeping an eye out for what's happening onsite is the security service's job. Medium- to large-sized companies usually have that kind of department. Meanwhile, lots of small businesses and households use video footage to investigate accidents, resolve conflicts, or analyze employee's work. They generally don't need real-time monitoring, but video search is a crucial element. The most basic search tools offer an interface that enables easy access to recorded video and event-based search (from video analytics, detectors, etc.). Smart systems with forensic search features that allow the user to set criteria enhance the system's search capabilities even more. How it works VMS analyzes the video as it is recorded and saves the resulting metadata to a database. In the most basic case, the metadata contains information about motion in the scene as well as the moving object's coordinates. When searching, you can select an area of interest within the frame and take a quick look at all video segments containing motion in this area. More advanced systems save the parameters of moving objects, such as their size, color, motion speed and direction. TThe ability to perform a quick, flexible search in a video archive is one of the most important features of a video surveillance systemYou'll quickly find what you're looking for by setting more precise criteria. The first VMS with forensic search features appeared in the early 2010s. Since then, a growing number of users and VMS developers have recognized the importance of these tools. More and more manufacturers enrich their products with forensic search features, starting from basic search by motion detection. Integrating search functions with AI Recently, search technologies have gone even further by integrating search functions with AI analytics. Some systems are capable to recognize all faces and number plates captured by cameras and save them to the database. You can quickly find all videos containing an image of a person or a car just by searching a photo or a number plate across multiple camera archives at a time. One usage scenario for these systems can be seen in law enforcement deploying them to find suspects using CCTV cameras around the city. Another option for integrating smart search and AI is searching by criteria based on a neural network tracker. When you use it, you can set object's size, color, motion speed and direction in the scene, as well as object's type (such as a human or a vehicle). So, if you need to find out when a red car appeared in the surveillance area, the system will show you only red cars while ignoring other objects like people in red clothes. This technology lets you find what you're looking for even faster. If you or your clients use VMS primarily to record video, be sure to ask the manufacturers you'll talk to at the show what search capabilities they offer. More advanced systems save the parameters of moving objects, such as their size, color, motion speed and direction Hardware AI acceleration High CPU resource consumption is one of the hardest challenges that stem from implementing a neural network–based video analytics system. This significantly decreases the number of cameras that can be connected to a server that hosts AI analytics. It also makes the system much more expensive. AI technology lets you find what you're looking for even fasterThe solution is to use AI accelerators. GPUs and dedicated accelerator cards are used on servers to provide hardware acceleration for the neural networks' workload. These devices are mostly manufactured by Intel and NVIDIA. Intel also offers the OpenVINO™ toolkit, a software package for developers that helps distribute workload between CPU, GPU, and accelerators as effectively as possible using all available resources. New solutions Due to AI's growing popularity, lots of minor microchip manufacturers became interested in developing neural accelerator chips. The healthy competition will work in the market's favor, serving to stimulate tech development and cut prices. New solutions in the field were on display at ISC West 2019; they'll definitely be present at ISC West again in 2020. Developers specializing in VMS and modular AI video analytics should absolutely check these out. But users should understand that it's impossible to build a cost-effective video surveillance system with significant number (10–20 and more) of AI analytics channels without using neural accelerators. That said, various accelerator models may significantly differ in price and power consumption. So, when you talk to developers specializing in VMS and AI analytics modules, ask what accelerator makes and models they support. In conclusion Whether you're an integrator looking for interesting VMS offers for clients or an end-user searching for solutions to your own tasks, check out what AI analytics can do. This sector is developing very fast and is continuously introducing new features that may be just what you're looking for. Incorporating forensic search in recorded video footage is key to building an effective video surveillance system for users, and important to creating a unique product offering for integrators. Needless to say, you can't build a cost-effective video surveillance system without using CPU resources wisely. If a system's functionality completely aligns with what you're looking for, ask what neural accelerator hardware it supports to correctly estimate the cost of your video servers.
Being in the physical security industry for almost two decades has been an exciting journey, with significant changes that have impacted the world of security. Companies today must be proactive when it comes to securing their facility and are lucky to have so many choices when it comes to security technology. From the beginning, the ISC West show was always at the forefront of new technology and brought together the very best technology and industry professionals in the "City of Lights". Back in 2001 when I first entered the security world, video surveillance was the key driver, and transitioning from analog cameras to IP video cameras was the talk of the town. In the early 2000s, the ISC West show was filled with video manufacturers showcasing their new IP cameras and the IT folks were just starting to get involved with the security decisions. Back then the ISC West show consisted of a myriad of video manufacturers exhibiting their camera lines. Where now in 2020 the high-profile enterprise-level camera manufacturers dominate the show floor. Over the last two decades, keeping up with the technology advancements of IP cameras was a difficult feat for most camera manufacturers and the high-profile manufacturers who had the funds to invest in R & D were the only ones that survived. Changing the game in video surveillance and access control In the early 2000s, the ISC West show was filled with video manufacturers showcasing their new IP cameras Another huge change that our industry has seen over the years was the increase in the number of acquisitions. Smaller security manufacturers started being acquired by the larger ones, which changed the game in video surveillance and access control. In addition to manufacturers, large security integrators like Convergint Technologies & Anixter were also buying smaller commercial integrators and dominating the market. At ISC West today, you will see predominately high profile – big name manufacturers and integrators where the smaller companies were either acquired or went out of business. Revolutions in the industry The security industry also faced a huge revolution with three major technologies driving growth in the security market – Network-based technologies (IoT enabled solutions), Access Control as a Service (ACaaS) and Mobile Credentials. ISC West saw this evolution coming and created specific educational seminars dedicated to these topics. Another big push that came into play in the last few years was being able to integrate a host of technologies like video and access control by using an open architecture platform. Many partnerships were formed in the security industry due to this massive push for integration. At ISC West, we now see many companies having their partners sharing booth space. This helps reduce costs for exhibitors in addition to giving smaller companies credibility by being recognized with the bigger players in the industry. In addition, ISC West makes it easy for attendees to plan out their show schedule in advance with the mobile app; creating a convenient way to access show information from mobile devices. From the beginning, the ISC West show was always at the forefront of new technology Emerging excitement Today, ISC West continues to be an exciting show that is jammed packed with educational sessions, networking events, and new pavilions that help segment the security industry into different sectors. An example of some new technology pavilions includes drones & robotics, loss prevention & supply chains, and emerging tech. All new start-up companies that are 5 years old or less can be part of the emerging tech section of the show. Here entrepreneurs can unveil new and upcoming security technologies; creating a win win situation for any size business looking to make its name known in the industry. New technology, innovations and rising trends Another huge focus at the ISC West show is public safety. A full range of solutions are offered at the Public Safety Pavilion including barriers/bollards/gates/perimeter security, surveillance, access control, and alarms - along with innovative technologies for gunshot and drug detection, license plate recognition, acoustics, facial recognition and AI, connected vehicles, communication systems and devices, alerts and monitoring, and active shooter solutions Today, ISC West continues to be an exciting show that is jammed packed with educational sessions, networking events, and new pavilions and training. Virtual reality demonstrations have also been available at the show to help attendees with preventative measures when it comes to school and public safety. Some new vape and metal detection technology built on the IoT concept will be featured at ISC West 2020 to help combat the vaping epidemic in our country. With active shooter incidents on the rise, metal detection and perimeter protection at schools will be an important part of the show. Awards and showcases When it comes to show press, we have also seen an influx of awards for security manufacturers that are exhibiting at the show. The major security publications have been offering manufacturers the opportunity to submit a product in distinct categories and win a prestigious award at the show. This creates "buzz" about your product and great for social media postings. Live video interviews at an exhibitors' booth has also become a very popular tool to increase brand awareness and thought leadership for exhibitors. The ISC West show offers numerous ways to drive traffic to your booth and promote new product launches seamlessly. Over the years, the show has created a conduit The ISC West show offers numerous ways to drive traffic to your booth and promote new product launches seamlesslyfor manufactures and integrators to showcase new products and technologies to end users across multiple vertical markets. At the top of the game While the security industry continues to evolve, the one thing that stays constant is the wealth of information that ISC West offers to its attendees. The show always brings together the latest technologies and thought leaders that will continue to change the game in security for years to come.
Security beat
John Wiegand died in 1986, but the communications protocol that bears his name is still alive and well, connecting access control readers to controllers using two wires – one to transmit "zeros" and the other to transmit "ones." The Wiegand protocol persists despite its limitations, including one-way communication, lack of encryption, and inability to manage the readers in a system centrally. In a Wiegand system, a controller provides no acknowledgement that data has been received. Systems that still use the Wiegand protocol are performing below accepted industry standards and are vulnerable to over-the-counter exploits. A session at ISC West's Virtual Event highlighted a replacement technology that solves those problems and expands the security, flexibility and functionality of systems. The technology is called OSDP (Open Supervised Device Protocol), which is now a standard managed by the Security Industry Association (SIA) and designated as an international standard by the International Electrotechnical Commission (IEC 60839-11-5). Aligning three components OSDP requires alignment of three critical components – the access control system, readers and controllers. The access control system, readers and controllers OSDP is an RS-485 protocol used to pass card format data from the reader to the controller. Like the Wiegand protocol, it uses two wires, but in this case one wire transmits data and the other receives data. Installation is simplified because no system needs more than four wires – two for OSDP communication and two more for power. In contrast, using Wiegand, additional wires are needed to add other capabilities – up to 8 or more wires in all. OSDP cable runs can extend up to 4,000 ft (compared to 500 feet for Wiegand). Resolving problems Therefore, unlike Wiegand, OSDP sends information in both directions and provides "supervision" of the readers. If there is a problem with a reader, such as a reader communication error or disconnect, that notification is sent back to the access control management system. OSDP also supports encryption for greater security, in effect enabling end-to-end encryption for a host system, controller, I/O modules, readers and credentials. That notification is sent back to the access control management system OSDP also provides additional capabilities, such as control of a reader's LED and buzzer as well as sending text notifications and messages to compatible displays. Integrators and/or end users can also push configuration and firmware updates to readers all at once. Because OSDP is "open," there are more third-party integrations and standardizations. OSDP is particularly valuable for U.S. government applications because it meets federal access control requirements such as PKI for FICAM. Wiring requirements Best practice dictates rewiring a project using RS-485 cabling. Specific wiring requirements are needed for OSDP, including 24 gauge (AWG) stranded cables that are a shielded twisted pair with 120 Ohm impedance and overall lower capacitance. However, especially for shorter cable runs, existing wire from Wiegand installations can sometimes suffice, say if it is a cable run of less than 100 ft. Installers should prove their competency before being deployed to an outside installation "Installation of OSDP is not hard, just different than field technicians are used to deploying," said Tony Diodato of Cypress Integration Solutions, one of the ISC West presenters. Therefore, training of technicians is paramount, and installers should prove their competency before being deployed to an outside installation in order to avoid problems. Integrators or installing teams should have a "lab" setup to thoroughly familiarise themselves with installation to ensure successful deployments. Various in-line devices are available to help transition existing Wiegand applications to OSDP, even if one component or other does not support OSDP. For example, data converters enable installation of an OSDP reader with a legacy Wiegand control panel. Replacing existing devices in legacy Wiegand systems with OSDP devices and using data converters can provide some benefits of OSDP without requiring a full "rip-and-replace" installation.
Historically, concerns about inclusion and diversity have not been widely discussed in the security market. In the last couple of years, however, the Security Industry Association (SIA) and other groups have worked to raise awareness around issues of diversity and inclusion. Specifically, SIA's Women in Security Forum has focused on the growing role of women in all aspects of security, and SIA's RISE community has focused on "rising stars" in an industry previously dominated by Baby Boomers. The next generation of security leaders There is a business case to be made for diversity and inclusion, says a report by McKinsey & Company. According to the management consulting company, gender-diverse companies are 24% more likely to outperform less diverse companies, and ethnically diverse companies are 33% more likely to outperform their less diverse counterparts. Furthermore, the "next generation of security leaders" – employees under 30 – are particularly focused on diversity and inclusion. Diversity refers to the traits and characteristics that make people unique A panel discussion at ISC West's Virtual Event highlighted aspects of inclusion and diversity, starting with a definition of each. Diversity refers to the traits and characteristics that make people unique. On the other hand, inclusion refers to the behavior and social norms that ensure people feel welcome. "We are all on a journey, and our journey takes different paths," said Willem Ryan of AlertEnterprise, one of the SIA panelists. "There are opportunities to improve over time. We can all change and increase our ability to have a positive impact." Industry responsibility The industry has a responsibility to the next generation of industry leaders to address issues of inclusion and diversity. Forbes magazine says that millennials are more engaged at work when they believe their company fosters an inclusive culture. So the question becomes: How do we unify and create opportunities to work with and champion tomorrow's leaders? SIA is driving change in our industry to achieve that goal. More women are active in SIA than ever before. The SIA Women in Security Forum now has 520 members, said Maureen Carlo of BCD International, the SIA Women in Security Forum Chair and another panelist. Also, more women than ever are chairing SIA committees and serving on the SIA Board of Directors. More women than ever are chairing SIA committees Overcoming unconscious bias Former SIA Chairman Scott Shafer of SMS Advisors, another of the panelists, noted that SIA awarded the Chairman's Award to the Women in Security Forum in 2019, and to the RISE community steering committee in 2020. "There are lots of ways we are seeing the elevation of women and ethnic groups in the security industry," said Shafer. One topic of interest is the problem of "unconscious bias," which can be overcome by looking at something through some else's lens. Ryan suggested use of the acronym SELF – Slow Down, Empathize, Learn, and Find commonalities. Ryan recalled the value of being mentored and having someone shepherd him around the industry. "Now I want to give back," he said. "We need to look at the things we can change in ourselves, in our company, in our communities, and in our industry. Change comes from the bottom and the top." Increasing representation "It takes all of us to increase representation everywhere," said Kasia Hanson of Intel Corp., another panelist. "We have in common that we are all human beings. Let's make sure the next generation all have opportunities." Diverse companies can attract better talent Moving forward, the panelists urged the industry to get involved and create opportunities because inclusion drives diversity. Diverse companies can attract better talent and attain a competitive advantage. Awareness of unconscious bias, and working to eliminate it, is an important element of change. Despite the progress the security industry is making, change continues to be incremental. As Ruth Bader Ginsburg has said, "Real change, enduring change, happens one step at a time."
The U.S. Department of Homeland Security (DHS) will be participating at ISC West in a big way. Representatives of the federal department will be taking part in more education sessions this year, and the DHS tech-scouting team will be on hand to view the latest technologies on display at the show. Exhibitors – and anyone else at the show – are invited to the "DHS Town Hall" on March 19 (Thursday) at 3:30 p.m. in meeting room Galileo 1001. The aim is for DHS to engage with the technology community and provide guidance as industry innovation moves forward. In the face of growing operational demands and complex threats, the need for homeland security technology solutions continues to rise. The Department of Homeland (DHS) is seeking new ideas and partners to safeguard public trust, save lives, reduce risks, and protect the flow of commerce and goods for the community. They will share information about the department's problem sets, capability needs and business opportunities for accelerating technology development to ensure they are keeping pace with the speed of innovation and complex threats. Speaking at ISC West DHS seeks to challenge industry partners to develop technology to enhance security operations across multiple end user missions. The DHS Science and Technology Directorate (S&T) and Cybersecurity and Infrastructure Security Agency (CISA) will jointly speak and exhibit at ISC West. Attendees can meet DHS professionals working in cyber security, critical infrastructure, resilience, aviation security, border and port operations, and first responder capabilities. Attendees are invited to visit the DHS exhibit booth #33040 in the Drones and Robotics Zone. The DHS Town Hall on Thursday, titled "Enhancing Security and Doing Business at the Speed of Life," will be a "call to action" for show participants to help secure the future. DHS seeks to become more agile and to pursue new pathways to do business in a fast-moving world. Through strategic partnerships, DHS is mobilizing the innovation community to safeguard the public trust. Security sessions DHS will also be participating in these sessions at ISC West, March 17-20 at the Sands Expo, Las Vegas, Nev: You Say It's Going to Change the World? Tues., March 17, 9:45 a.m., Sands 302. Security relies on anticipating what comes next and staying a step ahead. How will 5G increase secure capabilities and reduce threats from bad actors? How will blockchain secure personal and financial identity and when will quantum computing render all encryption obsolete? How is DHS investing in counter-drones? How does AI change the security landscape? The New Federal Security Landscape – Are You Prepared? Wed., March 18, 1 p.m., Sands 302. The federal security landscape is evolving alongside the private sector. What are the new high-risk areas of concern and how are emerging threats (cyber, UAS) changing the way federal facilities are protected? How are these new risks balanced against traditional ones? How is the Interagency Security Committee (ISC) responding? DHS panelists will discuss. CISA Special Guest Speaker at SIA Interopfest. Wed., March 18, 4 p.m., Sands 701. Daryle Hernandez, Chief, Interagency Security Committee, DHS, Infrastructure Security Division, will provide insights to complement the technology interoperability demonstrations. Enhancing Security Through UAS Technology, A DHS Perspective. Thurs., March 19, 11:30 a.m., Venetian Ballroom. What is DHS doing today to prepare for a future of increased visualization and automation? New questions are emerging around capabilities and vulnerabilities. Emerging technologies like AR, Next Gen Sensors, and UAS, provide the Department of Homeland Security (DHS) with tools to become more responsive and adaptive to new threats.
Thoughts from the show
"ISC West improves every year. It's very obvious you place great importance on making this a very satisfying show for all attendees."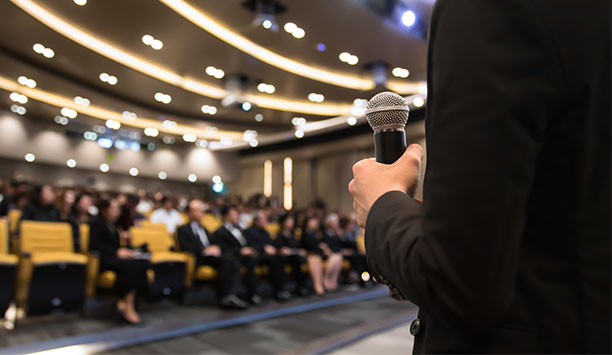 "ISC West is kind of a "one stop shop" for the entire industry. Virtually everyone has a presence."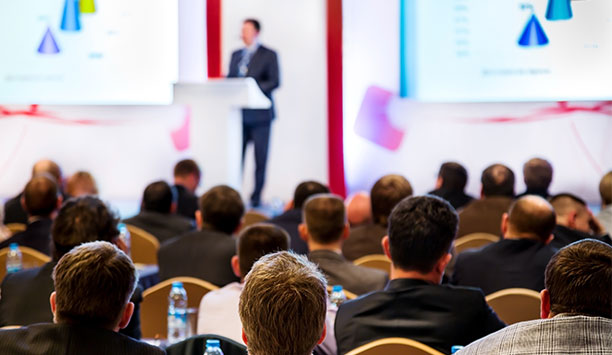 "ISC West is very informative and allows you to speak directly to manufacturing and engineers to discuss issues and solutions."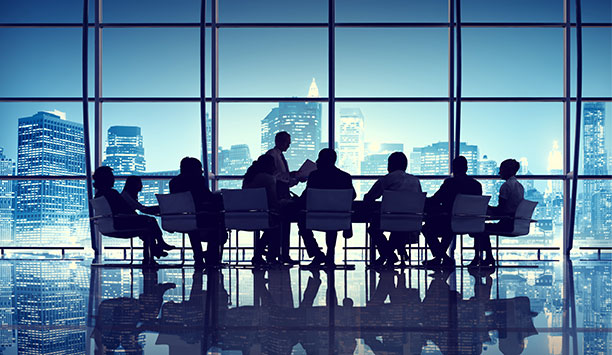 "All technologies and business development converge at the same place, besides you can learn about new products."