Are Integrators And End Users Overwhelmed By Too Many Choices?
7 Jun 2018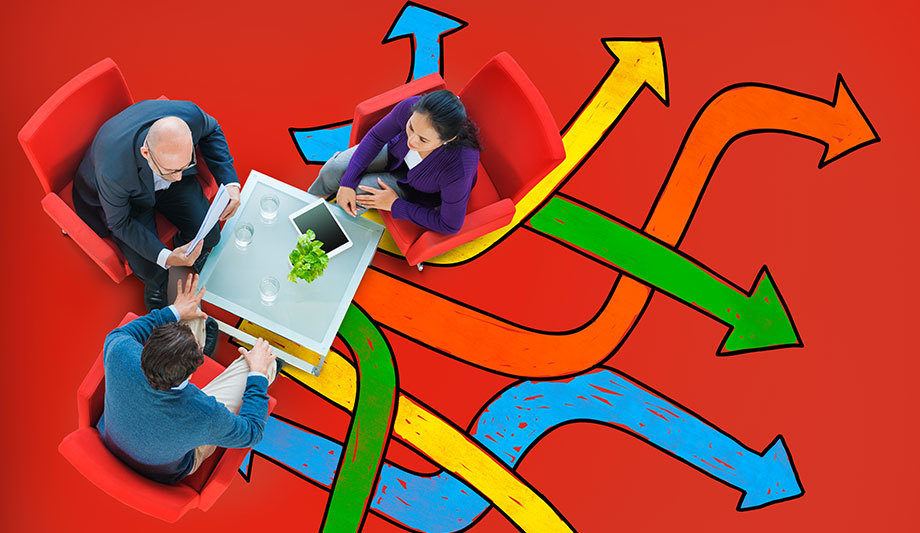 Editor Introduction
Finding the exact right technology to solve an end user's problem is challenging, but the rewards are great when an integrator gets it right. A wide range of available product types, price levels and added features increases the likelihood of identifying a technology to solve any problem. But with so many technology and product choices in the marketplace, identifying that one solution can be akin to finding a needle in a haystack. We wondered whether a vast range of product choices is always a good thing. We asked this week's Expert Panel Roundtable: Are security integrators and end users overwhelmed by "too many choices" related to security equipment and systems? How can they make sense of it all?
---
The paralyzing problem of having too many choices (or permutations of the same choice) is becoming an all too familiar experience among security professionals. It's like going to an ice cream shop where everything looks tempting but only so much room on the cone. The security industry has entered a golden age with a wealth of vendor and technology options, but the sheer volume can indeed overwhelm. From changes in density on storage devices and codecs to ground-breaking new technologies like deep learning analytics, end users have a much harder time figuring out the ideal solution for their security needs and budget. The best approach is to be educated on the core technologies and potential value propositions outside of a specification sheet. Today's end users are much more proactive about researching technology than their predecessors. Even ice cream had to work on its recipe to get the perfect flavor!
The simple answer is yes. A major challenge for the industry is the sheer number of vendors and lack of differentiation among product offerings. You can see this at many industry tradeshows, where integrators and end users can visit any number of vendors all claiming to do the same thing. Another issue is that many vendors private-label equipment from the same low-cost manufacturers, and then add very little product value themselves. Finally, the industry tends to market based on technical specifications, such as touting the megapixel resolution and low-light performance of a new camera. With hundreds of suppliers claiming the same specs at a broad range of pricing levels, it's easy to see how customers can become overwhelmed. The advice I generally give to buyers is to seek out reputable firms that have experience addressing their unique business needs and a track-record of standing by their products post-sale.
Ideally, too many choices is a very good thing, and I expect that the variety of interesting technology will only increase in the coming years. When we view the technology marketplace through the lens of open and interoperable, then choice is valuable. Making sense of all these options is perhaps the bigger variable. Ideally, manufacturers should find creative ways to expose system integrators to new technology (annual partner events and good training programs are good examples). Then, system integrators need to hone their expertise and provide useful choices to their customers. In the end, robust technology choices power innovative solutions to solve the dynamic and evolving needs of end users.
At this point, there is an overwhelming number of products on the market. It is important for security integrators to recognize which ones are the best fit for the solution they're trying to provide, and which ones are simply "me too" products. With so many "me too" type products available, it makes it difficult for integrators and end users to know the true value a specific manufacturer can bring to the table. To sort through it all, integrators should be looking for solutions that can integrate with multiple different systems, rather than just video, and this is where standards like ONVIF can help provide value. Integrators should constantly be looking at building value and scalability, and that is what will set a superior product apart from a "me too."
At first glance, the choice and breadth of security equipment and systems on offer can be a bit intimidating and bewildering to end users! However, one way to simplify the search for the right security solution could be to consider as many components as possible from a single manufacturer. Whilst this makes choosing and ordering components much simpler, the downside to this approach is that you could be sacrificing true best-of-breed performance, particularly if some of the options you pick are not as up-to-date as others available on the market. Perhaps a more pragmatic approach is to look at components that would complement each other well via open protocols and standards. You can choose them on suitability, whilst ensuring full interoperability. The overall system will be far more future-proof and of course you're not "putting all your eggs in one basket" should any issues arise in the future!
In the security market, there are many solutions from cloud-based to on-premise, panel access control systems or edge-based devices, integrated platforms or proprietary. For integrators and end users, making a choice comes down to what is most important for the end user. End users should define the objectives of installing a security system. They should define the level of security they need to provide: Is it as simple as securing doors and restricting access? Do they have high-security areas that require two-factor authentication and video surveillance? Are there corporate compliance requirements? Is ease of use important, and what budget has been allocated? Establish a group to evaluate systems and make the decision; the group should include team members that will use the system daily. As end users evaluate systems, they should also choose an integrator partner that has their best interests in mind and can provide an open, non-proprietary solution.
Security needs can be varied and diverse for businesses of different sizes and vertical markets, so it's not surprising that there are so many solutions on the market today. With so many options, it's important to keep desired building outcomes in mind to ensure that installing these technologies makes your building run more efficiently, not less. End users and integrators should take a holistic view of their building strategy and consider security within the context of all technology systems, as well as how best to ensure they continue to operate as designed throughout the lifecycle of the building. From HVAC, building automation, security, lighting, information technology and more, converging building systems and technologies on one unified, secured intelligent infrastructure will make operations more secure, connected and efficient. The result is a smarter, safer, more comfortable building – without the inefficiencies of disjointed systems and solutions.
New technology is introduced every day, and existing solutions are upgraded to account for increased security and cyber concerns, so it's no wonder there is an issue of "too many choices." As a security executive, CIO or integrator partner, you have to look beyond today's systems to prepare for what's ahead. Having knowledge of existing solutions isn't enough; you have to be prepared for the future. Education is critical, and it's readily available. Attend conferences, watch Webcasts, join industry groups. Network with thought leaders inside and outside your industry to see what is working in a wide range of markets. It never ceases to amaze me that what works great in one market hasn't been considered in another. But most importantly, you need to have trusted relationships – with manufacturers, consultants and the like – whom you can depend on to sort through the options and deliver real solutions to security challenges.
Technology is moving at a rapid rate, especially as users find new ways to leverage video and data to enhance security, ensure safety and gain greater business insight. It is a challenge to keep up with it all. Being proactive in tracking new developments and networking with like-minded professionals are critical. Find out what your colleagues are using or testing, and get their feedback on what is working well, especially if their organization is similar to yours. Join local groups, attend industry conferences, and connect on social media to compare notes on emerging technologies. Even in today's tech and data-driven market, personal connection and recommendations are important. Add to your industry and tech-related knowledge by reading high-profile blogs and articles, subscribing to newsletters, and engaging with industry analysts and thought leaders as you can. Asking experts what they are seeing in the market can open your eyes to new developments.
More choice means customers can find the solution that works best for their needs – at least in theory. Navigating the landscape can be difficult, and customers need clarity on how the technologies they're being offered can work best for them. We're seeing customers trend away from simple, standalone pieces of equipment in favor of more complex systems that require specialist set-up. As security systems become more advanced and intelligent, tailored customer advice becomes critical. We've worked closely with key manufacturers to ensure that the guidance we're giving to customers is as clear as possible. In addition, we've invested in developing training for system integrators, which ensures users can make informed choices, and get the most out of their systems. Taking steps like this are crucial to ensuring that the many choices offered remain a blessing, rather than a burden.
The increased sensitivity and awareness around safety and security brought about by recent events has increased the number of solutions flooding the market. The most important thing to remember is that one size does not fit all. In addition, vendors that provide a more holistic technology that can apply to multiple use cases can, in fact, minimize complexity and drastically improve return on investment. In comparison, using disparate systems for driving emergency notifications to mobile users, digital signage systems at a facility and sharing data with responders can greatly magnify complexity for both the integrator and user. Look for vendors that a have a track record and that have the support of local first responders, and be careful to weed out those who claim to do everything but have no references. Look to first responders to see which products they recommend to the community and what they trust.
---
Editor Summary
Choosing the right product or technology for a specific need is a process – sometimes a long and arduous process. "Too many choices" may complicate that selection process, but doesn't it also increase the likelihood of a successful search? Recent technology development in the physical security industry has left us with an over-abundance of choices, but our Expert Panel Roundtable lists several strategies that can guide end users and integrators to separate the wheat from the chaff. In this case, a successful search can make the world a safer place.