March Networks Corporation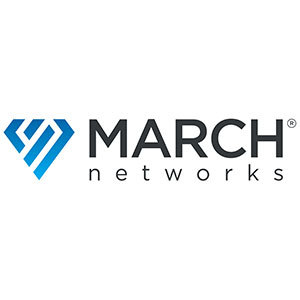 303 Terry Fox Drive, Suite 200, Ottawa, Ontario, K2K 3J1, Canada
+1 (800) 563-5564
March Networks Corporation Overview:
March Networks® helps organizations transform video into business intelligence through the integration of surveillance video, analytics, and data from business systems and IoT devices.
Customers worldwide use the company's software solutions to improve efficiency and compliance, reduce losses and risk, enhance customer service and compete more successfully. With deep roots in video security and networking, March Networks is also recognized as the leader in scalable, enterprise-class video management and hosted services.
The company is proud to work with many of the world's largest financial institutions, retail brands, cannabis operators and transit authorities, and to deliver its software and systems through an extensive distribution and partner network in more than 70 countries. It was founded in 2000, and is headquartered in Ottawa, Ontario, Canada.
Products
Video Management Software
Video Analytics Software
Business Intelligence Software
Video Platforms
Industries
Financial
Retail
Transportation
Commercial & Industrial
Homeland Security
Cannabis
March Networks Corporation news
March Networks Provides Video Surveillance Solutions At Leon Medical Centers
Leon Medical Centers is a privately-owned healthcare organization with seven state-of-the-art facilities serving over 46,000 elderly and Medicare patients in Miami and neighboring communities in Dade County, Florida. Established in 1996 by Benjamin Leon Jr., Leon Medical Centers is one of the largest and most prestigious primary healthcare organizations in the state. However, what really sets it apart is its rigorously enforced service philosophy of 'personal attention at all times' and its commitment to treating its patients with the 'dignity, respect, compassion and human kindness that they deserve.' Mobile video recorders Leon Medical Centers began deploying previous-generation March Networks mobile video recorders in 2011 In keeping with its commitment to exceptional service, Leon Medical Centers operates a fleet of 230 buses that pick up patients, take them to their appointments and return them home. To ensure their safety in transit and monitor compliance with its service philosophy, it relies on an integrated March Networks® RideSafe™ video surveillance solution. Leon Medical Centers began deploying previous-generation March Networks mobile video recorders in 2011. "We had another vendor's equipment up to that point, but the system couldn't support IP video," said Erick Martinez, Leon Medical Centers' Security Systems Manager. "At the time, we were using analog cameras and wanted to upgrade to higher definition video. We were also experiencing a lot of issues with hard drive failures." Hybrid network video recorders In 2014, Martinez began upgrading to RideSafe GT Series Hybrid Network Video Recorders (NVRs), and now has 120 of the new mobile recorders in addition to almost 200 older March Networks mobile DVRs. The RideSafe GT Series recorders are available in 8, 12, 16 or 20-channel models with hybrid capability allowing end users to migrate from 100 percent analog to 100 percent IP video. An embedded Linux-based operating system, ruggedized design offering protection against shock, vibration, dust and moisture, solid state electronics, and internal battery backup make the RideSafe GT Series recorders ideal for reliable operation in punishing mobile conditions. A hard drive mirroring capability ensures redundancy and storage flexibility, while health monitoring proactively alerts system administrators to hard drive failures, irregular temperatures or synching issues with cameras. Safety of our passengers Our patients are elderly, so if there's a slip and fall incident, we want to have evidence of what happened" Each Leon Medical Centers bus is equipped with six March Networks cameras. Five of the cameras are mounted to capture interior views and the last is used externally to capture video of passenger entry and exit points. "Our focus is on the safety of our passengers," said Martinez. "Our patients are elderly, so if there's a slip and fall incident, we want to have evidence of what happened. We also use the system to confirm compliance with our service standards. Our drivers are the first and last points of interaction with our patients, so if there's an issue, we want to be able to review and rectify it." In the event of an incident in transit, the driver is able to push a button on the dashboard to tag the associated video. Diagnostic imaging services When the bus arrives at one of the clinics, the tagged video automatically down-loads through a Wi-Fi hotspot to a server for immediate review by Leon Medical Centers risk management personnel. While in range of a Wi-Fi hotspot, the system also downloads health alerts and can also upload any scheduled software updates or new device settings. For routine video downloads, there's hardly ever a need for Martinez's staff to board a bus. "Wireless downloading saves us a lot of time," he said. "It makes incident reporting much more efficient when we need to have an issue resolved. It helps a lot." The seven Leon Medical Centers are one-stop-shop facilities with onsite labs, pharmacies, diagnostic imaging services and dental clinics. Traveling to multiple locations Leon Medical Centers operates four Healthy Living Centers with modern gyms, exercise and yoga classes This convenient service model enables patients to see their family doctor or a specialist, have blood work done, get an X-ray and fill prescriptions without having to spend time traveling to multiple locations. Each center has a café, where patients can have a coffee and socialize. And to help patients stay fit, Leon Medical Centers operates four Healthy Living Centers with modern gyms, exercise and yoga classes, seminars and other programs. Patients who require surgery or a hospital procedure are picked up and delivered by Leon Medical's bus transportation service. On arrival, they're greeted and escorted to their destination by staff from Leon Medical's Hospital Service Centers, which are located within all of the major Miami-Dade County hospitals. Aside from the seven centers and four Healthy Living Centers, Leon Medical operates a fleet maintenance garage and a 300,000 square-foot corporate headquarters. Video management software Martinez says that the fixed facilities are also being equipped with March Networks 8000 Series Hybrid NVRs, which are managed using the same March Networks Command video management software powering the mobile recorders. Having a single software solution to access and manage video - regardless of whether it's recorded on a bus or in one of the medical centers - means that Leon Medical Centers doesn't have to train staff on multiple software systems. It also provides the organization with complete oversight of its clients and operations. Once again, it's all about patient safety and service excellence. "If a patient loses a purse or a wallet, for example, we'll be able to find it for them on one of our buses or in a clinic. Or if they have an issue with an employee, we'll be able to review the video and take care of it," said Martinez. Video surveillance infrastructure Martinez and his staff are trained to take full advantage of all the Command software functionality A Microsoft certified engineer, Martinez heads up a department solely focused on overseeing Leon Medical's video surveillance infrastructure. "This department didn't exist four years ago," he said. "I was part of the IT department responsible for PC support. Mobile security was handled by transportation at the time. I thought it would be a good idea to create a separate department with IT expertise to look after mobile security, and senior management agreed." Martinez and his staff are trained to take full advantage of all the Command software functionality. For example, they're able to manage video viewing privileges to ensure users have access only to those cameras corresponding to their roles or responsibilities. They're also able to take advantage of Command's support for Microsoft Active Directory integration, which collects established user account information from Leon Medical's corporate network directory. Patient safety and service excellence This allows them to select users from the company directory, assign a profile and customize their user interface to display the tools needed for their role. Looking ahead, Martinez and his team will be busy this year, as Leon Medical Centers continues to expand. We have four construction build-outs planned, including a four-story, 80,000 square-foot building" "We have four construction build-outs planned, including a four-story, 80,000 square-foot building and two parking garages - one six-floor and one seven-floor garage - so there will be opportunities for additional fixed video surveillance systems. Because we lease our buses for three years, we're also always adding to our transportation fleet, so we'll continue swapping out our 5308 recorders in favor of the newer GT Series." "March Networks has served us well," said Martinez. "Without a high-quality, reliable video surveillance system, we would have a much more difficult time fulfilling our commitment to patient safety and service excellence. It's that simple."
U.S. Manufacturer Uses March Networks Video To Boost Safety And Productivity
Two of the most important priorities in a manufacturing environment are safety and productivity. Failure to follow safe work practices around machinery on a factory floor can result in serious injury, while poor productivity can erode profits and ultimately threaten the viability of the business. At WCCO Belting, a Wahpeton, North Dakota-based manufacturer of custom rubber products for agriculture and light-industrial conveyor equipment, a March Networks® video surveillance solution plays a key role in enhancing both safety and productivity. Monitor Work Processes "Recently, for example, we had a minor safety incident on one of our machines that was captured by the system," said Michael Marsh, Senior Technology Administrator. "The video not only allowed us to determine the cause of the incident, it also helped us create a proprietary piece of equipment to ensure that the accident would never happen again." Safety was the main reason WCCO Belting acquired a March Networks system in 2015 Safety was the main reason WCCO Belting acquired a March Networks system in 2015, but the company soon discovered it could use the technology for other equally important priorities. "We found that we could use the video solution for time studies, to be more effective and efficient," said Marsh. WCCO engineers use the video to monitor work processes and then tweak them to speed production, while ensuring optimum quality. Security System Integrator The company selected Marco Technologies as its security system integrator in 2015, and acquired March Networks 8000 Series Hybrid NVRs shortly thereafter. Two years later, when WCCO Belting decided to also equip a second production facility in Arlington, Texas, it upgraded to a March Networks Command™ Recording Software (CRS) solution in North Dakota and moved the 8000 Series Hybrid NVRs to its Texas facility. At the same time, the company deployed March Networks Command Enterprise Software to tie all the video from its geographically-dispersed facilities together, said Marsh. The software enables WCCO Belting "to oversee everything and manage the entire system from a single point of entry." In addition, approximately 50 March Networks IP cameras — including indoor domes with wide dynamic range and outdoor IR bullet cameras — provide crystal-clear video of activity on the company's factory floors, loading docks and parking lots. Remote Configuration Marsh cites ease of use and outstanding support as the main reasons for selecting the video solution. "The technology is easy to implement, easy to use and easy to navigate. Support has also been great. When we ran into some early issues, they responded quickly to help resolve the problem." We didn't have to uproot a lot of the architecture already in place" "More recently, when we decided to expand the system to include our second location, it was Marco that recommended the CRS solution and the redeployment of our NVRs to Texas. It was really plug and play. That was the winning piece for us. We didn't have to uproot a lot of the architecture already in place." A system that was easy to rollout was important because WCCO Belting's IT department does the physical camera install themselves, while partnering with Marco Technologies for remote configuration. Command Mobile App "It's one of the reasons we like March Networks, because we're a hands-on IT department," explained Marsh. "We like to make sure we're always on top of things and that we understand the equipment we're working with. If we can't install it ourselves and need someone to come in and do it for us, it just creates future costs." Aside from the IT department, which has administrative access to the system, authorized supervisors and managers at WCCO Belting are able to audit video for safety and security purposes. Temporary access is also provided to engineering staff for time studies. Marsh and several supervisors also have access to video through the Command Mobile app on their smartphones. Available as a free download from the Apple Store and Google Play, Command Mobile runs on iPhones, iPads and Android devices. Track Offending Vehicle Remote, after-hours access to video proved valuable during the previously mentioned safety incident, for example, "by allowing managers to pull up video from home and use it to make decisions quickly," said Marsh. The video solution has also proven useful to local law enforcement, as some of the bullet cameras covering the employee parking lot at the North Dakota facility also have a clear view of North 9th St., a busy artery in the town of 8,000. The video resolution was so good that we were able to quickly track the offending vehicle" "One day, I was called to the front desk and met by two police officers and three sheriffs," recalled Marsh. "They wanted to come to my office but didn't say why. I was never so nervous in my life. Once in my office, they explained that they wanted to see if we had any recorded video to help them solve a hit and run a block and a half down the road. We did, and the video resolution was so good that we were able to quickly track the offending vehicle." Rubber Belting Solutions "We've had two law enforcement visits since then, so now when they show up, I know I'm not in trouble," joked Marsh. A family-owned business, WCCO Belting was founded in 1954 by Ed Shorma, a Korean War veteran who mortgaged the family car and borrowed $1,500 to buy a shoe repair shop. Propelled by Shorma's strong work ethic and talent for ingenuity, the business grew and evolved as a manufacturer of rubber belting solutions, leading to Shorma's recognition as Small Business Person of the Year by U.S. President Ronald Reagan in 1982. WCCO Belting is currently led by president and CEO, Tom Shorma, Ed's son, and has 270 employees — 200 in North Dakota and 70 in Texas. The company's rubber product solutions are sought after worldwide, and exported to customers in more than 20 countries. The company won North Dakota's Exporter of the Year award in 2003, and in 2010 and 2016 it was the recipient of the Presidential 'E' Award and 'E-Star' award for its export promotion efforts.
Bank Of Hawaii Uses March Networks Video Solution For Strategic Planning
Brian Ishikawa has always kept tight control over his video surveillance system, allowing only authorized personnel within his corporate security division to access video footage. So it was a change for Ishikawa, Senior Vice President and Director of Corporate Security for the Bank of Hawaii, to get used to the idea of authorized staff from the bank's branch division being able to review video for operational, compliance and marketing-related purposes. The insights collected from the video are helping the bank make more strategic decisions about staffing, customer service and even future branch design. Business Intelligence Our March Networks surveillance platform is providing us with some significant business and non-security-related uses" "Our March Networks surveillance platform is providing us with some significant business and non-security-related uses," Ishikawa explained. Bank of Hawaii, which operates 69 branches and 373 ATMs across Hawaii, American Samoa and the West Pacific, is currently using March Networks Searchlight for Banking software to gather business intelligence at its branches. Searchlight's mix of surveillance video, teller/ATM transaction data and analytics delivers valuable insights into the bank's operations, as well as helping to enhance security and uncover fraud. "Our branch division folks look at the data to get ideas on how we should do our branch operations or staffing differently," he said. People counting data — collected by FLIR Brickstream3D sensors integrated with the Searchlight software — tells them which entrances and exits are most used so they can place marketing materials in high-traffic areas. Video Surveillance Products The information is also being used to help determine future branch layouts. Queue length and dwell time data, meanwhile, help them understand their busiest time of day, and day of the week, so they can staff branches appropriately. "It's a huge plus for us," said Ishikawa. "Our executive management team can see the benefits of the video solution, and the future possibilities for this data." A forward-thinking bank that's keen to try new technology, Bank of Hawaii began exploring Searchlight after its success with March Networks' other video surveillance products. The bank first started using March Networks systems in 2015, when it was time to upgrade its legacy DVRs. At the time, Bank of Hawaii was relying on two different video platforms, and it wasn't happy with their performance. After enlisting the help of a consultant, and doing his own research at security tradeshows, Ishikawa says the decision to go with March Networks was clear. Network Video Recorders 'March Networks' products are really engineered for the banking environment" "I remember asking some of my banking counterparts, 'Hey what are you guys using?' And they strongly recommended March Networks," he recalled. The consultant came to a similar conclusion. He said, "March Networks' products are really engineered for the banking environment,' so that helped us make the decision." Bank of Hawaii is currently using March Networks 8000 Series Hybrid Network Video Recorders (NVRs) in about half of its banking branches. The Linux-based devices provide reliable video surveillance recording and management, and are also easy to service, which is a huge bonus for Ishikawa and his team. In addition, the 8000 Series rack mount units feature an innovative 'dock and lock' station that allows technicians to easily remove and service the recorder while leaving all rear connections clean and organized in place. Existing Analog Cameras "With other companies, you have to power down the recorder for several minutes to service it, and that means unplugging and re-plugging all the inputs. You miss a number of minutes of recording during that time. With March Networks, we're able to just pull out the hard drive and pop in another one without taking the NVR offline," he said. "That's huge for us." According to Ishikawa, Bank of Hawaii also appreciates the 8000 Series' hybrid support, which allowed the bank to continue using its existing analog cameras, and the motion histograms in March Networks Command video management software, which show Ishikawa and his team where motion occurred and helps them rapidly locate video evidence. "Command's modern interface is really user-friendly, and it's very easy to find video," said Ishikawa. Dynamic Range Technology Bank of Hawaii has installed MegaPX ATM Cameras, which are purpose-built for ATMs "When someone is telling you, 'Hey we had a problem at this branch this morning, I don't know what happened, but it must have been around this time', we're able to find that video much more quickly on a March Networks platform." The bank's high resolution cameras also make it easy to discern important details. In its newer branches, Bank of Hawaii is using March Networks ME4 Series IP cameras, which capture 4MP images and feature high dynamic range technology to optimize image quality in both low and bright light. The bank is also using Oncam 360° cameras for high-resolution panoramic views. For security at its bank machines, Bank of Hawaii has installed MegaPX ATM Cameras, which are purpose-built for ATMs. Video is integrated with the bank's ATM transaction data in the Searchlight software for rapid investigations into customer complaints and potential fraud. More Comprehensive Oversight "It's so easy to search," said Ishikawa. "It takes us exactly to that transaction and the associated video so we can figure out what transpired." The bank is also integrating its teller transaction data with video in Searchlight for more comprehensive oversight of its branches. The combination of video, transactions and analytics helps it get a more holistic view of its services. "Transaction data is not always indicative of how busy a branch is," Ishikawa said, noting that lengthier conversations at the teller counter often create value because the customer returns later to access another bank product or service. Having video and analytics is an added layer of information. Being able to remotely access video also helps Ishikawa's security team conduct virtual patrols. This saves them both time and money. Uniformed Security Member Capturing video of the incident helped underscore the serious nature of the situation "In the past, whenever there was an issue, we had a uniformed security member head out and physically check the branch. But with virtual patrols, we can do fewer physical visits and, when we do visit, it's a more meaningful visit." The security team, for example, can keep an eye on issues with vagrancy and loitering by simply logging into the Command software. March Networks video has helped the bank successfully address some of these issues. In one case, a person was routinely visiting a branch and causing disruptions by yelling and throwing deposit slips on the floor. "We don't always know the situation, but if a person is yelling or displaying erratic behavior, they pose a risk," said Ishikawa. Capturing video of the incident helped underscore the serious nature of the situation. Investigating A Fraud "We were able to show police that this was not a minor disruptive party. It was a very concerning issue for us. And it wasn't just our bank, it was occurring in other banks, too." Going forward, Bank of Hawaii is planning to migrate its remaining retail branches to March Networks. Given the widespread benefits of intelligent video, Ishikawa predicts that, like him, more bank security managers will receive requests to share their video surveillance securely with other departments. "In the future, it won't just be security that's asking for a video upgrade," he said. "It's going to be other parts of the business saying, 'We want a piece of the pie too.' Because surveillance is more than just investigating a fraud or robbery incident. Now, video surveillance is a lot more than that."
Latest March Networks Corporation products