The Global Security Exchange (GSX) seems smaller this year, which is not surprising given the absence on the show floor of several big companies such as Hikvision and Assa Abloy (although their subsidiary HID Global has a big booth). A trend affecting the number of companies exhibiting at GSX 2018, and other trade shows, is industry consolidation, which is impacting the show even beyond the fewer exhibitors this year in Las Vegas. GSX is the new branding for the trade show formerly known as ASIS.
There was an impressive crowd of visitors waiting for the show floor to open Tuesday morning; the conference part of the program began on Monday. After the attendees filed through the doors, the foot traffic seemed brisk throughout the morning, and was somewhat steady until the end of the first day. Exhibitors as a whole seemed pleased with the first day and cautiously optimistic about the rest of the show.
Acquisitions And Consolidation
HID Global announced on the first day that they will acquire Crossmatch - emphasizing the impact of consolidationEmphasising the impact of consolidation on the industry as a whole, and on this show, was an announcement from HID Global on the first day that they will acquire Crossmatch, a biometric identify management and secure authentication solutions provider. It's a comparatively large acquisition for the company specializing in trusted identity solutions.
Just days earlier, another acquisition also seemed to confirm the trend when UTC Climate, Controls and Security — the owner of Lenel — announced an agreement to acquire S2 Security.
The fruits of another recent acquisition was on display at the GSX 2018 hall, where Isonas took its place near the front entrance as part of the Allegion booth, just three months after the global security provider acquired the 'pure IP access control company.'
Isonas is well positioned in two of the three fastest growing segments of the access control market — IP hardware, which is growing 41 percent per year globally, and access control as a service, or 'cloud' technology, which is also outpacing the overall access control market. Allegion also has the third fast-growing segment, wireless locks, covered with its Schlage brand.
"New Avenues Of Growth"
The early days of new ownership is opening fresh opportunities for both organizations as Allegion seeks to leverage Isonas' intellectual property and the smaller company finds new avenues of growth in the larger organization, says Rob Lydic, Isonas Global Vice President of Sales. Motorola joined Avigilon in a higher profile role at their booth, emphasizing consolidation in the industry
Lydic sees a likelihood of additional acquisitions in the near future in the security space, given the large amount of capital currently available to be deployed, and the large number of entrepreneurial companies looking to make the leap, as Isonas did, from a small booth at the back of the hall to front-and-center as part of a big industry player.
Another reflection of consolidation: Motorola Solutions is taking a much higher-profile role in the Avigilon booth. In addition to signage, ownership by Motorola is also impacting the Avigilon product offerings. For example, the Motorola Ally security incident management and communications system has been integrated with Avigilon's analytics-based event detection, and is being positioned to serve the enterprise market.
The system simplifies security operations with a single platform that allows access to critical data, including video and access control systems, directly from any web-enabled device.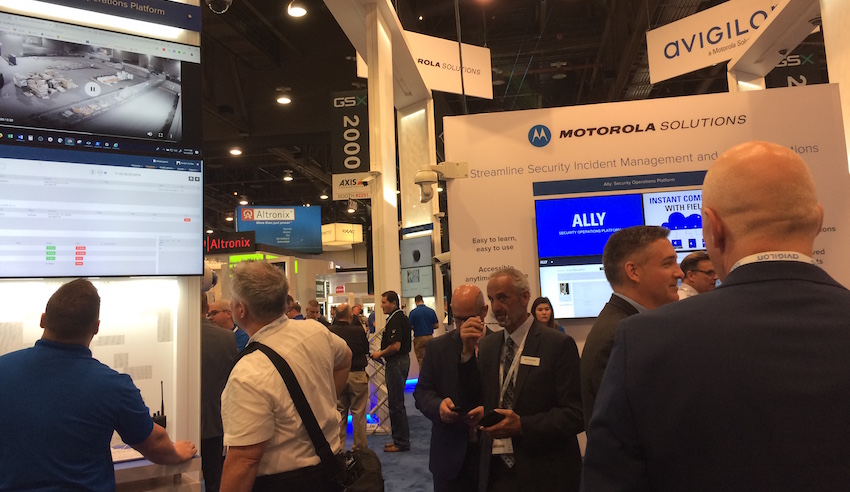 Another reflection of consolidation: Motorola Solutions is taking a much higher-profile role in the Avigilon booth
Avigilon is displaying Motorola Solutions' CommandCenter Aware integrated with Avigilon's systems for use with public safety applications to provide dispatchers and intelligence analysts with video feeds, incident details, alerts, data mapping and responder location.
Avigilon has also integrated its AI-driven Appearance Search technology with its Access Control Manager system, so video searches can be performed based on a badge credential. The system can automatically pull up any information, whether video or events in the access control system, based on the badge information. It can also be used to search for lost badges, or to view where a person is located in the building.
Avigilon introduced an AI appliance that allows existing cameras to be integrated with Appearance SearchThe company introduced an AI appliance that allows existing (non-Avigilon) cameras (up to 20 two-megapixel cameras) to be integrated with Appearance Search. Also, the next generation of analytics allows detection of more things, such objects a person may be holding, or detection based on what they are wearing.
The Growth Of The Cannabis Market
Although attendees at GSX are generally understood to be more end users than integrators, Joe Grillo, CEO of ACRE, the parent company of Vanderbilt Industries and ComNet, says he sees little difference in attendees at GSX compared to the ISC West show in the spring. "We see all our resellers here," he says. Grillo noticed that Day One booth traffic was "not consistently busy, but steady."
Grillo says ACRE expects to be active again soon in the mergers and acquisitions market. The company has grown through six acquisitions since its founding, and has had one divestiture (when it sold Mercury Security to HID last fall). Since selling Mercury, ACRE has been 'back in the buying mode,' just looking for the right opportunity, says Grillo. New markets are a theme at GSX, and one of the biggest new opportunities is the cannabis industry. Marijuana has been legalized in dozens of U.S. states, and Canada is on the verge of legalizing the drug.
March Networks works with multiple cannabis operators to provide video solutions, point-of-sale transaction data, and customer analytics
March Networks is among the companies targeting the cannabis industry in a big way. Already across the U.S., March Networks works with multiple cannabis operators to provide video solutions, point-of-sale transaction data, and customer analytics. The business intelligence solutions also aid compliance in the highly-regulated industry.
March Networks provides radio frequency identification (RFID) tag to track plants throughout the channel, and tracking is integrated with video systems to provide correlated video views. A couple of exhibitors mentioned to me the need for commercial companies to deploy a comparable level of automation as their employees are accustomed to in the smart home environment. That suggests a need for things such as smartphone integration and voice commands.
One exhibitor putting its toe in the water is Hanwha Techwin, which showed an Amazon Echo device used to control a video management system (VMS) with voice commands.
Could the simple integration be a preview of the future of control rooms, where security officers merely talk to their equipment rather than operating controls? We'll be talking to more companies (and maybe a few machines) on Day Two of the show, and will be reporting what we hear.
Download PDF version
Download PDF version