Part 3 of our Security in Healthcare series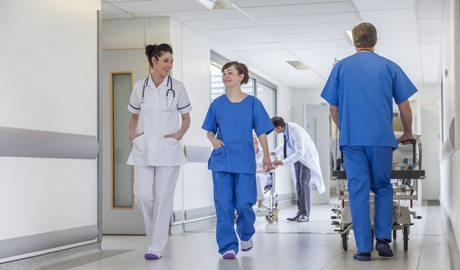 Megapixel and higher-definition cameras are meeting the security and surveillance needs of a variety of hospital and healthcare facilities
Video is a major component of most hospital and healthcare security systems. Among the big video trends are greater integration of video with other systems, and increased use of higher-megapixel cameras and 180-degree and 360-degree-view cameras to monitor larger areas.
Variety Of Video Applications
Arecont Vision is seeing a growing number of video applications for healthcare providers. Commonly protected with Arecont Vision megapixel surveillance cameras, integrated with a video management system or a network video recorder of the customer's choice, is coverage of:
Entrances and exists to buildings, grounds, parking structures, car parks, and facilities
Office areas, emergency rooms, nursing stations, treatment centers, clinics, operating rooms, procedure rooms, operating rooms, morgues, patient wards
Pharmacies, drug storage areas, records storage, store rooms, laundry
Public areas, reception, lobbies, hallways, cafeterias, kitchens, retail areas
Protection from slip-and-fall, workman's compensation, malpractice, lawsuits, and other litigation and compliance
Perimeter, parking surveillance and license plate recognition
Facial recognition, people counting, movement monitoring
Access control and staff identification
Visitor, patient, and staff safety
Megapixel and higher-definition cameras are meeting the security and surveillance needs of a variety of hospital and healthcare facilities. "Due to the resolution provided by Arecont Vision's megapixel cameras, and the deployment of several panoramic cameras, we have easily expanded our coverage capabilities using fewer cameras with outstanding results," says Paul M. Sarnese, System Safety Direct, Virtua Health in New Jersey. "The performance of our new surveillance systems has helped us to improve overall security. It has been a win-win situation for Virtua."
Addressing Accountability
Sacred Health Health System, Pensacola, Florida, uses Arecont Vision megapixel cameras as part of a video surveillance system to look for recorded video of suspicious persons after a description is given, says Michael J. Matroni, Emergency Preparedness and Security Manager, "We are also using it to review slip-and-fall complaints, and to address issues of employee accountability."
"Arecont Vision cameras more than satisfy our requirements for image quality," says Lai Voon Hon, General Director of Hoa Lam-Sangri-La, a high-tech healthcare park in Vietnam. "The system is working very well for us." The International Hi-Tech Healthcare Park will be the first integrated healthcare development in Vietnam to provide a comprehensive healthcare environment employing high-tech medical equipment and a professional medical staff. "Our new video surveillance system is an important element of that environment," says Lai Voon Hon.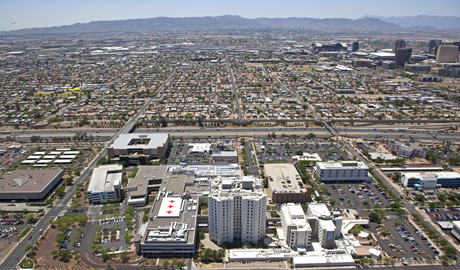 Hospitals and healthcare facilities that have multiple sites and locations can benefit from centralizing all video on a single platform
Centralizing Video Onto A Single Platform
One Pelco customer is the University of Arizona Medical Center – South Campus (UAMC South Campus). When adding a new behavioral health hospital tower, UAMC South Campus sought to migrate and expand its existing analog video surveillance system to an IP system that would allow the capabilities of multisite monitoring. Using Pelco's Endura IP video management system (VMS) with NSM5200 network video recorders, the hospital system was able to centralized all video onto a single platform while allowing several operators to simultaneously look for and view video of daily events. In addition, more than 150 Sarix and Sarix with SureVision technology IP cameras were deployed throughout the new tower, emergency room and most entrances and exits.
The open platform concept that Pelco offers can help ensure that existing technology can be incorporated when adding onto existing infrastructure
Other hospitals and healthcare facilities that have multiple sites and locations can benefit from the kind of technology used at UAMC South Campus – especially using the latest VMS technology VideoXpert and Pelco's latest IP camera technology, Optera, which offers 180-, 270- and 360-degree views. Additionally, the open platform concept that Pelco offers can help ensure that existing technology can be incorporated when building a new building or adding onto existing infrastructure.
Pelco by Schneider Electric is focused on the development of video surveillance and security solutions for enterprise-class organizations that allow users to make real-time, business-enabling decisions. Pelco offers video management platforms, industry-leading IP cameras and accessories, and other video security products and open platform systems that healthcare facilities require to bring multiple sites and locations together into a single, holistic approach to security.
Multi-sensor Panoramic View Cameras
When Arecont Vision pioneered multi-sensor megapixel cameras with their first offerings in 2006, they were alone in the market in presenting these in place of pan-tilt-zooms (PTZs) and multiple individual cameras Over the past year, the industry has seen many legacy camera vendors offer their own 180- or 360- multi-sensor cameras to try and gain market traction.
"Competition is always good, and our own fifth generation SurroundVideo cameras will get even better as a result," says Jeff Whitney, Arecont Vision's Vice President of Marketing. "Most importantly for healthcare overall, users will see affordable solutions that don't require multiple analog cameras and PTZs as in the past, and understanding of the benefits of multi-sensor cameras will accelerate. PTZs are a legacy technology just as analog cameras and fisheye lenses are in many situations."
"Most importantly for healthcare overall, users will see affordable solutions that don't require multiple analog

cameras and PTZs as in the past"
Multi-sensor megapixel camera technology is the way of the future to keep costs down, reduce the numbers of cameras required, shrink maintenance costs, and improve quality and video coverage for healthcare, says Whitney.
Pelco is also seeing an increase in use of 180-, 270- and 360-degree camera technology to cover a larger area, such as a large waiting room or corridor, or a parking garage. The technology in these cameras allow users to pan, tilt and zoom virtually within the picture to pinpoint an incident in real-time or retrospectively. Additionally, there is a significant uptick in violence within healthcare facilities, so it's imperative that a comprehensive video surveillance system is in place to help identify potential problem areas or threats to the safety and security of patients, healthcare workers, visitors and staff of these large facilities. This can be done through open platform technology that works seamlessly with other cameras, video management systems, alarm monitoring systems and access control, says Kyle Cusson, Business Development Manager, Healthcare, Pelco by Schneider Electric.
360-degree Analytics
Jumbi Edulbehram, Regional President, Americas, Oncam, also expects 360-degree cameras to expand their uses in the healthcare realm. "Another major development will be the use of analytics, built into the 360-degree cameras, being used to help monitor traffic patterns, streamline hospital operations, increase response times and provide overall, general business intelligence for hospital administrators on ways they can improve operations and management of these facilities," says Edulbehram. "Using analytics, the possibilities are nearly endless for how patients, staff and visitors can be better served."
A role that is sometimes overlooked is the growing importance of mobility for security officers in the healthcare vertical. "These facilities – more than ever – need to find ways to deploy effective, yet cost-aware, solutions to protect critical assets, staff, visitors and patients," says Edulbehram. "Remote monitoring has become mainstream, and mobile applications are growing in popularity because they enable users to fully experience surveillance through 360 degrees, in full high definition from a smartphone or tablet." The ability of officers to remain mobile while also accessing video on the go offers new flexibility that is critical to the success of any security solution, he says.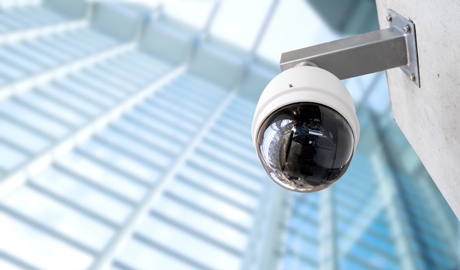 There is a wealth of untapped information within the departments and offices
of hospital perimeters that can be analysed to improve security strategy
Expanding How Video Is Used In Healthcare
With technology improving and prices decreasing, video solutions can even be used for purposes beyond traditional security. For example, video analytics are now being leveraged for patient tracking, asset tracking, and operational purposes, and captured video can be used to defend against liability claims.
What's next? Video analytics will continue to be a valuable addition to any surveillance infrastructure due to its ability to address patient needs, operational efficiencies and early risk detection, says Brandon Reich, Senior Director of Surveillance Solutions, Pivot3. Additionally, IT innovations will drive continued technology investment – hyperconvergence and virtual desktop infrastructure (VDI) deliver new levels of cost saving and opportunities for efficiencies, he says. For example, a VDI environment can automatically lock users out of a device after three minutes of inactivity or if they have swiped into a different workstation. Additionally, VDI drives mobility, allowing medical staff to roam from environment to environment to improve patient care and hospital operations.
Video analytics are now being leveraged for patient tracking, asset tracking, and operational purposes, and captured video can be used to defend against liability claims
As in hospitals and healthcare facilities, the world of video analytics is gaining ground in vertical markets such as retail, government and corporate enterprise applications, says Steve Birkmeier, VP of Sales and Business Development, Arteco. "There is a wealth of untapped information within the many departments and offices of hospital perimeters that can be analyzed to improve security strategy in the future," he says.
Video Event Management Software
Through video event management software (VEMS), hospitals can customize the statistics that are relevant to their individual buildings or campuses without having to spend extra time or money on rigorous employee training. Furthermore, once healthcare facilities are able to digitise all of their patient records, secure any of their ingress and egress points with real-time access control security updates, and fully transition from analog to IP video surveillance cameras, VEMS systems that house analytical software will be able to multiply the benefits offered to hospitals, not just in real time, but in planning ahead for future risk, expansion and safety protocols.
Recording images in high resolutions (megapixels and gigapixels) is becoming more and more important in healthcare as well, says Jason Ouellette, Product Line Director – Access Control, Tyco Security Products. If an incident occurs in a medical facility, the security staff has to be able to identify faces easily and accurately. Storage and costs have to be considered, of course. "At Tyco Security Products, we are making smart solutions that use native analytics and intelligence to help security operators determine when they need to record video and have that top quality image. It's a cost-effective way to use high-resolution imaging," he says.
Download PDF version
Download PDF version