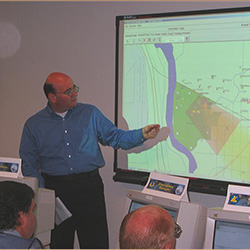 Think of crisis management and
emergency planning as a customer
service
Do you have a written emergency management plan? Where is it? When was the last time you updated it?
Developing and writing a corporate or organizational emergency management plan can take a long time. Once completed, however, the plan is there for you to access when you need it.
In fact, that's wrong. According to crisis management authority Michael J. Fagel, emergency planning is supposed to take forever, and it should never go onto a shelf where no one might ever look at it again. "Emergency planning for crisis management is never finished," Fagel said. "Security is a process, a continuing task that you modify and refine to meet changing circumstances, while continuing to work on improving the overall system."
Fagel has spent nearly four decades in fire, rescue, emergency medical services, law enforcement, public health emergency management and corporate safety and security. His experience includes responding to crises and disasters including the Oklahoma City Bombing and the World Trade Center in the wake of the 9/11 attacks.
He also led a team of experts that authored the 2013 book "Crisis Management and Emergency Planning: Preparing for Today's Challenges," which was published by CRC Press, Taylor & Francis Group.
For Fagel, the security process moves forward through clear communications. "Emergency planning is a culture with a communications methodology, where people in a hierarchical structure or chain of command work together to make things work.
"By communications, I don't mean radios, email and texting. I mean talking face-to-face and person-to-person. Think of crisis management and emergency planning as customer service. You, as my customer, make me understand what you need, and I provide it."
But It Won't Happen Here
The worst probably won't happen, but something will undoubtedly happen. Maybe it won't be 9/11, but there will be a crisis. So you need a plan, one that evolves and keeps pace with your organization's risks and vulnerabilities.
And you need your plan now. "Crisis management begins before the crisis," said Fagel. "You can't pass out your crisis manager business cards as the police arrive in response to an active shooter or bomb threat at your facility.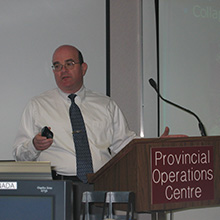 According to crisis management authority Michael J. Fagel, emergency planning is supposed to take forever
"You need to form relationships with first responders far ahead of time. You as the crisis manager must sit with the head of security and the building or campus manager and talk about and develop the plan."
Then you have to practice or drill the plan, continued Fagel. As your town's crisis manager, what will you do if you lose the only hospital you have in your small town? Figure out what that means: It means that your response time to medical emergencies has grown from minutes to unacceptably high, because your town's two ambulances must deliver patients to the hospital in the next town, which is 40 miles away.
You should have talked to the EMTs and asked them what equipment they would want if you had to put together a couple of temporary ambulances. You would also have to find vehicles. Would the police lend you two vans?
Do you live in a tornado alley? What happens if a tornado tears into your town's middle school? Do the schools have a plan? You should probably talk to them about linking their plans with yours.
"Crisis management and emergency planning require discussions, information, problem solving and facilitation ahead of time on a continuing basis," says Fagel. "What are the risks and vulnerabilities? How can you mitigate risks and vulnerabilities? A crisis manager thinks and communicates about these issues daily, imagining what might happen and how to respond."
Currently, Fagel teaches courses in homeland security, terrorism, biodefense and other crisis management and emergency planning subjects at the Illinois Institute of Technology-Stuart School of Business, Masters in Public Affairs Program. He teaches similar courses at Northwestern University in the Masters of Public Policy and Administration Program. He also teaches courses in masters programs at Northern Illinois University, Benedictine University and Eastern Kentucky University.
Download PDF version
Download PDF version