Videotec Pan Tilt Systems
(22)
Pan tilt products updated recently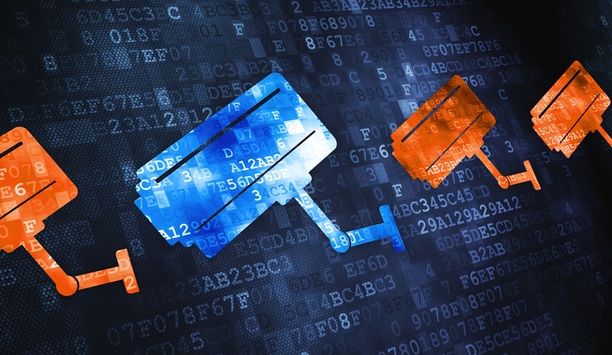 Overcoming Challenges And Mapping The Future Of Video Surveillance
Over the last year, we have continued to see the rise of manufacturers from China in the mid- to low-end market for video surveillance - a trend that currently shows no signs of tapering. Additionally, the shift from analog to IP systems has remained consistent, with end users increasingly looking to network-enabled devices to mitigate risk from both a physical and cyber perspective. Complex network attacks in 2016 demonstrated the need for increased network security for network-connected devices such as IP cameras and network video recorders. More and more manufacturers are considering the potential for such attacks when designing updates for existing hardware and software technology, strengthening password requirements, incorporating robust data encryption, and educating integrators and end users on how to put protocols in place to protect the valuable information being collected. Increased Security Collaborations Today's surveillance technology - and the new innovations right around the corner - incorporates more IT protocols in response to high-profile cyber incidents. As a result, IT standards will finally start being adopted by security system manufacturers over the course of the next few years. At the same time, we'll see increased collaboration between IT and security leaders within enterprises. Intelligent, Big Data Analysis Video technologies such as panoramic 360-degree cameras with advanced dewarping capabilities are being rapidly adopted, along with video analytics software that enables the extraction of data for business intelligence, apart from just security video. The future includes more widespread availability of cloud technologies and services. In 2017, we can look forward to the more widespread adoption of intelligent analytics and big data analysis, which has the potential to streamline processes and optimize sales operations for organizations to drive new levels of business intelligence. See the full coverage of 2016/2017 Review and Forecast articles here Save
Getting Crisis Management And Emergency Planning Requirements Right
Think of crisis management and emergency planning as a customer service Do you have a written emergency management plan? Where is it? When was the last time you updated it? Developing and writing a corporate or organizational emergency management plan can take a long time. Once completed, however, the plan is there for you to access when you need it. In fact, that's wrong. According to crisis management authority Michael J. Fagel, emergency planning is supposed to take forever, and it should never go onto a shelf where no one might ever look at it again. "Emergency planning for crisis management is never finished," Fagel said. "Security is a process, a continuing task that you modify and refine to meet changing circumstances, while continuing to work on improving the overall system." Fagel has spent nearly four decades in fire, rescue, emergency medical services, law enforcement, public health emergency management and corporate safety and security. His experience includes responding to crises and disasters including the Oklahoma City Bombing and the World Trade Center in the wake of the 9/11 attacks. He also led a team of experts that authored the 2013 book "Crisis Management and Emergency Planning: Preparing for Today's Challenges," which was published by CRC Press, Taylor & Francis Group. For Fagel, the security process moves forward through clear communications. "Emergency planning is a culture with a communications methodology, where people in a hierarchical structure or chain of command work together to make things work. "By communications, I don't mean radios, email and texting. I mean talking face-to-face and person-to-person. Think of crisis management and emergency planning as customer service. You, as my customer, make me understand what you need, and I provide it." But It Won't Happen Here The worst probably won't happen, but something will undoubtedly happen. Maybe it won't be 9/11, but there will be a crisis. So you need a plan, one that evolves and keeps pace with your organization's risks and vulnerabilities. And you need your plan now. "Crisis management begins before the crisis," said Fagel. "You can't pass out your crisis manager business cards as the police arrive in response to an active shooter or bomb threat at your facility. According to crisis management authority Michael J. Fagel, emergency planning is supposed to take forever "You need to form relationships with first responders far ahead of time. You as the crisis manager must sit with the head of security and the building or campus manager and talk about and develop the plan." Then you have to practice or drill the plan, continued Fagel. As your town's crisis manager, what will you do if you lose the only hospital you have in your small town? Figure out what that means: It means that your response time to medical emergencies has grown from minutes to unacceptably high, because your town's two ambulances must deliver patients to the hospital in the next town, which is 40 miles away. You should have talked to the EMTs and asked them what equipment they would want if you had to put together a couple of temporary ambulances. You would also have to find vehicles. Would the police lend you two vans? Do you live in a tornado alley? What happens if a tornado tears into your town's middle school? Do the schools have a plan? You should probably talk to them about linking their plans with yours. "Crisis management and emergency planning require discussions, information, problem solving and facilitation ahead of time on a continuing basis," says Fagel. "What are the risks and vulnerabilities? How can you mitigate risks and vulnerabilities? A crisis manager thinks and communicates about these issues daily, imagining what might happen and how to respond." Currently, Fagel teaches courses in homeland security, terrorism, biodefense and other crisis management and emergency planning subjects at the Illinois Institute of Technology-Stuart School of Business, Masters in Public Affairs Program. He teaches similar courses at Northwestern University in the Masters of Public Policy and Administration Program. He also teaches courses in masters programs at Northern Illinois University, Benedictine University and Eastern Kentucky University.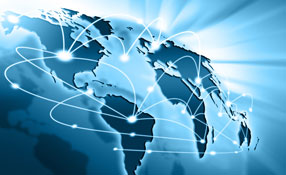 IP Network Requirements For Video Surveillance/physical Security
IT networks are expanding to include more users and applications The use of corporate IT network infrastructure for physical security applications such as video surveillance presents unique challenges. Jack Fernandes, President & CEO of American Fibertek, makes a case for separate networks using specialized equipment and technologies specifically designed for video surveillance which could also integrate other physical security functions. In today's business world, corporate IT networks are not only expanding to meet accelerating demand, but also to include more users and applications. As businesses use information technology (IT) to collect data from every corner of their business, the term "LAN sprawl" has been suggested to describe the multi-dimensional growth that is putting new stresses on the corporate network. One of the issues that comes with the expansion of local area networks (LANs) is how to control the network infrastructure, especially in relation to allowing users to access data.Given the transition of the physical security industry to systems based on Internet protocol (IP), often that data traveling along the enterprise LAN is related to physical security, including video surveillance. Video data can challenge networks both because it uses a lot of bandwidth and because the user has a high expectation of real-time video without latency. As growing networks accommodate the demands of more users and applications, it has become increasingly difficult for a video surveillance or security system to operate effectively. Many companies are concluding that the best approach is a separate IT infrastructure that is dedicated to video and other security systems.As the amount of network information flowing at any given time can lead to recording and viewing problems, video security systems should have their own network rather than running on a shared database. This approach can also take advantage of IT networking innovations designed specifically for the video and physical security marketplace. Advantages of a separate IP Network for surveillance videoTraffic on a video-specific network does not have to compete with other network data or deal with video quality issues. Dedicating a separate network to video applications enables the system to be designed especially for that purpose, including use of technologies to maximize functionality and dependability. Traffic on a video-specific network does not have to compete with other network data Performance-maximizing technologies for video networks include devices to monitor the efficient operation of the network. Such devices take into account variables such as power, environmental conditions and bandwidth usage. Network technologies designed for security/video systems can also facilitate integration of a range of security-related functionality.The Unique Needs Of Physical SecurityPhysical security information systems, including video, are critical to a company's security operation and general well-being. The security mission requires fail-safe systems that operate dependably over long periods of time, as well as those that are ready to respond when needed. Security systems also must be scalable, flexible and able to adapt to a company's changing protection needs, and should not have to compete for network resources with the growing number of other applications and users on the enterprise network.Video's bandwidth and system needs are too extensive for it to be relegated as part of an already overburdened corporate network infrastructure. Security has historically operated separately from other corporate functions, an arrangement that supports its distinctly focused mission and enables information systems for video and security applications to operate effectively and mostly independent of other corporate operations. The security market has unique needs. Not all IT is suitable or appropriate for IP video surveillance. It takes specialized equipment to meet the specific needs of the video and security market.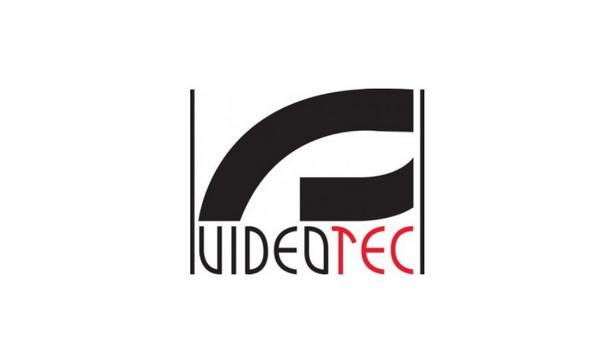 Videotec Added Video Analysis And Advanced GeoMove Features To NVX Video Cameras
With the goal of constantly improving the performance of its products, Videotec has now added the new video analysis and GeoMove functions to its NVX cameras. This versatile compact stainless-steel camera is already well known on the market for its exceptional corrosion resistance and for providing high image quality with Full HD, super low-light, 1080p, and 30x zoom, with bright clear colors in even the poorest lighting conditions. The NVX camera is used in the maritime sector onboard vessels or as part of traffic control in ports, as well as on railways, transport, and industrial process environments. Accurate detection The NVX has been enhanced with Videotec Analytics technology which integrates robust algorithms to ensure accurate detection in even the most adverse external environmental conditions. It offers the operator complete situational awareness at all times. The detection algorithm even works with rain, snow, or low contrast, camera vibrations, sudden changes in changes in light or shadows, and in the presence of small animals or insects. Alarm activation Violation of rules will activate the alarm and other programmed actions Depending on the rules set up by the user, an alarm is generated if an item enters, exits, appears, or stops for too long within an area. Any violation of these rules will activate the alarm and the other programmed actions. Up to ten rules for each preset can be quickly and easily set up. GeoMove function A particularly interesting feature is the possibility of geo-localizing the NVC video cameras on maps to support the new GeoMove and GeoMove&Track features in combination with one or more Videotec PTZ cameras. The GeoMove feature is very useful in perimeter surveillance systems and for port traffic monitoring because it lets the video cameras detect and capture any object through its geographic coordinates, even in critical visibility conditions. Integrated analytics The GeoMove function can be activated via an NVX camera with integrated Videotec Analytics which provides the target's coordinates to one or more Videotec PTZ(s) and they, in turn, use the coordinates to frame the target. Coordinates can also be sent via third-party software, such as VMS (Video Management Software) or VTS (Vessel Tracking Service) for navigation control, or via radar control systems. GeoMove&Track function GeoMove&Track provides the advantage of having a turnkey detection, positioning, and tracking solution Furthermore, if the PTZ that receives the target's coordinates has Videotec Analytics integrated, then it can also start the GeoMove&Track function, independently recognizing and autonomously tracking the geolocated target. Thanks to GeoMove&Track, the system made up of Videotec fixed and PTZ cameras provide the advantage of having a complete, turnkey detection, positioning, and tracking solution guaranteed by Videotec. Marine environment The NVX camera is Lloyd's Register Type Approval System Test Specification Number 1 certified and can therefore be used in marine environments. Such as on boats and ships on open decks, in enclosed spaces, in technical areas that are subject to the heat generated by other equipment, or as visual support for docking maneuvers. Weather protected The total protection against inclement weather and the option of cleaning the camera with high-pressure and high-temperature water jets is guaranteed by the IP66/IP67/IP68/IP69 protection grades. The NVX has been tested and certified from -40°C to +65°C. Models with an integrated wiper or with a polycarbonate window are available for use in the food industry. Design and integration Mounting an NVX is quick and easy, even in confined spaces, thanks to its compact design, lightweight, practical quick-fit connectors, and versatile modular support for mounting on walls, ceilings, or parapets. Developed entirely by the Videotec R&D team, NVX offers the Videotec guarantee of being a reliable, cyber-safe and future-proof platform that can be easily integrated with third-party products.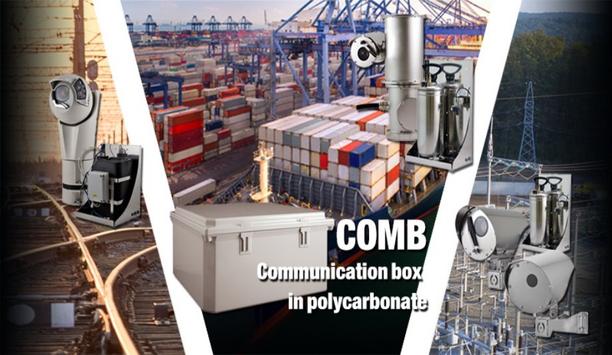 Videotec Launches COMB, The New Polycarbonate Communication Box
Videotec has expanded its range of communication boxes with the new COMB. This product has been designed for use in non-hazardous applications and is robust with its external polycarbonate and extraordinary resistance to external agents. COMB is much more than a simple junction box. It has everything that you need for a state-of-the-art installation and correct operation of one or more Videotec IP or analog cameras. It provides local low voltage power to connected devices. Functions and features COMB enables fast Ethernet connection thanks to the integrated Ethernet switch equipped with three RJ45 ports and an SFP port (MSA compliant) for fiber optic connection. COMB comes with an extended/industrial range of electronics. The internal board offers 2 bypasses for analog video signals and 2 bypasses for I/O signals with multipolar connectors. COMB can manage systems that consist of a Videotec PTZ camera with or without the Videotec washing kit; up to two Videotec fixed cameras with or without the Videotec washing kit; or one Videotec fixed camera and one Videotec PTZ without washing kits. Internally, the unit has been designed with easy cable access and convenient connection operations in mind. COMB guarantees maximum protection against impact (IK10) and weather (IP66/IP67/IP68/IP69, and NEMA TYPE 4X and TYPE 6P). Obtained Lloyd's Register Marine Type Approval certification for the maritime and naval sector. It also complies with railway application standards. COMB is the competitive integrated solution for the professional installation of Videotec cameras in industrial and marine environments.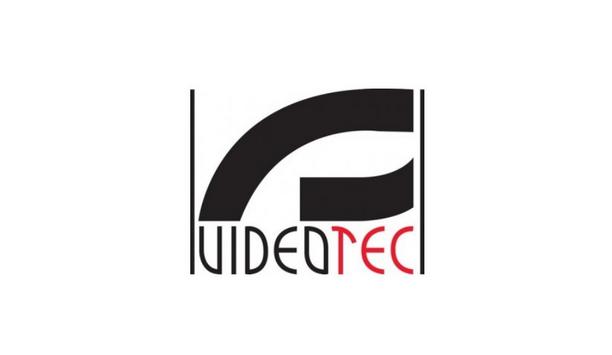 Videotec Announces NXPTZ SERIES2, The New PTZ In Stainless Steel For Corrosive Environments
Videotec, a company with more than thirty years of experience in stainless steel product development for video surveillance in marine offshore/onshore and corrosive industrial environments, announces NXPTZ SERIES2, the new generation of PTZ Full HD video cameras with innovative and high-performance features for outdoor preventive security applications in the most difficult environmental conditions. PTZ product range The PTZ range has been completely revamped and expanded to include visible Day/Night Super low-light, FullHD 1080p-60fps video cameras with DELUX or SONY FCB-EV7520 technology, capable of producing impeccable image clarity even in the most difficult lighting conditions. New thermal PTZ or dual vision network PTZ models are also available for extreme precision in the detection and perimeter monitoring and high-risk environment monitoring and monitoring with poor lighting conditions. The integrated thermal video cameras also offer radiometry features for precise temperature readings, useful in monitoring industrial processes. Intrusion detection for outdoor applications Videotec analytics uses algorithms for accurate detection and precise auto-tracking in most adverse environmental conditions Advanced video analysis features are now available for these PTZ cameras, thanks to Videotec Analytics. This excellent new technology in preventive intrusion detection for outdoor applications, developed entirely by Videotec, uses very strong algorithms for highly accurate detection and precise and fluid auto-tracking even in the most adverse environmental conditions. The detection algorithm is particularly reliable even with the rain, snow, camera vibrations, low contrast, sudden changes in light or shadows, and in the presence of small animals or insects. Perimeter surveillance systems The new NXPTZ SERIES2 PTZ video cameras can be geo-localized on the maps to support the GeoMove and GeoMove&Track features. The GeoMove feature is very useful in perimeter surveillance systems and for port traffic control because it lets you capture any target through geographic coordinates, even in critical visibility or offshore conditions. Video management software In a video surveillance system, the GeoMove feature can typically be activated using a camera with Videotec Analytics on board, or through third-party software such as Video Management Software (VMS), which provide the geographic coordinates of a target and use them to guide the Videotec PTZ cameras to capture the target. The coordinates can also be sent in the same way using Vessel Tracking Services (VTS - navigation control services) or using radar control systems. Video analytics SERIES2 video camera can connect the PTZ over fiber optics owing to the SFP module slot on the base unit Furthermore, PTZ video cameras with Videotec Analytics on board can activate the GeoMove&Track feature. In this case, the Videotec PTZ camera that receives the coordinates of the target, thanks to the video analytics, can also recognize and autonomously follow the geo-localized target. Compared to the previous generation, the SERIES2 video cameras can easily connect the PTZ over fiber optics, thanks to the SFP module slot installed directly on the base of the unit. Operating efficiency The NXPTZ SERIES2 PTZ cameras can operate in corrosive environments, thanks to their solid construction in AISI 316L stainless steel with micro shot-peened and electro-polished surfaces, and the extreme precision adopted during the construction processes. The IP66/IP67/IP68/IP69 grades, in addition, to guarantee total protection against inclement weather, allows the device to be cleaned with high-pressure jets of hot water and temporary submersion. NXPTZT SERIES2 maintains maximum operating efficiency with temperatures from -40°F to +149°F. Quality, cyber security, reliability Videotec owns the design know-how for all of its products and this allows total control of mechanics, electronics, positioning, networking, software, and firmware. This represents a significant competitive advantage in meeting the needs of personalized solutions or integrations with third-party systems, all with the guarantee of Videotec quality, cyber security, and reliability.