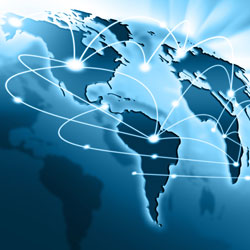 IT networks are expanding to
include more users and applications
The use of corporate IT network infrastructure for physical security applications such as video surveillance presents unique challenges. Jack Fernandes, President & CEO of American Fibertek, makes a case for separate networks using specialized equipment and technologies specifically designed for video surveillance which could also integrate other physical security functions.
In today's business world, corporate IT networks are not only expanding to meet accelerating demand, but also to include more users and applications. As businesses use information technology (IT) to collect data from every corner of their business, the term "LAN sprawl" has been suggested to describe the multi-dimensional growth that is putting new stresses on the corporate network. One of the issues that comes with the expansion of local area networks (LANs) is how to control the network infrastructure, especially in relation to allowing users to access data.
Given the transition of the physical security industry to systems based on Internet protocol (IP), often that data traveling along the enterprise LAN is related to physical security, including video surveillance. Video data can challenge networks both because it uses a lot of bandwidth and because the user has a high expectation of real-time video without latency. As growing networks accommodate the demands of more users and applications, it has become increasingly difficult for a video surveillance or security system to operate effectively. Many companies are concluding that the best approach is a separate IT infrastructure that is dedicated to video and other security systems.
As the amount of network information flowing at any given time can lead to recording and viewing problems, video security systems should have their own network rather than running on a shared database. This approach can also take advantage of IT networking innovations designed specifically for the video and physical security marketplace.
Advantages of a separate IP Network for surveillance video
Traffic on a video-specific network does not have to compete with other network data or deal with video quality issues. Dedicating a separate network to video applications enables the system to be designed especially for that purpose, including use of technologies to maximize functionality and dependability.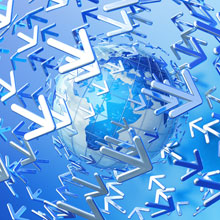 Traffic on a video-specific network
does not have to compete with other
network data
Performance-maximizing technologies for video networks include devices to monitor the efficient operation of the network. Such devices take into account variables such as power, environmental conditions and bandwidth usage. Network technologies designed for security/video systems can also facilitate integration of a range of security-related functionality.

The Unique Needs Of Physical Security

Physical security information systems, including video, are critical to a company's security operation and general well-being. The security mission requires fail-safe systems that operate dependably over long periods of time, as well as those that are ready to respond when needed. Security systems also must be scalable, flexible and able to adapt to a company's changing protection needs, and should not have to compete for network resources with the growing number of other applications and users on the enterprise network.

Video's bandwidth and system needs are too extensive for it to be relegated as part of an already overburdened corporate network infrastructure. Security has historically operated separately from other corporate functions, an arrangement that supports its distinctly focused mission and enables information systems for video and security applications to operate effectively and mostly independent of other corporate operations.

The security market has unique needs. Not all IT is suitable or appropriate for IP video surveillance. It takes specialized equipment to meet the specific needs of the video and security market.
Download PDF version
Download PDF version