Panasonic Power supplies & batteries
(1)
Browse Power supplies & batteries
Power supply & battery products updated recently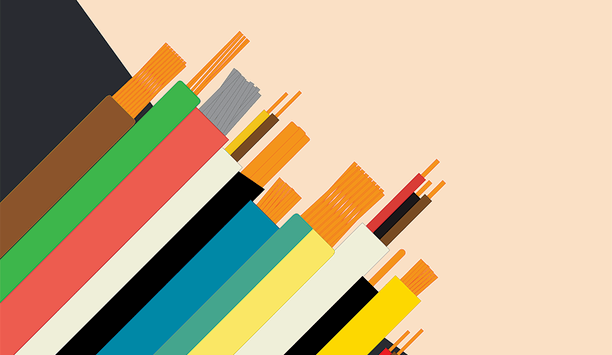 Surge Protection For Security Installations: 2017 Saw Increased Investment
In 2017, DITEK saw how power surges from the many natural disasters that took place damaged many businesses. In a natural disaster, or even everyday business operations, a facility's entire investment in security, life safety and surveillance systems technology can be disabled or rendered useless in a few seconds. Surge protection solutions can mitigate those risks and protect security investments. Proactive Approach To Risk Mitigation Throughout 2017, we also witnessed a change in how enterprises view surge protection, which included how investments are being made in surge protection to protect valuable security, life safety and surveillance systems, while also reducing downtime, manpower costs, liability vulnerabilities, and possibly compliance issues that can force businesses to actually cease operations. Effective security management is about mitigating risks. But risks cannot be mitigated without a proactive approach. Enterprises and integrators, who take the time to assess risk and to develop a strategy to incorporate effective detection, deter and response criteria to protect physical assets will be successful in 2018. 2018 And Beyond That strategy includes designing surge protection into new security systems, while also adding surge protection to existing systems. Enterprises and security integrators who implement a surge protection strategy during security planning processes – or after – will be exercising prevention and mitigation, and they will be successful in 2018 and beyond. Surge protection devices have an untapped potential for enterprise surveillance and security systems In 2017, Ditek continued to offer security end users a solid surge protection solution. We also successfully educated system integrators, who are seeking value-added products or services to incorporate into their portfolios, on the importance of surge protection devices. Educating Security Integrators We believe that surge protection devices have an untapped potential for enterprise video surveillance and security systems, because they can and do meet safety and security challenges that have been rarely identified in the past. We are looking forward to 2018, when we will continue to develop new surge protection products – including a new product engineered to protect up to twelve individual fuel dispensers, which is critical to the financial operation of convenience stores. We will also continue to educate security integrators about the importance of including surge protection in the design/build RFP, to not only secure an enterprise's valuable security equipment, but also to help integrators to differentiate their capabilities and knowledge from the competition.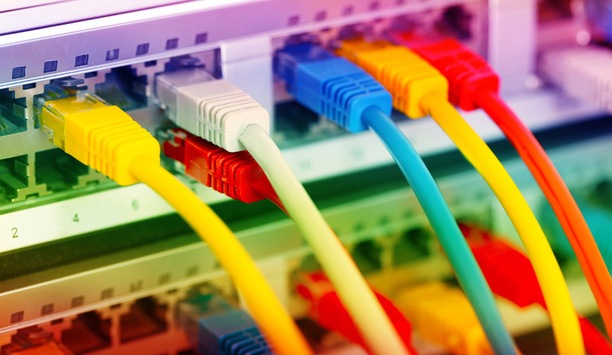 Adaptive Transmission Systems Evolve With Advanced Communications
The security market in 2016 saw an uptick in the economy, the introduction of new technologies, increased compliance requirements in key verticals, and rising concerns over the need for greater security. Users interested in upgrading or deploying new systems consistently chose networked system platforms. This trend further drove the demand for adaptive transmission solutions as a means of repurposing existing analog infrastructure to accommodate IP devices on a networked platform. As this migration accelerated, product feature sets continued to evolve with the inclusion of advanced communications that let you monitor, control and report power/diagnostics from anywhere. These new products have also helped to stimulate new business opportunities for integrators by expanding their service offerings to include remote monitoring of these devices as a new source of recurring monthly revenue (RMR). PoE And Adaptive Transmission Solutions In last year's 2016 forecast, we discussed the integration trend and how PoE and adaptive transmission solutions with network communications were rapidly gaining traction and market share. As the year progressed, the trend increased with customers migrating towards systems that provided more data, faster transmission rates and more versatility, and accessibility anytime from anywhere. Altronix responded with more advanced product solutions. This growing trend makes it more critical than ever for the core power and transmission infrastructure that make up the foundation of these systems to include network communications for true integration. As effective and efficient as integrated IP systems have become, the cost to upgrade or install new networked systems can be prohibitive. In 2017, security professionals will require expanded options to capitalize on existing infrastructure while accommodating IP devices with new levels of performance. These new products will greatly reduce installation and maintenance costswhen deploying orupgrading systems We will see the introduction of new products that offer greater levels of integration with bundled capabilities such as PoE, network switches, versatile adaptive transmission capabilities to accommodate different types of cabling, greater bandwidth and speed, and management capabilities. These new products will greatly reduce installation and maintenance costs when deploying or upgrading systems. Altronix 2016 Business Overview Altronix's evolution as a designer and manufacturer of versatile power supplies and accessories – and the addition of innovative PoE and adaptive transmission solutions with network communications – was significant in 2016. We have continued to deliver new products incorporating advances in power and communication technologies that solve real-world installation issues with the highest levels of performance and cost-efficiency. One of the most significant technologies contributing to our extensive portfolio of power and adaptive transmission products is our innovative LINQ™ Technology, which provides remote control of power, along with monitoring and reporting of diagnostics from anywhere you have internet access. LINQ completes the network communication cycle for networked systems by providing true integration for power supply and adaptive transmission products that are the foundation of every system. Altronix will continue to design, manufacture and introduce new power and adaptive transmission solutions in 2017 that live up to our longstanding reputation for outstanding quality, performance and reliability. See the full coverage of 2016/2017 Review and Forecast articles here Save Save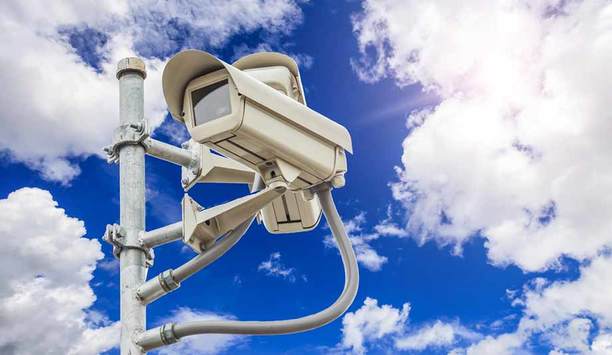 Extenders Convert Media For Longer Video Distance Runs
IP/PoE systems eliminate the need for local power, thus saving installation costs Cost considerations are an important reason to use existing installed cable as part of a new system infrastructure. Extenders in the form of media converters can help. For almost three decades, video surveillance systems existed in the form of analog systems. Video coaxial cable was the primary method of transmission with a limited distance of about 750 feet. Analog systems required separate power supply located at each security camera site. Today, new technology often solves one problem and creates another. Internet Protocol/Power over Ethernet (IP/PoE) systems eliminate the need for local power supply, thus saving installation costs. The drawback is the restriction to only 328 feet and the required use of Cat 5e or above cable. Extended Transmission Distance So tens of thousands of video surveillance cameras are waiting to be converted to IP, and have been transmitting over coax at distances two-and-a-quarter-times greater than the Ethernet limit. The advent of extenders helps to solve this problem. In addition, the use of extenders for Cat cable and even single-pair alarm wire helps to add to the types of IP/PoE conversions while extending distance as far as three thousand feet. Tens of thousands of camerasare waiting to be converted to IP,and have been transmitting overcoax at distances two-and-a-quarter-times greater than theEthernet limit Considerations While Using Extenders Use of extenders requires taking several considerations into account. First and most important is a careful reading of specifications. A statement can be true while not applying to your applications. Let's take IP/PoE transmission over coax as an example. A manufacturer's product can state it has this feature and will meet your transmission requirement of X number of thousand feet. However, a careful reading reveals that achieving this requires RG 6 cable while you have RG 59 installed. You need to maintain a 100Mbps bandwidth and provide your cable with 12.95 watts of power. But as both bandwidth and power decrease with distances obtainable from many types of extensions, you realize that both are much less at the extended distance you require. In short, just depending on a product to make a simple specification statement is not enough when it comes to infrastructure considerations and especially with regards to extenders. Save Save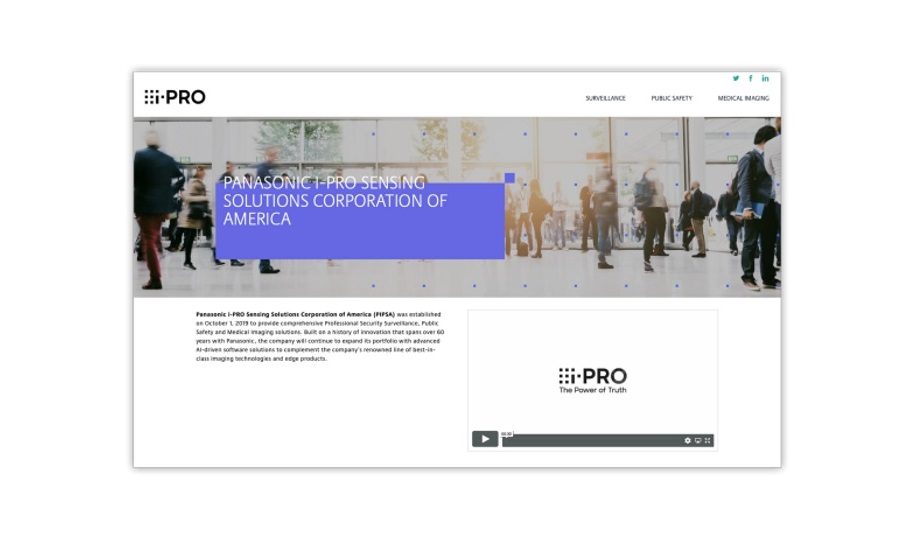 Panasonic I-PRO Sensing Solutions Announces Changing Global Branding To I-PRO
Panasonic i-PRO Sensing Solutions, which was established on October 1, 2019 and formally operates as Panasonic i-PRO Sensing Solutions Corporation of America (PIPSA) in the United States of America, is changing its global brand to i-PRO. i-PRO branding The new i-PRO branding reflects a significant change in philosophy relative to the company's go to market strategies, product and integrated system offerings, and reseller and technology partnerships. Comprised of the professional security surveillance, public safety, and medical imaging business units in the U.S., i-PRO will continue to build upon its expansive portfolio with new technologies and advanced AI-driven software and analytics that complement its best-in-class imaging technologies and edge products, and further build on a history of innovation and leadership that spans over 60 years with Panasonic. Innovative technologies and solutions i-PRO is more than just a new company name or brand. It represents a significant shift in vision for our organization globally" "i-PRO is more than just a new company name or brand. It represents a significant shift in vision for our organization globally, and the innovative technologies and solutions we currently have and will be introducing moving forward to support it," said Bill Brennan, President, Panasonic i-PRO Sensing Solutions Corporation of America (PIPSA). "We are a more versatile and agile company that can establish and implement new strategies and market specific programs and technologies faster and more efficiently to deliver solutions that set new benchmarks in performance with higher ROI and lower TCO. This is the new i-PRO." i-PRO is comprised of the following business units: Professional Security Surveillance, offering comprehensive IP and analog video surveillance, access control, and analytics solutions for professional applications that combine best-in-class hardware, management and control software, and deep learning AI analytics. Public Safety, providing advanced video solutions for law enforcement applications including next generation body worn cameras, in-vehicle video systems, evidence capture and management software, and intelligent analytics such as facial redaction to protect personal privacy. Medical Imaging, delivering high-performance cameras designed specifically for medical imaging devices and systems, and other industrial applications. Integrated solutions "By clearly focusing on these three core markets and working hand in hand with our dedicated channel partners, i-PRO will deliver new and innovative integrated solutions that meet today's most demanding challenges with a forward-looking perspective to address tomorrow's needs." "And we will work in lockstep with our headquarters in Japan to address the specific needs of our customers in the U.S., while remaining close partners with Panasonic, a key investor in i-PRO. We hope you join us on this exciting journey and engage in the new i-PRO experience. Our future is brighter than ever," concluded Brennan.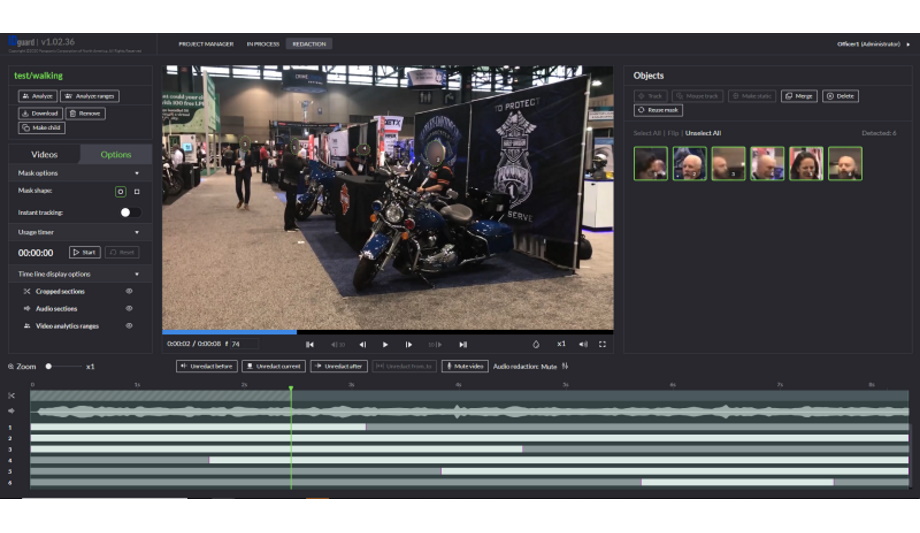 Panasonic Combines AI And Machine Learning To Develop IDguard Solution For Video Redaction Process
Panasonic Public Safety Solutions Division, a business unit of the newly formed Panasonic i-PRO Sensing Solutions Co., Ltd., announces the immediate availability of Panasonic IDguard, an identity redaction solution that reduces up to 90% of the manual effort associated with editing video files of sensitive content. "In developing this solution, Panasonic has combined AI and machine learning technology to automate the video redaction process," said Bill Brennan, President of Panasonic i-Pro Sensing Solutions Corporation of America. "Panasonic IDguard can greatly lighten the burden for hardworking law enforcement officers." Streamline file editing tasks With the growing volume of video from body-worn, in-car cameras, and other sources, agencies have been forced to allocate more and more personnel time to editing video to fulfill Freedom-of-Information-Act requests. One of the most time-consuming aspects of this is the manual redaction of individuals' faces to address privacy concerns. Panasonic IDguard can also reduce the time needed for the manual processes of uploading With Panasonic IDguard, this redaction is fully automated, saving a tremendous amount of time for resource-strapped agencies. A user-friendly application, Panasonic IDguard enables agencies to streamline file editing tasks and respond to Freedom-of-Information-Act requests quickly. Panasonic IDguard can also reduce the time needed for the manual processes of uploading, storing, searching, editing, and sharing video content. Critical editing capabilities It includes the capability to upload multiple videos for overnight batch redaction processing. The interface is easy to learn and use, and a comprehensive set of administrative tools provides strict, secure, multi-user management with critical editing capabilities. With support for all videos in the MP4 format including video from iPhones and Android devices, Panasonic IDguard also offers flexible configuration options with on premise storage now, and cloud-based coming in the summer. Ingestion APIs make integration and communication with existing systems easy, including Panasonic i-PRO's Unified Digital Evidence (UDE) solution. Scalable options are available to fit any user's budget, access, or security needs.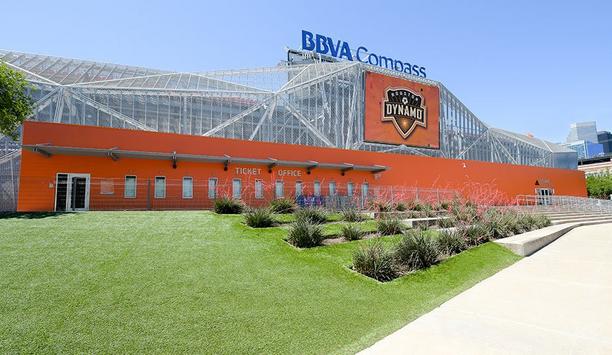 Houston's BBVA Compass Stadium Upgrades Security With Salient Systems VMS And Axis Communication Cameras
BBVA Compass Stadium is a soccer-specific stadium located in Houston, Texas, USA and home to the Houston Dynamo, Major League Soccer club (part of MLS in USA). It also is home to the Houston Dash of the National Women's Soccer League and to Texas Southern University Tiger football. It is also going through a major retrofit with its security systems to include a best of breed, open architecture solution. The stadium first opened in 2012, but six years later, Cultris Security Systems of Houston is back upgrading and expanding the current security installation. After spending five years with another security provider, the Dynamo and Dash, who maintains the facility, opted for a completely new solution. Axis cameras integrated with Salient Systems VMS Along with their current Panasonic cameras, stadium officials opted for Axis Communications cameras Along with their current Panasonic cameras, stadium officials opted for Axis Communications cameras. Both camera manufacturers play well with Salient Systems VMS. The result was an image resolution much more enhanced than they had been experiencing. "With all of this equipment brought together, we found it to be easy to use, user-friendly, and supported a very complimentary search function," said Paul Fisher, Director of Key Accounts at Salient Systems, adding "For those people hired as facility guards, and with a sometime frequent turnover in staff, new people were able to use the Salient software right away and were able to do their job guarding the facility more quickly." Paul further stated, "An installation like this is a great reference for us, and it is a very exciting security installation. Although there are fewer than 100 cameras, the placement and location of the cameras will allow security to monitor the sometimes over-zealous fans, and with BBVA Compass Stadium officials installing our synopsis video tool, stadium officials will be able to key-map the entire facility, gain analytical data and improve the customer experience." CompleteView VMS platform Salient also partners with Dell, taking its CompleteView VMS platform into the booming Internet of Things market. The CompleteView VMS' ability to quickly render and manage video surveillance over a WAN or LAN makes it a compelling offering for solution providers looking to gain a foothold in IoT. The manner through which the video is processed is very efficient, and can render the video and perform forensics on the video rapidly. As more businesses look to video surveillance as an IoT application, the CompleteView VMS platform can be integrated with other software packages will enable partners to work with customers to solve specific problems through big data and analytics capabilities. DSX software installed for secure access control BBVA Compass Stadium officials also switched out the outdated access control software and installed DSX software to complete the upgrade. "We have long known that DSX is a workhorse software solution," said Jason Smith, President of Cultris Security Systems Inc., adding "It is easy to use and a lower cost to use. These upgrades are exciting for us to be part of because the installation will come in several phases, with the integration supported for years to come." Open architecture security solutions Cultris technicians almost had a blank canvas to begin their security installation Jason adds, "We also found working with BBVA Compass Stadium staff very easy because they were receptive to open architecture security solutions. Phase Two will begin in 2019, and we're excited to design the next layer of security at the stadium." Cultris technicians almost had a blank canvas to begin their security installation. The facility itself is an open architecture facility, so facility managers were very receptive when plans were drawn up for security equipment. Much of the focus was on the stadium concourses, where the bulk of the soccer fans' traffic is found during a match. 360-degree cameras installed The new master plan now included 360-degree cameras along the concourse, which offered coverage in every direction. The same 360-degree cameras were also placed near the locker rooms, loading docks and service areas. PTZ and fixed lens cameras were upgraded and placed in each corner of the facility where there is a gate for entrance and exit. As imagined, soccer fans are very passionate about their sport and teams, so cameras on the concourse were placed in a planned manner for the guarding staff to be able to know and react quickly if or when a fight broke out among spectators. The 360-degree cameras also enable the security staff to mobilize and reach the incident spot, where they would be required, as quickly as possible. 4K PTZ cameras Stadium security staff is able to view cameras placed in an adjacent parking area Houston's BBVA Compass Stadium has a capacity of 22,039 seats, including 34 private suites, 1,100 club seats, an indoor premium club area, a dedicated supporters/fans stand and a food court. The stadium is designed to accommodate Major League Soccer (MLS) and FIFA standard international soccer, as well as other sports including football, lacrosse, and rugby and live concerts. Stadium security staff is able to view cameras placed in an adjacent parking area, as well as city security cameras (live view only) in order to ensure the safety and security of people coming to the venue and leaving after the match. These cameras have a 4K PTZ quick drive function, which helps establish a clear view of events, if additional security help is needed. As an integrator, Cultris Security has clearly installed a solution that will work properly for BBVA Compass Stadium, and their tenants, who are always looking to strike a goal.