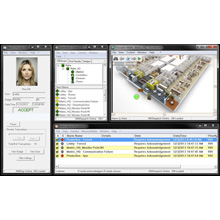 The
Frontier R4 solution provides real-time monitoring of access doors and alarm points for local and remote locations
Matrix Systems, an access control and security solutions provider with a reputation built on service and long-term customer relationships, will display Frontier R4 comprehensive security solution at ISC West 2014 in Las Vegas from 2nd to 4th April 2014.
Frontier R4 is a comprehensive security solution that provides real-time monitoring of access doors and alarm points for local and remote locations of virtually any size. The latest version offers built-in interfaces for Schlage wireless lock solutions that install up to ten times faster than wired alternatives, resulting in significant cost savings. The systems can access privilege changes and audit records available at central control terminals, simplifying data entry/management.
Frontier R4 also has a built-in interface for CyberLock, which replaces conventional key cylinders with electronic cylinders that allow door access only with preprogrammed/assigned electronic CyberKeys.
Also new is a wizard-based import/export capability, which allows users to customize data formatting and quantity and is compatible with most popular personnel data software formats. The cutting-edge graphics technology can now import background raster images and combine them with imported native vector or custom-drawn images for a total security overview.
Frontier is an open architecture program with an ODBC-compliant database, allowing access by many third-party programs and interfaces.
Download PDF version
Download PDF version