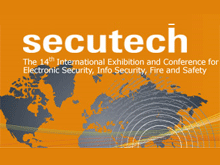 The Camera Excellence Awards witnessed the world's best HDCCTV and IP HD/Megapixel technology leaders
The first ever Camera Excellence Awards for the world's best HDcctv and IP HD/Megapixel technology was organized by Messe Frankfurt New Era Business Media Ltd. The event took place at Secutech, the international exhibition and conference for electronic security, information security, and fire and safety industries, held from 20 - 22 April 2011 at the Nangang Taipei World Trade Center, Taiwan. The 14th edition of Secutech attracted 550 exhibitors from 20 countries and regions. Also, a total of 23,782 visitors from 95 countries and regions sourced the latest products and services in 35,873 sqm of exhibition space.

Altogether 25 cameras were specially selected for the Camera Excellence Award to be showcased for international security industry leaders and buyers. During the event, all cameras were connected to a 16 port 10/100/1000M Base-T Layer3 SNMP switch network (except for HDcctv cameras) and extracted day and night images in a setting mode of 1300K-9600 K (0-20 lux), with the normal environment kept at 18-20 lux.
During the event, all cameras were connected to a 16 port 10/100/1000M Base-T Layer3 SNMP switch network and extracted day and night images in a setting mode of 1300K-9600 K (0-20 lux)
Images were then displayed on a LCD monitor (CHIMEI 24 SH) and were evaluated by hundreds of Secutech international visitors and a panel of judges which comprised of five industry leaders:
Mr Chang Zhong Shan, Purchasing Representative of Shenzhen Government division, Shenzhen Keyuan Group
Mr Kuo Chung Jung,Senior Technician Consultant, Delta Electronics Research Center
Mr Lanfer Yang, Consultant
Mr Lin Chi Feng, Technical Manager,Ceci Engineering, Systems and Electrical & Mechanical Engineering Group
Mr Robert Lien, Director, R&D Department, Secom
International visitors judged by the images on picture resolution, image completeness under different image ratio, night vision quality, picture flow (no time delay or lags), lens performance, and WDR/BLC or HBLC. The panel of judges used a more extensive evaluation looking into details such as bit rate, frame rate and other image ration comparisons. The panel of judges accounted for 70% of the total score and overseas visitors accounted for 30%. Mr Parson Lee, Managing Director, Messe Frankfurt New Era Business Media Ltd said: "All the winners were announced on the last day of Secutech. Following the success of this new event it is hoped that the Camera Excellence Award will become an annual event as it is expected that the post show effect will bring about a positive ripple effect in the industry."

Winners of the Camera Excellence Award are:

HDcctv
IP HD/Megapixel
Download PDF version