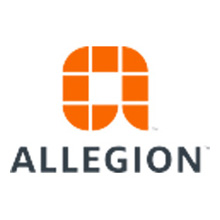 The events include a press conference
discussing Allegion's electronic security
offerings, and a school security seminar
Allegion plc, a leading global provider of security products and solutions, is hosting two events to showcase the company's recent innovations in its electronic security portfolio.
The events include a press conference to discuss Allegion's new electronic security offerings and a school security seminar. Both events will take place during ASIS International at the Georgia World Congress Center in Atlanta later this month. Members of the media and registered attendees of ASIS are invited to attend both events.
Allegion Press Conference:
1:00pm, Tuesday, September 30, Room B-403
Allegion President, Chairman and CEO, Dave Petratis will give the media an overview of Allegion's electronic security solutions across the commercial real estate, campus safety and residential markets.
Topics of discussion include:
ENGAGE™ technology, which will change the way commercial building owners and tenants think about interior building access by making electronic access control easier and more accessible for the commercial real estate market by making it easier to transition from mechanical keys to electronic credentials.
The Keyless Era, a campaign encompassing Schlage's full Keyless suite of electronic locks for the home, including Schlage Touch™ and Schlage Connect™. Schlage's electronic locks free users from the hassles of keys, give them easier access to their home and include options for controlling home security through mobile devices.
Critical Considerations for School Security and Lockdown:
4:30 to 5:30 pm, Tuesday September 30, Room B-308
School security challenges can be complex and overwhelming. The threats of today mean reinventing the approach to the safety of students and the physical security of the campus.
Tim Eckersley, Allegion SVP, President Americas, will discuss school lockdown solutions as part of a broader discussion about campus safety and security. In recognition of Allegion's contribution to Safe School Week (October 19-25, 2014), the seminar will help school administrators and facility managers better understand effective lockdown procedures, leading to better physical security for children and teachers.
Mr. Eckersley will encourage school security providers, influencers and administrators to be aware of new and untested security and lockdown products that could actually put staff and students at greater risk. He will also be available to take questions from members of the audience and the media.
Download PDF version
Download PDF version