DSX Access Controllers
(15)
Browse Access Controllers
Access control controller products updated recently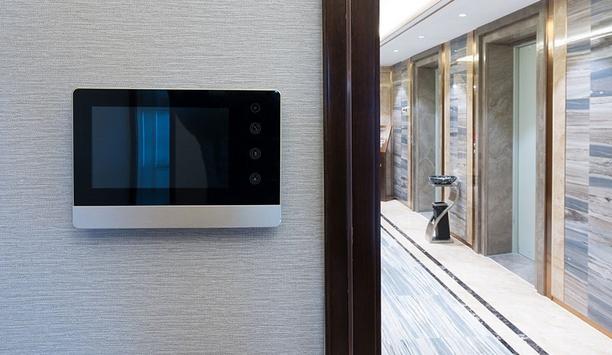 Video Intercoms For A Smarter, Safer Workspace
Though many office workers across the globe have found themselves working remotely for the past year, we are seeing a bit of a silver lining, as vaccine rollouts hint at a return to some pre-pandemic sense of normalcy. However, while some of us might opt for a fully-remote work life, others are anticipating a hybrid solution. Even before the pandemic, offices were taking a new, more open layout approach—moving past the days of cubicles and small office configurations. Going forward, offices and other workspaces will be tasked with supporting a hybrid work solution, as well as increasing hygiene measures. Video intercom solution This is where an IP video intercom solution can assist. Below are four ways they can help usher in a smarter, safer work environment: Video intercoms assist in creating a more hygienic work environment - The outbreak of COVID-19 has raised awareness of germs and just how easily a virus can be transmitted by face-to-face contact. Germ barriers are popping up in many aspects of our daily lives, where we were not likely to see them before Unfortunately, the door is also the easiest of these germ barriers to breach As such, we're becoming accustomed to seeing plexiglass barriers at restaurants, grocery stores, and even coffee shops. However, many don't realize that one of the best germ barriers is a simple door. Unfortunately, the door is also the easiest of these germ barriers to breach. All it takes is a knock or a doorbell ring to make us open our germ barrier and be face-to-face with whomever is on the other side. Increasing hygiene safety A simple step to increase hygiene safety and visitor security in commercial buildings and workspaces is an IP video intercom. Installing a video intercom will allow staff to see and speak with visitors without breaching that all-important germ barrier. A video intercom system provides a first line of defense, enabling the user to visually confirm the identity of the person on the other side of the door first before granting access. It can also be used to make sure proper procedures are being followed before a person is allowed to enter, such as using hand sanitizer, wearing a mask, and following social distancing guidelines. Basic security needs A major topic of conversation the past year has been how to manage occupancy in all facilities Video intercoms for occupancy management and basic security - A major topic of conversation the past year has been how to manage occupancy in all facilities—ranging from grocery stores and retail shops to restaurants and commercial buildings. Workspaces and offices are no exception. A video intercom provides a quick and convenient method of seeing who, or what, is on the unsecure side of the door before opening. For basic security needs, if a business has a door opening into an alley, a video intercom would be used to ensure no one is waiting outside to force their way in when the door is opened. Personal protection equipment Such solutions can also be used to ensure a person is carrying proper credentials, or wearing proper personal protection equipment (PPE), before entering a sensitive area. For example, if a lab has a room which can only be accessed by two persons at a time wearing specific protective gear, a video intercom could ensure each person is properly equipped, before allowing access that particular room. Additionally, for office or workspaces that have shared common areas, such as a cafeteria, gym or even conference rooms, managing access to these spaces will remain a priority, especially with post-pandemic restrictions in place. Video intercoms are a comprehensive safety and security tool for any workspace Deliveries of packages, work-related materials, or even food are common in any office or workspace. Video intercoms can assist in facilitating safe deliveries by visually and audibly confirming the identity of the individual. The visitor could be your next big client, your lunch delivery, a fellow employee with a faulty access card, or your mail. Video intercoms are a comprehensive safety and security tool for any workspace. Visitor management systems Video intercoms provide a cost-effective solution in small to mid-sized office facilities - One significant advantage of video intercom systems is the variety of applications available. Systems range from simple one-to-one video intercoms, to buzz-in systems, to full-fledged visitor management systems in mixed-use buildings. While they might lack the resources and manpower many enterprises have, small-to medium-sized offices can also take steps to ensure the safety of their staff and customers. Like any business, controlling who comes into the building is a primary way of maintaining safety. Video intercoms work in conjunction with access control systems to provide an identifying view of visitors or employees with lost or missing credentials. They allow staff to both see and hear those on the unsecured side of the door to determine intent before granting access. Most quality video intercoms will provide a clear enough image to allow an identification card to be read by holding it close to the lens, adding another opportunity to verify identity. Touchless intercom activation One major trend is the option of providing a touchless door activation Video intercoms provide a touchless option - Even prior to COVID-19, one major trend is the option of providing a touchless door activation or touchless intercom activation of a video intercom for those without proper credentials. Though touchless isn't a new solution to the access control market, the pandemic introduced a renewed focus on these types of solutions to provide hygienic access to visitors. For offices and other workspaces looking to make investments into post-pandemic solutions to assist in reopening, touchless can support these efforts. When it comes to smart, secure workspaces, many people think instantly of cameras or monitors, access control, and alarm systems. Proper access credentials However, video intercoms are often the missing piece of a building's security puzzle. A video intercom provides an identifying view that is not always available from a camera covering a large area. They allow those without proper access credentials a method of requesting entry, and just like cameras, they can be activated by alarms to allow staff to clearly see and communicate. If a workspace or office is important enough to be secure, it's important enough to be sure of who is there before the door is opened. In 2021, it's not enough to ensure the physical security of your staff and visitors, but also to ensure they are accessing a hygienic environment. Video intercoms provide that security and peace of mind.
Physical Security in 2021: Post-Pandemic Solutions
In a world forever changed by the coronavirus pandemic, companies worldwide are now expanding their concept of physical security to best safeguard their facilities and employees. Few incidents have had as much of an impact on businesses globally as the COVID-19 pandemic; much of the world is still struggling to contain COVID-19, navigating the lasting effects and exploring what the "new normal" looks like. While some organizations are still engaged primarily in "anywhere operations", i.e. remote work, many organizations are implementing strategic physical security solutions that better protect everyone through the use of video surveillance technology and advanced intelligence capabilities. As this new normal takes hold within the business environment, security strategies will largely be centered around several key initiatives like access control, people counting, occupancy controls, temperature screening, contact tracing, and reducing office touch points. With the use of a video management system (VMS) in the shadow of COVID-19, occupancy data from a VMS can trigger a lockdown and not permit new entrants until the occupancy drops below a certain threshold; this is significantly useful for organizations that have returned to in-person work. But there's a caveat: though many legacy security systems are being re-evaluated to allow for touchless or frictionless access control — a move designed to eliminate the need for employees and visitors to physically touch a surface when using an access control system — upgrading the outdated technologies can be cumbersome and expensive, especially for organizations that had not planned for an interruption like the pandemic. Security contractors will be vital So, what is the solution? Security contractors will play a vital role in helping end-users across a range of vertical markets — large and small — to achieve their goals in the new paradigm. For some, this may mean leveraging existing access control and video surveillance systems with upgrades where needed. For others, an entire overhaul is made possible with budget friendly solutions for businesses to migrate to integrated access control through end-to-end security solutions that tie into existing infrastructures without major disruptions (meaning the organization will never be left vulnerable). Cybersecurity is becoming even more intertwined with physical security There is massive transformation occurring in the security industry, most notably the movement to digitise physical access and integrate it with video management systems and surveillance. This shift means that cybersecurity is becoming even more intertwined with physical security, allowing organizations the ability to correlate the metadata of people's behaviors and activities — a plus point for those looking to remain vigilant against future pandemic-esque business interruptions. Access, video, and audio are converging into consolidated platforms. Due to lower costs and pairings with IP-based, wireless infrastructure, there are infinite solution configurations. IT security requirements are beginning to apply to physical security because of this integrated infrastructure. Multi-factor authentication The security industry is also beginning to see a trend of multi-factor authentication, which is going to dominate in the days to come as it makes solutions more reliable. Most people carry smartphones these days, which have green check communication capabilities that allow easy multi-factor authentication. Costs are going down, and algorithms are getting better, making more people willing to try it. Some new solutions have both the fingerprint reader and a camera for facial biometrics Some new solutions have both the fingerprint reader and a camera for facial biometrics. Cameras and CCD modules cost almost nothing, and they do not have to be super high-end anymore, especially if organizations are doing one-to-one verification. It's not just about security now; it is security, health, and safety. Access control with video, intelligent readers, and credentials is a perfect platform for next generation solutions.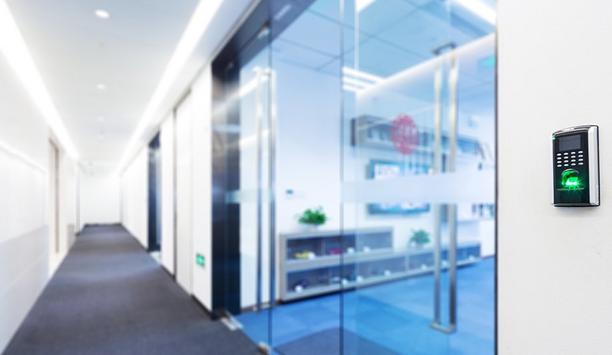 Access Control and Door Entry Management: How Technology is Driving Change
Access control and door entry is a huge responsibility, and challenge, for local authorities and housing associations UK wide. For councils, they're accountable for the security and safety of many public facilities such as leisure centers, libraries as well as residential housing developments which are often large scale and home to hundreds of people. Housing associations manage affordable rental housing which also means they're responsible for the appropriate access control management for each individual house or apartment. Technology developments have enabled better entry systems that are far more secure yet also more convenient and easier to manage. For example, with modern intercom and access control systems, remote management and communication is something that offers local authorities and housing associations features that enable them to reduce costs and cut their carbon footprints by managing multiple sites from one place. On the other hand, such technological innovation has meant that local authority and housing association specifiers and consultants now have a wide range of systems and products to choose from which can cause issues in ensuring the right system for a specific building or development is chosen. Choosing an appropritate access control system In choosing an appropriate system, local authorities and housing associations need to opt for a cost effective solution that can be easily maintained with excellent support from the manufacturer and guarantees that the system and system parts will remain supported for the duration of its expected life cycle. It is also important that the chosen system is flexible to cater for the varying needs of the tenants and visitors. Of increasing importance is the reduction of anti-social behavior which new technology can help by providing the use of data loggers which track the use and events of a door entry system, allowing specific evidence to be located by integrating with CCTV. Using technology to our advantage Through advancements in management systems and services, we can gain a much better visual representation of the events and general usage of an intercom entry system and not just its proximity access control. Systems, for example, can now send email alarms or notifications to the administrator or management. We are now able to modify user rights and access levels on the go from a mobile app which enables a much greater control over service and maintenance engineers, such as making sure they have full access when required via an app, rather than arriving to site with the incorrect keys or access fob. Systems, for example, can now send email alarms or notifications to the administrator or management Dealing with tenant's lost and stolen keys has never been so easy either. The blocking or deletion of lost fobs and adding a new fob can be carried out in minutes while at the same time removing the cost of sending an engineer to the development to program new fobs. This greatly reduces the carbon footprint of the whole task as fobs can now be sent out via mail to a secure location for collection. Technology has also helped local authorities and housing associations to overcome the issue of not being able to have a concierge or building manager available 24/7 at some developments. Now with internet communication, it's possible for tenants and visitors to get in touch with someone should they need assistance, whether that's from within the apartment or from an entrance point. For example, lets take the Videx VX2200 with IP concierge integration. This system is exceptionally flexible, enabling calls to be answered on Videx intercoms and also mobile phones if required. With the integration of the IP concierge each block can be either standalone or networked via the internet back to a central control room. Reduced maintenance costs and carbon footprint We work with a wide range of local authorities and housing associations to help them overcome access control and door entry challenges. One organization we have recently partnered with is The Living Group to help them greatly reduce their maintenance costs and carbon footprint by installing the MiAccess offline proximity system on many of their developments across the North East. Technology developments have enabled better entry systems that are far more secure yet also more convenient and easier to manage By installing an appropriate system, The Living Group has managed to overcome issues caused by the existing system's limitations and also enabled much more flexibility when it comes to effectively managing the access control system of all their included developments. For those responsible for effective and appropriate access control, the management of the systems are easier, quicker and there's no delay or on-going costs for needing a specialist program to modify fobs and access rights as this can now all carried out in-house. Improved security legislation Further advancements in programmes such as Secured by Design (SBD), a police initiative that improves the security of buildings and their immediate surroundings to provide safe places to live, work and visit, means that there's more security legislation being implemented that's making intercoms and access control more secure, without affecting ease and convenience. Videx holds an SBD accreditation and we know, from first-hand experience, how it's making a difference in keeping tenants safe. When you combine the safety features promoted by an SBD member company like ourselves with the likes of the Videx event logging, image capture and ability to modify access users on the go, for example, we can help to create a very safe and secure environment. Personally, I think there needs to be a greater emphasis on the role of security legislation Technology has completely transformed the way local authorities and housing association are able to choose, install and manage door entry and access control systems for tenants and visitors alike. Personally, I think there needs to be a greater emphasis on the role of security legislation such as Secured by Design to ensure all councils and housing association consultants are up to date with what constitutes a robust and secure system that's also cost effective too. In my role, I see weaknesses in systems and constant ongoing costs that could easily be avoided. For instance, features such as timed remote entry means local authority and housing association management no longer need to worry about keys being lost, the wrong keys being supplied or locks needing to be changed. With new systems such as the Videx MiAccess and Videx WS4 range, we can help to massively reduce a housing association's or council's carbon footprint and engineer costs by allowing them the access to management and control from an offsite location. Crime prevention We can also use live and logged events to help prevent crime in different ways, from antisocial behavior growing around a tenant being called or visited much more regularly than others, to knowing a tenant is currently still living at a property but isn't paying rent or answering to any correspondence. Technology enables local authorities and housing associations to receive detailed data and therefore behavioral insights on the people under their management and care. If consultants and specifiers are advised on the most appropriate systems that meet their specific entry needs, they can ensure greater, safer and more convenient access control that meets the requirements of both the end user and the those responsible for its effective management. OnSSI's Ocularis 5.0 And C2P Integration Enhances Security Systems
On the heels of the release of Ocularis 5.0, OnSSI has now announced the introduction of several new technology integrations for its recently released VMS with C2P's software solution. Ocularis 5.0, which is based on a new recorder, maximizes HDD storage effectiveness with dynamic data management for automatic storage load balancing, End-to-End 256 bit AES Encryption and edge recording support. The newly certified integrations with Ocularis 5.0, provide security professionals with valuable situational information across a wide range of applications including banking, access control, asset tracking, license plate recognition and point-of-sale. "The correlation of video and data creates an extremely effective and intelligent security solution," said Ken LaMarca, VP of Sales and Marketing, OnSSI. "Ocularis' open architecture not only makes this integration possible, it results in a powerful tool that meets a variety of demanding applications and delivers comprehensive intelligence across multiple platforms. Most important, beyond the power of these integrations, the systems provide vital information, better enabling the operators to assess emerging situations and provide them with information to choose an appropriate course of action." Details On These Integrations Are As Follows: Banking Integrations with Diebold and Fiserv for teller terminals and ATM deployments allow for TCP/IP text and/or events to be streamed live directly to Ocularis in the form of JPEG images. The TCP/IP data is also stored as texts for forensic searches afterwards. All banking transactions are time synchronized with area video surveillance in real-time and includes real-time charting of specific events. Access Control These integrations with Axis, DMP, DSX, FST21, Hirsch, ISONAS, Keri Systems, Keyscan, and RBH provide for real-time access control activity and user defined, real-time on-screen event annotation. The seamless integration with OnSSI provides real-time analytics which enables users to define rules based on the text received from the access control system. These rules are then used to engage the full power of the Ocularis Event Fusion engine to push video of the event to predefined client screens, lock/unlock doors, blow horns, turn PTZs, send email and SMS alerts, etc. The C2P framework also includes a powerful text search tool, linking all texts received from the access control system with stored surveillance video. Reports are available for export as CSV files and also as video evidence. Asset Tracking Traditional asset tracking is enhanced by this integration, allowing users of Visonic RFID or generic bar code readers to see real-time onscreen notifications of asset activity, as well as email and SMS alerts. The information can be exported for video evidence or as a CSV file for reporting purposes. License Plate Recognition This LPR integration with ELSAG, HTS, Inex/Zamir, Mango, PlateSmart and Vigilant Solutions provides users with real-time onscreen confirmation of LPR activities, the ability to graph specific events, and time synchronization of all license plate reads with area surveillance video. Onscreen event connotation, email and SMS alerts, a powerful search tool for all LPR text, and stored video are included. Exports include reports as a CSV file or video evidence. Point-Of-Sale Integrations with IBM RMS, LOC, Micros, NCR Radiant, and POSitouch provide for all POS transactions to be time-synchronized with all Ocularis surveillance video. Real-time features include onscreen POS terminal activity, time graphing of specific events and POS transaction analytics enabling users to quickly find activities of interest. User-defined event annotation via onscreen messaging and push video, email and SMS alerts are also included. Video evidence can easily be exported as CSV files or displayed onscreen as a camera view. "Working with OnSSI to accomplish this integration has been a smooth and positive experience thanks to the open architecture of Ocularis 5.0," said Paul Eaton, President and CTO, C2P. "The solution efficiently addresses the complexities of bringing together video and data for highly effective use in security applications."

DSX And Integrated Biometrics Partner To Provide Access Control Solutions
Integrated Biometrics' TRU650 biometric fingerprint readerDSX and Integrated Biometrics have partnered to seamlessly integrate the TRU650 biometric fingerprint reader with the DSX enterprise access control system. Scott Bennett, DSX National Sales Manager said: "DSX Access Systems has selected Integrated Biometrics' TRU650 as our biometric reader of choice." "The ease of use, easy installation and enrolment, virtually non-existent rejection rate, clean aesthetics and great product support, we believe, will provide our dealers with the biometric device that they have been searching for."DSX dealer Arthur Van Zant said: "This is the only biometric solution we will offer to our customers. It does what it is designed to do, it does it well, and it does it every time. The authentication is fast and accurate, and we are very pleased with the equipment, the software, and the company that stands behind it." These endorsements illustrate the unparalleled usability and security of Integrated Biometrics' Light Emitting Sensor fingerprint imaging technology. LES has enabled the TRU650 to overcome problems common with competing products, satisfy customers and deliver profits for DSX dealers.

Avigilon's Control Center Software Integrates With Other Security Management Systems
Avigilon's surveillance software, Control Center's open architecture enables effective interoperabilityAvigilon, the performance and value leader in high definition (HD) and megapixel video surveillance systems, announced at IFSEC 2010 that its award-winning Avigilon Control Center software has been integrated successfully with the industry's leading access control, critical communication, alarm monitoring, intrusion detection, and visitor management systems. Avigilon Control Center now combines the powerful engine of the leading high definition video platform with third party access control and intrusion detection capabilities for improved security management.Expanded partnerships ensure interoperabilityAvigilon Control Center includes a number of integration options that enable the exchange of high definition, IP-based and analog surveillance video with events between Avigilon Control Center and other physical security systems. Avigilon Control Center integrations associate HD and other video information with relevant security events such as forced doors, ID badge swipes, and intercom activation to deliver immediate verification and improved security management.Avigilon Control Center capabilities have now been expanded to integrate with Cardax FT Command Center security management system; GE Facility Commander security management system; RS2 Technologies access management solution; and DSX WinDSX access control software. With the next release, scheduled to be available in Q2 2010, Avigilon Control Center will also integrate with the Stentofon IP intercom management system. As an existing member of the Lenel OpenAccess Alliance Programme, Avigilon is certified to integrate with the OnGuard solution. Avigilon Control Center combines high definition video platform with third party access control and intrusion detection capabilitiesAvigilon Control Center Alarm MonitoringIntegration with third party access control platforms is enhanced by Avigilon Control Center's alarm monitoring feature, which allows the creation of complete end-to-end workflows for the monitoring, assignment, and acknowledgement of alarms. Alarms can be triggered by any internal system event as well as external triggers from third party access control and building management systems. Alarms can be assigned to specific individuals, ranked by priority, and automatically trigger actions on acknowledgement. The Avigilon Control Center Rules Engine presents an effective alternative to hardware switches passing alarms and event notices to third-party devices."The extended flexibility and openness of Avigilon Control Center will enable security professionals to manage integrated security and facility management systems that leverage existing infrastructure and personnel investments," said Dave Tynan, Vice President of global sales and marketing at Avigilon. "These integrations facilitate the association of HD video for immediate confirmation of indisputable details from video to manage alarms effectively, dramatically improve decision making, and effectively deploy resources."Avigilon Control Center Network Video ManagementThe award-winning, enterprise-class Network Video Management platform, Avigilon Control Center was engineered from the ground up to intelligently manage HD video, delivering both situational awareness and complete image detail. Avigilon Control Center captures, transmits, manages, stores, archives, plays back, and exports HD video while efficiently handling bandwidth and storage. Control Center's modular, open architecture allows system designers to integrate Avigilon solutions with existing assets including analog and IP cameras, access control and other intrusion systems. In 2010, Avigilon Control Center won the Frost & Sullivan Surveillance New Product Innovation of the Year award.
Related white papers
Four Areas to Consider in Frictionless Access Control
Physical Access Control In Higher Education
'Boosting On-Site Safety And Security