Paxton Access Access Control Readers
(46)
Browse Access Control Readers
Access control reader products updated recently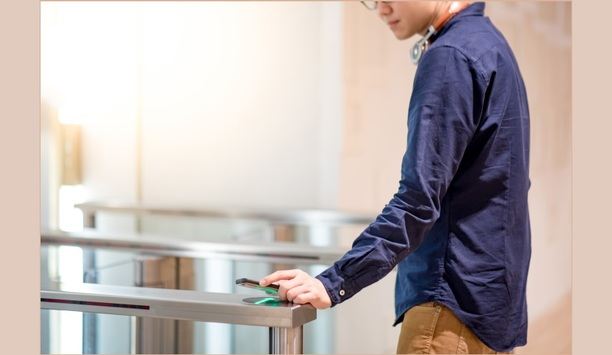 The Growth Of The Mobile Access Card Market In 2020
The emergence of smartphones using iOS and Android is rapidly changing the landscape of the IT industry around the world. Several industries, such as digital cameras, car navigation, MP3, and PNP, have been replaced by equivalent or even better performance using smartphones. Smartphones provide increasing portability by integrating the functions of various devices into a single unit which allows them to connect to platforms with network-based services and offer new services and conveniences that have never been experienced before. These changes have expanded into the access control market. Although not yet widespread, 'Mobile access cards' is one of the terminologies that everyone has been talking about. RF cards used for access security are being integrated into smartphones just as digital cameras and MP3s were in the past. While people might forget their access cards at home in the morning, they seldom forget their smartphones. Using smartphones for access control increases entry access reliability and convenience. Mobile/smartphone access control A key aspect of mobile credential is that it makes it possible to issue or reclaim cards without face-to-face interaction As in other markets, the combination of smartphones and access cards is creating a new value that goes beyond the simple convenience of integration enhancing the ability to prevent unauthorized authentication and entrance. People sometimes lend their access cards to others, but it is far less likely they might lend their smartphone with all their financial information and personal information – to another person. This overcomes an important fundamental weakness of RF cards. Another valuable aspect of mobile credential is that it makes it possible to issue or reclaim cards without face-to-face interaction. Under existing access security systems, cards must be issued in person. Since card issuance implies access rights, the recipient's identification must be confirmed first before enabling the card and once the card has been issued, it cannot be retracted without another separate face-to-face interaction. Mobile access cards In contrast, mobile access cards are designed to transfer authority safely to the user's smartphone based on TLS. In this way, credentials can be safely managed with authenticated users without face-to-face interaction. Mobile cards can be used not only at the sites with a large number of visitors or when managing access for an unspecified number of visitors, but also at the places like shared offices, kitchens and gyms, currently used as smart access control systems in shared economy markets. The market share of mobile access cards today is low even though the capability can offer real benefits to users and markets. While the access control market itself is slow-moving, there are also practical problems that limit the adoption of new technologies like mobile access cards. Use of Bluetooth Low Energy technology While NFC could be an important technology for mobile credential that is available today on virtually all smartphones, differences in implementation and data handling processes from various vendors prevents universal deployment of a single solution to all devices currently on the market. Accordingly, Bluetooth Low Energy (BLE) has been considered as an alternative to NFC. Bluetooth is a technology that has been applied to smartphones for a long time, and its usage and interface are unified, so there are no compatibility problems. However, speed becomes the main problem. The authentication speed of BLE mobile access card products provided by major companies is slower than that of existing cards. Enhancing credential authentication speed Authentication speed is being continuously improved using BLE's GAP layer and GATT layers The second problem is that mobile access cards must be accompanied by a supply of compatible card readers. In order to use mobile access cards, readers need to be updated but this is not a simple task in the access control market. For 13.56 MHz smart cards (which were designed to replace 125 kHz cards), it has taken 20 years since the standard was established but only about half of all 25 kHz cards have been replaced so far. Legacy compatibility and the need for equivalent performance, even with additional benefits, will drive adoption timing for the Access Control market. While BLE technology helps resolve the compatibility problem of mobile access cards, it can identify some breakthroughs that can solve the speed problem. Authentication speed is being continuously improved using BLE's GAP layer and GATT layers, and new products with these improvements are now released in the market. Making use of key improvements allows Suprema's mobile access card to exhibit an authentication speed of less than 0.5 seconds providing equivalent performance to that of card-based authentication. AirFob Patch MOCA System's AirFob Patch addresses the need for technological improvements in the access control market in a direct, cost effective, and reliable way – by offering the ability to add high-performance BLE to existing card readers – enabling them to read BLE smartphone data by applying a small adhesive patch approximately the size of a coin. This innovative breakthrough applies energy harvesting technology, generating energy from the RF field emitted by the existing RF reader – then converting the data received via BLE back into RF – and delivering it to the reader. By adding the ability to use BLE on virtually any existing RF card reading device, MOCA allows greater ability for partners and end users to deploy a technologically-stable, high performance access control mobile credential solution to their employees, using devices they already own and are familiar with. Adding MOCA AirFob Patch eliminates the need to buy and install updated readers simply to take advantage of mobile credential, lowering costs and risks, and increasing employee confidence and convenience. Growth forecast of mobile access card market in 2020 In 2020, forecasts show that the mobile access card market will grow far more rapidly Several companies have entered the mobile access card market, but they have not set up a meaningful product solution stream until 2019. In 2020, forecasts show that the mobile access card market will grow far more rapidly. Reviewing new entries into the market allows identification of the latest products that provide improving solutions to compatibility and speed problems. MOCA AirFob Patch addresses development plans in process today that overcome the legacy installed base of card readers – allowing rapid creation of an environment that can make immediate use of BLE mobile access cards. Integrated mobile digital ID With proven usability and within suitable environments, mobile access cards will also begin to make inroads into other markets, not just the access control market. In the sharing economy market, which seeks access management without face-to-face interaction, the integrated mobile digital ID led by the 'DID Alliance' will serve as a technical tool that can be used in access authentication – forging increasing links between the access control and digital ID markets.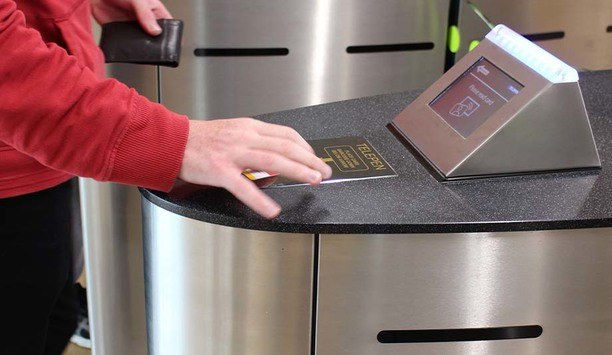 Entrance Control Vs Access Control: Similarities And Differences
Entrance control and access control - of the physical kind - are common terms in the security industry which are often used interchangeably, but should they be? Having worked both sides of the fence, with previous roles at TDSi and HID and now the Major Accounts and Marketing Manager at Integrated Design Limited, Tony Smith highlights the subtle but important differences between these two terms and the systems they refer to, outlining how they should work together to achieve optimal security. Access control is a system which provides discriminating authentication Access control provides a discriminating authentication process and comprises the software or hardware that defines the criteria for acceptance or denial Used to describe a system which performs identification of users and authentication of their credentials (deciding whether or not the bearer of those credentials is permitted admission) access control is an incredibly broad term. Access control provides a discriminating authentication process and comprises the software or hardware that defines the criteria for acceptance or denial of an individual to a restricted area. Entrance control – such as security turnstiles - takes the output of that validation and has the capability to see whether that criteria is being adhered to, either granting or denying access as appropriate. Entrance control is the hardware responsible for keeping people honest If access control verifies authorized personnel using their credentials – their face, fingerprints, PIN number, fob, key card etc – and decides whether or not they are permitted access, entrance control is the hardware which enforces that decision by making users present their credentials in the correct way, either opening to allow pedestrian access or remaining closed to bar entry and potentially raising an alarm. For example, a card reader acts as an access control device, recognizing the card holder as having the correct permissions and saying 'yes, this person can pass'. But, it's the entrance control system – a turnstile, for example – which actually physically allows or denies access. Physical access and video surveillance Some entrance control systems don't feature a physical barrier, however. Fastlane Optical turnstiles will not physically stop an unauthorized person from passing through, and instead alarm when someone fails to present valid credentials, alerting security staff that a breach has occurred. These kinds of turnstiles are suited to environments which just need to delineate between the public and secure side of an entrance, with less need to physically prevent unauthorized users from entering. State of the art access control integrations have been installed for award-winning complex, The Bower It's also possible to capture video footage of any incidents, allowing security personnel to identify users failing to abide by the access control system's rules, using It's also possible to capture video footage of incidents, allowing security personnel to identify users failing to abide by access control system rules the footage to decide on the level of response required. The breach could have been the result of a member of staff being in a hurry and failing to show their card before passing through, in which case they can be reminded about the security protocol. Or, it could be an unidentified person who needs to be escorted from the premises. Entrance control and access control working together For optimum security, access control and entrance control should work together, with the entrance control system enhancing the use of the access control system, making it more efficient and better value for money. The two can't effectively operate without each other. Security turnstiles, for example, require something to tell them that someone is about to enter – the access control system does this – and, the access control system needs a method of stopping people when they don't badge in correctly. The two systems are complementary.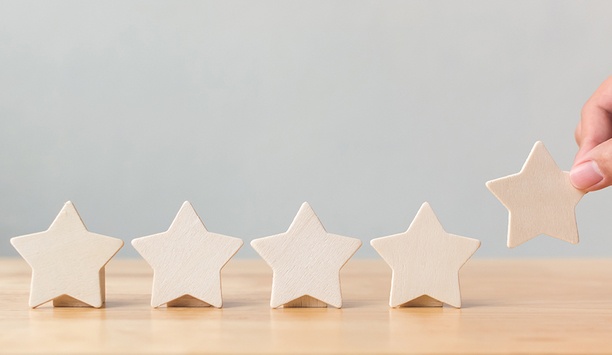 Making The Shift From Manufacturer To Service Provider
The jury is in: traditional security is out — and it's being replaced with service-based solutions. The bottom line is: if you're not embracing it, you'll soon be left behind. XaaS — the collective term referring to the delivery of anything as a service — includes all services made possible through the use of the cloud. Security-as-a-Service (SaaS), which encompasses any type of system from access control to video surveillance, has paved the way for users to gain significant functionality and scalability not previously experienced with more traditional methods. Complicated IT functions SaaS allows manufacturers to provide numerous benefits to their customers As such, there is a marked transition for manufacturers from simply designing and building products to providing a service rooted in a partner- and customer-centric focus. This change hasn't come easily. Some are still holding out and waiting for the "fad" to pass. However, the potential advantages for all parties involved far outweigh the perceived negative points. First and foremost, SaaS allows manufacturers to provide numerous benefits to their customers. An "as-a-service" model shifts the burden of data maintenance and infrastructure spending to an integrator/dealer partner or service provider. This relieves the end user of the expertise necessary to implement complicated IT functions to keep networked and on-premise solutions up-to-date. Traditional security systems Additionally, end users demand solid customer service. For some end users, traditional security systems are so similar in features and functionality that the key differentiator is the ability of the integrator or manufacturer to provide exceptional customer service and training. This is made possible through the service-based model, where customers appreciate a strong relationship with their integrator or manufacturer that provides them with additional knowledge and assistance when necessary. The cloud has proven to be highly functional, flexible, and convenient for organizations Everyone also wants convenience. In the consumer market, we invest in things like meals that are pre-measured, prepped, and ready to be cooked, or companies that auto-ship dog food to our door each month. This ease-of-use translates over to the B2B market, where time is money and systems that save valuable resources are highly regarded. The Role of the Cloud The cloud has proven to be a highly functional, flexible, and convenient method for organizations to leverage as part of their strategies to protect and modernize their facilities. And the service-based nature lends itself well; forward-thinking integrators and dealers can diversify their product arsenal while still capitalizing on a recurring monthly revenue model (RMR). But then why has there been so much resistance to this change? Over the last 10 to 15 years, the cloud has gotten a bad rap for a myriad of reasons, including usability, management, and unreliability. However, that view of the cloud is changing for the positive as the technology becomes more advanced and innovators learn more about what it means to design a product or service with security at its core. "As-a-service" platform For example, one of the biggest misconceptions that plagues the cloud is the idea that it is not secure. However, the security of public cloud service providers is integral to their success because their business depends on it. Developing an ongoing and trustworthy relationship with customers can only be made possible through the assurance that their services are safe and the customer's data is protected. As such, they've embraced the service-based model that is, at its core, the future of the business world as we know it. There isn't a person, manufacturer, or integrator partner out there today who isn't somehow touched or influenced by an "as-a-service" platform. And it's about time the service-based model that leverages the public cloud reaches the masses.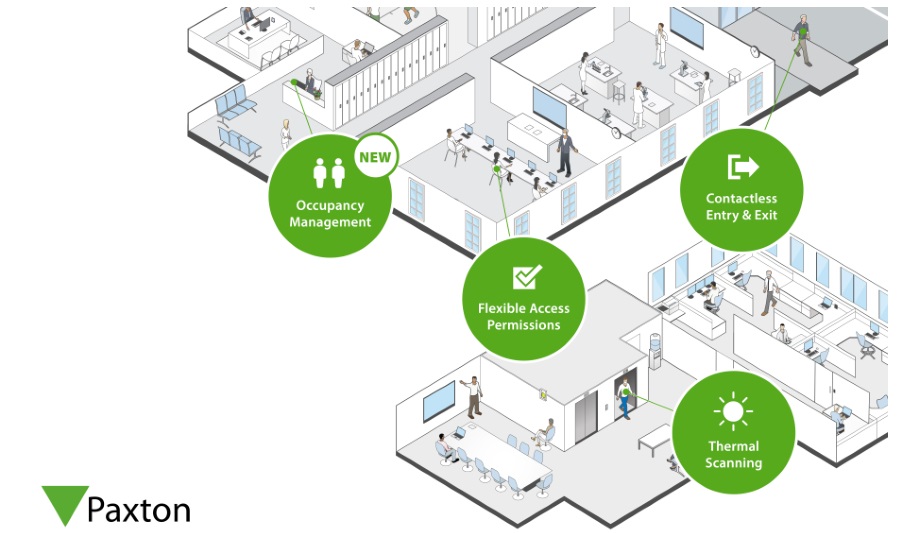 Paxton Access Ltd. Unveils Guide To COVID-Secure Buildings In A Move To Get The U.S. Back To Work In A Safe Environment
Paxton Access is introducing free customized learning course, new products and a brand-new guide to assist installers in helping their customers ensure their buildings are COVID-secure. The initiative has been designed in line with the CDC and OSHA best practices and recommendations. In a new, 45-minute webinar, Paxton will show installers how to match their security offering with the 'practical considerations of how to operate safely in the workplace'. A globally renowned manufacturer and provider of access control solutions firm, Paxton is also launching a new release for Net2, specially developed to support social distancing. Aiding enterprises to resume operations Like many installers, Paxton recognizes they have an important role to play in helping companies across the country update their buildings and reopen their businesses safely and securely to support the economy. As a global manufacturer with over 35 years expertise in securing buildings, the route for Paxton is always through educating their trusted network of security installers to deliver genuine solutions for the real world. Paxton's recent series of webinars have seen over 2,700 installers attend. Importance of access control in protecting people Access control plays a key role in helping ensure buildings are COVID-secure" Gareth O'Hara, Chief Sales Officer at Paxton said, "As a manufacturer of technology, in partnership with installation companies, we have an opportunity to positively contribute to protecting people against COVID-19 infection." Gareth adds, "Access control plays a key role in helping ensure buildings are COVID-secure. At present, thousands of buildings across the country are implementing new measures according to CDC and OSHA recommendations. Right now business owners are strategizing on how to safely transition people back to offices and work environments in a secure way." Implementation of Net2 solutions He further said, "Our message to security installers is: Please don't wait. We want them to start becoming familiar with the guidance and Net2 solutions and support their customers in making their buildings COVID-19 secure. From the webinar, to the supporting technical information, to the new Net2 release and free customer guide, we believe they will have everything they need." Paxton's team of researchers has been thoroughly reviewing the CDC and OSHA recommendations to ensure the most relevant, up to date information is shared with their customers. The result is a webinar packed full of useful advice to help installers reach out to their customers with confidence. The session covers 4 key areas: Contactless entry & exit – Hygienic access, move away from touch-based devices Flexible access permissions – Meet social distancing guidelines, limit high traffic and apply one-way flow of movement Occupancy management – Control and monitor people numbers in any given area and support social distancing Thermal scanning – Use cameras to ensure health and wellbeing in high security areas and identify people that could be at risk, quickly Occupancy Management As part of the new plan, Paxton is introducing an Occupancy Management feature in Net2 As part of the new plan, Paxton is introducing an Occupancy Management feature in Net2 and various improvements to integration with thermal scanners to give installers the best options for safe, secure access. Due for release in July 2020, Net2 Occupancy Management allows you to limit the number of people in any given area; either barring access or sending an email/text to the building manager when a space nears capacity. It works across multiple areas of a site and can be set to operate a one in, one out system to support social distancing measures. Adam Stroud, Paxton CEO said, "We understand the important part that access control has to play in managing the flow of people around a building to support a hygienic environment. In addition, controlling the density of people in any given area is a valuable tool to help businesses of all types to become 'COVID-secure'." Net2 access control system Adam adds, "Net2 access control system is widely used in the U.S. and so we developed the new Occupancy Management feature to meet this specific need. For new and existing Net2 customers we hope that this new functionality helps the efforts that we are all making to observe social distancing and keep people safe." Paxton has also created a useful digital guide for end-users which explains in easy terms what to ask their installer to make their building COVID-secure. Ensuring buildings are COVID-secure Our new COVID-secure with Net2 customer guide should help anyone, even if they have no knowledge of access control" Katie Millis-Ward, Divisional Director of Communications said, "We genuinely want to help our installers help their customers. Providing insight into the variety of best practices and recommendations to make it simple for both the installer and the end customer is something we are ready to do." She adds, "There's a lot of information for businesses to digest to make buildings safe and we hope we have broken it down into a digestible format so people can get started with confidence. Our new COVID-secure with Net2 customer guide should help anyone, even if they have no knowledge of access control." Guide to COVID-secure Buildings with Net2 webinar Paxton Access Ltd. offers a vast product range that includes IP technology, wireless and battery powered access control solutions to provide reliable security for any site or building requirement. The company is well positioned to offer both the installer and the end-user with innovative access control solutions to make their lives easier. Paxton Access Ltd.'s new webinar, the Guide to COVID-secure Buildings with Net2 starts on June 30, 2020 and runs each Tuesday and Thursday until July 16, 2020.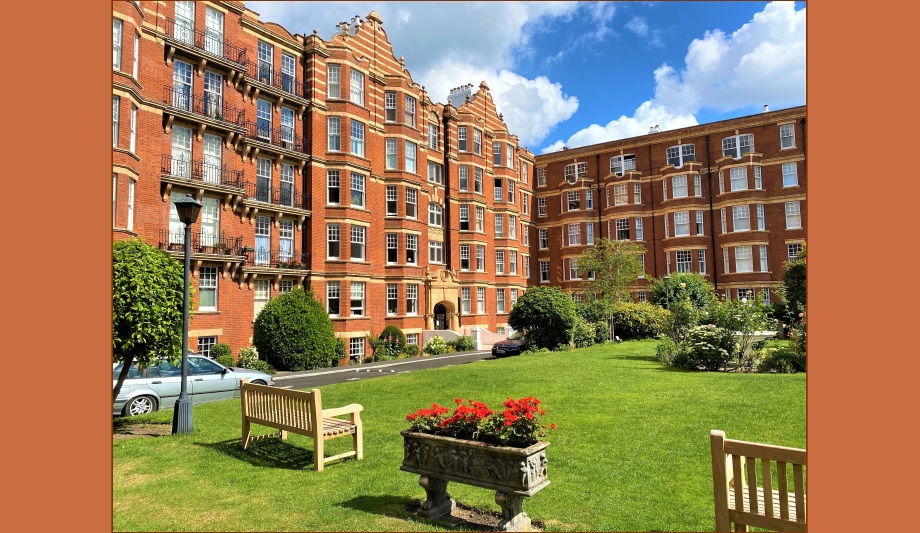 Amthal Upgrades Kenilworth Court's Door Entry System From Audio To Video Security System
Amthal has worked closely with the management team and residents at Kenilworth Court to ensure fire and security upgrades on site occur without compromising on aesthetics of the Edwardian mansion blocks. Situated in Putney, Kenilworth Court consists of eight purpose-built Edwardian style blocks of flats, completed in 1904 – 1905. Featuring 150 portered flats, with a garden in the middle, it is now run by the controlling company, Kenilworth Court Co-ownership Housing Association Ltd. Upgrading door entry system The opportunity to upgrade door entry from audio to video capability saw the initial introduction of Amthal to the development. So successful in understanding the importance of keeping with original design features, working closely with the management team and residents, from initial specification through installation and project completion, Amthal now additionally maintains security gates and all fire requirements on site. Video security system at Kenilworth Court Steve Logie, General Manager at Kenilworth Court Co-Ownership Housing Association Ltd, said "With the historic significance of our development, and the pride of notable residents who have lived here, any upgrades, however small, must be carefully considered with regards to how it will impact on the aesthetics of the overall premises." Steve adds, "Amthal understood this and worked closely with us and our residents, carefully taking in feedback to create bespoke video door entry solutions that blend with the grand entrances. Installation was sympathetic, always ensuring wiring was discreet and 'boxed in' where necessary." He further said, "So impressed with their customer service and technical ability, we now consider them our preferred supplier for all fire and security maintenance." CAME BPT brass entrance panel installed Based on resident feedback, Amthal created and installed a bespoke CAME BPT brass entrance panel for Kenilworth Court Based on resident feedback, Amthal created and installed a bespoke CAME BPT brass entrance panel for Kenilworth Court, allowing all homeowners to benefit from stylish video door entry technology. Residents and staff also benefit from an upgraded Paxton Net2 access control system, with dedicated fobs distributed to ensure safe and secure block entry. Phil Bryant, Amthal Strategic Accounts Team Manager added, "The key to our success with Kenilworth Court was taking the time initially to create an installation works program with video door entry systems that could blend in visually without disrupting the architectural aesthetic of the development." Enhanced security system Phil adds, "We spoke with the management team and residents throughout the design process, bringing door entry styles and samples to ensure everyone was confident in the installed final solution." He further said, "From this, our engineering team and customer service has built up a trusting relationship where residents understand our needs to operate internally, sometimes within apartments themselves and also through communal areas. And the management team has peace of mind that fire and security requirements will be maintained to exceed standards across the development." Security solutions expert Independently owned, Amthal Fire & Security is dedicated to satisfying end user needs for security safety and convenience offering design, installation, service and remote monitoring of advanced electronic fire & security solutions, including intruder, fire, access and CCTV systems. Amthal Fire & Security is accredited by the Security Systems and Alarm Inspection Board (SSAIB) United Kingdom Accreditation Services (UKAS) and British Approvals for Fire Equipment (BAFE).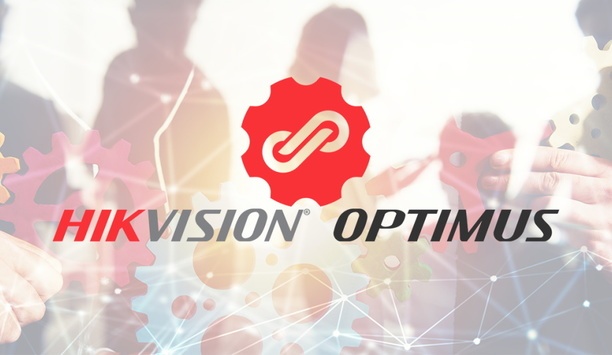 Hikvision Launches Optimus Software To Offer Seamless Integration With HikCentral Platform
Hikvision, an IoT solution provider with video as its core competency, announces the launch of Hikvision Optimus – a system-level middleware product, for integration of events, alarms and data synchronization between HikCentral and other systems like access control, building management systems, and IoT devices. For example, integrating HikCentral with access control systems via Optimus software helps customers operate more efficiently. This integration enables users to quickly and easily receive door alarms, grant or deny access, and synchronize user credentials in both systems. Continuous integrated operations Optimus middleware features connectors that bridge third party systems with HikCentral, regardless of their coding standards. This ensures a long-term, uninterrupted, continuous integrated operations. Optimus offers a wide range of advantages: The majority of use cases can be completed using only one connector as Optimus integrates multiple products and systems. The easy-to-use graphical interface enables integrators with no programming skills to build custom 'if-this-then-that' scenarios to match exact customer needs. Third parties can develop their own connectors with Optimus based on their own API/SDK and thus achieve rapid integration times. A built-in health monitoring function provides the operator with a real-time insight into the integration status. Truly scalable approach The Optimus product comes with a flexible and distribution-friendly licensing structure for the connectors. This structure allows connector developers to stay in control of usage, yet determine pricing at their own discretion. "We are very excited to launch an offering that represents a completely new and truly scalable approach to integration with HikCentral. Optimus will enable Hikvision installers and technology partners to easily integrate their systems with HikCentral," says James Iacuessa, Senior Product Manager from Hikvision. Based on its third-party software development kit (SDK), Hikvision has created a number of connectors with Optimus software: Paxton NET2 AMAG Symmetry
Related white papers
RFID and Smartphone Readers in Physical Access Control
3 Reasons To Migrate To A New Access Control System
Mobile Access- What You Need To Know (Part 1)