Belden Access Control Accessories
(7)
Browse Access Control Accessories
Access control accessory products updated recently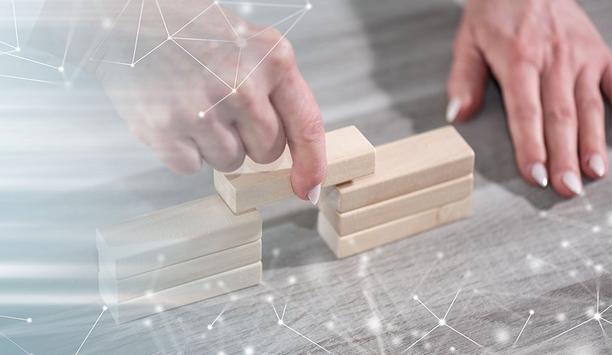 Tackling The Challenge Of The Growing Cybersecurity Gap
The SolarWinds cyberattack of 2020 was cited by security experts as "one of the potentially largest penetrations of Western governments" since the Cold War. This attack put cybersecurity front and center on people's minds again. Hacking communication protocol The attack targeted the US government and reportedly compromised the treasury and commerce departments and Homeland Security. What's interesting about the SolarWinds attack is that it was caused by the exploitation of a hacker who injected a backdoor communications protocol. This means that months ahead of the attack, hackers broke into SolarWinds systems and added malicious code into the company's software development system. Later on, updates being pushed out included the malicious code, creating a backdoor communication for the hackers to use. Once a body is hacked, access can be gained to many. An explosion of network devices What has made the threat of cyberattacks much more prominent these days has been IT's growth in the last 20 years, notably cheaper and cheaper IoT devices. This has led to an explosion of network devices. IT spending has never really matched the pace of hardware and software growth Compounding this issue is that IT spending has never really matched the pace of hardware and software growth. Inevitably, leading to vulnerabilities, limited IT resources, and an increase in IoT devices get more attention from would-be hackers. Bridging the cybersecurity gap In the author's view, this is the main reason why the cybersecurity gap is growing. This is because it inevitably boils down to counter-strike versus counter-strike. IT teams plug holes, and hackers find new ones, that is never going to stop. The companies must continue fighting cyber threats by developing new ways of protecting through in-house testing, security best practice sources, and both market and customer leads. End-user awareness One of the key battlegrounds here is the education of end-users. This is an area where the battle is being won at present, in the author's opinion. End-users awareness of cybersecurity is increasing. It is crucial to educate end-users on what IoT devices are available, how they are configured, how to enable it effectively, and critically, how to use it correctly and safely. Physical security network A valuable product that tackles cybersecurity is, of course, Razberi Monitor™, which is new to ComNet's portfolio. Monitor™ is a software platform that provides a top-down view of the physical security network and ecosystem. Monitor™ is a software platform that provides a top-down view of the physical security network and ecosystem It monitors and manages all the system components for cybersecurity and system health, providing secure visibility into the availability, performance, and cyber posture of servers, storage, cameras, and networked security devices. Proactive maintenance By intelligently utilizing system properties and sensor data, Razberi's award-winning cybersecurity software prevents problems while providing a centralized location for asset and alert management. Monitor™ enables proactive maintenance by offering problem resolutions before they become more significant problems. Identifying issues before they fail and become an outage is key to system availability and, moreover, is a considerable cost saving.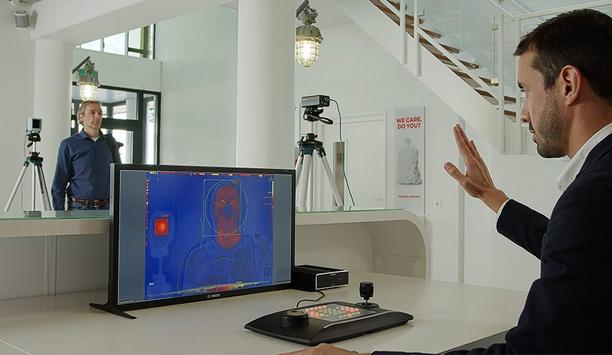 Q&A: Bosch Video Systems & Solutions' Michael Seiter And Magnus Ekerot On Smart Technology, "AIot", And Plans For 2021
Q: Mr. Seiter, Mr. Ekerot, you both joined Bosch Building Technologies' business unit Video Systems & Solutions as Senior Vice Presidents in March 2020, when the Coronavirus pandemic was just beginning. How did your business unit get through 2020? Magnus Ekerot: The crisis was also felt at Bosch. At the same time, demand has risen for solutions that keep businesses open and protect people's health. We offer corresponding video solutions that can make a significant contribution to containing the pandemic. Michael Seiter: Overall, we managed the past year well despite the challenges and have been growing again since the third quarter compared to 2019. We see good opportunities for further growth in 2021. Q: Has the Corona crisis again accelerated the development of smart technologies in the security technology market, and does the security market in contrast to most industries benefit from the crisis more than it suffers? Michael Seiter: The Corona crisis has definitely demonstrated that the future lies in data-driven solutions. Thanks to our product development strategy already being based on this, we at Bosch were very quickly able to develop new products for the 'New Normal' and to expand existing products accordingly. To give one or two examples: in cooperation with Philips, we very quickly developed a people counting solution for retail operations – smart Philips displays in conjunction with smart cameras from Bosch that provide protection for staff and customers. The In-Store Analytics software solution was also implemented with additional features. Shop owners can now make decisions based on customer movement data such as "Where do we position products to avoid queues or crowds?" HTD involves a touch-free monitoring system to accurately and speedily identify people with heightened skin temperature The latest highlight is the Bosch Human Skin Temperature Detection solution, in short HTD. This involves a touch-free monitoring system to accurately and speedily identify people with heightened skin temperature at control points in offices, factory floors, or airports. The benefits of previously existing solutions on the market are sometimes called into question. Competitors are often unable to deliver what they promise because, for example, the measured temperature of the skin does not correspond to the core temperature of the person, or fluctuates, due to environmental influences. Therefore, we developed a software-based solution that, in compliance with GDPR, first allows people with potentially elevated body temperatures to be filtered out, and in a second step, allows medical personnel to perform a more targeted fever measurement. Q: You see a lot of potential for the video security industry in new technologies such as Artificial Intelligence and the Internet of Things. What specific opportunities do you mean, and how are you leveraging these technologies at Bosch Building Technologies? Michael Seiter: Bosch has committed itself fully to an "AIoT" – AI meets IoT – strategy. The development of AI algorithms and software, in general, is at Bosch significantly driven in the security space. By AIoT, we specifically mean the networking of physical products and the deployment of artificial intelligence. With AI we aim to enable clients to understand events at an ever-deeper level and predict them in the future – the keyword being predictive – so that they can act proactively. This is particularly important for health and safety. An example is the Intelligent Insights solution where the user can anticipate potentially dangerous situations, for instance in maintaining social distance and a maximum number of people numbers in any one area. Q: From your point of view do you have an advantage over other suppliers when it comes to AI-based products in the video arena? Michael Seiter: The analysis and utilization of video data have long been front and center with us. Since 2016 we've been following the strategy of offering AI applications in the form of integrated intelligent video analytics as a standard in our network cameras. Data such as color, object size, object speed, and direction are all measured. Simply put, you can say this is seeing and understanding – which is the principle behind smart security cameras. Today it's much more a question of intelligent, data-based solutions than collecting high-quality pictures and storing them for the record. Bosch has been investing heavily in AI for years, from which we can benefit greatly in our area. In the first quarter, for example, we will launch a vehicle detector based on deep learning that is already running on our cameras. This will create significant added value for our customers in the area of intelligent traffic control. Q: Mr. Ekerot, what advantages do customers have in AI-based video security from Bosch? Magnus Ekerot: A key advantage is strong customer focus with tailored solutions that are at the same time modular and scalable through new AI algorithms A key advantage is our strong customer focus with tailored solutions that are at the same time modular and scalable through new AI algorithms. Take the example of Camera Trainer, a machine learning software that can be directly uploaded to Bosch network cameras. The camera is thus trained up on recognizing objects and situations – tailored to the specific needs of our customers. If the camera detects the defined scenario, it performs a predefined action in real-time – for example, a count or an alarm. The latest example is our new camera platform Inteox. As a completely open camera platform, Inteox combines Bosch's intelligent video analytics with an open operating system. This allows programmers to develop specific software applications - or apps - for various application purposes. These can then be loaded onto cameras – the same principle as an app store for smartphones. To sum up, Bosch AI applications support customer-specific needs related to data analysis while enabling totally new applications within and beyond the video security market. Q: Can you name a specific current project where Bosch has deployed an AI-based solution? Magnus Ekerot: A current ground-breaking project using our smart cameras is being implemented as a pilot in the USA. Smart Ohio enables users to configure more intelligent traffic flows and thus ensure mobility, safety, and the efficient use of roads today and tomorrow. The new vehicle detector mentioned by Mr. Seiter also plays a central role here. Our overall goal is to provide connected smart sensor solutions for public and private transportation agencies to enable them to operate their roads safely and efficiently. The Intelligent Insights can anticipate potentially dangerous situations, for instance in maintaining social distance and a maximum number of people numbers in any one area Q: Mr. Seiter, you have been involved with the topic of mobility for some time. What experience from your previous job in the automotive business of Bosch might help you when it comes to further develop the video portfolio of Bosch Building Technologies? Michael Seiter: There's a lot to tell. First of all, the development of core algorithms for video-based solutions, whether for autonomous driving, for vehicle interior monitoring, or for our Bosch Building Technologies video systems, all come together at Bosch's Hildesheim location. This gives us considerable synergies and allows us to bring R&D results to market faster and more flexibly. Essentially, assisted driving systems use AI algorithms that process ever-increasing volumes of video data. Attempts are being made to imitate the human being and enable the vehicle to understand better the surrounding environment with its 'eyes'. This predictive capability is especially critical with autonomous driving. For example, key questions include: "How should the car respond and what could potentially happen next?" "What kind of environment does it find itself in?" etc. There are many activities in this area at Bosch that in my new role in security we can also strongly benefit from. I am now bringing a lot of this experience and existing R&D achievements to Bosch Video Systems & Solutions, which also results in further synergies with our mobility division: At Stuttgart Airport, autonomous driving is already being implemented together with Mercedes-Benz and the parking garage operator Apcoa as part of the "Automated Valet Parking" project, or AVP for short, in which intelligent video systems from Bosch Building Technologies are making a significant contribution. Mr. Ekerot, you have a lot of experience in the video security area. Where do you position Bosch Building Technologies now in this market and what specific goals are you pursuing? Magnus Ekerot: Our clients are looking for reliable partners and products. We are a strong brand; you can rely on Bosch products. Bosch is a thought leader in video and a pioneer in AI applications in this field since 2016. Data security is everything to us: Our products conform to the EU's GDPR regulations. Beyond that, we have an extensive camera portfolio that complies with the US National Defense Authorization Act (NDAA) for video security devices. This enables our portfolio to be deployed for example within US government buildings. We are planning to conclude more software maintenance agreements with our clients in 2021. These deliver investment and future security for our customers and include for example a 'patch guarantee' along with regular updates with new functionalities. This is the first step in a comprehensive plan to access new revenue channels for us and our partners delivering the best technology and excellent service to the end-user! Overall, many new products will be launched this year and this trend will intensify. Our goal is to establish new product families that follow a simple principle: "The development and delivery of disruptive, predictive video solutions that every user can trust because of the underlying sustainable forward-thinking mindset." It's been much discussed of late that Bosch is one of the very first companies globally that operates on a CO2-neutral basis. How does sustainability impact your business? Magnus Ekerot: IoT solutions are actually sustainable and contribute to environmental protection Our IoT solutions are actually sustainable and contribute to environmental protection. For example, our cameras are sustainable in that they remain up-to-date through software updates and needn't be constantly exchanged for new ones. Our systems demonstrate sustainability also operationally as they can be managed remotely. System integrators don't need to be physically present, thus avoiding unnecessary travel with its accompanying emissions. All in all, Bosch Building Technologies develops ways to accompany and support our clients in reaching their climate goals via new technologies. This can be done, for example, through improved energy efficiency, the total cost of ownership models, organizing and simplifying the supply chain, and helping our customers meet their social responsibilities. The Power of Bosch helps us here to leverage company-wide research to be two steps ahead, a shade faster, when it comes to new technologies and initiatives that our and future generations will benefit from. I should also say that I am personally very proud to work for a company that set an ambitious climate goal for itself and achieved it! Can you already share a preview of your technology innovations in 2021? Michael Seiter: We see great market potential for our cameras that use artificial intelligence and can be updated flexibly throughout their lifecycles. I have already mentioned the deep learning-based vehicle detector in our cameras. More such solutions – also for other applications where object and person recognition are important – will follow in the course of the year. And the best part is: with AI, the more data we collect and the more intelligently we use it, the better the solutions become and the more added value they bring to the customer. This will revolutionize our industry! Another example is our cloud-based solutions, for example for alarm monitoring. Here, we can now also integrate third-party cameras and, building on this, offer and jointly develop our intelligent software-based solutions. This gives our customers more opportunities to take advantage of the opportunities created by AI. The trend towards integration of the various security technologies seems to be driven mostly by the rapid progress in software development. Does this affect full-range suppliers such as Bosch and what specific plans for fully integrated security solutions do you have for the future? Michael Seiter: Naturally, this suits us as a full-scope supplier. Bosch solutions are deployed in many cross-domain client projects. We have experts for the different domains under one roof and a strong brand with the same quality promise for all areas. Nevertheless, it is always also about specific domain excellence. Only when you master all different areas and have profound and proven expertise in each of them you can succeed in integrated cross-domain projects. The respective business units craft their future strategies and innovation roadmaps with this in mind – as we do in the field of Video Systems & Solutions. Our business unit offers fully integrated Bosch video solutions that can be extended and operated on open systems. This is why we drive open platforms such as Inteox, to offer customers from a wide range of industries the right solutions. Our Bosch Integration Partner Program that we launched in 2012 is also heading in this direction – every product can be integrated into multiple other systems and VMS solutions. In summary: At Bosch, we are both a one-stop-shop, but also an open-system, meaning we offer customers maximum flexibility in their choice of products and services.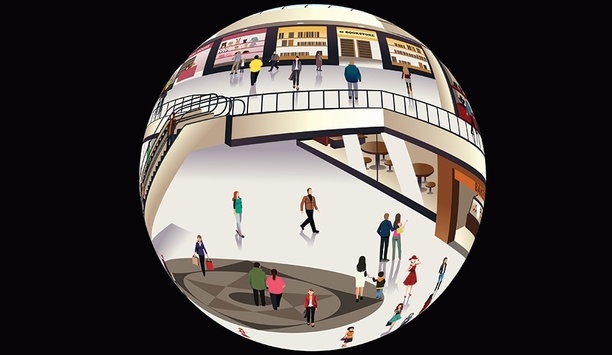 Surveillance In 2017: 360-degree Cameras A Primary Device For Total Situational Awareness
The physical security market continues to experience growth as users look to capitalize on the promises of emerging technologies and because of this, 2017 proved to be a great year for Oncam. In fact, this year was the best year in Oncam's history in terms of sales, as 360-degree fisheye cameras have gone from being a "specialty" camera used only in certain applications to a primary device for enabling total situational awareness. Today, many of our customers leverage 360-degree cameras exclusively to provide extensive coverage inside a facility or in a large outdoor area, with traditional narrow field-of-view cameras used only at "choke" points. Increase In Cybersecurity Threats And Breaches At the end of 2016, we predicted a major trend this year would be an increase in cybersecurity concerns for users of physical security systems, and we were right. An increase in cybersecurity threats and breaches have put organizations on watch. Based on this and the adoption of more IT-centric infrastructure and protocols, there is significant collaboration between IT and physical security, and true "convergence" is finally starting to happen. The adoption of video analytics also continued to increase this year, as most video surveillance projects involved the use of some form of analytics and data analysis. Demand For Safeguards As we move into 2018, the trends of 2017 will roll over, and cybersecurity will continue to be a major issue. Suppliers of hardware and software will put an even greater emphasis being cyber secure and end users will increasingly demand safeguards. Additionally, the deployment and use of advanced analytics based on newer artificial intelligence-based technologies will continue to increase. It will be the technology providers that find ways to allow users to capture additional value from the information collected by security systems that will accelerate growth. Oncam made significant investments in new products that leverage analytics and cloud technologies. In 2018, we will continue to invest in the development of new products, with a focus on solutions for particular applications across industry segments. Beyond our technology advancements, we've invested significantly in boosting our sales force in the Americas and adding industry experts to ensure sustained customer and partner success with our solutions. From our vantage point, Oncam is well positioned to capitalize on opportunities for growth in the coming year.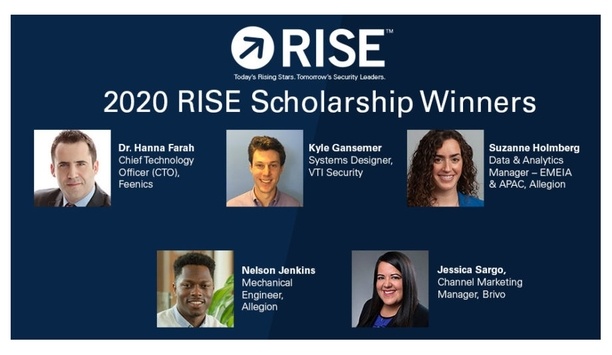 Security Industry Association Awarding Scholarships To Young Professionals Towards Continuing Education And Professional Development
The Security Industry Association (SIA) has selected five recipients for the 2020 SIA RISE Scholarship, a program offered through SIA's RISE community of young security professionals that supports the education and career development goals of young industry talent. Through this scholarship program – open to SIA student members and RISE members who are employees at SIA member companies – each awardee will receive a $3,000 scholarship to use toward continuing education and professional development courses, SIA program offerings and/or other academic or education programs. SIA RISE community and scholarship Scholarship funds can be used to expand knowledge in the areas of business, human resources, information technology, marketing/sales, project management, security engineering and/or risk management. SIA is proud to help foster the careers of young talent in the industry through SIA RISE community and scholarship" "SIA is proud to help foster the careers of young talent in the security industry through the SIA RISE community and scholarship," said Don Erickson, CEO of SIA. "This year's scholarship honorees are an impressive group of dedicated, accomplished young professionals that represent the next generation of security leaders, and I look forward to supporting their professional growth and celebrating their many successes ahead." Robust security program The winners for the 2020 SIA RISE Scholarship are: Dr. Hanna Farah, Chief Technology Officer (CTO), Feenics In his role as CTO at Feenics, Hanna Farah is responsible for creating a security and access control platform and developing quality and security processes. Prior to his time at Feenics, Farah has held positions at Deloitte, Graphite Software, the University of Ottawa, Electronic Health Information Laboratory and IBM. He holds a Ph.D., a master's degree and a bachelor's degree in software engineering from the University of Ottawa. Farah plans to use the SIA RISE Scholarship to develop further knowledge to build a robust security program at Feenics that ensures the company's practice and products adhere to high security standards, including acquiring expertise and certifications such as the Certified Cloud Security Professional credential. Integrated security system Kyle Gansemer, Systems Designer, VTI Security At VTI Security, Kyle Gansemer is responsible for integrated security system design and review of system functionality to determine proper operation of access control, IP video and other security systems and controls. Prior to his time at VTI Security, he served as a design/manufacturing engineer at Optical Mechanics Incorporated. Gansemer holds a bachelor's degree in aerospace engineering from Iowa State University and CompTIA's Security+ and Network+ credentials. He plans to use the scholarship funds to expand his cybersecurity expertise through completing courses related to cloud services, ethical hacking/defenses and systems analysis. Data integration Suzanne Holmberg, Data & Analytics Manager – EMEIA & APAC, Allegion Suzanne is responsible for creating teams in Europe and Asia to deliver on data integration and data science projectsIn her role at Allegion, Suzanne Holmberg is responsible for creating new teams in Europe and Asia to deliver on data integration, analysis and data science projects. Prior to her current role, Holmberg served as global analytics manager, analytics leader and sales business analyst at Allegion and held sales operations and marketing positions at Belden, Inc. She holds a bachelor's degree in business administration from the University of South Carolina and is currently enrolled in the Global Executive MBA program at Duke University's Fuqua School of Business. Holmberg will use the scholarship funds toward completion of the MBA program, which brings working professionals from around the globe together and grows individuals beyond their comfort zones through international residencies that emphasize how culture and institutions shape business in Asia, Latin America, Europe and North America. Research and development Nelson Jenkins, Mechanical Engineer, Allegion Nelson Jenkins is a design engineer with diverse experience across project lifecycle, including research and development, manufacturing and product leadership. At Allegion, he has started a grassroots organization to help promote a culture of innovation at the company. Prior to his role as product designer at Allegion, Jenkins served as design strategist consultant at Zeren Fitness and as a researcher with Carnegie Mellon University's CSSI program; he holds a bachelor's degree in mechanical engineering from the University of Michigan and a Bachelor of Science in applied physics from Morehouse College. He will use the scholarship funds to complete a course on disruptive theory offered through Harvard Business School. Executing marketing techniques Jessica Sargo, Channel Marketing Manager, Brivo SIA's RISE community fosters the careers of young professionals in the security industry through fun, in-person networking events In her role at Brivo, Jessica Sargo leads efforts for a cross-departmental partner training program, supports partner recruitment and retention campaigns, develops web and cellphone applications for partner conferences, creates communications plans and manages logistics for trade shows and partner events. Prior to her time at Brivo, she held marketing positions with TwentyEighty Strategy Execution and Teaching Strategies, LLC; she holds a bachelor's degree in public relations from the University of Florida. Sargo plans to use the scholarship funds to complete a digital marketing education course and further her knowledge of executing marketing techniques through social media, cellphone applications, search engines and other digital channels. Business skills development In addition to awarding the RISE Scholarship, SIA's RISE community fosters the careers of young professionals in the security industry through fun, in-person networking events held during top trade shows and in major cities across the country; thought leadership opportunities; career growth webinars on topics of interest; career tracks at ISC West and East each year; and the AcceleRISE conference for tomorrow's security leaders, featuring top-quality idea sharing, coaching, business skills development, networking and inspiration. SIA RISE is open to all young security professionals employed at SIA member companies who are under 40 and/or have been in the security for less than two years.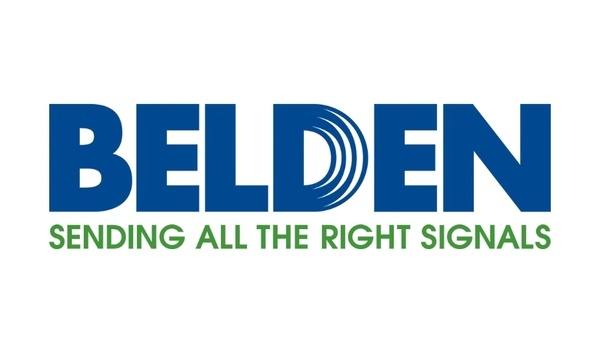 Belden Launches OCTOPUS Ethernet PoE Switches To Enhance Network Performance
Belden, Inc., a provider of signal transmission solutions for mission-critical applications, releases its Full Gigabit OCTOPUS ethernet PoE switches. The new managed switches from Hirschmann are designed to meet evolving data demands by increasing bandwidth and ensuring reliable, high-speed connections, even in the toughest industrial settings. "As the Industrial Internet of Things (IIoT) increases the number of devices typically operated across a network, bandwidth expectations also rise, while the available operating space often decreases," said Rolf-Dieter Sommer, product manager at Belden. Optimizing network performance Hirschmann's Full Gigabit OCTOPUS switches offer an economical, yet powerful solution" "Equipped with Gigabit ethernet on all ports and enclosed in an L-shaped housing, Hirschmann's Full Gigabit OCTOPUS switches offer an economical, yet powerful solution for optimizing network performance in extreme, condensed operating spaces." Hirschmann's Full Gigabit OCTOPUS switches offer the following benefits: Maximize network performance and guarantee high-speed connections with full Gigabit ethernet options on all ports Ensure network reliability under extreme conditions with vibration and waterproof IP67 housing design Save precious operating space with unique L-shaped IP67 housing for efficient cabling and cabinet less mounting Reduce cabling to end devices using Power over Ethernet (PoE) switch variants Highly configurable switches Hirschmann's Full Gigabit OCTOPUS switches are highly configurable and come with a variety of feature sets including three housing sizes for 8, 16 or 24 ports, tailored to specific networking demands. The switches are also compact and don't require cabinets, making them easy to install and maintain. The Full Gigabit OCTOPUS switches are also well-suited for applications requiring superior data transfer rates Built in compliance with international train approvals for use alongside tracks or onboard trains, the new switches are ideal for transportation applications, including traffic control systems, rail-rolling stock, mass transit systems and railway and train stations. The Full Gigabit OCTOPUS switches are also well-suited for applications requiring superior data transfer rates in extreme operating conditions, such as general manufacturing, automotive and machine building settings. Next generation of industrial networking solutions As an early innovator in industrial ethernet, Belden knows industrial IT and delivers the next generation of industrial networking solutions, including wired, wireless and embedded products. With its global brands – Hirschmann, GarrettCom and Tofino Security – Belden helps companies minimize downtime and take advantage of the real-time data access and control made possible by the Industrial Internet of Things (IIoT). Through a seamless, secure and scalable industrial Ethernet infrastructure, companies are equipped to revolutionize their operations and achieve improved efficiency, productivity and agility.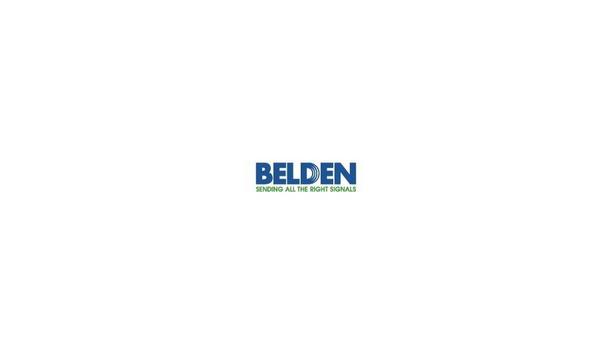 Belden Inc. Announces Team For Efficient Cable And Connectivity Solutions In Global Hospitality Market
Belden Inc., a global provider in signal transmission solutions for mission-critical applications, announces a new team dedicated to supporting the connectivity needs of the global hospitality market. This team, specializing in cable and connectivity infrastructures, is comprised of experts in each of Belden's four hospitality sectors: hotels and resorts, casinos, cruise lines and theme parks. In the hospitality market, facilities are constantly innovating to keep guests satisfied. As technology quickly evolves, Belden designs effective, efficient cable and connectivity solutions to accommodate hospitality venues of today and tomorrow. In-room technology and automated processes This proven track record is found in facilities such as Wynn Resorts' Encore Boston Harbor, the Grand Velas Los Cabos and Carnival Cruise Lines. Belden's hospitality team serves as a single point of contact for global support. The team partners with end users, designers and consultants, and oversees and certifies contractors for installation. This allows each project to be backed by an incomparable warranty that protects and futureproofs investments. "With this experienced team in place, Belden is able to offer a unique service to organizations within the hospitality market," says John Wojnicki, Director of Global Hospitality. "Not only do our solutions support in-room technology and automated processes, but Belden has simplified the project-management experience as well. By coordinating projects from start to finish, we remove stress and work from our customers' plates, giving them peace of mind in knowing that we've got them covered - every step of the way." Team of hospitality Belden's committed team of hospitality experts is led by the following individuals: John Wojnicki, who has been in the industry for 45 years. Wojnicki has been a pioneer in introducing casinos, hotels, theme parks and cruise lines to the industry. His global engagement with associations and conferences, such as HTNG and HITEC, allows Belden to work with all major hospitality brands to learn more about their needs and create solutions to serve them efficiently and effectively. David Wells, who is an industry-recognized, long-time consultant. He brings extensive knowledge about the hospitality industry to this role. During his 19 years in the industry, Wells has designed and consulted on many low-voltage systems that have an impact on ever-changing hospitality networking systems. Wil Boyd, a global strategic account manager who has been with Belden since 2009, has supported, and managed some of Belden's largest installations. Boyd's 25 years of experience have made him the driving force behind Belden's commitment to the cruise line industry.
Related white papers
Facing the Ever-evolving Hacker Head-on
RFID and Smartphone Readers in Physical Access Control
Access Control & Intelligent Vehicle Screening