Access Control Accessories
(51)
Browse Access Control Accessories
Access control accessory products updated recently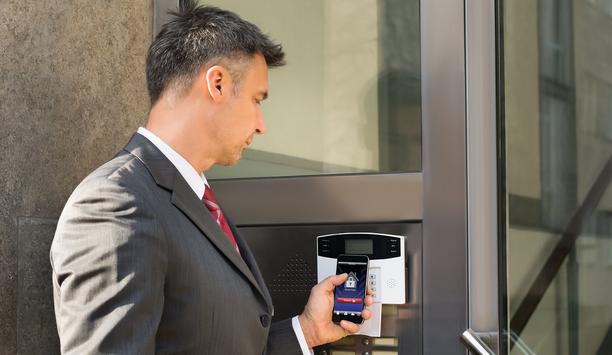 How Businesses Can Protect Their People In The New Age Of Work
Ensuring employee health and safety remains a key priority for organizations this year, especially as we see COVID-19 cases continue to rise in different areas of the world. As an ongoing challenge, COVID-19 has shifted the priorities of many organizations. In fact, "improving health and safety for employees" is the top strategic goal this year of manufacturing and logistics organizations in the U.S. and U.K., according to research conducted by Forrester on behalf of STANLEY Security. But as we think about reopening and as hybrid workforce models and "workspace-on-demand" approaches rise in popularity, leaders need to consider implementing the right technologies to help ensure a safe return to the office. This means investing in health, safety, and security solutions that can help leaders protect their people. The intersection of security technology and health and safety There's no doubt that the scope of security has expanded in the wake of the global pandemic. What was once an area governed by a select few security or IT professionals within a business has now become a crucial company investment involving many key stakeholders. The role of security has expanded to encompass a broader range of health and safety challenges for businesses Additionally, the role of security has expanded to encompass a broader range of health and safety challenges for businesses. Fortunately, security technologies have made significant strides and many solutions, both existing and new, have been thrust forward to address today's biggest business challenges. Investment in security technology It's important to note that businesses are eager to adopt tech that can help them protect their people. Nearly half (46%) of organizations surveyed by Forrester report that they're considering an increasing investment in technology solutions that ensure employee safety. Technologies like touchless access control, visitor management systems, occupancy monitoring, and installed/wearable proximity sensors are among some of the many security technologies these organizations have implemented or are planning to implement yet this year. Facilitating a safe return to work But what does the future look like? When it comes to the post-pandemic workplace, organizations are taking a hard look at their return-to-work strategy. Flexible or hybrid workforce models require a suite of security solutions to help ensure a safer, healthier environment More than half (53%) of organizations surveyed by Forrester are looking to introduce a flexible work schedule for their employees as they make decisions about returning to work and keeping employees safe post-pandemic. Such flexible – or hybrid – workforce models require a suite of security solutions to help ensure a safer, healthier environment for all who traverse a facility or work on-site. One of the central safety and security challenges raised by these hybrid models is tracking who is present in the building at any one time – and where or how they interact. Leveraging security technology With staggered schedules and what may seem like a steady stream of people passing through, it can be difficult to know who's an employee and who's a visitor. Access control will be key to monitoring and managing the flow of people on-site and preventing unauthorized access. When access control systems are properly integrated with visitor management solutions, businesses can unlock further benefits and efficiencies. For instance, integrated visitor management systems can allow for pre-registration of visitors and employees – granting cellphone credentials before people arrive on-site – and automated health screening surveys can be sent out in advance to help mitigate risk. Once someone reaches the premises, these systems can also be used to detect the person's temperature and scan for a face mask, if needed. We will likely see these types of visitor management and advanced screening solutions continue to rise in popularity, as 47% of organizations surveyed by Forrester report that they're considering requiring employee health screening post-pandemic. Defining the office of the future A modern, dynamic workforce model will require an agile approach to office management. It's imperative to strike the right balance between making people feel welcome and reassuring Businesses want to create an environment in which people feel comfortable and confident – a space where employees can collaborate and be creative. It's imperative to strike the right balance between making people feel welcome and reassuring them that the necessary security measures are in place to ensure not only their safety but also their health. In many cases, this balancing act has created an unintended consequence: Everyone now feels like a visitor to a building. Protocols and processes With employees required to undergo the same screening processes and protocols as a guest, we've seen a transformation in the on-site experience. This further underscores the need for seamless, automated, and tightly integrated security solutions that can improve the employee and visitor experience, while helping to ensure health and safety. Ultimately, the future of the office is not about what a space looks like, but how people feel in it. This means adopting a "safety-always" culture, underpinned by the right technology, to ensure people that their safety remains a business' top priority.
Open Supervised Device Protocol (OSDP) – What You Need To Know About Modern And Future Proof Access Control Security?
Access control and management of trusted identities are the building blocks of security, safety, and site management policies for many businesses and organizations. The current pandemic has compounded this with the introduction of new policies and regulations, particularly around social distancing and contact tracing. Most organizations will have some form of legacy access control in place, ranging from the most simplistic options, such as locks and keys, to technology-based systems. The issue with legacy systems of any type is that risks, just like technology, evolve. What was secure, convenient, and efficient a few years ago is often found wanting as the threat landscape changes. The standards governing the development and testing of physical access control systems (PACS) have also evolved to improve security and product interoperability. An example is the Open Supervised Device Protocol (OSDP), introduced 10 years ago as an alternative to the antiquated and vulnerable Clock-and-Data and Wiegand protocols. However, when it comes to planning infrastructure upgrades or implementing new tools, businesses must carry out due diligence to ensure the solutions are future-proof and deliver the expected level of security. Vulnerabilities and challenges In the early 1980s, Clock-and-Data and Wiegand protocols were widely adopted as the de-facto standard for interoperability between access control readers and physical access controllers. Those de-facto standards were later formalized and adopted into industry standards by the Security Industry Association in the 1990s. Wiegand is unencrypted and unable to protect from "man in the middle" attacks and vulnerabilities There were weaknesses, though, Wiegand is unencrypted and unable to protect from "man in the middle" attacks and vulnerabilities from the reader to the controller. Not only that, but Wiegand delivers limited range options and is operationally inefficient. It is also easy to target via its learnable language and a host of hacking devices available via online sources. Furthermore, the retrofitting installation alongside a legacy system is complicated for integrators and expensive for organizations, as most readers require dedicated home-run wiring. Extensive wiring on a large-scale project, such as a school or corporate campus, results in considerable — often prohibitive — costs for the installation of a PACS. Legacy access control protocol Despite the well-publicized vulnerabilities and weaknesses, Wiegand is still one of the most common protocols in legacy access control, with estimates indicating it is used in more than 90 percent of installed systems. This not only presents issues about physical security but also raises concerns relating to the protection of personal data. Access control systems not only contain information about who can and cannot use certain doors. OSDP is a communication standard Modern systems include a wide range of personal data, ranging from qualifications and certifications of individuals, home contact details, and even medical conditions or HR and employment information. With the potential fines associated with GDPR breaches, companies need to take this concern seriously. These weaknesses pushed the security industry to adopt a new protocol: Open Supervised Device Protocol (OSDP). This access control communications standard was developed by Mercury Security (now part of HID Global) and HID Global in 2008, and donated, free of intellectual property, to the Security Industry Association (SIA) to improve interoperability among access control and security products. Since then, it has been adopted as a standard by SIA, becoming the first secure, bidirectional reader/controller protocol to be governed by a major standards body in the security industry. In 2020 OSDP reached an additional milestone in becoming an International Electrotechnical Commission (IEC) standard. Why implement OSDP as a standard? OSDP is the only protocol that is secure and open for communication between readers and controllers The growth of networked devices, such as video and access control products, has led to an increased demand for converged solutions. Businesses and organizations recognize the value of implementing an integrated solution to enhance security and add value to technology investment. OSDP is the only protocol that is secure and open for communication between readers and controllers and is also being widely adopted by industry-leading reader and controller manufacturers. It is an evolving, 'living standard,' making it a safer, more robust, future-proof option for governing physical access control systems. OSDP offers important benefits: 1) Increased security Implementing OSDP standards can increase security, as OSDP with Secure Channel Protocol (SCP) supports AES-128 encryption that is required in U.S. federal government applications. Additionally, OSDP constantly monitors wiring to protect against tampering, removing the guesswork since the encryption and authentication are predefined. 2) Bidirectional communication Early on, communication protocols such as Wiegand were unidirectional, with external card readers sending information one way to a centralized access control platform. OSDP has transformed the ability for information to be collected, shared, and acted upon with the addition of bidirectional communication for configuration, status monitoring, tampering, and malfunction detection, and other valuable functions. In fact, OSDP is the only open, non-proprietary, bidirectional, secure protocol for communication between card reader and physical access controller. 3) Open and interoperable OSDP adds new technology that enhances its ability to protect incoming and outgoing data collection OSDP supports IP communications and point-to-point serial interfaces, enabling customers to flexibly enhance system functionality as needs change and new threats emerge. They also can proactively add new technology that enhances their ability to protect incoming and outgoing data collection through a physical access control system. 4) Reduced installation costs OSDP's use of two wires (as compared to a potential of 11 wires with Wiegand) allows for multi-drop installation, supervised connections to indicate reader malfunctions, and scalability to connect more field devices. Daisy-chaining accommodates many readers connected to a single controller, eliminating the need to run home-run wiring for each reader, and the use of a four-conductor cable achieves up to 10x longer distances between reader and controller than Wiegand while also powering the reader and sending/receiving data. 5) User friendly OSDP gives credential holders greater ease of use, with audio and visual feedback such as colored lights, audible beeps, and the ability to display alerts on the reader. For security administrators, managing and servicing OSDP-enabled readers also becomes increasingly convenient, as OSDP-enabled readers can be remotely configured from network-connected locations. Users can poll and query readers from a central location, eliminating the cost and time to physically visit and diagnose malfunctioning devices. Unlimited application enhancements OSDP streamlines installations and upgrades while saving organizations the expense of replacing readers OSDP supports advanced smartcard technology applications, including PKI/FICAM and biometrics, and other enhanced authentication protocols used in applications that require Federal Information Processing Standards (FIPS) compliance and interactive terminal capabilities. Audio-visual user feedback mechanisms provide a rich, user-centric access control environment. OSDP offers advantages for users, administrators, and integrators, alike. It adds security and real-world efficiencies, and its interoperability ensures that organizations can use systems from numerous manufacturers as they invest in infrastructure that maximizes the protection of critical data. For our part, HID Global's range of HID Signo readers is OSDP verified, ensuring they offer the intended interoperability and security for secure bidirectional communication and provide an easy migration from Wiegand devices. In a campus environment, OSDP streamlines installations and upgrades while saving organizations the expense of replacing readers if a new access control solution is implemented. There are also service and maintenance benefits as OSDP encourages continuous monitoring of system uptime and allows for remote configuration of -- or upgrades to -- a reader. Cost savings upon system upgrade Integrators can also capitalize on the introduction of OSDP by encouraging open standards, which can, in turn, help them build new customer relationships and win more projects. Although upgrading to access control systems that adhere to OSDP standards is a significant initiative, the range of benefits outweighs the cost of upgrading. Increased security coupled with business efficiencies adds value for those administering the system and a high level of interoperability ensures users can deploy systems from numerous third-party manufacturers. Integrators who understand the benefits of OSDP can also help their customers support both current and future technology requirements. When a site's needs change, OSDP offers significant cost savings as the open functionality makes adding new devices easier and reduces the expense of requiring all readers to be replaced if a new solution is installed. Businesses and organizations transitioning to OSDP will also enhance value in terms of operational costs such as servicing and maintenance.
Securing A Sustainable Future
The UK Government has set out an ambitious ten-point plan, known as the green industrial revolution, with an aim "to forge ahead with eradicating its contribution to climate change by 2050." This makes our government the first major economy to embrace such a legal obligation. Green recovery Acknowledging climate change and meeting net-zero is a demanding challenge especially for those affected by the pandemic. But the UK Government, with the launch of its aspiring strategy, is investing everything in its power to promote a 'green recovery.' Here, Reece Paprotny, Commercial Manager and Sustainability Champion at Amthal, highlights how the fire and security industry has an opportunity to use the current recovery period to explore its own sustainable journey and embrace the significance of environment, economic and social collaboration, transparency, and accountability. Employing sustainable technologies Pressure is mounting on construction to find ways to reduce emissions and help meet net-zero targets The perception is that COVID-19 presents a once-in-a-lifetime opportunity to re-write the existing rulebook. This is riding on the significance of changing public support for more environmentally friendly living opportunities, with associated cost savings, efficiencies, and cleaner industries. Innovative sustainable technologies are the key to kickstart this route to success. Nowhere can this be seen more than in the built environment, which currently contributes to 40% of the UK's carbon footprint. Pressure is mounting on construction to find ways to reduce emissions and help meet net-zero targets. This is through the entire life cycle of a building, to reduce their impact on the environment from planning stages, through build and demolition. Building the right environment By creating the right policy environment, incentives for innovation and infrastructure, the Government can encourage companies to seize the sustainable opportunities of new technologies and value chains linked to green sectors. They can accelerate the shift of current carbon-intensive economic and industrial structures onto greener trajectories, enabling the UK to meet global climate and development goals under the Paris Agreement on climate change and the 2030 Agenda for Sustainable Development. Transparent working practices Each industry sector is expected to engage and pledge its support to achieve the significant deadlines. Every company can make a difference, even with small steps towards a sustainable future. So while elements such as safety and security represent just one component of building the right sustainable environment, it paves the way to opening up our sector to greater efficiencies, transparent working practices, and encourages collaborative use of resources. Sustainability in security The security sector has a significant opportunity to incorporate 'going green' into its practices In fact, the security sector has a significant opportunity to incorporate 'going green' into their processes, and practices. This is right from product lifecycles to more environmentally friendly work practices when it comes to maintenance and monitoring services. When integrating environmentally friendly practices, starts with the manufacturing and production of the wide variety of systems in operation for the security sector. And some certifications and guidelines can be achieved, such as the ISO 14000 which looks into eliminating hazardous materials being used which in turn will reduce carbon footprint. Upgrading supply chain process Observing the complete supply chain and working with partners to reduce unnecessary travel, shipments, and transportation of products, can all contribute and create sustainable processes. In the maintenance and monitoring of products, it is essential installers and security specialists consider their own environmental impacts. Simple changes such as switching company vehicles to electric options for site visits can make a significant difference to climate change and improving air quality. Presenting sustainable ways of disposing of products at the end of their natural lifecycle is key to change in our sector. This is especially in the security industry where many customers will need a complete overhaul of outdated solutions or need systems upgrading due to changing threat levels. Sustainable evolution Progress is being made, specifically in the fire and security industry, in its sustainable evolution. Businesses are trying to develop a reputation for "sustainability" or "good corporate citizenship." And it has gone well beyond the theory to the practical, where companies recognize activities have an impact on the environment and are also reviewing the social and economic influences. Three pillars of sustainability In a recent interview, Inge Huijbrechts, the Global Senior Vice President for safety and security and Responsible Business at Radisson Hotel Groups sees her vision to combine safety, security, and sustainability. Inge focuses on three pillars, namely, Think People, Think Community, and Think Planet. Think People means that we "always care for the people in our hotels and our supply chain." So, in outwards communications, safety and security were always part of the Think People focus area. Think Community is caring and contributing in a meaningful way to communities where we operate. Finally, Think Planet makes sure that "our footprint on the environment is as light as it can be in terms of energy, water, waste, and carbon, and making sure that we incorporate sustainability into our value proposition." Moving forward Apprenticeship schemes are integral to 'think people' and have a role to play in the social impact on the security industry There are immediate actions that can be taken by companies in the security industry to support sustainable development, working right from within a company to supporting industry-wide initiatives. From a social perspective, at a foundation level, "Think People' can see the Living Wage Foundation as an example of a commitment to a team. This is for businesses that choose to go further and pay a real Living wage based on the cost of living, not just the Government minimum. Apprenticeship schemes are also integral to 'think people' and have a pivotal role to play on the social impact on the security industry. It addresses the sector-wide issue of finding employees with the right mix of skills to collaborate and meet discerning consumer demands for increasingly smart security solutions for homes and businesses. Impact of the full lifecycle of products From an environmental view, or 'think planet,' we need to collectively look at all elements of our industry, with a desire to analyze the impact of ingredients used, supply chain, or manufacturing alone, and also consider the full lifecycle of our selected products from creation to end of life. As Jamie Allam, CEO Amthal summarises, "This is a long-term, sustainable investment in our people, our products, and our business based on our values." "When put together, a social team which feels empowers and operates in environmental optimum working conditions is in a position to provide a great experience to our customers, creating an economic positive difference. It forms the basis of a sustainable sector vision for the security industry-wide to adopt." Taking action Amthal is taking action based on the ready-made universally agreed UN 17 Sustainable Development Goals. Also known as Global Goals, these are at the heart of the 2030 Agenda for Sustainable Development, adopted by all United Nations Member states. This agenda is a plan of action for people, the planet, and prosperity. By being an early adopter, we believe we can engage with customers, partners, and suppliers on these issues and generate opportunities to innovate for mutual and industry sector benefit. Together, we can contribute to building a more sustainable security sector and future, and contribute to the UK Government's green industrial revolution.
Related white papers
Attention OEMs: 5 Ways RFID Readers Can Secure Your Markets
Wireless Access Control eBook
The Critical Importance of Trusted Execution Environment in Access Control