While there is much hype around drone technology today, initial successful drone usage for security can be dated back to the 1960s, when the US utilized the Lightning Bug 147, a camera-equipped unmanned aerial vehicle that could travel 600 miles for surveillance in Vietnam, China and Korea.
Drones For Effective Surveillance
Since this initial deployment, drones have been used for a variety of security and surveillance applications. However, as professional-grade commercial drones incorporate newer, more advanced features and technologies, their capabilities will allow for many new scenarios and applications within fully-integrated security systems.
The security industry, in addition to first response and law enforcement, will be among the first to truly experience the benefits of the most current drone technologies. And, these industries have already started to utilize drones in new ways—the most recent example being the use of commercial drones to save lives during hurricanes Irma and Harvey.
For these reasons, UAVs are becoming an integral tool in multiple industries and according to PwC, will have an expected total value of $127 billion by 2020, $10.5 billion of which will be in security applications of drones.There is room to improve on cost, efficiency and safety, so the opportunity for commercial drone technologies is large
Drones In Fire, Border And Perimeter Security
Current drone users in the security arena are comprised of law enforcement, fire departments, border security and first responders, who primarily use UAVs for border control, perimeter surveillance and monitoring, anti-terror operations and searching for missing persons.
These tasks generally require manned teams and can even include helicopters, the results being costly, time-consuming and potentially dangerous. Alternatively, these teams use consumer-grade drones, which simply lack the capabilities and levels of security necessary to be used safely for such operations. This makes the opportunity for commercial drone technologies large, as there is room to significantly improve on cost, efficiency and safety.
By adding autonomous drones to their arsenals, security forces are able to accomplish their objectives more easily and effectively by removing the need for a security team member to operate the drone—as it works on its own—and instead, focus on responding to the security situation at hand.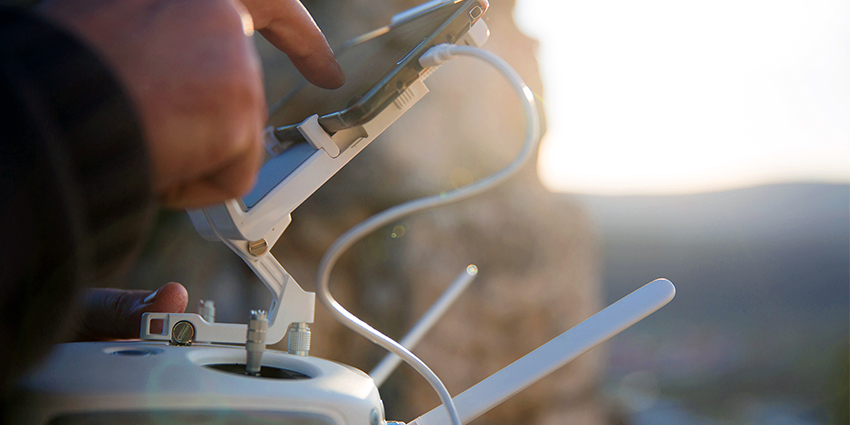 Employing fully autonomous systems, especially in surveillance, is a critical feature most drone systems currently don't allow
UAVs can also enter narrow spaces, produce minimal noise, and can be equipped with night vision cameras and thermal sensors, allowing them to see beyond what the human eye can detect. They can also quickly cover large expanses of ground and access hard to reach places. However, most drones today have not reached the pinnacle of what is possible for advanced commercial UAVs.
Drawbacks Of Current Drone Solutions
Despite how far drone technology has come, drones used in security settings are still riddled with shortcomings. This is apparent in the build quality of current drones, most of which are made from hardened plastic, which falters when faced with rough weather conditions or after experiencing tough falls and crashes.
Closed-system integration is another key element current UAVs lack. Not being able to integrate drones into wider closed-security systems creates major gaps in the efficacy of security operations.
The use of carbon fibre in the build of drone hulls will increase drones' weather durability - and ultimately make them more valuable
Lastly, employing fully autonomous systems, especially in surveillance, is a critical feature most drone systems currently don't allow - both due to shortcomings in the technology and due to the need for regulations to catch up to the advancements and capabilities of drone technologies. The combination of these drawbacks can create lacklustre drone results, and when lives are on the line, these results simply aren't enough.
Why Commercial Drones Can Make A Difference
That being said, 2018 is the year where the security sector will experience increased drone adoption. That's because there are some drone technologies being developed today that overcome many of the shortcomings outlined above.
These are the technologies we will see having the greatest impact within the security industry. Here are some of the drivers of change, both in the industry and technology that will allow drones to effectively integrate into the security market:
Increased processing power: This will allow autonomous drones, powered by AI technology, to track objects in real time, and adjust their courses and actions as needed. This allows for greater drone operational efficiency while simultaneously drawing less power from the battery, thereby lengthening the drone's flying time. These improved processors will also make way for increased broadcast range capabilities, allowing for longer distance drone operations.
Regulations will catch up to the technology: This is a trend we began to see at the tail end of 2017. Governments in both the United States and Europe have realized that drone regulations must keep up to gain the most from UAV technologies, as well as to counter the use of drones for terror or other nefarious tasks. To that end, the US government began talks with drone developers to discuss the expansion of commercial drone operations, and the UK government introduced tougher regulations to crackdown on dangerous flying and criminal drone use.
Drone regulation will move in favor of autonomous drone operation: As governments increase regulations in favor of the commercial drone industry, commercial players will increase pressure to allow for fully autonomous operation. Full autonomy means Beyond Visual Line Of Sight (BVLOS) drone functionality. This enables drone operators to fly a UAV with the drone out of their line of sight, maximizing the capabilities of the UAV, and in the case of security missions, keeping the pilot out of harm's way.
New materials will increase drone hull durability: As drone makers will have learned from their drones' lack of weather resistance following the tumultuous hurricanes the U.S. experienced this past year, the use of carbon fiber in the build of drone hulls will increase their weather durability.
Better capabilities will encourage adoption among security: New commercial drones will have longer flight times, longer battery lives, will carry heavier payloads, and will integrate advanced computer vision technologies and real-time connectivity. This will enable drones on security missions in remote areas to send a live stream of their field of vision to drone operators at a central command station.
Full integration of security systems: The interoperability of a variety of technologies will make drones another sensor in fully integrated and closed security systems that may include smart fences, security cameras and other infrastructure elements. Full integration also means that these elements will be controlled from the same central command center, whether for securing a specific facility, or as part of surveillance system on a military base, or other closed location. This will allow security personnel to use drones more effectively, saving time, money, and increasing the safety of security professionals in the field.
This year is going to be huge for the drone security market, as it is about to experience a significant improvement in drone performance, which will lead to a widespread escalation in drone adoption. The results will be prolific for both drone makers and security force users.
Download PDF version
Download PDF version