Inner Range Intruder Alarm Control Panels & Systems
(7)
Browse Intruder Alarm Control Panels & Systems
Intruder alarm system control panel products updated recently
Sensor Data Fusion For More Reliable Intrusion Alarm Systems
Intrusion alarm systems are currently facing a growing number of potential error sources in the environment. At the same time, alarm systems must comply with increasingly demanding legal requirements for sensors and motion detectors. As a future-proof solution, detectors equipped with Sensor Data Fusion technology raise the level of security while reducing the risk of cost- and time-intensive false alarms. This article provides a comprehensive overview of Sensor Data Fusion technology. Anti-masking alarms A cultural heritage museum in the South of Germany for decades, the installed intrusion alarm system has provided reliable protection on the premises. But suddenly, the detectors trigger false alarms every night after the museum closes. The system integrators are puzzled and conduct extensive tests of the entire system. When they finally identify the culprit, it's unexpected: As it turns out, the recently installed LED lighting system in the museum's exhibition spaces radiates at a wavelength that triggers anti-masking alarms in the detectors. Not an easy fix situation, since a new lighting system would prove far too costly. Ultimately, the integrators need to perform extensive detector firmware updates and switch to different sensor architecture to eliminate the error source. This scenario is by no means an isolated incident, but part of a growing trend. Need for reliable detector technology Legal requirements for anti-masking technology are becoming stringent in response to tactics by criminals The number of potential triggers for erroneous alarms in the environment is on the rise. From the perspective of system operators and integrators, it's a concerning development because every false alarm lowers the credibility of an intrusion alarm system. Not to mention steep costs: Every false call to the authorities comes with a price +$200 tag. Aside from error sources in the environment, legal requirements for anti-masking technology are becoming more stringent in response to ever more resourceful tactics employed by criminals to sidestep detectors. What's more, today's detectors need to be fortified against service outages and provide reliable, around-the-clock operability to catch intruders in a timely and reliable fashion. Sensor Data Fusion Technology In light of these demands, one particular approach has emerged as a future-proof solution over the past few years: Sensor Data Fusion technology, the combination of several types of sensors within one detector – designed to cross-check and verify alarm sources via intelligent algorithms – holds the keys to minimizing false alarms and responding appropriately to actual alarm events. This generation of detectors combines passive infrared (PIR) and microwave Doppler radar capabilities with artificial intelligence (AI) to eliminate false alarm sources without sacrificing catch performance. Motion detectors equipped with Sensor Data Fusion technology present a fail-proof solution for building security "It's not about packing as many sensors as possible into a detector. But it's about including the most relevant sensors with checks and balances through an intelligent algorithm that verifies the data for a highly reliable level of security. The result is the highest-possible catch performance at the minimum risk for erroneous alarms," said Michael Reimer, Senior Product Manager at Bosch Security Systems. Motion detectors with sensor data fusion Looking ahead into the future, motion detectors equipped with Sensor Data Fusion technology not only present a fail-proof solution for building security. The comprehensive data collected by these sensors also unlock value beyond security: Constant real-time information on temperature and humidity can be used by intelligent systems and devices in building automation. Integrated into building management systems, the sensors provide efficiency improvements and lowering energy costs Integrated into building management systems, the sensors provide the foundation for efficiency improvements and lowering energy costs in HVAC systems. Companies such as Bosch support these network synergies by constantly developing and optimizing intelligent sensors. On that note, installers must be familiar with the latest generation of sensor technology to upgrade their systems accordingly, starting with a comprehensive overview of error sources in the environment. Prominent false alarm triggers in intrusion alarm systems The following factors emerge as frequent triggers of false alarms in conventional detectors: Strong temperature fluctuations can be interpreted by sensors as indicators of a person inside the building. Triggers range from floor heating sources to strong sunlight. In this context, room temperatures above 86°F (30°C) have proven particularly problematic. Dust contamination of optical detectors lowers the detection performance while raising susceptibility to false alarms. Draft air from air conditioning systems or open windows can trigger motion sensors, especially when curtains, plants, or signage attached to the ceilings (e.g. in grocery stores) are put in motion. Strong light exposure directly on the sensor surface, e.g. caused by headlights from passing vehicles, floodlights, reflected or direct sunlight – all of which sensors may interpret as a flashlight from an intruder. Extensive bandwidth frequencies in Wi-Fi routers can potentially confuse sensors. Only a few years ago, wireless routers operated on a bandwidth of around 2.7GHz while today's devices often exceed 5GHz, thereby catching older detectors off guard. LED lights radiating at frequencies beyond the spectrum of visible light may trigger sensors with their infrared signals. Regarding the last two points, it's important to note that legislation provides clear guidelines for the maximum frequency spectrum maintained by Wi-Fi routers and LED lighting. Long-term security But the influx of cheap and illegal products in both product groups – products that do not meet the guidelines – continues to pose problems when installed near conventional detectors. For this reason, Sensor Data Fusion technology provides a reliable solution by verifying alarms with data from several types of sensors within a single detector. Beyond providing immunity from false alarm triggers, the new generation of sensors also needs to comply with the current legislature. These guidelines include the latest EN50131-grade 3, and German VdS class C standards with clear requirements regarding anti-masking technology for detecting sabotage attempts. This is exactly where Sensor Data Fusion technology provides long-term security. Evolution of intrusion detector technology Initially, motion detectors designed for intrusion alarm systems were merely equipped with a single type of sensor; namely passive infrared technology (PIR). Upon their introduction, these sensors raised the overall level of building security tremendously in automated security systems. But over time, these sensors proved limited in their catch performance. As a result, manufacturers began implementing microwave Doppler radar capabilities to cover additional sources of intrusion alarms. First step detection technology In Bosch sensors, engineers added First Step detection to trigger instant alarms upon persons entering a room Over the next few years, sensors were also equipped with sensors detecting visible light to catch flashlights used by burglars, as well as temperature sensors. In Bosch sensors, engineers added proprietary technologies such as First Step detection to trigger instant alarms upon persons entering a room. But experience in the field soon proved, especially due to error sources such as rats and other animals, that comprehensive intrusion detection demands a synergetic approach: A combination of sensors aligned to cross-check one another for a proactive response to incoming signals. At the same time, the aforementioned bandwidth expansion in Wi-Fi routers and LED lighting systems required detectors to implement the latest circuit technology to avoid serving as 'antennas' for undesired signals. Sensor data fusion approach At its very core, Sensor Data Fusion technology relies on the centralized collection of all data captured by the variety of different sensors included in a single detector. These data streams are directed to a microprocessor capable of analyzing the signals in real-time via a complex algorithm. This algorithm is the key to Sensor Data Fusion. It enables the detector to balance active sensors and adjust sensitivities as needed, to make truly intelligent decisions regarding whether or not the data indicates a valid alarm condition – and if so, trigger an alarm. Advanced verification mechanisms The current generation of Sensor Data Fusion detectors, for instance from Bosch, feature advanced verification mechanisms, including Microwave Noise Adaptive Processing to easily differentiate humans from false alarm sources (e.g. ceiling fans or hanging signs). For increased reliability, signals from PIR and microwave Doppler radar are compared to determine whether an actual alarm event is taking place. Additionally, the optical chamber is sealed to prevent drafts and insects from affecting the detector, while the detector is programmed for pet and small animal immunity. Sensor cross-verification Further types of sensors embedded in current and future generations of Sensor Data Fusion detectors include MEM-sensors as well as vibration sensors and accelerometers. Ultimately, it's important to keep in mind that the cross-verification between sensors serves to increase false alarm immunity without sacrificing the catch performance of actual intruders. It merely serves to cover various indicators of intrusion. Protecting UNESCO World Cultural Heritage in China Intelligent detectors equipped with Sensor Data Fusion are protecting historic cultural artifacts in China from theft and damage. At the UNESCO-protected Terracotta Warriors Museum site, one hundred TriTech motion detectors from Bosch with PIR and microwave Doppler radar technology safeguard the invaluable treasures against intruders. To provide comprehensive protection amid the specific demands of the museum site, the detectors have been installed on walls and ceilings to safeguard the 16,300-square-meter museum site. To ensure an optimal visitor experience without interference from glass walls and other barriers, many detectors are mounted at a height of 4.5 meters (15 feet) above ground under the ceiling. Despite their height, the detectors provide accurate data around the clock while exceeding the performance limits of conventional motion detectors, which clock out at a mere 2 meters (6 feet) catchment area. Integrated video systems The site also presents additional error sources such as large amounts of dust that can contaminate the sensors, as well as visitors accidentally dropping their cameras or cellphones next to museum exhibits. To distinguish these events from actual criminal activity, the intrusion alarm system is integrated with the museum's video security system. This allows for verifying alarm triggers with real-time video footage at a fast pace: In the case of an actual alarm event, the system alerts the on-site security personnel in the control room in less than two seconds. Added value beyond security Sensor Data Fusion technology provides a viable solution for the rising number of error sources in the environment As of today, Sensor Data Fusion technology already provides a viable solution for the rising number of error sources in the environment while providing legally compliant building security against intruders. In light of future developments, operators can leverage significant added value from upgrading existing systems – possibly without fundamentally replacing current system architecture – to the new detector standard. Added value how? On one hand, the detectors can integrate with access control, video security, voice alarm, and analytics for a heightened level of security. These synergetic effects are especially pronounced on end-to-end platforms like the Bosch Building Management system. On the other hand, the data streams from intelligent detectors also supply actionable intelligence to building automation systems, for instance as the basis for efficiency improvements and lowering energy consumption in HVAC systems. New backward-compatible detectors Bosch will release a new series of commercial detectors by end of 2021, based on the latest research on risk factors for false alarm sources in the environment and line with current legislation and safety standards. Throughout these developments, installers can rest assured that all new detectors are fully backward compatible and work with existing networking/architecture. With that said, Sensor Data Fusion technology emerges as the key to more secure intrusion alarm systems today and in the future. TriTech detectors from Bosch For reliable, fail-proof alarms the current series of TriTech detectors from Bosch relies on a combination of different sensor data streams, evaluated by an integrated algorithm. These Sensor Data Fusion detectors from Bosch combine up to five different sensors in a single unit, including: Long-range passive infrared (PIR) sensor Short-range PIR sensor Microwave sensor White light sensor Temperature sensor Equipped with these sensors, TriTech detectors are capable of detecting the most frequent sources of false alarms; from headlights on passing cars to a mouse passing across the room at a 4.5-meter distance to the detector. What's more, TriTech detectors provide reliable performance at room temperatures above 86°F (30°C) while fully guarding against actual intrusion and sabotage attempts from criminals.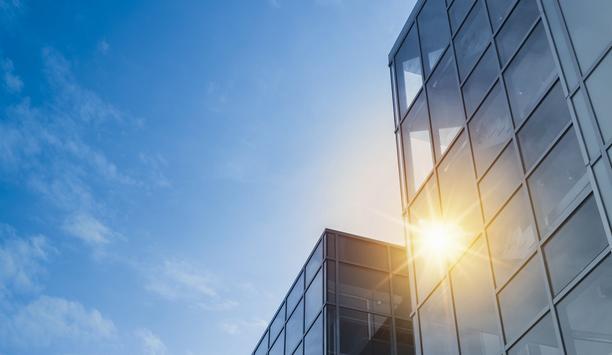 Get The Most From Investments In Building Security
From analog to digital, from stand-alone to interlinked, building systems are in a state of transition. Moreover, the rate of change shows no sign of slowing, which can make it difficult to keep up to date with all the latest developments. If asked to pinpoint the single biggest driver of this revolution, one could point out the growing clamor for platform convergence. A security guard in a building doesn't want to use different systems to check video cameras, fire alarms or if someone has entered a restricted area: – it simply isn't efficient. For similar reasons, a building manager wants a single interface to control heating and lighting to match fluctuating occupancy levels, particularly in a hybrid working model. Applying the digital glue The demand from end-users for system convergence is growing, but to achieve full interoperability you still need to apply some 'digital glue' and that requires expertise. Yet bringing together disparate systems from different manufacturers can be problematic. Just as you get things to work, someone upgrades their solution and your carefully implemented convergence can start to come unstuck. Managing an implementation can quickly become more complicated, today's quick-fix can become tomorrow's headache This is one of the principal issues with all types of new technology; not everyone will choose the same path to reach the desired goal – it's the old VHS/Betamax argument updated for building management and security systems. Managing and maintaining an implementation can quickly become more complicated than it first appears and without proper oversight, today's quick-fix can become tomorrow's technical headache. Effective support for a hybrid workforce Today's hybrid workforce is a response to the pandemic that looks set to become an established part of working life for many companies across the world. Security systems have a massive role to play in facilitating this transformation that goes beyond simple intrusion detection, access control, and video monitoring. They can identify the most densely populated areas in a building to comply with social distancing guidelines and provide efficient use of space. The insights gathered from a security system can also be used to identify patterns of behavior, which can then be used for planning and directing the use of building space to help create the best possible working environment while also minimizing heating, lighting, and air conditioning expenditures. Identity credentials can help manage compliance with industry regulations by limiting access to certain areas Similarly, identity credentials – either biometric or cellphone-based – can help manage compliance to industry regulations by limiting access to certain areas only to approved employees. Creating and maintaining the appropriate level of functionality requires a combination of innovative solutions and industry experience. The complete security package It's not just physical security that's important – cybersecurity is a major focus, too. Bringing together both the physical security and cybersecurity realms is increasingly becoming a 'must have' capability. What is evident is that the pace of technological change is faster than ever. Today's functionality simply wouldn't have been possible just a few years ago, while today's leading-edge developments may seem commonplace in five years.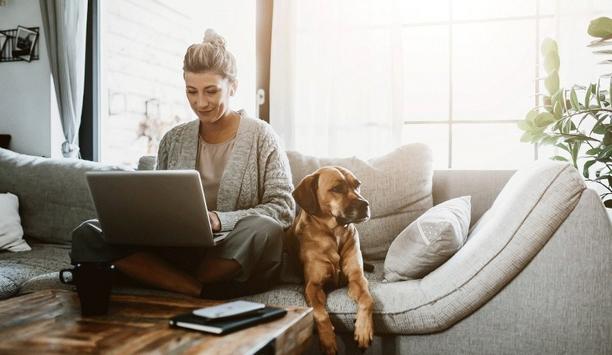 Is Hybrid Working A Red Flag For Business Security?
The 'new normal' was all we heard about when it came to the working model shift after the pandemic hit. Businesses worldwide adopted working from home, and then the hybrid model: a balance of remote work and office work. And according to a recent survey by 451 Research, nearly 80% of organizations surveyed said they have implemented or expanded universal work-from-home policies as a result of COVID-19, whilst 67% expect these policies to remain in place either permanently or for the long-term. With more vacant office spaces, the question is: is hybrid working a red flag for business security? Empty-Office days When buildings and office spaces are still active with advanced technology, equipment and assets on show, yet footfall is not as busy as it once was, opportunistic criminals are closely watching and taking note. But what are they learning? Security systems provider, Expert Security UK, investigates our new normal. Offices are nests for expensive, valuable equipment, with maybe the latest technology Instead of a packed, busy office five or six days a week, hybrid working means more empty-office days, which is music to the ears of burglars. Offices are nests for expensive, valuable equipment, with maybe the latest technology and safes sitting there, or potential stacks of cash or company cards. You may be thinking, well, who leaves company cards or cash out? You'd be surprised, especially when business owners think they'll never be a victim, or sometimes, staff make mistakes. Hybrid working model And don't forget, burglars don't always know what's been left and will take their chances. And when a hybrid working model is the 'new normal', that means a lapse in security - at least in a thief's mind. So how worried should business owners be? Well, the latest figures are pretty worrying, but also, not massively shocking. Reiterating the temptation and lure the working model shift has on robbers, Statista recorded a 12-year high for robbery offenses in the UK in 2019/2020. When more businesses either shut up shop or sent staff away to home offices, it's not hard to make a connection. These figures reflect how, when given the opportunity, thieves will strike and take advantage. Handing vital information Whether you've decided to go fully remote, it's crucial to review and rethink your business security However, it's worth noting that the lockdowns and empty streets would also have played a part in this spike, and now that we're out of lockdowns with a world back to flipping its sign to 'open', many businesses will be carrying on working from home, but towns, shops, and streets are busy again. Whether you've decided to go fully remote, or have adopted the hybrid model, it's crucial to review and rethink your business security, starting with your social media presence. It's a good idea to review your social media channels. We forget how open we can be on social media, and how our digital presence can actually work as a perfect guide and insight for criminals. All they have to do is follow your channels to pick up on clues. And if you're not giving it a minute's thought about what you're putting out there, you may even be just handing them vital information and helping their plans. Remote working shift Of course, there is information readily available such as your opening times, location etc. But, do you really want/need to show off the new, state-of-the-art tablets you've just kitted your office out with? It can be hard as a business, or even as a social person, to not want to share positive news on social media, but we really do have to stop and think, especially if people know a lot about the company and its remote working shift. It's also a good idea to have a meeting with your staff about a social media policy Maybe share a post about that new, intelligent security system you've installed instead. It's also a good idea to have a meeting with your staff about a social media policy or maybe just a casual chat about best practices, e.g. not to tag the business in a post about their new office gadget etc. Improving business security With fewer office days, you probably won't need to take up as much work space anymore. Maybe some equipment has become more ornamental. Anything you don't use or need, you could sell or donate. If you do have expensive equipment lying around that's not being used, try and make money back from it or store it elsewhere. If you are keeping a lot of expensive equipment in vacant premises, especially fixed equipment and technology, then consider installing bars and shutters over the windows. Whatever your budget, you can improve your business security tenfold with key security measures. One of them being access control. Security gates with access control are incredibly effective at stopping unauthorized people from gaining entry. There are also car park barriers and bollards that are highly effective at keeping any potential getaway vehicles out. easily portable technology High-quality CCTV is a best friend to any business, but you need to be reviewing it frequently High-quality CCTV is a best friend to any business, but you need to be reviewing it frequently, especially if you've done a perimeter check and noticed any signs of forced entry or damage. Don't forget those signs either, let visitors or trespassers know they're on camera. To fit in with the hybrid working model, static fixtures are becoming redundant. For instance, companies are switching to laptops instead of computers, so that workers can transport them easily to and from the office. This is not only more efficient and convenient, but it means assets are more guarded. It's the same for any other gadgets. Having easily portable technology is good for business, hybrid working, and security. Don't forget about your deterrents. Simple signs to warn people of alarms, CCTV, and even the fact that you don't leave equipment inside overnight can go a long way. Best security technology Thieves are famous for taking their chances. Some will meticulously plan, and many strike at a convenient, opportune time. So having signs in place that show you have high-quality, intelligent security in place can work wonders, making them think twice. It's also worth noting that you may not have the best security technology in place at the moment, but those on the outside don't need to know that; they can be fooled. However, having the best physical security in place is vital, as criminals lurk and will take chances. Keep reviewing your security, especially as your business adapts and reshapes - whether you return back to full office days or carry on the hybrid working model. This guest post was contributed by Danny Scholfield, Managing Director of Expert Security UK.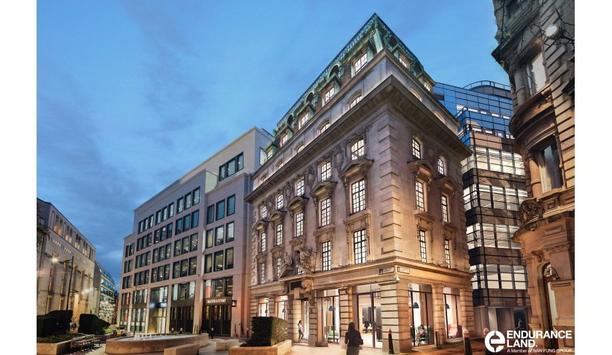 Inner Range And Antron Security Deliver Secure Access Control And Robust Security At Grade A London Office Building, The Bailey
Type of site: Grade A multi-tenant office Location: The Bailey, 16 Old Bailey, London, UK Site size: 115,000 sq. ft over ten floors Client needs: Easy access for users, Touch-free and digital sign-in, Free flowing movement through reception, avoiding crowds and queues, Fast access to other floors via lifts, Visitor management system that can be used by multiple tenants and reception staff easily, Secure and clear intercom/entry phone and door automation for out-of-hours, deliveries and trades people access , Easy access and parking for disabled users, and Reliable and resilient security, including CCTV monitoring of strategic locations. Integriti intelligent integrated access control system Inner Range's enterprise-level intelligent integrated access control system, Integriti, provides robust security, as well as seamless integration, to an array of other building management systems. Some of the key features of Integriti include: Easy to use proximity card entry for users and tenants, Forge Bluepoint, powered by Yardi, visitor management system to create secure, but easy to use credentials for visitors, including via smartphone, High-level lift integration, by Mitsubishi that reads user credentials and directs users to the quickest lift, for their desired destination Integrated CAME BPT video entry phone and access control to automate doors, for disabled access near dedicated parking bay, for disabled users, as well as for out-of-hours access, deliveries and trades people Hard-wired IP closed circuit television system (CCTV) with Hikvision cameras, to monitor strategic locations End-to-end encrypted messaging, through every interface and integration, by Inner Range's Integriti for high-level security Provision for future entry turnstiles/speed lanes Richard Harvell, Engineering Director at Knight Harwood, who managed the refurbishment at The Bailey, said "Our key requirement was to be able to move users, including visitors, swiftly through reception, to their correct floors, with minimal or no touch points. And, all of this, without compromising security." High-level lift integration Antron Security's solution, centered on Inner Range's intelligent access control system, Integriti" Richard Harvell adds, "Antron Security's solution, centered on Inner Range's intelligent access control system Integriti, more than delivers. The high-level lift integration automatically directs users to the fastest lift for their floor and only allows access beyond reception, for those with bona fide credentials. We have been impressed with Integriti's sophistication and integration capabilities, as well as Antron Security's expertise and diligence in designing and installing our bespoke access and security system." The Client - The Bailey UK property firm Endurance Land, which is a member of the Hong Kong-based property conglomerate, Nan Fung Group, owns The Bailey. The property, which is situated directly opposite the famous Old Bailey High Court in London, was originally built in the early 20th Century for the Chatham and Dover Railway Company. Its Grade II listed Edwardian Baroque façade features classical reclining figures, while a larger 'western extension' was built in 1999, to modern city office standards. Knight Harwood commissioned for refurbishment Knight Harwood was recently commissioned to refurbish the whole site, along with architect, Orms and building design consultancy, GDM Partnership. The commercial site meets Grade A office specifications and offers exceptional internet reliability, and speed for tenants. It achieved a platinum connectivity rating, by WireScore, the Mayor of London's digital connectivity rating scheme, in 2020. Sophisticated access and security management system A new and sophisticated access and security management system was part of the refurbishment brief. Knight Harwood stipulated an access and security management system that would ensure a free flow of users and tenants through reception, without crowding or queues. This would need to include integrating intelligent lift controls, so as to ensure users were swiftly taken to their designated floor, as well as a good visitor management system that all tenants could use, without the need for a central security team to manage requests. Touchless access and digital sign-in for users Touchless access, as well as digital sign-in for users was also important for the client Touchless access, as well as digital sign-in for users was also important for the client. An intercom or entry phone and access control operated doors were needed for disabled users, who would be accessing the building from the dedicated disabled parking bay, as well anyone arriving 'out of hours', or for trades people and deliveries. High-levels of physical and cyber security were needed to keep all legitimate users and the site safe, without hindering access. CCTV monitoring would be needed in strategic locations. Future proofing, including laying under-floor cables ready for entry turnstiles/speed lanes, was desired. Antron Security managed the project Antron Security project managed the design, supply and installation of the access control and security system for The Bailey and acted as the 'go to' contact for Knight Harwood. Antron Security is a globally renowned installer of bespoke security solutions and has been providing security installations for the past 30 years. Taking care of the supply, design, installation and maintenance of security systems, Antron Security is NSI and Safe Contractor approved, meaning all staff and systems installed comply with the latest industry standards and are regularly inspected. Bespoke security solutions Inner Range provided the core access and security management system, Integriti, which enabled Antron Security to build the bespoke solutions needed for The Bailey. Inner Range has been a globally renowned company in the design and manufacture of intelligent security solutions, since it was established in 1988. Inner Range systems have been installed in over 25 countries. Its flagship product, Integriti, offers enterprise-level intelligent security and integrated smart building controls, for single sites through to global estate portfolios. Key integration Inner Range's powerful Integriti intelligent access control system integrates with Mitsubishi's high-level lift controls Inner Range's powerful Integriti intelligent access control system, known for its breadth of integration options, integrates with Mitsubishi's high-level lift controls and Bluepoint's visitor management system, to ensure all users and visitors can access their floors, and designated areas with ease. The Mitsubishi lifts are able to read credentials from proximity cards, or mobile phones, at a user check-in point, at the reception, or in the lift lobby itself. High-level lift controls to reduce crowding and queues The high-level lift integration with 'destination control' means the lift software takes into account, where each of the building's lifts are, where the user's 'home floor' is, as well as where other users are going/due to go, and instantly calculates the quickest lift for the new user. The user is immediately directed to the most efficient lift via a display screen at reception, or in the lift lobby. If users are able to go to more than one floor, they can update their preference in the lift itself. This integration ensures users move through reception quickly and efficiently, with no unnecessary stops. Fully integrated visitor management Inner Range's Integriti intelligent access control system also allowed Bluepoint's visitor management system to integrate with the Mitsubishi lifts. For visitors to access tenanted floors within the building, the following has to take place: A tenant creates the meeting via Bluepoint An email is generated and sent to the visitor's inbox, where they can create a mobile QR code pass and save it to their smart phone wallet When the visitor arrives, they use their mobile phone to scan the QR code in the Bluepoint invite, at the reception desk to check-in The reception team can then direct them to the Mitsubishi lifts, which display the lift car that they need to get to their meeting To leave, the visitor presents their QR code at the lift or door reader, which tells the system they're leaving The QR codes are only valid for one entry and one exit, and only on the appointment date and at the planned appointment time. Afterwards, the QR code becomes invalid and is deleted from the system CAME BPT entry panels and video intercom system The QR code gives the visitor the ability to access everything they will need, including the lifts and any locked doors en-route. The integration between Integriti and Bluepoint's visitor management system was achieved using the Bluepoint API. Bluepoint is cloud-based, hosted on the Microsoft Azure platform. CAME BPT entry panels were installed to allow disabled users to access the building, near the dedicated disabled parking bay, as well as for any visitors entering the facility out-of-hours, to contact the security team, or for deliveries and trades people to use, in order to access doors at the rear of the building. The entry panels allow for a reliable and intuitive video entry intercom system. Hikvision CCTV cameras installed CCTV cameras from Hikvision have been installed throughout the site, to create a hard-wired IP CCTV system CCTV cameras from Hikvision have been installed throughout the site, to create a hard-wired IP closed circuit television (CCTV) system. They are integrated with the Integriti access control system, which allows for intelligent 'cause and effect' monitoring. System protocols automatically bring up specific camera feeds for security managers to view, in response to alerts and footage can be viewed together with additional information from Integriti, such as if a door has been left open. Intelligent access control Inner Range's enterprise product, Integriti, provides seamless integration with a multitude of other smart building management systems, underpinned by robust security. This includes encrypting all communications through every device and interface, and providing intruder detection to European standard EN50131. Integriti helps building managers create greener and more energy efficient sites, by tracking how tenants use the building, and amending heating and lighting settings, as a result. Integriti also provides trace reporting, that can identify a user's movements, if they have become unwell and identify who else has been near them. System benefits for users include: Touch-free entry and digital sign-in for users and visitors No unnecessary stops for users on their way into the building Reduced risk of crowding or queues in reception area Easy to use visitor management system Robust security that doesn't impinge on access Future proofing with cabling provision for speed lanes/entry turnstiles in place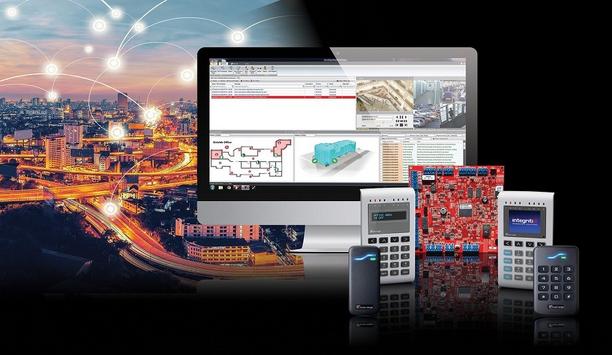 Strategic Integration For Inner Range And AXIS Communications
Access control manufacturer Inner Range has announced a new integration for its flagship system, Integriti, with global CCTV brand AXIS Communications. The new integration creates more choices for customers building bespoke security solutions. It also opens up new business opportunities for Inner Range via its parent firm, global distributor Anixter, which also sells AXIS products. Enterprise-level access control system Tim Northwood, director of Inner Range, said, "Our enterprise-level intelligent access control system Integriti is designed to integrate with a host of third-party products to create sophisticated security solutions. Integrating with AXIS makes sense both in terms of increasing options for our customers as well as furthering our strategic business aims." AXIS Communications is best known for its video surveillance solutions and global market presence. The manufacturer created the first network camera in 1996 and has grown its open platform portfolio ever since. Secure access and security Inner Range's Integriti offers sophisticated and highly secure access and security including intruder detection Inner Range has been a world pioneer in the design and manufacture of intelligent security solutions since it was established in 1988. Its enterprise-level intelligent access control system, Integriti, offers sophisticated and highly secure access and security, including intruder detection to European standard EN50131. Seamless integration possibilities include multiple CCTV products, along with visitor management, building automation, and business continuity systems, HR, payroll, health and safety, and compliance products. Integration partners Inner Range has also announced integration with SALTO doors for its Integriti system. While other integrations released this year include CCTV providers FLIR Latitude and IDIS CCTV, as well as Suprema biometrics and real-time location tracking system Quuppa. The UK team at Inner Range will be showcasing Integriti's vast integration capabilities, as well as its entry-level system, Inception, at the International Security Expo at London's Olympia on September 28-29. Smart building management access Inner Range systems have been installed in over 25 countries, offering trouble-free access and smart building management for local sites as well as national and global estates. Customers include hospitals and high-security units, colleges, distribution centers, and pharmaceutical companies, government, and critical national infrastructure.
IDIS And Inner Range Tech Partnership Expands Integration Options For Enterprise Sites
Demand for more powerful, flexible but simple integrated security and site management solutions - in applications including data centers, healthcare, banking, and critical infrastructure – is being met by a new technology tie-up between Korea's IDIS and Australian-headquartered Inner Range. The collaboration brings together IDIS's end-to-end video offering with Inner Range's enterprise-level access control and intruder detection system Integriti, giving end-users everything they need for more efficient and productive control of their security, safety, and building systems from a single management platform. Easy integration process IDIS technology is easy to install with Integriti, with a simple three-step process IDIS technology is easy to install with Integriti, with a simple three-step process and is already proving its value with small to enterprise-level projects in key regional markets. The partnership will support continued growth in Asia and Australasia where IDIS has strategic partnerships with some of the most respected distribution partners, including Hills Limited in Australia, while major U.S. and European applications are also now confirmed or in prospect, say the two companies. Examples include a global data and asset storage provider which has just completed a significant upgrade. Projects in retail, commercial office space, and local government are also underway. Control and management Inner Range's Integriti access control and integrated management platform work seamlessly with the IDIS DirectIP® range of NVRs and cameras, giving them additional control and management via the total cost and license-free video management software (VMS), IDIS Center. Using Cellphone credentials The comprehensive choice of door controllers, readers, and keypads from Inner Range can be extended with a range of third-party readers including Mifare, HID, biometrics, and cellphone credential support from multiple vendors. Video solutions Linking access and alarm devices with IDIS' award-winning video tech, including deep learning analytics, allows granular monitoring and recording of activity across single and multiple sites – for example, door entry, forced-door, and a range of alarm trigger events – and provides instant visual verification of threats and faster incident response, together with comprehensive audit trails and reporting for both incident investigations and improved site management. Access control and security management The integrated approach helps customers mitigate current risks while ensuring a futureproof platform Together, the Inner Range intelligent access control and security management system and IDIS' end-to-end video solutions can be used as the foundation platform for fully integrated solutions that incorporate everything from security, life safety, and building management systems to visitor management and site-specific systems and devices. This integrated approach helps customers mitigate current risks while ensuring a futureproof platform that will provide them with the scalability and flexibility to adapt as they face future operational challenges and an ever-evolving threat landscape. Easy and affordable maintenance "Our modular, out-of-the-box approach integrates simply and effectively with Inner Range's Integriti system, offering customers integrated security management more affordably." "Our partnership ensures a lower total cost of ownership (TCO), combined with assured local support, extended equipment warranties, and easier maintenance," says Andrew Myung, President, IDIS America. Quick and efficient process "Our new seamless integration with IDIS is a simple three-step process, allowing security managers and integrators to quickly and efficiently associate cameras with any entity on the Integriti system and plot them on schematic maps." "Our partnership extends the technology choice available to systems integrators and offers attractive new options for their customers," says Tim Northwood, General Manager, Inner Range.
Related white papers
Security Investments Retailers Should Consider For Their 2021 Budget