MOXA Video Surveillance Cameras
(1)
Browse Video Surveillance Cameras
Surveillance camera products updated recently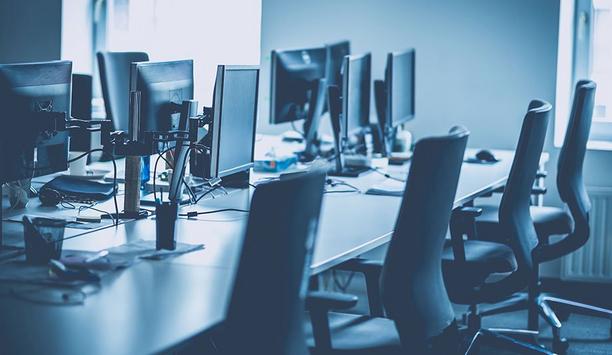 Securing Empty Premises: Product Performance Is Everything
Since the start of the pandemic, almost a quarter of UK businesses have been forced to temporarily close, pause trading, or work remotely, with very little notice. Now nearing the 12th month of the crisis, the country is currently enduring its third national lockdown, with an unspecified timeframe. Most workers are being urged to remain at home and only venture out for essential travel. This means a huge number of premises across the board, from recreational venues such as theaters, pubs and leisure centers, to office buildings, and storage facilities, will remain empty. It's likely that security has been scaled back, so many buildings could be vulnerable to attack for the foreseeable future. Just recently we've seen empty pubs in London targeted by opportunistic illegal rave organizers. Physical security strategy Even rural areas aren't exempt from the problem, as burglars have reportedly targeted beauty salons, etc Even rural areas aren't exempt from the problem, as burglars have reportedly targeted beauty salons, food stores and vehicle hire premises this winter. Vandalism and burglary remain very real threats, therefore it is vital that facilities managers and property owners ensure the physical security of these empty buildings is maintained to the highest standard to protect property and the assets within. Below we outline key considerations when evaluating a physical security strategy for an empty building. Assess the risk We would urge facilities managers and building owners to carry out regular, thorough checks of the building and the perimeter to assess any obvious factors which would elevate the risk of attack. This includes assessing the location. Is the crime rate high? How visible is the property? Are the contents of the property on show? How secure is the access or perimeter boundary? View the premises from a potential intruder's perspective, and when you can't be at the site in person, use photographs, notes and drawings to identify potential weaknesses. For example, there may be high security fencing at the front of the premises, but make sure it is not at risk of being compromised at the back. Conducting regular maintenance Retain and maintain quality Inspecting the fence line may seem obvious and straightforward, but it needs to be a deliberate, scheduled event Conducting regular maintenance is even more essential while premises are left empty, as it is much easier for any issues to appear and escalate undetected. We highly recommend regularly inspecting your fencing for disrepair or damage as this can affect the perimeter's integrity. Alternatively, choosing high quality galvanized and preferably powder coated steel fencing with a 25-year guarantee will offer longer-lasting protection against rust and corrosion. Inspecting the fence line may seem obvious and straightforward, but it needs to be a deliberate, scheduled event. Take time to check the perimeter on both sides. As you inspect the fencing, keep an eye out for any attempted breaches and note if foliage, weather conditions, or topography changes have affected security integrity. Check all fixtures and fittings are in good working order, look for damage and corrosion, and clear all litter and debris away. Huge security risk Quality investments In a time when businesses are already stretched, it can be tempting to opt for quick, inexpensive fixes. However, poorly executed design or cheap, low quality products can lead to costly, long-term remediation or worse, significant loss to the business. Make wise, informed decisions and specify solutions based on your organization's security needs first and foremost. While generic steel palisade is a popular option, owing to its intimidating aesthetic, it is easily compromised. Steel palisade fencing has inherent weaknesses that undermine performance. Its wide pales can obstruct surveillance, while the bolted construction is a huge security risk. Simply removing or breaking the lower fixing on one or two pales would allow them to swing aside to give repeated access to the site without leaving an easily visible sign that the perimeter has been breached. It's a false economy, as the initial lower price is offset by the costs and inconvenience incurred by regular repairs. Performance classification system The standard works via a performance classification system, and even considers the tools that an intruder may use Specifying a higher quality product that's fit for purpose makes more sense both in the short and long term, and it adds little to the original cost. Fortunately, there are a number of security accreditations that facilities managers and building owners can refer to when specifying security measures at their site, helping them choose effective solutions to combat the risks the property faces. Proven performance Certifications and approvals, such as The Loss Prevention Certification Board's (LPCB) LPS 1175 and the British Standards Institution's (BSI) PAS, prove a product has been thoroughly tested to a specific standard. They prove the strength and durability of the item in multiple different situations. It is worth noting also that investing in effective perimeter protection can actually deliver a positive return by reducing the incidence of burglary and vandalism, and their associated costs. The technical evaluation work carried out by LPCB is extremely thorough. The product is subjected to rigorous quality audit processes, to certify the security products tested by BRE deliver verified levels of protection. All LPS 1175 rated products are vigorously tested before receiving an accreditation. The standard works via a performance classification system, and even considers the tools that an intruder may use. Intrusion detection system Our law enforcement teams are stretched to capacity and coping with reduced workforces due to illness By predicting a likely toolset, specifiers can construct multiple defensive layers to maximize how much time a facility has to respond to an attack. Different levels of security are crucial for the '5D defense' concept, whereby a quintet of security assets work together to prevent access to your site, resulting in a strategy that will: Deter, Detect, Deny, Delay and Defend unwanted access from intruders. 360° security There is no single solution when it comes to securing a building. Every situation must be considered on an individual basis, starting with a full risk assessment. We recommend an integrated approach where appropriate. Along with a secure perimeter, this might also include effective lighting in shaded areas and at doors, gates, and vulnerable windows, Perimeter Intrusion Detection Systems (PIDS) and well-placed CCTV. These measures can hinder entry and escape, or increase the chance of discovery and detection. Domestic burglaries While domestic burglaries have become less attractive as many of our homes are now occupied around the clock, commercial properties have become increasingly more vulnerable. Our law enforcement teams are stretched to capacity and coping with reduced workforces due to isolating and illness. Therefore it has never been so important for building owners and facilities managers to assess the properties they're responsible for to ensure they're protected effectively in the event of an attack.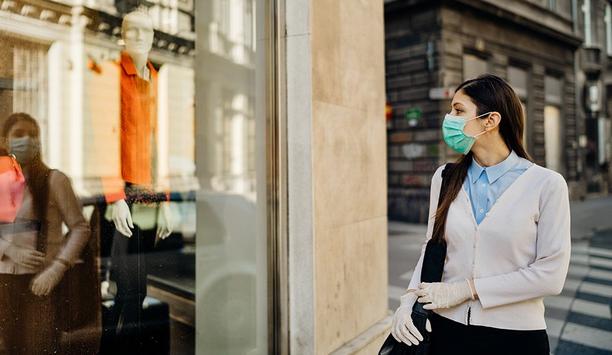 Retail Security In 2021 And Beyond
This year has brought about changes in virtually every sector. As with other frontline industries, the security sector has been tested more than those able to move entirely to remote working. While the promise of a vaccine means an end is in sight, the post-COVID era will not bring with it a return to the 'normal' we knew before the pandemic. Organizations have adapted, becoming more resilient and agile and this will have lasting effects. The coming months will continue to be testing. The tiered system will see the precautions in place fluctuate with the situation. Initial lockdown period At the same time, a gradual return to normal as the vaccine is rolled out will require adaptive measures. The security sector will be at the heart of keeping people safe throughout this process. The initial lockdown period and the first wave of panic buying might seem like a lifetime ago. However, the introduction of the second lockdown in November was accompanied by another wave of stockpiling despite organizations trying to reassure their customers. It is uncertainty that breeds anxiety, and we continue to see this as the restrictions fluctuate across the country. The tier system depends upon a number of factors: case detection rate, how quickly case numbers are rising or falling, positive COVID-19 test numbers in the general population, pressure on the NHS in that region, and local context and exceptional circumstances. Social distancing measures For the sector to meet demand, technology will be needed to work alongside the manned guarding role While travel is allowed in all tiers if necessary for work, government advice still recommends that those able to work from home should do so. This means that throughout the country, many buildings will remain empty or at minimal capacity for some time to come. Security risks vary with the restrictions in each area. Although shops are largely open, tier three still requires the closure of many premises. Vacant premises are more vulnerable to theft and damage, meaning officers and security technology remain in higher demand than usual. As more premises are allowed to open, the need for officers to implement social distancing measures increases, stretching the sector like never before. For the sector to meet demand, technology will be needed to work alongside the manned guarding role. Temperature checking devices It will continue to be important in providing security when officers cannot be present in person through CCTV and sensors. But it will also be integrated into the manned guarding role to streamline processes. We are already seeing the start of this as many officers are using handheld temperature checking devices to reduce the spread of COVID-19. We'll also see temperature scanners installed into buildings to allow security guards to focus on other priorities. Those businesses that are open will need to continue to adapt to the changing regulations in the coming months. Christmas is a busy period that stretches the retail sector. Unpredictability results in heightened stress levels and makes it more difficult for people to reliably take in and recall information. Security officers are a key first point of contact both to enforce measures and reassure anxious staff and members of the public. Enforcing one-Way systems Security staff will need to keep members of the public safe and prevent disruption Some shops are enforcing one-way systems and limiting the number of customers allowed inside. Over Christmas, many more may choose to do so. Security officers will be responsible for ensuring these precautions are followed. With the heightened pressure of the festive period, it can be hard to predict how members of the public will respond to officers enforcing measures. Security staff will need to keep members of the public safe and prevent disruption. Doing so will require tact and empathy in dealing with customers. Within shops, too, officers will be tasked with ensuring social distancing and other measures are followed effectively. Doing so, they must work closely with clients to understand what protocols are in place and how to handle a breach. They must also be able to enact discretion. For example, clients may not take issue with protocols being broken momentarily or accidentally. Extensive government guidance There is extensive government guidance on the precautions that should be taken on various premises. They include the introduction of one-way systems and limiting building capacity. Measures such as one-way systems may be broken by those that don't notice or don't care. Officers must be able to judge what responses are appropriate while maintaining a calm and reassuring presence. The security officer role has long been moving toward a more front of house position as, for many visitors to a building, they are the first point of contact. The pandemic has accelerated this trend. Working on the frontline of the pandemic, officers have had to play a more multifaceted role than ever before. Officers still act as deterrents and manage security issues, but they must also use empathy and strong communication skills to inform and reassure customers and staff onsite. Adapting to new technology They will need to be able to learn quickly on the job and adapt to new technology and practices Being able to demonstrate this flexibility and to read a situation and react appropriately will be some of the skills most in demand in the industry in the future. Officers will need to build close working relationships with clients. In addition, many will have new roles, such as taking temperatures with handheld devices. They will need to be able to learn quickly on the job and adapt to new technology and practices. Technology, too, will be more important. If the global pandemic has driven any point home, it is that we cannot always see or sense threats. Data-Driven insights Temperature checks and occupancy sensors will be the norm in protecting from COVID, while security technology and data-driven insights will continue to grow in popularity. The security sector specializes in adapting to the unexpected and the threatening. It continues to demonstrate incredible value through the pandemic. While the coming months will undoubtedly be trying, the sector is adapting. Lessons have been learned from the pandemic that will affect business globally. Security specialists are taking these on and creating a stronger and more effective industry.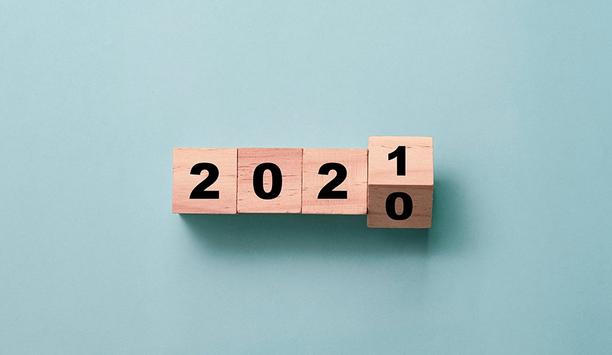 Trends And Challenges We Will See In The AI-driven Security Space In 2021
For decades, the nature of global safety has been evolving. From physical security threats like large-scale terrorist attacks and lone actor stabbings to chemical threats such as the Salisbury poisonings and even microbiological threats such as COVID-19, new challenges are constantly arising and the threat landscape we operate in today is constantly changing. Compounding the complexity of the security issues is the complexity and nature of attacks. With the economic downturn, there is the traditional rise in theft, violence and other crimes. Compound this with unmanned businesses and work-at-home staff, and there is a perfect storm for a rise in security threats. Artificial intelligence (AI) and specifically the branch of AI known as machine learning (ML), was already causing widespread disruption in many industries, including the security industry. AI has been a driving force to replace labor-based business models with integrated data and actionable intelligence that is context-aware. It has become apparent that AI will play a big part in the ongoing fight against both pandemics such as COVID-19, as well as other threats that we may face in the future. With all of this in mind, 2021 is poised to be a big year for AI growth. While AI is going to continue to impact our lives in dozens of ways, from smart sensors to face mask compliance detection, the following reflects a few top trends and challenges that I have my eye on for 2021 as we close out this year. The rise of smart city investments One such example is the increasing development of smart cities and how AI can be leveraged to build safe communities. To date, we've seen an increase in the number of smart city programmes around the globe; cities that are beginning to deploy innovative technologies for the management and ease of life services. Compounding the complexity of the security issues is the complexity and nature of attacks Typical development of a city includes standard infrastructure - roads, schools, power, water, transportation. Now, internet, data and AI capabilities are part of the standard infrastructure requirements for all new developments. AI promises to deliver increased efficiencies with the infrastructure that will accommodate growing populations while reducing our impact on the environment, resources, and communities. Global cities now account for more than half of the world's population, and the United Nations projects the number to balloon to 68% by mid-century. Owing to both demographic shifts and overall population growth, that means that around 2.5 billion people could be added to urban areas by the middle of the century, predicts the UN Department of Economic and Social Affairs (DESA). With an increase in population has come an increase in global spending on smart city initiatives to drive down the impact of growing urban concentration. Global spending on smart city initiatives is expected to total nearly $124 billion this year, an increase of 18.9% over 2019, according to IDC's Worldwide Semiannual Smart Cities Spending Guide, while Singapore, Tokyo, London and New York as the big spenders - expected to spend more than $1 billion in 2020. Using AI-driven technology to create safer public and private spaces Today, security solutions driven by AI are being developed and can be covertly deployed across a range of physical environments to protect the population in a more efficient, and accurate manner. As we look ahead to the future of public safety, it's clear that new AI technology can dramatically improve the effectiveness of today's physical security space. One such deployment is the use of video object recognition/computer vision software that can be integrated into existing video monitoring security (VMS) systems. These enhanced VMS systems can be deployed both inside and outside of buildings to identify risks and flag threats, such weapons, aggressive behaviours, theft, and safety compliance. This helps to minimize the impact of a breach by an early alert to onsite security in real-time to the location and nature of the potential threat, allowing them to intervene before a loss occurs. These same AI-enabled video solutions can similarly be used to provide advanced business operations in retail, logistics, and manufacturing organizations. Multi-sensor security solutions Also, targeted magnetic and radar sensor technologies, concealed in everyday objects like planter boxes or inside walls, can now scan individuals and bags entering a building for concealed threat objects. Using AI/machine learning, these two sensor solutions combined can identify metal content on the body and bag and match the item to a catalog of threat items, such as guns, rifles, knives and bombs. Security solutions driven by AI are being developed and can be covertly deployed across a range of physical environments Without this advanced multi-sensor solution, it becomes nearly impossible to discover a weapon on a person's body before it appears in an assailant's hands. This multi-sensor solution allows for touchless, unobtrusive access to a building, but allows for immediate notification to onsite security when a concealed threat is detected. The hidden technology thus empowers security staff to intercept threats before they evolve into a wider scale attack, while also maintaining the privacy and civil liberties of the public, unless, of course, they are carrying a concealed weapon or pose a physical threat. With the advent of sophisticated surveillance and technological innovation, a level of caution must be exerted. Despite the ongoing global debate, there remains little regulation about the use of AI technologies in today's physical security space. One thing is certain; it must be deployed in the right place, at the right time, with the right privacy and civil liberty protection objectives. People don't want to be protected by omnipresent, obstructive and overbearing security systems that infringe on their privacy and civil liberties. They want a proper balance between security and their current way of life, one that must be fused together. Technology and tracing COVID-19 Machine learning-based technologies are playing a substantial role in the response to the COVID-19 pandemic. Traditionally, the key purpose of surveillance systems has been to detect and deter threats, including the detection of visible and hidden weapons and abnormal behavior. While this, of course, remains a primary focus, today we are seeing how surveillance systems defend against new invisible threats, as well as rapidly automate the process of contact-tracing to capture and contain a virus before it spreads. Again, the ability to track and trace through parsing algorithms that can manage through enormous amounts of data provides a highly scalable and rapid response mechanism to control the spread of threats. AI has demonstrated potential for identifying those displaying symptoms of infectious diseases, without requiring physical human contact Although the threat may not be visible, it is just as destructive. By incorporating AI into existing technologies, government, healthcare and security professionals can monitor public spaces and environments through the combined use of digital and thermal video surveillance cameras and video management systems); just one of the solutions being explored. AI has demonstrated potential for identifying those displaying symptoms of infectious diseases, without requiring physical human contact. By Using AI-powered video analytic software, businesses can monitor face masks, social distancing and large gathering compliance and also detect elevated body temperature. Critically, technology must be capable of both identifying and tracking the virus but also be unobtrusive. An unobtrusive system that is adaptable enough to be deployed across a range of environments where the public gathers in enclosed spaces is necessary to be effective. Security in 2021 Technology has proven itself to be a valuable ally in times of crisis. For smart cities, the use of innovative AI/machine learning technologies will help optimize security solutions in areas that are brimming with potential. As we look ahead to the future of security in a world that is impacted by such a wide range of threats, from physical to chemical to microbiological, it's clear that new technologies, specifically AI can dramatically improve the effectiveness of security systems and help us to better defend against a wide spectrum of threats. Technology has a huge role to play in making our communities safe in 2021 and beyond, but for security systems to be effective, they must not be oppressive or obstructive. This will ensure they have the full support of the public - the key to success.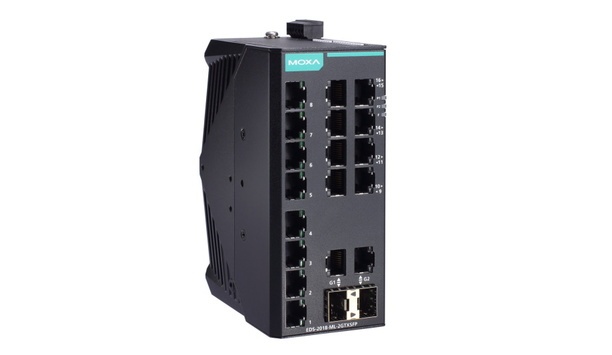 Moxa Industrial Ethernet Switches Deliver Time And Cost Savings By Facilitating Efficient Network Deployment
Moxa, an internationally-renowned provider of industrial Internet of Things (IIoT) solutions, has extended its connectivity portfolio with the new EDS-2000 series of unmanaged Ethernet switches featuring up to 16 Ethernet ports and two Gigabit combo ports to meet increasing needs for additional nodes and bandwidth. Slim enough to fit into crowded control cabinets and machines, these plug-and-play switches allow for easier deployment and upgrading of existing devices without configuration hassles. Moxa EDS-2000 switches are inexpensive solutions for implementing industrial control and data acquisition over a LAN and require virtually no IT skills. Serving as a network's backbone, the switches connect a wide variety of data devices, such as meters, sensors and cameras, so that organizations can gain greater visibility into core processes. Critical industrial protocol data Moxa is making its EDS-2000 Series available in five unique designs within two families Long distance fiber uplinks of over 100 meters are made possible by the two Gigabit combo ports available on several EDS-2000 models. The Moxa EDS-2000 Series is designed to push IIoT innovation beyond the performance limitations of current switch technology. For example, network operators can simply flip the DIP switches on the top panel to enable Quality of Service (QoS) and Broadcast Storm Protection (BSP) and help achieve more efficient data streams by reducing delays and failures. QoS guarantees high priority for critical industrial protocol data, while a relay alarm keeps field workers alerted of power disruptions or port disconnections. Moxa is making its EDS-2000 Series available in five unique designs within two families: the EDS-2000-EL and the EDS-2000-ML. Mission-critical automation The EDS-2000-EL Series is an entry-level model ideal for general automation, while the EDS-200-ML is a mainstream switch for mission-critical automation that complies with industry standards in hazardous locations, including process automation, oil and gas, transportation and marine applications. Both feature high EMC resistance and an IP40-rated housing to withstand harsh environments, extreme temperatures (-40 to +75° C), vibrations, and shocks. By raising innovation to the next level, Moxa can now provide its customers with a more agile means to keep pace with growing bandwidth requirements in industrial networks.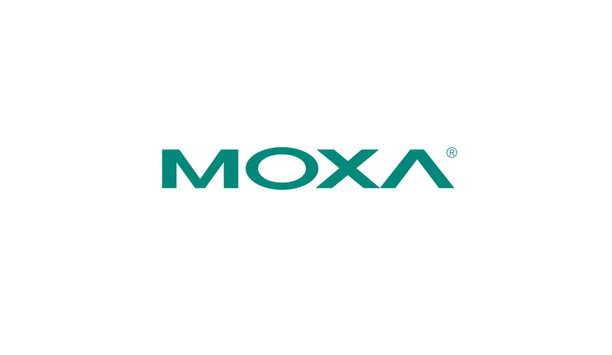 Moxa Joins The OpenChainProject By The Linux Foundation To Streamline Open Source Compliance
Moxa announced that it has joined the OpenChainProject, an initiative by the Linux Foundation to streamline open source compliance. By enrolling as a Platinum member, Moxa becomes the first Taiwan-based company to join the OpenChain's Governing Board, expanding the project's reach globally and across multiple industrial sectors. Formed in 2016, the OpenChain Project aims to build trust in open source by making open source license compliance simpler and more consistent across supplies chains. The OpenChain Specification defines inflection points in business workflows where a compliance process, policy or training should exist to minimize the potential for errors and maximize the efficiency of bringing solutions to the market. Advanced industrial networking The OpenChain Specification is being prepared for submission to the International Organization for Standardization (ISO) and evolve from a de facto standard into a formal standard. Moxa has demonstrated for several years its continuous commitment to open source compliance to enable advanced industrial networking and communications applications for the Industrial Internet of Things (IIoT) world. This commitment has helped Moxa become one of the providers of industrial edge-to-cloud connectivity and computing solutions for IIoT environments. Promoting industry standards Moxa is thrilled to join the OpenChain Project so that we can demonstrate our commitment" Andy Cheng, President of Strategic Business Unit at Moxa, commented: "Moxa is thrilled to join the OpenChain Project so that we can demonstrate our commitment in supporting open source compliance standardization." "Moxa has been a strong supporter of the Linux Foundation for some of its important projects such as Civil Infrastructure Project (CIP) for long-term support Linux distribution. We are now looking forward to working closely with the OpenChain community to promote industry standards of open source compliance. Moxa has actively participated in the OpenChain community during its key growth phase over the last two years," said Shane Coughlan, OpenChain General Manager. Ensuring open source compliance "Moxa joining as a Platinum member underlines its commitment to further deepening industry collaboration and understanding at this critical juncture. In particular, I believe Moxa will play an important role in helping us build bridges across the Mandarin-speaking world to ensure open source compliance." Moxa joins an array of companies that have already become Platinum members of the OpenChain Project, including ARM Holdings, Bosch, Cisco, Comcast, Facebook, Fujitsu, Google, Hitachi, Microsoft, Panasonic, Qualcomm, Siemens, Sony, Toshiba, Toyota, Uber, and Western Digital.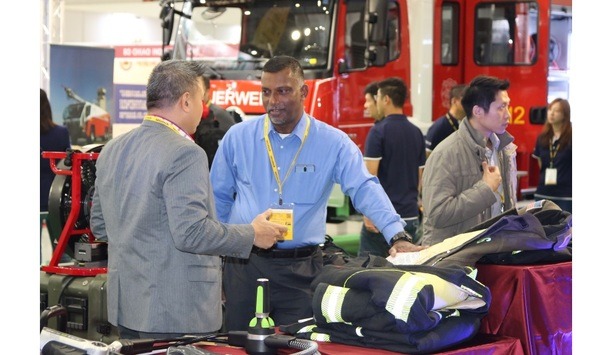 Addressing The Latest In Fire Safety And Disaster Prevention In Taiwan And APAC At Fire & Safety, Secutech 2020
Fire & Safety, concurrently held with Secutech Taiwan 2020, will have international and local manufacturers showcasing products and solutions for best practices in fire safety for various verticals as well as effective disaster prevention and mitigation technologies. Countries from the APAC region is expected to see an increase in fire safety demands as increase in infrastructure developments requires both in pass and active fire safety equipment. Government regulation also plays a major role in the increase demands as strict laws and regulations will require many buildings to implement certain standards in fire safety technologies. Fire safety and disaster management technologies The smart factory sector will include instrument testing equipment, personal protective equipment and more The global value of disaster and emergency management is predicted to see an increase from USD 107 billion in 2019 to USD 148.5 billion by 2024 with a CAGR of 6.8 percent. The increase will be due to unpredictable natural disasters from climate change as well as potential man-made incidents that could fuel the events. APAC region will be amongst the fastest growing market with governments demand to implement top of the line technologies for disaster managements. When Fire & Safety begins in April, it will have no shortage of products for enhancing fire safety. The smart factory sector will include instrument testing equipment, personal protective equipment, safety and management of plant / park intelligent perimeter protection and plant disaster prevention (earthquake / fire explosion). Visitors will expect to see companies including 3M, Draeger, DuPont, Honeywell, Johnson Controls, LHD, Moxa, Rotarex and UTC. Flood protection equipment Medical institutions will also be a highlight for fire safety protection. Visitors will see a range of products such as waterway sprinkler, fire alarm system, evacuation equipment, ventilation and smoke exhaust, fireproofing material, smoke prevention elevator, building door and window installation sensing system, intelligent bedside care system and personnel safety positioning. Exhibitors will consist of Ching Gu Electronics, HEX Safety, Horing, Red Bridge, RIHSI, SAFE, Sheng Yang and Wizmart. Secutech International will have several sections within the fair for showcasing products and solutions for safe and smart cities Lastly, a number of disaster prevention and mitigation equipment will be on display, including earthquake early warning system, flood protection equipment, disaster relief drone, fire rescue vehicle and fire extinguishing equipment. Onsite there will also be an earthquake simulation zone where visitors can see live demonstration of technologies being utilized for earthquake situations. Showcasing Technologies for a Safe and Smart City Secutech International will have several sections within the fair for showcasing products and solutions for safe and smart cities. The show will consists of Smart Building, Smart Factory, Safe City, Mobility, Fire Safety & Disaster Prevention and Information Security sections. The business matching programs will return to offer a unique and effective one-on-one service to introduce exhibitors to VIP buyers. In 2019, Secutech successfully arranged 319 business matching sessions, connecting exhibitors with key distributors, systems integrators, property developers and contractors in the APAC region.
Related white papers
Cloud Video and Smart Cities
Security Investments Retailers Should Consider For Their 2021 Budget
6 Questions To Ask When Choosing A Security System