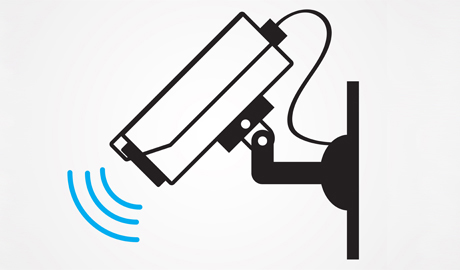 Wireless surveillance systems are attractive to customers
as they are cost-effective and easy to install
Various studies, market statistics and forecasts project growth for the surveillance market from 2016 to 2020. Besides needs ranging from traditional analog cameras to IP network cameras, more and more consumers also have a high interest in intelligent surveillance systems. Along with safety, these systems provide additional details for users in applications such as people counting and object tracking.
As terrorist attacks become more serious, people and governments are eager to find solutions to prevent incidents and protect safety and property. Therefore, with the increased demand for security products, surveillance companies are pushing themselves to launch more innovative and higher quality products for customers to satisfy a variety of needs.
Wired vs. Wireless Surveillance System
Surveillance applications can be separated into two types – wired surveillance systems and wireless systems. An original wired surveillance system requires much more equipment to complete an entire system, such as switches and cables. However, wireless surveillance systems are attractive to customers as they are easy to install and also save the cost of wiring. Hence, more and more consumers tend to search for wireless surveillance solutions for their flexibility and cost effectiveness.
What Are WiFi, 3G and 4G?
Before introducing wireless surveillance systems, it's important to have a clear understanding of the differences among WiFi, 3G and 4G.
WiFi is a local area wireless computer networking technology that allows electronic devices to network without cords or cables. WiFi is based on the IEEE802.11 network standard, and different protocols will provide different features. WiFi mainly uses the 2.4 GHz and 5 GHz ISM radio bands. Meanwhile, the data transfer is protected and encrypted by WPA and WPA2 security standards, and the EAP authentication standard. WiFi could be the most popular wireless communication protocol, which can be used for indoor and outdoor applications.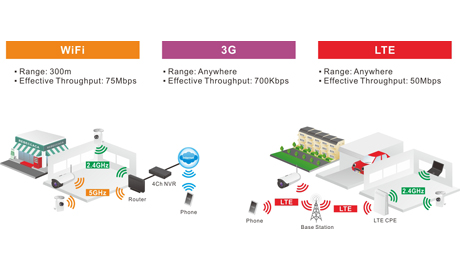 Differences between WiFi, 3G and LTE (4G)


3G is short for third generation, which means the third generation of mobile telecommunications technology. 3G telecommunication networks support services that provide an information transfer rate up to 700 kbps (3.5G uplink 5.7Mbps). Unlike WiFi service, which users access through networking hotspots, users of 3G must be subscribed to a service provider to get network connectivity. Most devices connect to the 3G network through their SIM card or a 3G data card. In contrast to 3G, WiFi has a distance limitation; the device must stay close to the access point to ensure network connectivity. However, 3G transmission is broader; as long as there is a signal, the device can connect to the network easily.
4G (LTE) is the fourth generation of mobile telecommunications technology. LTE stands for Long Term Evolution. It's a term used for a particular type of 4G that delivers the fastest mobile Internet experience. 4G is ideally suited for services that demand more capacity, such as video streaming, mapping and social networking. Compared with 3G, users are able to have up-to-date information faster than ever, regardless of upload or download data. 4G means that a network offers peak data rates of at least 100 Mbps for high-mobility communication like users in cars or trains, etc., and at least 1 Gbps for low mobility communication such as pedestrians and stationary users.
Wireless Surveillance System Advantages
Wireless surveillance combines wireless transmission with network video surveillance to create a powerful solution that overcomes the challenges that prevent many people from installing surveillance and monitoring systems. These challenges can include distance, lack of network infrastructure, environmental conditions, and costs. Wireless systems can overcome these obstacles and work exceptionally well for monitoring separate building units or rural areas where there is a long distance between two sites. There are also numerous add-ons for wireless systems.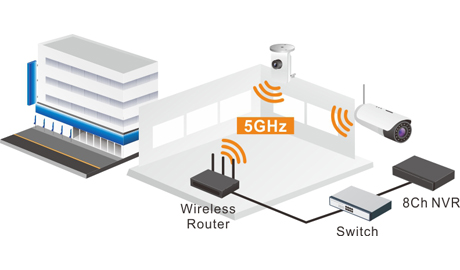 Wireless surveillance systems perfectly protect the structural integrity and maintain
a building's beauty without sacrificing safety
Cost-Effective: Wire-Free
Wireless surveillance systems are an undeniably cost-effective solution for the users, not only saving the material cost but also the time of installation and maintenance. Implementing a wired surveillance system can be a massive issue for installers and also extremely time consuming due to various challenges of placement. Therefore, a wireless IP surveillance system can offer a more affordable solution for the user, and this financial benefit can continue for a couple of years after the installation through maintenance cost savings.
Building Protection And Aesthetic
Wireless installations keep the building's aesthetic appearance intact as users do not have to worry about wires and the means to conceal them. Instead, users can enjoy a safe environment with an aesthetic and clean placement. Wireless surveillance systems perfectly protect the structural integrity and maintain a building's beauty without sacrificing safety. For users who have these particular kinds of surveillance needs, wireless solutions can perfectly match their expectations.
Flexible And Scalable: Less Infrastructure Limitation
For an environment that lacks a complete infrastructure, it would be difficult to build a wired surveillance system. Digging and burying a fiber network may not be desirable for all locations, such as historical monuments, farms, parking lots or wilderness. However, a wireless solution can conquer this challenge by using a wireless infrastructure for connectivity. Cameras do not need to be permanently located next to a wired network; instead, they can be set up anywhere as long as the signal can be reached. Moreover, wireless solutions are available for even the largest scale deployments, and are also available in ruggedised enclosures for deployment in all weather conditions. Meanwhile, the entire wireless surveillance system setup can be moved to a new location easily and quickly.
Conclusion
Consumers have more and more excellent options when it comes to wireless surveillance security systems. Wireless systems now offer complete functionality, flexibility, and ease of use compared to wired system. The innovative technology promises users a better and safer living environment, and surveillance companies will continue developing more valuable products and solutions.
Download PDF version
Download PDF version