AxxonSoft Video Surveillance software
(17)
Browse Video Surveillance software
Video Surveillance software products updated recently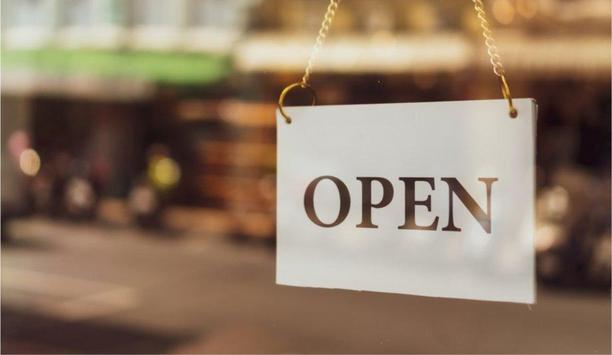 Reopening Doors: What Steps Should be Taken to Ensure Safety and Security?
A total of £1.6 billion worth of goods are reported as 'lost' to in-store theft in supermarkets each year, with figures increasing steadily. The presence of self-checkout systems have increased in supermarkets, as well as other industry retailers. By 2021, we're globally on track to have 468,000 self-checkout machines in operation, nearly double the 240,000 in existence since 2016. While this increase comes with such benefits as reduced wait times for customers and staff costs, it also comes with a risk of retail theft at self-checkouts. With the circumstances the world now finds itself in i.e. mass unemployment, financial uncertainty, the retail industry has seen an influx in these types of petty crimes, hitting retailers during an already turbulent period. While retailers are taking precautions to protect themselves and their patrons in this new era of in-person shopping, it's important to ensure the business itself is protected. A popular method to combat these fears is to employ on-site security personnel, however, as we continue to adapt to new operating guidelines, retailers must begin thinking past the immediate future, and begin implementing long-term security solutions to prepare for life after lockdown such as strong CCTV systems with remote access. How has the security industry adapted its services to a post-lockdown world? Technological innovations like thermal recognition are key to adapting security systems for a post-lockdown world. Businesses which previously relied on facial recognition now must update their methods to account for shoppers wearing masks on-site and in-store. By 2021, we're globally on track to have 468,000 self-checkout machines in operation, nearly double the 240,000 in existence since 2016 Biometric systems are now able to identify people with face masks, and thermal recognition such ADT's Thermi-Scan system which can track human body temperature without the need for contact. Implementing these safe protocol procedures protect both employees and customers against virus outbreaks such as COVID-19. The need for these advances in video surveillance will reportedly increase the biometric facial recognition market by 14 per cent by 2027. Artificial intelligence has been hailed recently as the way forward for remote security needs, and while business-owners continue to navigate procedures of returning to work post-lockdown, having remote access to real-time security monitoring is essential now more than ever. What are the main measures stores can take to prevent or reduce theft? Strategically placing a multi-camera surveillance system to ensure clarity, eliminate blind spots, and deter thieves should be top priority. It's equally essential to invest in a system which has an efficient playback program, particularly in situations where reviewing important footage efficiently can offer vital information to the police force. Advances in video surveillance will reportedly increase the biometric facial recognition market by 14 per cent by 2027 As business-owners continue operating at reduced hours and with limited on-site staff, being able to access camera footage quickly and remotely is a key factor to consider. Whether owners opt to receive an alert on a mobile device allowing them to review notifications, or if their system is monitored by a remote security center, it's important to be able to access footage quickly for added efficiency and ease. Facial recognition and AI have been popular points of discussion in relation to security cameras and CCTV. While careful considerations must be taken prior to utilising any sort of facial recognition technology, including conducting a Privacy Impact Assessment, the benefits include being provided with real-time tracking of repeat offenders which immensely helps the prevention of in-store theft. Here are some key points to consider when choosing in-store surveillance: Assess your needs – To get the best out of your security system, it is essential to analyze what your requirements are for your business as they might have changed to adapt to a post-lockdown world Camera setup – With store layouts shifting to accommodate social distancing guidelines, it's important to re-evaluate the current set-up of any security cameras. Depending on any layout updates, it might be important to consider operating multiple cameras in one area to ensure a peripheral view and eliminate any blind spots Camera positioning – For optimal performance, check that light sources are not obstructing your view such as glare from the sun. It is also worth considering the height at which cameras are installed to maximize surveillance Check the focus – It is worth testing camera lenses bi-monthly to ensure that lighting or weather hasn't affected the focus of the lens, resulting in a blurry visual Remote access – As guidelines continue to evolve, ensure you're able to access any necessary camera footage quickly and safely in case of emergency Will we begin to see a reduction of theft as new technology is implemented? We're beginning to see incidents of shoplifting and theft being taken more seriously by law enforcement. In the coming months, for the first time in Britain nearly twenty shoplifters who were either caught red-handed or identified on CCTV will be appearing before magistrates. While currently these court cases are being pursued by a private police force, these actions come after a Government plea to high-level police to prosecute shoplifters stealing under £200. Retailers have long voiced concerns that forces have abandoned low-level thefts and these steps are small but show that businesses are being heard. As innovations in surveillance security continue, we'll be seeing a move away from human involvement which will create a more reliable and efficient system able to rely on machine learning and analytics. While there have been wider strides made in utilising AI for surveillance, these are largely being used currently by local governments to alert police forces to threats of criminal activity. It's not unreasonable to think that in the near future, these types of smart technology will be employed by private businesses to analyze suspicious behavior or possible theft. However, as we see an increase in the advancement of security technology, we anticipate that those inclined to commit in-store theft will adapt their methods, therefore retailers should look to regularly evaluate their security needs to keep risks at bay.
Can CCTV Become A More Effective Tool?
We all know that having CCTV around your home can help to protect you and your family. Without CCTV, you could end up in danger and an intruder could get away with breaking into your house, hurting your loved ones and stealing your possessions. Similarly, without CCTV in the office, you'll be leaving yourself open to all kinds of damage and could lose a lot of equipment in the process. In short, making sure you have CCTV is important for both home and business security. However, it can be improved to become a more effective system so that you're better protected, and can even deter a potential intruder without having to panic. In our world of ever-changing technology, we're able to upgrade and enhance our CCTV systems so they can become a monitored system. Remote CCTV monitoring is an ideal way to protect everyone and everything whether you're at home or at a workplace. What is remote CCTV monitoring? For a long time, CCTV was one of the best ways to keep your home, the office and people safe. But people started to notice that it would only deter people so much of the time and often the cameras were ignored by intruders. They would just cover their faces and hope for the best as they steal from a home, office or any other premises. Remote CCTV monitoring is a system that can loop into your existing CCTV, or come preinstalled with a new system. This technology sends a feed to a control room full of trained operators that are on call 24/7. Within this control room, operators are able to respond to any sort of distress call or unauthorised movement on the property line. How does it work? Remote CCTV monitoring works by attaching to a live feed of your CCTV system, existing or new, so that the signal and images can be passed to a team of operators. These operators are on hand 24/7 so that if there is a problem, you know that you're safe in the hands of a specialist team. The specialist team has been trained to mitigate the chances of somebody breaking into your home when the system is triggered; similarly they call the local authorities instantly so that the potential intruder has less time to flee the scene. This is especially important if an intruder is already inside your property because they have less time to steal your items and leave. Without CCTV in the office, you'll be leaving yourself open to all kinds of damage and could lose a lot of equipment in the process One of the biggest questions that revolve around remote CCTV monitoring is the idea of operators watching the CCTV at all times. Luckily most remote CCTV monitoring systems will incorporate a motion detection system to accompany your CCTV. Motion detection offers the ability to alert a control room if there is an unauthorised entry to the property line. These motion detection systems are state-of-the-art and so, depending on the system that you choose, they can watch over your property from a number of angles. Once the motion detection system has been triggered and the alert has been sent to the control room, then and only then will the operators get involved. This means that until the motion detection system has been triggered, nobody will watch your live CCTV feed. After one of the systems has been triggered, one of the specialist operators will instantly jump into action. This means that they can take different measures to deter any potential intruder and make sure that they do everything in their power to stop any damage or theft from the premises. In addition to the motion detection system and CCTV, you are able to opt for a public address (PA) system too. This means that an operator is able to shout commands through the PA system and potentially scare away any intruder. The intruder will also be warned about the fact that local authorities have already been called to the location. Remote monitoring versus traditional CCTV Motion detection offers the ability to alert a control room if there is an unauthorised entry to the property line Having a monitored CCTV system means that you're able to better protect yourself, your business, employees and even your loved ones. Whether you're at home or in the office, having someone looking over your shoulder protecting your every move is something that can be appreciated by everybody. The biggest problem with just having traditional CCTV, is that it is a reactive system. This means that rather than stopping crime, a CCTV system just records it. While the thought is that having a CCTV camera visible can deter some intruders, there's no real evidence to suggest that it stops anybody; anyone can simply cover their face and carry on breaking into your home, office or even your car. As mentioned, remote CCTV monitoring is going to tackle that problem and make sure that someone is on hand to protect you at all times.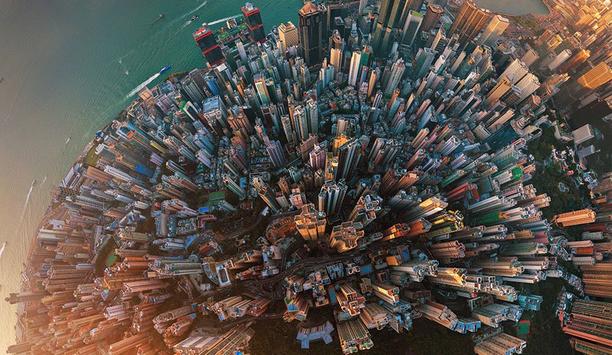 Thermal Cameras And Smart Cities: Preventing COVID-19 In Public Places
With the pandemic still in full swing and no certainty as to when exactly it will come to an end, the world has been battling anxiety for months now. And with each day, circumstances change quickly and almost make it impossible to predict what will happen next, how events will unfold, and what actions to take in light of a new situation. But one thing is certain: the world has been shut down and paralyzed for way too long, and the eventual reopening is unavoidable – in fact, it's well under way. In this situation, what is possible to control is how the world will continue reopening – and specifically, how to ensure the safest possible reopening that will ensure the return of some degree of normalcy to people's lives and business operations, while also managing the risk of COVID's spread in the most efficient way. Our highly digitised, technologically advanced world This is when the power of technology comes to rescue the day: what truly sets the global crisis we face today apart from other calamities that humanity has encountered over year is the fact that it has developed in a highly digitised, technologically advanced world where each day brings about innovations with a sole purpose to make daily life and operations easier and more streamlined. And among these, the star of the past decade has been artificial intelligence. The world has been shut down and paralyzed for way too long, and the eventual reopening is unavoidable – in fact, it's well under way While AI has many avenues of introducing efficiency and fast problem-solving, there is one specific application that will further fuel the reopening of the world and successfully keep the spread of the virus abate. This "collaborative security" application includes a synthesis of smart video analytics, facial recognition, object identification/detection, and thermal cameras that can support the reopening of businesses globally when installed within those facilities frequented by customers. With such a level of sophistication that can ensure uninterrupted monitoring and analysis of large public spaces, these AI technologies can ideally operate best as cloud solutions to ensure a collaborative network with maximum scalability and widespread implementation. As these technologies increase in ubiquity and find their way into daily operations of businesses globally, the cost of the smart solutions will decrease proportionally to the growth of their reach. There are some highly specific ways to create this collaborative network of interconnected safety tools in the current climate. Here are some applications that have been successful to date and will increase in usability in the foreseeable future, creating "smart cities" working together towards a safer, more secure world. Maintaining social distancing practices The most important step everyone around the world has taken to contribute to the effort of slowing the spread of the virus has been social distancing. A six-foot-distance has become a new social norm that has quickly been adopted globally and become a habit to people who are naturally used to being close to others and socialising without giving distance a second thought. The star of the past decade has been artificial intelligence So, it is natural that such distancing measures take time to get accustomed to – and it is also natural that individuals may forget about them from time to time. To help maintain the six-foot distance between people at all times and give them slight nudges to keep the rule top of their minds, AI video technology can be trained to estimate the distance between individuals in public and commercial areas and identify the cases in which people get too close to each other. By notifying local merchants or authorities about such cases, the system can help ensure the safety of everyone in the area at all times while positively reinforcing the public to gradually get more accustomed to maintaining the distance and thus helping stop the spread of the virus. Detecting the virus through facial recognition Perhaps the straightforward application of such high-level technology is using video surveillance to identify persons of interest who have tested positive for the virus. Modern AI has the ability to identify facial features and characteristics with a unique level of granularity, making it possible to identify individuals whose records show they have antibodies from those who can be potential carriers of the virus. After the initial differentiation and identification, the system can then notify the employers and employees of the facility about the results of the conducted analysis and the pursuant results, allowing them to be more vigilant and take action where necessary to ensure a safe experience for everyone. PPE reinforcement Wearing a mask or some sort of face coverage in public spaces and especially within facilities (such as stores, for instance) has been - and will continue to be - a requirement for maintaining a safe and healthy environment for people to continue with their day-to-day lives and businesses to resume regular operations. To this extent, the object detection and identification abilities of smart cameras can further reinforce this requirement and ensure that the absence of protective equipment doesn't go unnoticed. Essentially, these cameras can easily identify if an individual has coverage at any given point of time or not, notifying the local authorities about any risks immediately and helping them maintain necessary safety measures without having to interrupt their workflow or worry about missing a visitor without a mask. Detecting high temperature One of the key (and the most widespread) symptoms of COVID-19 is a high fever - a certain indicator of whether an individual may have been infected with the virus or not. While identifying fever with a regular human eye is nearly impossible, AI can do so at a fraction of time by quickly scanning body temperatures of any incoming individuals and determine whether it's above CDC's recommended temperature of 100.4F in order to determine the risk factor and notify the local authorities to take action. Modern AI has the ability to identify facial features and characteristics with a unique level of granularity This technology is a good tactic to objectively assess potential risks that come with elevated temperatures - and sometimes, the people themselves might not realize they might (unconsciously) be carriers of the virus and thus endanger the safety of others in their vicinity. The technology is yet another step towards ensuring a safer reopening of the global economy and a more streamlined way of getting back on track while minimizing the risk of spreading the virus further. It's not all about the theory We have tested the described approaches in our own R&D campus in Europe. The latest release of the IREX cloud enables remote fever detection and monitoring of social isolation and mask policies with AI. We have integrated thermal cameras to detect people with elevated temperature and CCTV cameras for identification and notifying those who potentially ill. In case of any health threat, the venue manager gets an instant message with a picture and exact location. These preventive steps helped our employees return to the office months earlier than it's happening in other countries. Moreover, personnel coming back to the office by their own wish as now they feel a virus-free environment in the campus - even safer than in their own homes. Now we are launching a pilot project for a well-known pharmacy chain in Florida, USA. With the help of a Computer Vision platform, staff will be able to divide customer traffic into those with normal body temperature and those who come in with elevated temperatures, as well as effectively monitor social distance norms. The goal of our potential client is to maximize the safety of customers in the post-pandemic period. Also, IREX is already deployed across hundreds of locations in the UK and will add health monitoring capability soon.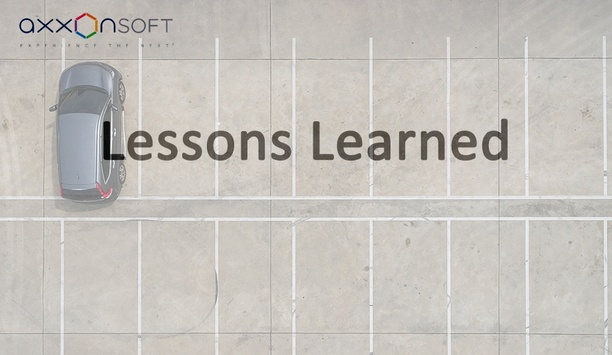 Lessons Learned With AxxonSoft: How Have You Adapted To The COVID-19 Pandemic?
The coronavirus pandemic has brought about an unprecedented crisis for businesses and individuals. It has also created a new normal, notwithstanding the disruption to our lives, ultimately changing life as we knew it. However, our resilience as humans will ensure that we survive and become better, stronger, and more determined than ever before. As I mentioned, both businesses and individuals have struggled significantly to balance the need for safety versus survival. But at AxxonSoft, we remain committed to keeping our people safe, while ensuring that our support and commitment to our clients are not compromised. Ensuring business continuity At AxxonSoft, our vision has always been to ensure business continuity through enhanced safety and video surveillance offerings. Adhering to the COVID-19 regulations, we are prescribing to social distancing to slow the spread of the virus. As such, we are utilising this time to ensure that our service offering is optimized to afford our clients the ability to repurpose and extend their remote working viabilities. As an essential service provider, we have ensured that we are providing the right tools to our clients to comply with regulations. Our video analytics and face recognition services have no reliance on on-site control rooms and, therefore, clients' security solutions and personal safety are not compromised. Innovation reimagined During these precarious times, our focus remains on support and service. Our development team continues to work tirelessly to ensure that you can use our software during the lockdown and have accelerated innovation to this end. While we must maintain social distancing, we can and will still be of service to our community Therefore, we are proud to present version 4.11 of the Intellect PSIM, which offers our clients a neural network-based analytical tracker which recognises specific types of objects, such as humans and vehicles. We have also equipped this version with video wall management interface, automatic object tracking and a web reporting subsystem. Behavioral analytics generates data by detecting specific postures, like crouching, shooting or any potentially dangerous scenario. Our surveillance software operates on a three-pronged approach: calibration, detection and measurement, offering a comprehensive bird's-eye view to clients. This upgrade also upholds mandated social distancing measures and keeps any face-to-face meetings to a minimal. The silver lining is that you can even use this technology when the pandemic is over. Now that's what I call experiencing the next with AxxonSoft! Finding solutions to the challenges Our specialist technology and frontline technical support staff will ensure that your business is protected during and post-lockdown. We will continue to ensure that we provide solutions to the new challenges that the coronavirus brings, ensuring that our clients can emerge stronger and more responsive to any changes in the future. Our surveillance software operates on a three-pronged approach: calibration, detection and measurement While we must maintain social distancing, we can and will still be of service to our community. After all, change is not just about technology but about mastering mindsets. The COVID-19 disaster has demanded that businesses embrace tech disruptions as early as possible and apply technology in imaginative ways to define the new world of work. Until next time, stay safe!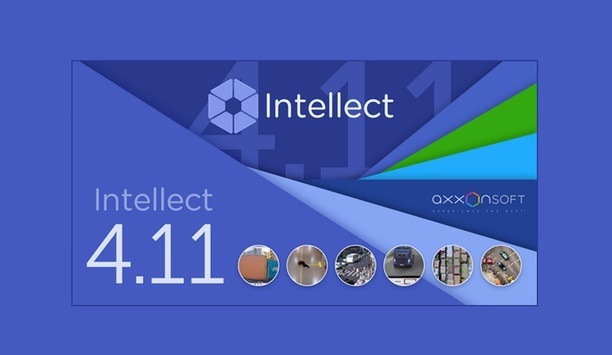 AxxonSoft Announces Release Of Version 4.11 Of The Intellect PSIM
AxxonSoft has announced the release of version 4.11 of the Intellect PSIM. The new version provides neural network–based analytics, video wall management interface, automatic object tracking with a PTZ camera, support for Intel Quick Sync Video hardware decoding, and servers for ONVIF and SIP protocols. The new release also includes updated versions of Face Intellect, POS Intellect, Auto Intellect, and Web Reporting subsystem, along with many other enhancements and improvements introduced. Video Analytics Neural Tracker The neural tracker uses DNN (deep neural network) to recognize specific types of objects, e.g., humans or vehicles. The neural tracker tracks objects in motion, which allows the application of any VMD-based detection tool: motion in an area, line crossing, appearance/disappearance of an object, etc. Detection based on the neural tracker can be applied to complex scenes with a large amount of non-relevant detail, whereas classic motion detection would be drowned out by false alarms. One neural tracker can work with several individually set-up counters, with various detection zones Object Counter A neural tracker can be linked to a counter that will periodically report the number of objects within a specified area in the FOV. One neural tracker can work with several individually set-up counters, with various detection zones, reporting intervals, etc. Neural Filter The neural filter works in parallel with the standard tracker, which allows the detection only of moving objects of a specified type or abandoned objects, while ignoring all other movement in the FOV. The results of their joint operation can be used by VMD-based detection tools in real time and recorded to a database that allows the quick location of objects of a specified type in recorded footage. Custom training of neural networks AxxonSoft offers custom training of the neural networks used by the neural tracker and neural filter To deliver high-quality video analytics, AxxonSoft offers custom training of the neural networks used by the neural tracker and neural filter. For each particular project, these AI tools are trained with the help of videos shot on site. Behavioral Analytics The neural network analyzes video and generates data on the postures of people in the FOV. This data is processed by analytical algorithms which are capable of detecting specified postures, such as crouching, lying prone, shooting, with hands up, or the appearance of an individual in any posture. Behavioral analytics detects potentially dangerous scenarios by specific postures, for example: An individual crouched down next to an ATM could be a burglar; One in a shooting position and other(s) with hands up could be an armed robbery. Enhanced and Optimized Added an option to save and recall templates for Forensic Search in Video Footage. A saved template can be re-used for further searches by using the same criteria. Updated neural algorithms for fire and smoke detection. Added Alarm Expired events for these detection tools, and an option to select processing hardware: GPU or CPU. Optimized memory consumption by the sweet-hearting neural detection tool that shows items not being swiped at the cash desk. Improved the stopped vehicle detection tool. Video Surveillance Added Tag&Track Pro feature that automatically tracks an object with a PTZ camera using coordinates obtained from the fixed camera's tracker. To start tracking a moving object, just click on its image. The PTZ camera will track it until the object leaves the fixed camera's FOV. Implemented support for the hardware decoding of H.264 streams using the Intel Quick Sync Video technology. The decoding is performed by an Intel GPU, which significantly reduces the Server's CPU load when applying video analytics, and the Client's CPU load when displaying video feeds. Added an option to hide selected portions of an archive. The availability of the options of hiding records and viewing hidden archives depends on the assigned user rights. One can now also mask faces on exported videos. To make it possible, the neural network automatically locates faces in recorded footage. These functions are required to comply with privacy and data protection requirements, such as the GDPR. Added an option to export videos from external storage, such as IP camera archives or NVRs. Added a comprehensive set of system events to audit operator's actions. Communication Protocols ONVIF Server - The ONVIF server is used for media streaming to external systems. It allows ONVIF clients to connect to an operating Intellect PSIM system, as they would to an ONVIF compatible device. Supported video streaming with synchronized audio in H.264/H.265/MPEG-4/MJPEG formats, multi-streaming, access to Video Footage, multicasting, authentication, and transmission of I/O events from devices and metadata. SIP Server - The SIP server allows the Intellect PSIM to connect to intercom devices such as IP door stations and push plates, and to create and route calls. The server supports audio and video calls, which can be recorded for further monitoring. Security system operators can now communicate via a new SIP Panel client interface. Each device and SIP Panel is assigned a calling ID number, and address books containing available call numbers are set up on SIP Panels. Other Protocols - Added support for the AMQP open messaging protocol, which allows the Intellect PSIM to receive and send RabbitMQ messages. Implemented the HTTP Server module, which is capable of sending events to an external system via HTTP polling. The User Interface Screen Manager Screen Manager is a new UI for video wall management. It enables convenient monitor layout management on selected PCs. Screen Manager can be used to: Create, edit, or delete layouts, and assign them to selected PCs; Remotely switch layouts on PCs. Operator Protocol For objects linked to a camera, they can now display a still image or recorded video of an event Operator Protocol is now completely revamped. Events list is now displayed as tiles, sortable by time and priority. Events processed by other operators are marked with a gray background, and their cells include the name of the Operator Protocol in which the processing has been completed. Users can now escalate an event to a specified operator. The parameters displayed along with the event are now selectable. For objects linked to a camera, they can now display a still image or recorded video of an event and zoom in on the alarm snapshot in a separate window. If an object is linked to multiple cameras, users can scroll between their images and can set video display in the Camera Window or ActiveX component. Set Bookmark checkbox All buttons and comments are now located on a single upper panel. An operator can now select several events, and work with them simultaneously. Another new feature added is a Set Bookmark checkbox for automatic creation of a bookmark in Video Footage when an event is processed by the operator. Operator's text comments are used for bookmark names. Incident management Additionally, a new feature added is the incident management function. If an operator selects an event, a list of required processing actions is displayed. The operator selects the required checkboxes, and information about their actions is added to text comments along with date/time stamps. In addition, the operator can now view processing instructions for events from any source object. Other new interfaces and enhancements The object context menu on the Map now includes an option to set the number of recent events to be displayed (up to 99). Introduced an option to request single frames or camera archives (also for cameras under a parent object) via the ActiveX component. The Main Control panel now includes the following information about the system - product name and version, installed subsystems' names and versions, available system objects list and the number of used objects, and license expiration date. Also added is a new graphs interface containing analog sensor data representations, and an interface allowing display of statistical data about objects' statuses as a table or a chart. User Rights Added support for Active Directory service, which enables synchronization between users and groups of the Intellect PSIM and their relevant Active Directory objects. When creating a new user rights group, operators can now import settings from an existing group. If multiple groups are selected, their combination is created. Added a setting to automatically shut down the session if the operator becomes idle. Added an option to limit the list of available actions on objects in video surveillance monitor and Map UIs. Added an option to disable frame/video export and printing a still frame from the video surveillance monitor. Auto Intellect 5.5 Introduced a module that uses the neural network to detect vehicle types. The module is capable of classifying passenger cars, vans, buses, trucks, and motorcycles. Integrated the IntLab container number recognition module. Updated the IntelliVision car number recognition module. Added support for new national license plate formats and running recognition on GPU and increased overall recognition quality. Basic virtual loop is now replaced with the IntelliVision virtual loop. The SDK for the AutoUragan LPR module is updated to version 3.7. Added new national formats and templates and increased operational stability. Updated VIT LPR module to version 2.7.2. Added new national formats and templates, increased recognition quality and stability; the GUI now includes tools for fine-tuning the module. Face Intellect 7.3 Integrated new YITU and SCT facial recognition modules. Updated VisionLabs facial recognition module to version 3.6.3. In the Tevian engine, recognition of emotion, race, and facial attributes (glasses, mustache, beard, hair color, headwear, etc.) was added to the existing age and gender guesstimation capabilities. Facial recognition now warns of faces covered with masks etc. and performs "liveness" checks to preclude identity spoofing. Operators can now use facial attributes for filtering, e.g., to find all males wearing glasses and/or with a beard. Emotion recognition allows you to evaluate the quality of personnel operations and the degree of customer satisfaction in banking, retail, and other industries. The Face Search tab now includes filters by name, department, and similarity rate, time window presets, and saving search parameters (filters) option. Operators can now launch a filtered search by double clicking a facial image in the captured/recognized faces log. Other new features: The full names of recognized persons now appear on live video under the facial bounding box; Users can now check an entire folder containing facial images against your DB; Facial recognition now has a configurable capture area; Facial DB replication across servers now allows a face to be added to all DBs by adding it to just one database. POS Intellect 5.4 Integration of the screening system allows data to be received from connected devices Integrated 5 models of POS terminals, 2 models of vehicle scales, a printer scales and the Sphinx screening management system that supports up to 5 handheld metal or metal/radiation detectors. The integration of the screening system allows data to be received from connected devices, recorded to the POS Intellect DB, used for captioning screening videos, and utilized for searching by text comments in Video Footage. The integrated solution allows one to control equipment and personnel operations for more efficient and reliable screening. In POS Intellect, existing integrations have been enhanced, and the wildcard search in captions has been introduced. Intellect Web Report System 3.4 The web report subsystem now includes new and updated reports, and new functions have been introduced. New Types of POS Reports - A "sweet-hearting" report allows one to view event video live. A canceled items report contains data filtered by specified cashiers and item names over a specified period. A canceled amount report is similar to the one previously listed and includes the total value of canceled items. New Types of Time and Attendance Reports A consolidated employees report contains data on the total number of employees in specified departments, and the number of employees staying in a specified area at the moment of reporting, or on a specified time/date. A detailed employees report contains data on the number of employees staying in a specified area during each day of a specified time period. Other New Report Types - A customer counter report contains information about the number of visitors who entered/exited a specified area over a specified period and is presented as a graph or as a table. A graphical report on events represents the number of events of a specified type for the selected types of objects over a specified time period. The exported report includes both a graph and a table. A pass card report contains information about the times of issuing pass cards for specified employees, or departments, as well as the types of cards and their expiration dates. A recognized rail car numbers report contains information about error detection with a check digit and a photo from the linked camera.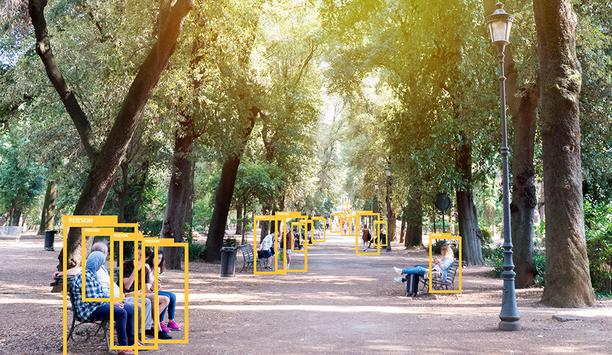 Can AI Video Analytics Ever Really Be Intelligent?
Video surveillance is commonly associated with security. But in most cases, it's used to record incidents and assist in investigations after the fact rather than prevent undesirable events. Artificial intelligence–powered video analytics is a highly promising trend that fundamentally changes the way things work. Extracting manageable data from a video stream can help recognize risky situations early on, minimizing damage and, ideally, completely avoid emergencies. At the same time, AI significantly expands the areas of application of video surveillance beyond security systems. AI significantly expands the areas of application of video surveillance beyond security systems However, the hype around this new, trendy technology prevents the potential user from choosing quality solutions in a wide variety of products. This often leads to over-expectation, followed by a complete let-down. Can AI-powered video analytics really be the key to a technological breakthrough in video surveillance? We'll take a look at what the technology can do, what it can't, and where it can go from here. Technological breakthrough or just another bubble? It's often said that the video management software (VMS) market is becoming increasingly commoditized and widely available. A lot of products with similar features (or, at least, similar promises from the manufacturer) make it hard to choose. As a result, vendor names and reputations are turning into one of their primary selling points. Manufacturers have two choices available: get wrapped up in a price war and rely on cutting expenses, or offer a product that's truly innovative and revolutionary. Manufacturers have two choices available: get wrapped up in a price war, or offer a product that's truly innovative and revolutionary VMS developers who choose the second route are gravitating towards creating products that use artificial intelligence based on neural networks and deep learning. Emerging two or three years ago, the AI video analytics market is experiencing a boom in growth. This new tech wave has stirred the still, stagnant backwaters of the VMS world and gave small, ambitious developers something to be optimistic about. It seems they now have a chance to emerge as market leaders in the next few years. However, the hype around this popular trend is raising reasonable concerns among experienced security industry professionals. These concerns come from clients looking for a solution to their problems, and from suppliers building a long-term development strategy. This largely resembles another tech bubble, like the one built up around pre-AI video analytics and burst when it became clear that the sensational promises around it were pure marketing hype (and rather unscrupulously so). However, there are a lot of factors that indicate that AI-powered video surveillance systems aren't another bubble. The three factors The first — and the main one — comes from systems already in place on customers' sites. They fulfill the same promises made during the previous bubble by hotheads in a rush to teach the computer to analyze events in real time using a classical algorithmic approach. The second is the fact that this new technology has seen investment from not only software and cloud startups, but also established VMS developers. Even giants like Intel, which has presented a full line of neural network accelerator hardware and a set of software tools that streamlines working with them, specifically in the field of computer vision. This new technology has seen investment from not only software and cloud startups, but also established VMS developers The third factor lies in artificial intelligence's abilities. AI plays chess, drives cars, and works wonders in many other fields. Why shouldn't it be applied to video monitoring and analysis? What AI can do Just what can artificial intelligence do in video surveillance systems at this stage of development? It can't quite analyze a sequence of events and understand the "logic" of what's happening in the cameras' field of view. At least not yet. But it's probable that AI will learn to do this in the next few years. But neural network analytics can already detect, classify, and track objects very well, providing high accuracy even in busy scenes. Artificial intelligence can be used in the real world to: detect smoke and flames for early fire warning at open areas (forest, open warehouse, parking lot, etc.); distinguish people/vehicles from animals and other moving objects, e.g. to protect the perimeter of a nature park from poachers; distinguish a person in a helmet and protective clothing from a person without them to prevent accidents at a dangerous production facility or construction site; count objects of a specific type, e.g. cars in a parking lot, people in the sales floor, wares moving on a conveyor belt, etc. in non-security-related solutions. Those are just a few examples. After training a neural network, it can tackle other, similar tasks, too. Generally, a neural network trained in specific conditions isn't replicable. In other words, it won't work as well under different conditions. On the other hand, developers have learned how to quickly train AI for the needs of a specific project. The most important requirement is having enough video footage. Somewhat apart from that is the use of neural networks in facial and automatic number-plate recognition. This is an example of reproducible neural networks (train once, deploy everywhere), which makes them more appealing commercially. If non-reproducible neural networks have only recently become economically feasible due to the rapid evolution of specialized hardware (aforementioned Intel's product, for example), then the use of AI in facial recognition and ANPR has been well established for a long time. The use of AI in facial recognition and ANPR has been well established for a long time Another kind of AI analytics that we'll explore is behavior analytics. This function, probably more than any other, is bringing video surveillance systems closer to understanding what's happening on camera. Its potential is vast. How Behavior Analytics Works From a technical point of view, behavior analytics combines artificial intelligence with a classic algorithmic approach. A neural network trained on a multitude of scenarios can determine the position of the bodies, heads, and limbs of humans in the camera's field of view. The algorithm outputs an array of data containing descriptions of their poses. Conditions can be set for data to detect a specific pose, such as raised hands, prostrated or crouching persons. Developers can use this to quickly create new detection tools to identify potentially dangerous behavior specified by a government or business client. There's no need for additional training of the neural network. How Behavior Analytics Can Be Deployed Someone crouched down next to an ATM could be a technician, CIT guard, or burglar. Bank security should be notified in any of the cases. A person in shooter position, together with a bank employee or cashier with their hands raised could indicate a robbery. The system can be configured to automatically send alerts with a surveillance snapshot to the police so they can assess the threat and take action if needed. It's vital that the police receive the alert, even if the employee is unable to activate the alarm. In many cases, attention should be directed to a prostrate individual. This could be somebody who needs immediate help, or it could be someone sleeping in an inappropriate public place, for example, a 24/7 ATM space. Behavioral analytics can also be used to ensure workplace safety. For example, tracking whether employees are holding the handrails when using the stairs at a manufacturing facility or a construction site. What Now? Behavior analytics can be deployed wherever your clients' imagination takes them. With this feature, practically any pose that indicates potentially dangerous behavior can be detected. Timely response to an alarm helps avoid material damages or, in other situations, casualties. Practically any pose that indicates potentially dangerous behavior can be detected An area of potential development for behavior analytics is the ability to analyze a sequence of poses by the same person or a combination of poses and relative positions of several individuals. That will be the next level of evolution in AI's use in video surveillance: moving from "detecting" to "understanding" behavior in real time. In its most basic form, this type of analytics can be deployed to detect deviations from the search procedure in correctional facilities when a person being inspected must assume a pre-defined sequence of poses. A more advanced form allows it to detect any kind of abnormal behavior, such as a brawl breaking out in a public space. Ideally, behavior analytics can predict dangerous situations based on nearly imperceptible cues gleaned from collected statistics and a Big Data analysis. At the moment, this sounds like pure fantasy, but what seemed like whimsy not too long ago is now a reality with AI. It's already beaten humans in chess and the game of Go (Weiqi). Will artificial intelligence be able to outplay humans at charades one day? It's entirely possible that we'll soon see for ourselves.
Related white papers
H.265 High Efficiency Coding: Video Compression For Security Applications
Five Things To Consider For AI With Video Technology
Preparing Your Organization With Quality Situational Awareness
Featured white papers
Smart Security Cameras: Excellence in Retail
Download
5 Reasons To Integrate Mobile Technology Into Your Security Solution
Download
Automatic Vehicle Identification: State Of The Industry 2020
Download