Bosch Access Controllers
(6)
Browse Access Controllers
Access control controller products updated recently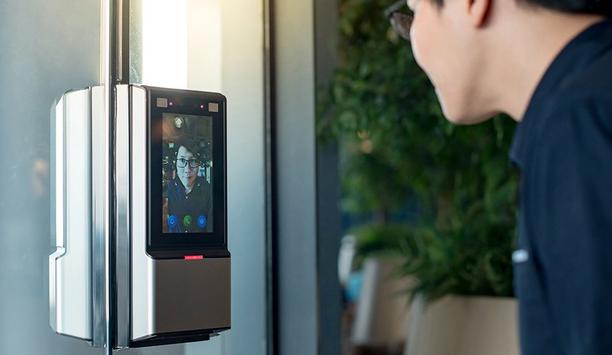 Physical Security in 2021: Post-Pandemic Solutions
In a world forever changed by the coronavirus pandemic, companies worldwide are now expanding their concept of physical security to best safeguard their facilities and employees. Few incidents have had as much of an impact on businesses globally as the COVID-19 pandemic; much of the world is still struggling to contain COVID-19, navigating the lasting effects and exploring what the "new normal" looks like. While some organizations are still engaged primarily in "anywhere operations", i.e. remote work, many organizations are implementing strategic physical security solutions that better protect everyone through the use of video surveillance technology and advanced intelligence capabilities. As this new normal takes hold within the business environment, security strategies will largely be centered around several key initiatives like access control, people counting, occupancy controls, temperature screening, contact tracing, and reducing office touch points. With the use of a video management system (VMS) in the shadow of COVID-19, occupancy data from a VMS can trigger a lockdown and not permit new entrants until the occupancy drops below a certain threshold; this is significantly useful for organizations that have returned to in-person work. But there's a caveat: though many legacy security systems are being re-evaluated to allow for touchless or frictionless access control — a move designed to eliminate the need for employees and visitors to physically touch a surface when using an access control system — upgrading the outdated technologies can be cumbersome and expensive, especially for organizations that had not planned for an interruption like the pandemic. Security contractors will be vital So, what is the solution? Security contractors will play a vital role in helping end-users across a range of vertical markets — large and small — to achieve their goals in the new paradigm. For some, this may mean leveraging existing access control and video surveillance systems with upgrades where needed. For others, an entire overhaul is made possible with budget friendly solutions for businesses to migrate to integrated access control through end-to-end security solutions that tie into existing infrastructures without major disruptions (meaning the organization will never be left vulnerable). Cybersecurity is becoming even more intertwined with physical security There is massive transformation occurring in the security industry, most notably the movement to digitise physical access and integrate it with video management systems and surveillance. This shift means that cybersecurity is becoming even more intertwined with physical security, allowing organizations the ability to correlate the metadata of people's behaviors and activities — a plus point for those looking to remain vigilant against future pandemic-esque business interruptions. Access, video, and audio are converging into consolidated platforms. Due to lower costs and pairings with IP-based, wireless infrastructure, there are infinite solution configurations. IT security requirements are beginning to apply to physical security because of this integrated infrastructure. Multi-factor authentication The security industry is also beginning to see a trend of multi-factor authentication, which is going to dominate in the days to come as it makes solutions more reliable. Most people carry smartphones these days, which have green check communication capabilities that allow easy multi-factor authentication. Costs are going down, and algorithms are getting better, making more people willing to try it. Some new solutions have both the fingerprint reader and a camera for facial biometrics Some new solutions have both the fingerprint reader and a camera for facial biometrics. Cameras and CCD modules cost almost nothing, and they do not have to be super high-end anymore, especially if organizations are doing one-to-one verification. It's not just about security now; it is security, health, and safety. Access control with video, intelligent readers, and credentials is a perfect platform for next generation solutions.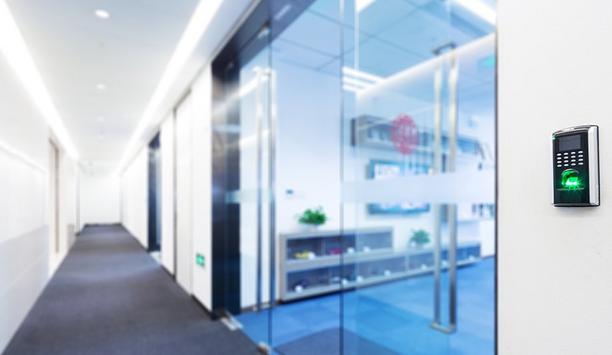 Access Control and Door Entry Management: How Technology is Driving Change
Access control and door entry is a huge responsibility, and challenge, for local authorities and housing associations UK wide. For councils, they're accountable for the security and safety of many public facilities such as leisure centers, libraries as well as residential housing developments which are often large scale and home to hundreds of people. Housing associations manage affordable rental housing which also means they're responsible for the appropriate access control management for each individual house or apartment. Technology developments have enabled better entry systems that are far more secure yet also more convenient and easier to manage. For example, with modern intercom and access control systems, remote management and communication is something that offers local authorities and housing associations features that enable them to reduce costs and cut their carbon footprints by managing multiple sites from one place. On the other hand, such technological innovation has meant that local authority and housing association specifiers and consultants now have a wide range of systems and products to choose from which can cause issues in ensuring the right system for a specific building or development is chosen. Choosing an appropritate access control system In choosing an appropriate system, local authorities and housing associations need to opt for a cost effective solution that can be easily maintained with excellent support from the manufacturer and guarantees that the system and system parts will remain supported for the duration of its expected life cycle. It is also important that the chosen system is flexible to cater for the varying needs of the tenants and visitors. Of increasing importance is the reduction of anti-social behavior which new technology can help by providing the use of data loggers which track the use and events of a door entry system, allowing specific evidence to be located by integrating with CCTV. Using technology to our advantage Through advancements in management systems and services, we can gain a much better visual representation of the events and general usage of an intercom entry system and not just its proximity access control. Systems, for example, can now send email alarms or notifications to the administrator or management. We are now able to modify user rights and access levels on the go from a mobile app which enables a much greater control over service and maintenance engineers, such as making sure they have full access when required via an app, rather than arriving to site with the incorrect keys or access fob. Systems, for example, can now send email alarms or notifications to the administrator or management Dealing with tenant's lost and stolen keys has never been so easy either. The blocking or deletion of lost fobs and adding a new fob can be carried out in minutes while at the same time removing the cost of sending an engineer to the development to program new fobs. This greatly reduces the carbon footprint of the whole task as fobs can now be sent out via mail to a secure location for collection. Technology has also helped local authorities and housing associations to overcome the issue of not being able to have a concierge or building manager available 24/7 at some developments. Now with internet communication, it's possible for tenants and visitors to get in touch with someone should they need assistance, whether that's from within the apartment or from an entrance point. For example, lets take the Videx VX2200 with IP concierge integration. This system is exceptionally flexible, enabling calls to be answered on Videx intercoms and also mobile phones if required. With the integration of the IP concierge each block can be either standalone or networked via the internet back to a central control room. Reduced maintenance costs and carbon footprint We work with a wide range of local authorities and housing associations to help them overcome access control and door entry challenges. One organization we have recently partnered with is The Living Group to help them greatly reduce their maintenance costs and carbon footprint by installing the MiAccess offline proximity system on many of their developments across the North East. Technology developments have enabled better entry systems that are far more secure yet also more convenient and easier to manage By installing an appropriate system, The Living Group has managed to overcome issues caused by the existing system's limitations and also enabled much more flexibility when it comes to effectively managing the access control system of all their included developments. For those responsible for effective and appropriate access control, the management of the systems are easier, quicker and there's no delay or on-going costs for needing a specialist program to modify fobs and access rights as this can now all carried out in-house. Improved security legislation Further advancements in programmes such as Secured by Design (SBD), a police initiative that improves the security of buildings and their immediate surroundings to provide safe places to live, work and visit, means that there's more security legislation being implemented that's making intercoms and access control more secure, without affecting ease and convenience. Videx holds an SBD accreditation and we know, from first-hand experience, how it's making a difference in keeping tenants safe. When you combine the safety features promoted by an SBD member company like ourselves with the likes of the Videx event logging, image capture and ability to modify access users on the go, for example, we can help to create a very safe and secure environment. Personally, I think there needs to be a greater emphasis on the role of security legislation Technology has completely transformed the way local authorities and housing association are able to choose, install and manage door entry and access control systems for tenants and visitors alike. Personally, I think there needs to be a greater emphasis on the role of security legislation such as Secured by Design to ensure all councils and housing association consultants are up to date with what constitutes a robust and secure system that's also cost effective too. In my role, I see weaknesses in systems and constant ongoing costs that could easily be avoided. For instance, features such as timed remote entry means local authority and housing association management no longer need to worry about keys being lost, the wrong keys being supplied or locks needing to be changed. With new systems such as the Videx MiAccess and Videx WS4 range, we can help to massively reduce a housing association's or council's carbon footprint and engineer costs by allowing them the access to management and control from an offsite location. Crime prevention We can also use live and logged events to help prevent crime in different ways, from antisocial behavior growing around a tenant being called or visited much more regularly than others, to knowing a tenant is currently still living at a property but isn't paying rent or answering to any correspondence. Technology enables local authorities and housing associations to receive detailed data and therefore behavioral insights on the people under their management and care. If consultants and specifiers are advised on the most appropriate systems that meet their specific entry needs, they can ensure greater, safer and more convenient access control that meets the requirements of both the end user and the those responsible for its effective management.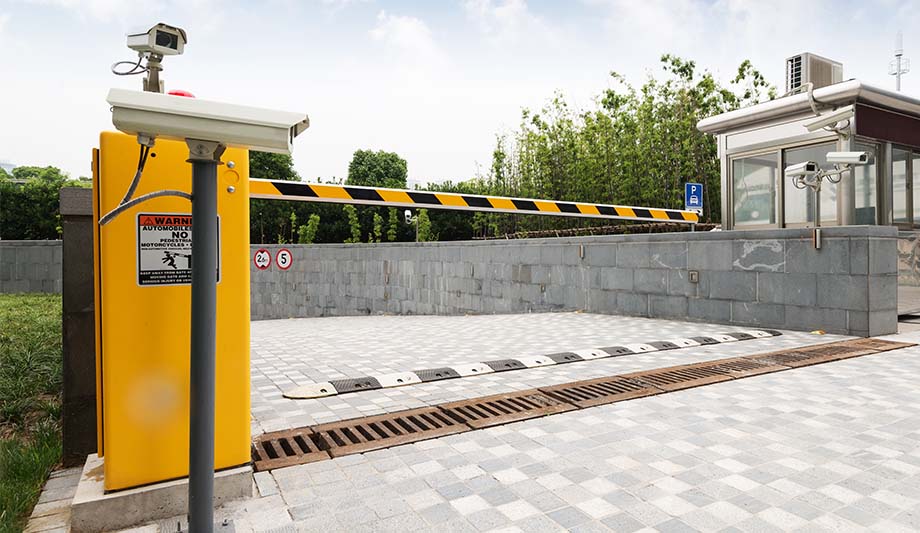 Automatic Gates: Making The Right Investment For Access Control
The experience of the COVID-19 pandemic has made us all more conscious of who is coming and going from our property. Whether it is a family home, business premises or public building, property owners want full control over access for protection and peace of mind. As a provider of access control technologies, we are seeing a growing demand for automated gates with a variety of access control systems. There are a number of considerations that buyers need to make when investing. And as an installer, there is advice that you can offer to help your clients make the right choice for their property. Here are some of the key considerations you'll need to make and discuss with your client. Whomever you buy from, you should be offered more than a simple instruction manual. Electronic locks, magnetic locks and code security In the first instance, you'll need to advise on the type of lock and access control available. Electronic locks release on the operation of the automation system to allow the gates to open. Locks are required for all non-locking (also known as reversible) operators and are recommended for any gate on a multi-user site or any gate over 2.5m. Apply the same logic to an automated gate as you would to a domestic door – for example, you wouldn't fit your front door with a lock on the same side as the hinges or a drop bolt at the hinge end of a manual gate so why dispense with this logic when the gate is automated? Electronic locks release on the operation of the automation system to allow the gates to open There are a number of locks on the market including magnetic locks, drop locks that "shoot" a bolt into the ground and side latching locks. These are all designed for external use. While the gate itself will provide physical security, the customer will want to feel in control of who enters their property, when and for what purpose. Consider access for mail and deliveries, waste disposal and visitors arriving on foot etc. There is a range of options available. Intercom systems will allow the user to vet visitors, keypad entry can allow remote access for visitors with a specific code, remote controls allow an oncoming driver to open the gates without getting out of the vehicle, and a timer control can be used to open or close the gates at certain times of the day. Vehicle detection loops can be installed discreetly under the tarmac allowing the presence of vehicles to exit the gates and prevent closing while obstructed. Sliding gates versus swinging gates There are a number of locks on the market including magnetic locks, drop locks that "shoot" a bolt into the ground and side latching locks Gates can be automated to either swing or to slide open and in the case of swinging gates, the opener may be concealed underground or gate mounted. The most suitable opener for your installation will depend on the space available and the type of gate selected. Concealed underground automation is ideal for highly ornate gates. However, where gates are fully infilled (typical of many timber designs), gate mounted openers are concealed from the front of the gate by the gate leaf and present a cost-effective option. The choice between slide and swing is largely down to space - swing gates require a clear space for their opening arc while sliding gates require space to one or both sides of the gate. Sliding gates are perhaps the best choice where the drive slopes or when drive space is limited, as they use the least space when opening. Voltage Most swing gate and sliding systems are available in 24v or 230v. The 24v systems still need 230v mains power – there is a transformer built into the 24v control panels. Deciding which voltage to use can include a combination of factors such as the material of the gates, the location of the system and the safety features you want. Concealed underground automation is ideal for highly ornate gates With wrought iron gates, the wind can pass through them whereas with fully boarded wooden gates (popular because they give full privacy) the wind has nowhere to go, so they act like sails. For commercial or industrial applications with larger entrances and a heavy gate, you may need 3 Phase 400v power (sliding gates only). Installing gate motors in confined spaces The environment in which you are fitting may well influence which gate and motor you recommend. Will it be in an exposed area which is subject to the elements? Will it be positioned on a slope? Sliding gates are perhaps the best choice where the drive slopes or when drive space is limited Installers have always faced the challenge of installing gate motors in confined spaces. When fitting a pedestrian gate, there is often limited space in which to work – potentially making an installation time consuming and technically demanding. If this is the case for you, consider a gate operator which is designed specifically for installations with limited space for maneuver. An example of this is the E5 compact gate operator. The operator is not only small but has an optional slide lever attachment designed for installations where there is extremely limited space, meaning that just 8cm of the pillar is needed for installation. What's more, improved fixing points and a simple 'hook and fasten' process means assembly is safe, quick and straight forward. Ultimately, you'll be looking for a good quality, reliable product with good service. Work with a supplier that offers more than just a manual. If they are happy to offer training, their time and advice when you buy, the chances are you'll get their support long term.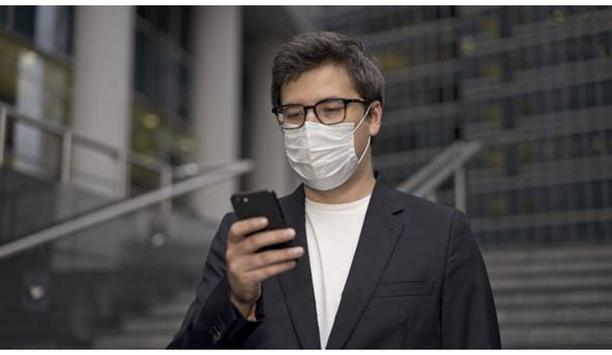 Bosch Security Systems Unveil Version 4.8 Of Its Building Integration System To Enable A Safe And Contactless Access Control Environment
Bosch Security Systems has released version 4.8 of its Building Integration System (BIS) which offers safe, touchless access control solutions to curb the spread of viruses like Covid-19. Secure access control solution BIS 4.8 supports biometric and mobile device authentication and provides building managers enhanced integration of fire panels and intrusion panels to ensure the security of buildings. The global COVID-19 pandemic has caused building operators to rethink their access control solutions In light of the global COVID-19 (coronavirus) pandemic, building operators need to rethink their access control solutions. Instead of systems that require physical touch and thereby increase the risk of virus transmission, contactless solutions that still meet the highest security guidelines are preferable. BIS 4.8, Building Integration System In response to these requirements, BIS 4.8 expands on the trusted features and benefits of version 4.7 to now work with three different touchless solutions that safeguard personal health: Face recognition - BIS 4.8 has been redesigned to work with the face recognition solution from Idemia. The face recognition device obtains a biometric scan from a safe distance and matches facial features with credentials in an encrypted database. Doors and gates open via the BIS Access Engine and the Bosch Access Modular Controller (AMC2). Touchless fingerprint readers - Integrated with Idemia's Morphowave reader, BIS 4.8 controls access via a touchless fingerprint scan. A simple wave of the hand in front of the touchless sensor triggers a 3D scan of four fingers. Access rights are confirmed within less than one second by the system's fingerprint database for a clean and highly secure solution. Access via mobile phones - In conjunction with the mobile access control solutions from STid and HID, BIS 4.8 allows users to use their mobile phone instead of a card for access at the secure reader. For STid's Mobile ID, the method requires a STid reader, while a Bosch Lectus secure reader works with HID's Mobile Access solution. Users only need to install an app to verify access rights and use the safe, wireless technology. Aside from facilitating contactless access, all three solutions are also intuitive, quick and convenient compared to keycards and similar methods as there is no need to carry an access card or remember a password in order to gain entry to a building or area. Seamless fire and intrusion panel integration Combining BIS 4.8 with Bosch B and G Series intrusion panels unlock a new level of convenience Combining BIS 4.8 with Bosch B and G Series intrusion panels or MAP 5000 panels unlocks a new level of convenience. Users require only one authorization badge to control two systems. Disarming areas of the intrusion system and granting access can be realized with the same badge on the same reader, without entering a PIN code for easy, one-step authorization. Improved flexibility and efficiency With the introduction of version 4.8, BIS continues to unify the management of multiple security and safety domains and maximize flexibility for key customer requirements. New features include: Integration of the latest Bosch Avenar 2000 and 8000 fire panels and peripherals, along with command and control via BIS, with devices and status shown on maps, and events managed more intuitively via an alarm list. User authorization for Bosch B and G Series intrusion panels are managed directly within BIS for up to 2,000 users on as many as 25 intrusion panels, instead of handling authorizations separately on each of the 25 panels. Central overview of all existing access and B and G Series intrusion authorisations for the complete installation within one system. With these updates, BIS 4.8 helps operators meet the health and safety demands of the new reality without compromising on functionality and security. As a centralized platform for operational building management, the new version of BIS offers greater convenience, flexibility, and efficiency.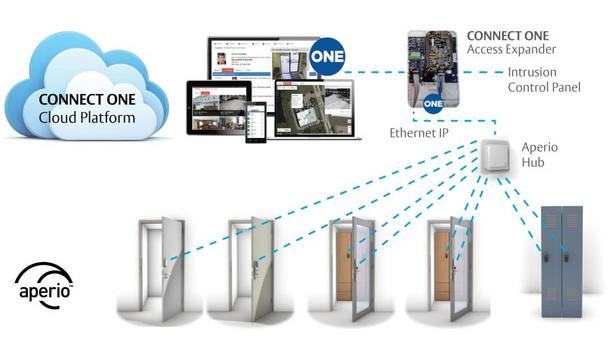 ASSA ABLOY Integrates Aperio Wireless Lock Technology With Connect ONE Platform From Connected Technologies
ASSA ABLOY Opening Solutions completed the integration of their Aperio® wireless lock technology with the Connect ONE® cloud-hosted management platform from Connected Technologies, Monument, Colo. Connect ONE manages all connected customer devices, including wireless and hardwired locks, access control, intrusion, video surveillance, critical environmental monitoring and energy management from a single interface. "We're excited to present this integration with industry leading ASSA ABLOY Aperio wireless devices to Connect ONE dealers," said Mike Simon, Managing Partner of Connected Technologies. Global wireless platform "Now, dealers can easily expand their services to more doors and offer new protection possibilities that save installation time and money. In addition, the Aperio/Connect ONE integration works with popular Bosch, DMP, ELK and Honeywell Vista panels so they can be up and running with new specs quickly." The Aperio integration offers Connect ONE customers an easy way to connect additional wireless locks to new and existing installations. Aperio is a global wireless platform that works with extensive locking hardware options from ASSA ABLOY Group brands, offering the flexibility to address a variety of applications throughout any facility. The platform uses wireless communication (IEEE 802.15.4) between the lock and an Aperio hub to provide real-time communication to the access control system, simplifying installation and reducing costs. Encrypted wireless connection The integration also allows for a mapped hardwired relay output to initiate an auxiliary control upon access Aperio wireless locks map directly to the intrusion areas for an immediate armed status review to deny access when armed and can also disarm intrusion with proper authority upon granted access at the lock. Since the wireless locks are highly integrated with the control panel, user permissions are applied exactly the same for hardwired readers, allowing for a mix of wireless and hardwired reader/locks without additional set-up complexity. The integration also allows for a mapped hardwired relay output to initiate an auxiliary control upon access and a relay output to control an external door opener. Aperio locks use an encrypted wireless connection to an Aperio IP hub; each hub can communicate to a maximum of 64 locks. Highly flexible solution "Connect ONE offers a simple, scalable solution that complements the Aperio offering perfectly," stated Mark Duato, Executive Vice President, Aftermarket, ASSA ABLOY Opening Solutions Americas. "This integration will offer dealers and end-users a highly flexible solution for comprehensive access management." Connect One's ScanPass® Mobile Credential smartphone control is also supported with the integration, eliminating the need for card or fob credentials. Dealers can contact ASSA ABLOY to become certified to offer Aperio locks, which come in a variety of form factors and can be purchased through ASSA ABLOY Authorized Channel Partners.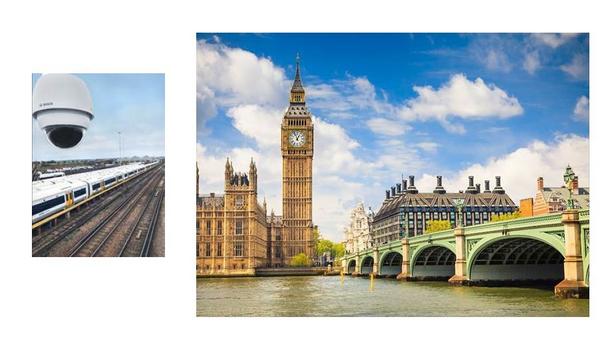 Bosch Security Systems Protect Unmanned Train Depots On Southeastern Rail Network In The UK With Intelligent Video Analytics
One of the largest public train operators in the United Kingdom, Southeastern Rail Network, now relies on a smart video security solution from Bosch Security Systems to secure twelve train depots, including five unmanned locations, against theft and intrusion. The fully digital video surveillance system presents a significant upgrade to the British train operating company, which provides train services between London, Kent and parts of East Sussex and transports 6, 40,000 passengers each weekday on its 392 trains. built-in Intelligent Video Analytics Powered by cameras featuring built-in Intelligent Video Analytics, the solution was installed and configured to the specific requirements at the train depots by Bosch integration partner, Taylor Technology Systems Ltd., over the course of six months. Video security system relies on machine learning algorithms to automatically sound alarms on security threats Fully operational at all twelve locations, the video security system relies on machine learning algorithms to automatically sound alarms on security threats, such as intruders and perimeter breaches. Beyond security applications, the system also tracks important metadata on the arrival times of trains, while also monitoring deliveries at the train depots, among other AI-assisted functions that it carries out. IP-based cameras with Starlight technology The cameras portfolio installed across the twelve depots replaces an analog legacy solution with IP-based security cameras from the Flexidome, Dinion, and Autodome product lines of Bosch Security Systems. These smart cameras include Bosch's Intelligent Video Analytics capabilities as a built-in feature, ensuring that the most relevant video data can be precisely applied to the requirements of the train depots. Because night-time security and surveillance is critical, especially at the five unmanned train depots on the network, the Bosch cameras rely on Starlight technology to provide full intelligent analytics at night and in low light levels. The Starlight technology supports color filtering down to a light level of only 0.0077 lux, so as to deliver detailed monochrome images where other cameras show no image at all, and guard against intruders and unauthorized entry around the clock. Featuring digital 'trip wire' to counter false alarms Highly resilient against false alarms, the smart cameras can detect movement at the perimeters of the train depots using a digital 'trip wire'. In case of a security breach, the system alerts Southeastern Rail Network's watch personnel, who can view live camera footage, as well as recordings of incidents for heightened situational awareness and total perimeter security. Instead of relying on the pre-configured capabilities, such as vehicle tracking and more, security personnel can also use the built-in camera trainer function to 'teach' new functionality, such as detecting certain types of objects or situations. Remote video recordings storage with Divar recorders Recordings from the depots are safely stored and managed remotely with Divar recorders in encrypted format As an integral part of this end-to-end Bosch security solution, recordings from the depots are safely stored and managed remotely, using Divar all-in-one recorders in encrypted format. When looking at the bigger picture, the video security solution adopted by Southeastern Rail Network is part of an industry-wide evolution from cameras as mere video capturing devices to smart sensors capable of collecting rich metadata. Insights beyond security This metadata unlocks unique insights beyond security, including video analytics at the train depots that support applications such as monitoring deliveries to onsite buildings, providing access to personnel and logging the arrival and departure times of incoming trains. The system thereby not only ensures that all train depots remain fully guarded and protected 24/7 against criminal access, but also provides a data-based foundation to keep efficiency gains and cost savings on track in the long run.
Related white papers
Physical Access Control In Higher Education
'Boosting On-Site Safety And Security
OSDP Is The Strongest Access Control For Your Business