Paul Kong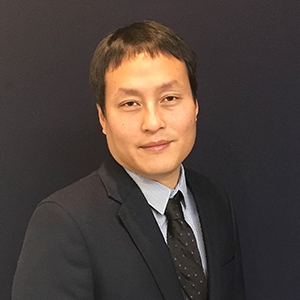 Paul Kong
Technical Director,
Hanwha Techwin America
Paul Kong is the technical director for Hanwha Techwin America and former software specialist for the Hanwha Techwin headquarters in South Korea. He has been in the security industry for over 13 years working from many different vantage points ranging from technician to product development and integration manager.
Round table contributions
The new year 2019 is brimming with possibilities for the physical security industry, but will those possibilities prove to be good news or bad news for our market? Inevitably, it will be a combination of good and bad, but how much good and how bad? We wanted to check the temperature of the industry as it relates to expectations for the new year, so we asked this week's Expert Panel Roundtable: How optimistic is your outlook for the physical security industry in 2019? Why?
In today's global economy, goods are manufactured all over the world and shipped to customers thousands of miles away. Where goods are manufactured thus becomes a mere detail. However, in the case of "Made in China", the location of a manufacturer has become more high-profile and possibly more urgent. The U.S. government recently banned the use in government installations of video system components from two Chinese manufacturers, presumably because of cybersecurity concerns. A simmering trade war between China and the United States also emphasizes other concerns related to Chinese manufacturing. We asked this week's Expert Panel Roundtable: Should "Made in China" be seen as a negative in the video surveillance marketplace? Why or why not?
By definition, an edge device is an entry point to a network. In the physical security industry, edge devices are the cameras, sensors, access controllers, readers and other equipment that provide information to the IP networks that drive today's systems. In the Internet of Things (IoT), edge computing refers to an increasing role of edge devices to process data where it is created instead of sending it across a network to a data center or the cloud. In our market, edge computing takes the form of smarter video cameras and other devices that store and/or process data locally. We asked this week's Expert Panel Roundtable: What's new "on the edge" of security and video surveillance systems?
Articles by Paul Kong
Audio is often overlooked in the security and video surveillance industry. There are some intercom installations where audio plays a key role, but it's not typically thought about when it comes to security and event management. Audio takes a back seat in many security systems because audio captured from a surveillance camera can have a different impact on the privacy of those being monitored. Audio surveillance is therefore subject to strict laws that vary from state to state. Many states require a clearly posted sign indicating audio recording is taking place in an area before a person enters. Analytic information derived from audio can be a useful tool and when implemented correctly, removes any concerns over privacy or legal compliance. Audio analytics on the edge overcomes legal challenges as it never passes audio outside of the camera Focused Responses To Events Audio analytics processed in the camera, has been a niche and specialized area for many installers and end users. This could be due to state laws governing audio recording, however, audio analytics on the edge overcomes legal challenges as it never passes audio outside of the camera Processing audio analytics in-camera provides excellent privacy since audio data is analysed internally with a set of algorithms that only compare and assess the audio content. Processing audio analytics on the edge also reduces latency compared with any system that needs to send the raw audio to an on-premises or cloud server for analysis. Audio analytics can quickly pinpoint zones that security staff should focus on, which can dramatically shorten response times to incidents. Audio-derived data also provides a secondary layer of verification that an event is taking place which can help prioritise responses from police and emergency personnel. Microphones And Algorithms Having a SoC allows a manufacturer to reserve space for specialized features, and for audio analytics, a database of reference sounds is needed for comparisonMany IP-based cameras have small microphones embedded in the housing while some have a jack for connecting external microphones to the camera. Microphones on indoor cameras work well since the housing allows for a small hole to permit sound waves to reach the microphone. Outdoor cameras that are IP66 certified against water and dust ingress will typically have less sensitivity since the microphone is not exposed. In cases like these, an outdoor microphone, strategically placed, can significantly improve outdoor analytic accuracy. There are several companies that make excellent directional microphones for outdoor use, some of which can also combat wind noise. Any high-quality external microphone should easily outperform a camera's internal microphone in terms of analytic accuracy, so it is worth considering in areas where audio information gathering is deemed most important. Surveillance cameras with a dedicated SoC (System on Chip) have become available in recent years with in-built video and audio analytics that can detect and classify audio events and send alerts to staff and emergency for sounds such as gunshots, screams, glass breaks and explosions. Having a SoC allows a manufacturer to reserve space for specialized features. For audio analytics, a database of reference sounds is needed for comparison. The camera extracts the characteristics of the audio source collected using the camera's internal or externally connected microphone and calculates its likelihood based on the pre-defined database. If a match is found for a known sound, e.g., gunshot, explosion, glass break, or scream, an event is triggered, and the message is passed to the VMS. If a match is found for a known sound, e.g., gunshot, explosion, glass break, or scream, an event is triggered, and the message is passed to the VMS Configuring A Camera For Audio Analytics Audio DetectionThe first job of a well-configured camera or camera/mic pair is to detect sounds of interest while rejecting ancillary sounds and noise below a preset threshold. Each camera must be custom configured for its particular environment to detect audio levels which exceed a user-defined level. Since audio levels are typically greater in abnormal situations, any audio levels exceeding the baseline set levels are detected as being a potential security event. Operators can be notified of any abnormal situations via event signals allowing the operator to take suitable measures. Finding a baseline of background noise and setting an appropriate threshold level is the first step. Noise ReductionA simple threshold level may not be adequate enough to reduce false alarms depending on the environment where a camera or microphone is installed. Noise reduction is a feature on cameras that can reduce background noise greater than 55dB-65dB for increased detection accuracy. Installers should be able to enable or disable the noise reduction function and view the results to validate the optimum configuration during setup. With noise reduction enabled, the system analyzes the attenuated audio source. As such, the audio source classification performance may be hindered or generate errors, so it is important to use noise reduction technology sparingly. Audio Source ClassificationIt's important to supply the analytic algorithm with a good audio level and a high signal-to-noise ratio to reduce the chance of generating false alarms under normal circumstances. Installers should experiment with ideal placement for both video as well as audio. While a ceiling corner might seem an ideal location for a camera, it might also cause background audio noise to be artificially amplified. Many cameras provide a graph which visualises audio source levels to allow for the intuitive checking of noise cancellation and detection levels. Messages And EventsIt's important to choose a VMS that has correctly integrated the camera's API (application programming interface) in order to receive comprehensive audio analytic events that include the classification ID (explosion, glass break, gunshot, scream). A standard VMS that only supports generic alarms, may not be able to resolve all of the information. More advanced VMS solutions can identify different messages from the camera. Well configured audio analytics can deliver critical information about a security event, accelerating response times and providing timely details beyond video-only surveillance. Analytics take privacy concerns out of the equation and allow installers and end users to use camera audio responsibly. Hanwha Techwin's audio source classification technology, available in its X Series cameras, features three customizable settings for category, noise cancellation and detection level for optimum performance in a variety of installation environments.
Cameras capable of recording video at 60 frames per second (fps) are becoming widely available in the security industry. It's important to understand what 60-fps brings to the table for the security industry and how to leverage the technology for particular scenarios. Capturing video at 60-fps represents a unique application. System integrators typically use much lower frame rates, ranging from 7- to up to 30-fps. The potential for an incident might only represent 1%, or less, of the time a camera is recording. However, when a significant event does occur, it's better to record at a higher frame rate, because incidents such as a car accident, an altercation, or someone running away are usually only seconds long. Depending on the lighting environment, and the camera setup at that time, you either captured plenty of details or you didn't. Casino And Stadium Security For example, in casinos, hands, money and chips move around quickly. If there's a dispute, footage needs to be examined frame-by-frame at a resolution that provides exacting detail. For this reason, Las Vegas casinos require at least 30-fps for any cameras covering gaming action. Another example is a stadium; if you have a lower frame rate of 10-fps, it might look good when all the seats are empty and there is very little motion. On game day, things can look different. If there is an altercation, at that frame rate, it becomes difficult to ascertain the actual sequence of events. The quality of what is captured in those brief moments is where 60-fps recording pays off with its increased resolution and crystal-clear image detail. Casino footage needs to be examined frame-by-frame at a resolution that provides exacting detail. Can My Infrastructure Handle 60-fps? Running multiple streams of 60-fps 24/7 will consume network resources and storage space at an exponential rate, which is difficult to justify for most organizations. For 60-fps recording to be practical, H.265 encoding and other compression techniques are necessary. With H.265, there is no requirement to upgrade a network infrastructure. H.265 does require a more capable workstation to decode, view and playback video, but most VMS systems utilize GPUs for decoding, so this is a non-issue for most installations. The best way to reduce network and storage bandwidth is to teach the camera not to run at its maximum frame rate when there is no motion. The frame rate can drop to 5- to 4-fps if there is no motion or other activity, but as soon as there is a visual or audible trigger, the camera can dynamically switch to its highest frame rate. Having analytics in-camera makes this simple to setup and should be part of a camera's profile. Performance Vs. Frame Rate A camera capable of 60-fps output is considered a high-performance camera. It might be more beneficial to put that performance to use enabling features other than pure 60-fps output. Cameras with the power to output 60-fps should also be able to process more data in parallel than regular cameras. This means that a 60-fps camera could also be used to send out multiple streams at lower frame rates. You might decide on a 30-fps stream to the recorder, with a 15-fps profile feeding a live view, and another 15-fps stream going to a cellphone app. In this way, a 60-fps camera can offer tremendous flexibility in how its power and processing are used. Shutter speeds are typically reduced at night to get more light onto a camera's sensor WDR (wide dynamic range) has the ability to combine multiple exposures into a single image to allow us to see in the shadows while not overexposing highlights. WDR can also halve your frame rate. A typical 30-fps sensor with WDR enabled has an effective frame rate of 15-fps for motion because of the duplicate frames being used for exposures. Starting with a 60-fps camera, customers can utilize WDR and still have an impressive 30-fps frame rate for an incredible quality image. Optimising Equipment For Low-light Usage Shutter speeds are typically reduced at night to get more light onto a camera's CMOS sensor. The sensitivity of the sensor and the lens f-stop will come into play, but in general, if you force the camera to run at 60-fps at night, it's going to produce a darker image than a 15-fps or 30-fps camera. A camera set at 15-fps may also produce more of a ghosting effect on fast moving objects. Ultimately, it's the customer's individual use case that should dictate what is most important between luminance and clarity for moving objects. A powerful 60-fps camera can deliver the best tradeoff between low-light performance and frame rate, giving end users the best possible solution available for their unique requirements. Many VMS solutions can tell cameras to switch profiles at certain times of the day to capture optimal images based on the environment and time of day. Again, 60-fps cameras can offer the most flexibility across all scenarios. It's important to remember that most cameras look good in daylight, and since 99% of installations happen in the daytime, always remember to tune cameras for nighttime use as well.
Experts sections