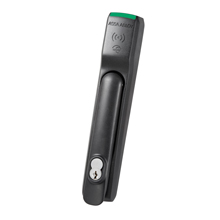 The KS100, with Aperio technology, extends access control to individual server cabinet doors
HES, an ASSA ABLOY Group company, is showing its KS100 Server Cabinet Lock at ISC West 2014. The KS100, with Aperio® technology, extends access control to individual server cabinet doors to protect data center assets from intrusion and expensive downtime. The KS100 leverages ASSA ABLOY's Aperio® technology, enabling mechanical locks to be wirelessly linked to a new or existing electronic access control system.
"HES is best known for its notable innovation in electric strikes, so not as many people are aware that we offers superior cabinet and server lock solutions as well," said Scott Baker, President of ASSA ABLOY EMS & OEM Group. "The KS100 is a highly specialized product that offers ultimate security for both extensive server farms and smaller server rooms, and it is truly exciting to branch out and fill this new market niche."
The HES KS100 integrates with existing access control systems and ID badges, extending access control from the server room entrance to individual server cabinets, while eliminating the need for keys or codes to remember. Local wireless communication, with the Aperio hub, adds additional monitoring and audit trail capabilities.
The slim design fits perfectly onto most standard server cabinet doors, enabling quick and easy installation without holes to drill or wires to pull. The KS100 operates using 48V PoE (Power over Ethernet) for low-power, data center-standard reliable power. There are currently two models available. The high frequency model supports multiple high-frequency credential technologies like HID® iCLASS SE™, NFC and mobile access with SEOS™ while the low frequency model supports widely used PROX credentials. The KS100 supports a robust and flexible SFIC high-security key override for manual unlock capability.
The KS100-640H is also available as a pre-configured lock and hub kit for non-certified Aperio customers.
Download PDF version
Download PDF version