IDIS Security Camera Mounts
(30)
Browse Security Camera Mounts
Security camera mount products updated recently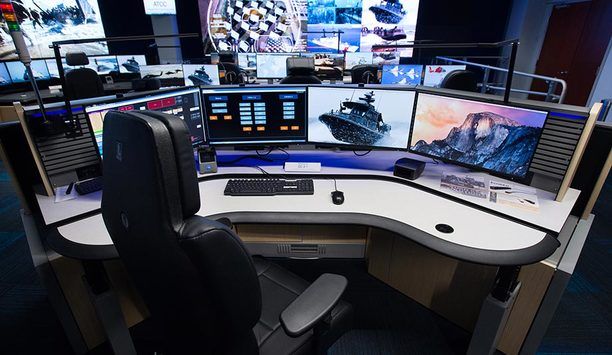 Ergonomic Standards Increase Control Room Productivity
Ergonomics are a critical, but often misunderstood aspect of designing control rooms for security. Ergonomics have a deep impact on the integrity of an operation, and the issue goes beyond the control room furniture. Matko Papic, Chief Technology Officer of Evans Consoles, divides ergonomics into three areas: physical (reach zones, touch points, monitors); cognitive (the individual's ability to process information without overlooking a critical element) and organizational (how the facility operates in various situations; e.g., is it adequately designed for an emergency event?). He says the Evans approach is to determine the precise placement required for each element an operator needs, and then to design and build console furniture to position it there. Basically, the idea is to tailor the control room to the operation. What tasks must an operator perform? Are they manageable or should they be divided up among several operators? Control room design should accommodate the need to collaborate, and be flexible enough to adapt to various situations. It all begins with understanding the information that needs to be processed, says Papic. Increased Productivity In The Workplace Because personnel are often stationed at a specific console, desk or workstation for long hours, physical problems and productivity issues can result, says Jim Coleman, National Sales Manager, AFC Industries. Ergonomically designed furniture and related products have been proven to increase productivity and alleviate physical stress in the workplace. Ergonomic furniture solutions are crafted for the ultimate in safety, adaptability, comfort and functionality. Coleman says AFC Industries can tailor furniture to specific needs and environment. For example, a height-adjustable workstation can be combined with adjustable monitor arm mounts to create a relaxed, comfortable environment. Furniture offers modern designs, comfortable ergonomics, and comprehensive features. Rugged materials withstand the 24/7 use of command control centers. Health Benefits Of Ergonomic Workstations A sedentary office environment is often an unhealthy one. "For people who sit most of the day, their risk of heart attack is about the same as smoking," says Martha Grogan, Cardiologist at the Mayo Clinic. Ongoing research and studies have shown that a change in posture (i.e., using ergonomic sit-to-stand workstations) is an effective means to combat these negative health issues. Using sit-to-stand workstations helps to eliminate musculoskeletal disorders caused by long-term sitting. They can also improve productivity and focus from the increased blood flow. Energy levels can rise and employees burn more calories. Control room design should accommodate the need to collaborate and be flexible enough to adapt to various situations "The ergonomic environment we create for control rooms involves considering every need of the staff at each workstation and their equipment, as well as workflow within the entire room," says Coleman. "From the proper setting of screen focal lengths to sound absorption and glare reduction, each requirement and phase of a control room design is a necessary process to ensure the protection and safety of people and property." Emergency Operations Center "The military has figured out that you are more alert when you are standing," says Randy Smith, President of Winsted, and the realization is guiding emergency operations center (EOC) design toward sit-stand. "As soon as there is an emergency, everybody stands up," Smith adds. Designing EOC environments also requires systems be integrated with annunciating signal lights to facilitate communication among operators. Winsted's sit-stand consoles can be combined with a motorized M-View monitor wall mount, enabling a 60-inch wall monitor to be raised and lowered to match the positioning of the sit-stand console. Larger, wall-mounted screens are easier to use for operators, since a larger monitor size can make it easier to read text on a screen, for example. Combining the larger monitor with sit-stand capabilities provides the best of both options. Many operators today stand for 50 percent of their day, says Smith. Ergonomic standards guide the design of Winsted's control room consoles, including ISO 11064 standards for the design of control centers. The furniture also is designed to accommodate industrial wire management (larger wire bundles), unlike furniture that might be bought in an office supply store. Read part 3 of our Control Rooms series here {##Poll37 - How well do you incorporate ergonomics into your control rooms?##}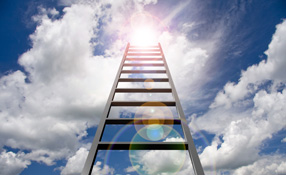 Improving Security System Installations With Acceptance Testing
Endless possibilities for security deployment have been made possible with technological advancements Significant technological advancements have created endless possibilities in how security is not only deployed, but also leveraged by the end user – the customer. For example, customers can now view surveillance at eight different offices in eight different states from a single, central location. A security director can manage an enterprise-wide access control system, including revoking or granting access control privileges, for 10,000 global employees from the company's headquarters in Chicago. However, with that increased level of system sophistication comes an added level of complexity. After successfully completing the installation of a security system, integrators are now expected to formally and contractually prove that the system works as outlined in the project specification document. Tom Feilen, Director of National Accounts for Koorsen Security Technology explains that this formal checks and balance process is gaining momentum in the security industry. The step-by-step process of Acceptance Testing is more commonly being written into bid specifications, especially for projects that require the expertise of an engineer and/or architect. Simply put, it is a way for the end user to make sure the system they paid for works properly and is delivered by the integrator as outlined in the project's request for proposal. While Acceptance Testing can be a time consuming process, it is a valuable industry tool. It is estimated that at least 95 percent of integrated security systems today have been brought through the Acceptance Testing process. Security systems have become more complicated in recent years. The introduction of IP-based, enterprise-wide and integrated solutions have all opened the door to more sophisticated access control and surveillance systems than ever thought possible. This process can vary depending upon the size of the project, but for a larger scale project, it is not uncommon for Acceptance Testing to take several weeks from start to finish. This timeline can be especially lengthy when the project involves hundreds of devices, such as access control readers, surveillance cameras, video recorders, intrusion sensors, and intercom systems. Most integrated security systems today have been brought through the Acceptance Testing process What is involved in the Acceptance Testing process? While the specific process can vary from integrator to integrator, many follow a similar process with their customer to ensure the system works accurately and that the customer has the proper certification documentation. The initial part of the process typically involves generating a report of each device installed as part of the system. This list enables the systems integrator to systematically test each device ensuring that individual devices are not specific points of failure for the overall system. For example, in a building equipped with a system that automatically releases the egress doors upon the fire alarm activation, it is important to make sure each door's electro-magnetic locking system is operating properly. The systems integrator would not only test that a door releases when the fire alarm sounds, but also to make sure the access control system is notified if the door is propped open or held open longer than in normal usage parameters. For a door that is also monitored by a surveillance camera, part of the testing would also involve making sure that an image being transmitted to a video monitor is coming from the correct surveillance camera and that the actual angle of the image is what the customer has requested and is correctly labeled as such. If a device does not function as it should, it is then added to a punch list that would require the systems integrator to repair that device within a certain period of time. Once repairs are made, the system integrator would then submit a letter to the client stating that every device has been tested and works properly. It is also important for the integrator that once the testing process is complete to obtain a customer sign off (Certificate of Acceptance) on all systems tested and documentation provided. This limits liability once the system is turned over. From a safety perspective, Acceptance Testing is also used to verify that T-bars and safety chains are installed on cameras that are mounted in drop ceilings. It can confirm that panels are mounted in a room that is properly heated and cooled to avoid major temperature swings. Also, as part of the Acceptance Testing checklist, it can insure that power supplies that drive all the security systems are properly rated with the recommended batteries for back-up. And, that emergency exist devices or card readers are not mounted more than 48-inches above ground. An Acceptance Testing process serves to protect the end user's investment After the project is complete, Acceptance Testing protects both parties involved against liability issues. One example is if the building has a fire and the functionality of the life safety system comes into question. Acceptance Testing can be used to prove that the system was able to function as specified and dispel any concerns about its performance. At that time, all close out sheets are turned in, along with as-built drawings and a manual providing a complete listing of each device and system installed. Today, these manuals not only come in paper form as part of a large binder, but also digital files saved to a disc. The benefit of providing the customer with a binder or documentation of the system is that should the end user/customer replace the person who manages security at the company, valuable information will not leave with that former employee. While this checklist to close out a project may appear trivial at first, it is an important part of the security project process. By implementing an Acceptance Testing program, it serves to protect the end user's investment, ensuring that the systems integrators hired for the project is knowledgeable and provides quality work. For the integrator, it helps towards the end goal of a satisfied customer.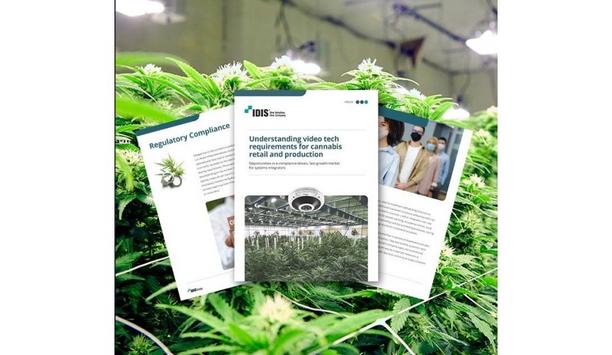 IDIS America's Cannabis EBook Helps Systems Integrators Succeed In The Fast-Growing Sector
IDIS America has published an educational eBook - Understanding Video Tech Requirements for Cannabis Retail and Production - following its success in the sector over the last two years. The eBook is part of the company's commitment to support its systems integrator partners secure new growth sectors. This free resource will help them understand the risk and threat profile, as well as the security requirements placed upon this fast-growing and highly compliance-driven market. According to a January 2021 Nasdaq report, "In a year that saw record-breaking volatility, cannabis stocks were standout performers. The rapidly growing marijuana industry is beginning to mature in North America, and investors are finally getting a glimpse of what the green rush is capable of. As we move into a new year, growth shows little signs of slowing. In 2021, the 10 fastest-growing marijuana stocks are expected to deliver sales growth ranging from 60% on the low end to as much as 176% on the high end." Varying security requirements The eBook outlines the security requirements that are being levied on cultivation sites, medicinal dispensaries, etc. New growth opportunities are especially ripe for systems integrators because a lack of regard to security measures can result in cannabis dispensaries and growers being slapped with penalties ranging from business shutdowns, revoked marijuana licenses, and criminal charges. The eBook outlines the varying security requirements that are being levied on cultivation sites, medicinal dispensaries, and retail outlets, helping make sense of some of the disparities from state to state. Cannabis operators are already faced with high set up costs, continued investment in research and development, as well as the need to educate the public and promote the benefits of marijuana-based products that are funded by significant sales and marketing budgets. Complex risk profile The eBook gives security professionals insight into how to recommend video technology that offers immediate upfront savings, technology that not only meets regulatory compliance but also helps operators realize an immediate return on investment by deterring and reducing crime and shrinkage at both cultivation sites and retail environments. Jason Burrows, Sales Director for Western U.S. who is leading sales in the sector at IDIS America, notes, "Cannabis operators are challenged by a complex risk profile and regulatory compliance while still competing with organized gangs offering cheaper illegal products. In addition, the current lack of federal regulation means that retailers are unable to take payments through card payments that use banking systems." High profile robberies "To give customers easy access to cash, most dispensaries have installed ATMs. But this also makes them a target for crime. And while high profile robberies make headlines and damage customer confidence, it's the insider threat that is most impacting the bottom line." To this point, it's estimated that 90% of financial loss is due to employees stealing cash, product, and sweethearting in stores. Couple this with the fact that part-time staff is often transient and underpaid, making theft of product from cultivation sites equally prevalent. Cybersecurity for medical dispensaries Recreational customers can include high profile officials and VIPs, meaning leaked footage puts them at risk" The eBook also highlights the importance of cybersecurity for medical dispensaries that need to meet the Health Insurance Portability and Accountability Act (HIPAA) requirements. Additionally, they need to ensure secure access, transmission, and storage of data to protect the privacy of all customers. "It's important to remember that in some states, and indeed many parts of the world, cannabis even for medicinal purposes isn't legal," Burrows adds. "Recreational customers can include high profile officials and VIPs, meaning leaked footage puts them at risk of public embarrassment, reputational damage, or even extortion should criminals gain access to video data." Intelligent video analytics Understanding the threats outlined in the IDIS eBook makes it easier for system integrators to build compelling business cases based on risk profiles across single and multiple sites. Attractive security options including video surveillance will be those that are affordable with the ability to scale up as operators add new cultivation sites or dispensaries without exponentially increasing licensing fees. They will also want to make futureproof investments providing the flexibility to add value through point of sale (PoS) integration, inventory and stock control functionality, and intelligent video analytics (IVA). Cannabis dispensaries, like most stores, will increasingly need insight into customer behavior that will enable them to turn browsing into purchasing. Automated audio warnings They can be configured to notify staff to social distancing, and non-mask wearing violations This will be especially important as they expand product ranges and compete with more e-commerce vendors that have sprung up during the coronavirus pandemic. The COVID-19 pandemic has also seen sales of recreational cannabis soar. This has challenged dispensaries to meet with local compliance, including adherence with occupancy and density limits and enforcement of face coverings. This provides systems integrators with an immediate opportunity to present dispensaries with cost-effective AI solutions that can automate tasks such as counting customers in and out with a simple traffic light system. They can also be configured to notify staff to social distancing, bottlenecks, and non-mask wearing violations using push notifications and automated audio warnings to avoid putting frontline staff at risk. Improve staff utilization Real-time dashboards can support staff to adapt operations on the ground, while comprehensive reporting helps dispensary managers not only meet compliance but also understand people flow, the cause of pinch points, and improve staff utilization and store layouts to prevent the spread of infection without impacting the customer experience.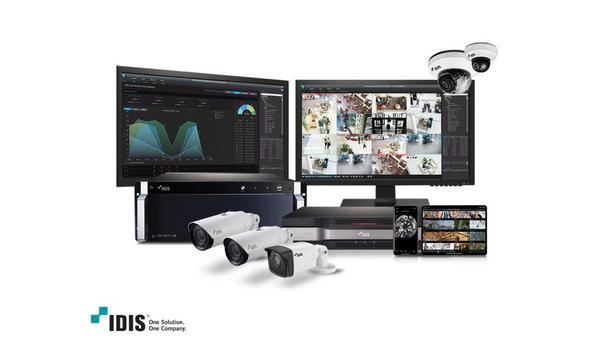 IDIS To Exhibit End-To-End Video Security Solutions And Surveillance Technologies At Security Canada 2020 Virtual Trade Show
IDIS, a global security company that designs, develops, manufactures, and delivers surveillance solutions for a wide range of commercial and public sector markets, is proud to be sponsoring and participating in Canadian Security Association's Security Canada Virtual Trade Show, slated to be held on December 2nd and 3rd, 2020. Security Canada 2020 Visitors to the Security Canada virtual trade show can learn how IDIS's flagship plug-and-play DirectIP solution offering can significantly benefit both end users and systems integrators. DirectIP encompasses a comprehensive line up of powerful network video recorders (NVRs), network cameras, software, monitors, and accessories that seamlessly connect. It packs a strong punch of everything needed to build a complete video surveillance solution. IDIS DirectIP solution IDIS DirectIP solution delivers rich functionality while eliminating complex and time consuming configuration IDIS DirectIP solution delivers rich functionality while eliminating complex and time consuming configuration. Users love that its network throughput delivers high-definition simultaneous recording and real-time monitoring with no visible latency and that cameras and recorders come with the assurance of industry-renowned warranties. From the security integrator's perspective, the DirectIP solution makes installation a snap by mutually authenticating devices, thereby ensuring that engineers don't need to manage passwords, use port forwarding, or have a deep knowledge of IP networking, even for multi-site deployments. In turn, this eliminates the potential for cyber loopholes and combined with dealing with a single vendor for sales and tech support, also ensures a low cost of service. IDIS Center VMS and ISS solutions Attendees to the Security Canada virtual event will be able to see first-hand how IDIS's totally cost and license free IDIS Center VMS (Video Management Software) allows customers to implement surveillance solutions that encompasses up to 1024 devices, so as to enable a centralized management and control environment for customers with multiple sites, at a considerably lower cost than a server-based system. For larger organizations, IDIS Solution Suite (ISS) delivers enterprise-level VMS functionality without the associated price tag. This allows users to choose the powerful modules and functionality they need with a choice of federation service, IDIS Critical Failover which protects against a range of fault conditions, video wall services, and much more. ISS also gives customers the flexibility to add an unlimited number of sites at no additional cost. AI Box for COVID solution IDIS will also unveil its AI Box for COVID at Security Canada 2020 virtual trade show IDIS will also unveil its AI Box for COVID at Security Canada 2020 virtual trade show. This simple add on appliance includes functions that help adherence to government guideless and hygiene best practices to support reopening, and safe return to work strategies to help prevent the spread of infection. The new IDIS Mobile Plus app will also be showcased, which is supporting users to remotely monitor single and multiple sites by putting powerful VMS functionality at their fingertips. With the ability to view 4K and multiple streams and configure alarms and notifications, it's enabling the management of day-to-day operations and the ability to respond to incidents and events on the move. IDIS dome and bullet cameras IDIS will also present an end-to-end solutions specific to retail that includes high-performance 5 MP dome and bullet cameras, a compact 5 MP fisheye camera, and the anti-IR reflection 2 MP micro dome camera, which are all popular choices for indoor and outdoor video surveillance and coverage in all lighting conditions. At the Security Canada virtual event, attendees representing the logistics and warehousing sector will learn how IDIS solutions are helping improve operations by tracking goods in and out, mitigating internal shrinkage, and ensuring health and safety compliance with its high performance 12 MP IR Super Fisheye cameras that can cost-effectively replace 3-4 fixed lens cameras.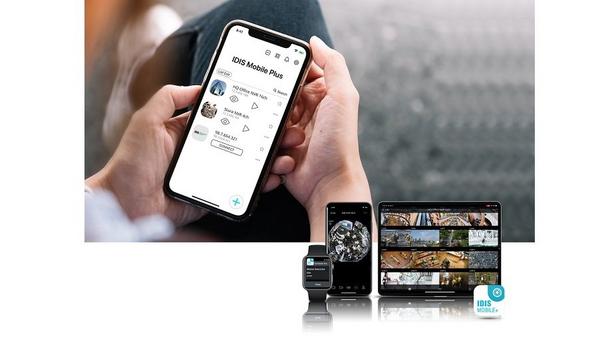 IDIS Mobile Plus App Launched In Integration With IDIS Solution Suite VMS
Video surveillance users can adapt to the challenges of working more flexibly between home, office, stores, and the control room with the newly released IDIS Mobile Plus app. Mobile Plus integrates the company's popular IDIS Mobile app with its network and digital recorders, network cameras, and IDIS Solution Suite VMS. It delivers improved and more powerful functionality - anytime and anywhere – and gives users remote situational awareness of single and multiple sites. The app enables up to 4K live streaming on remote mobile devices, with high image quality in H.264/MJPEG and H.265 formats. Recorded footage can be played back in the same high definition that operators and managers use in from their control rooms or client software. Investigate incidents or suspicious behavior The IDIS Mobile Plus app can be configured to receive push alarms based on event and time lapse queries Users can choose from a range of viewing options - including portrait or landscape, dark mode, simultaneous 1/4/9/16 split screens, and a four-channel synchronized 2 x 2 split screen mode - to quickly receive multiple camera events. The IDIS Mobile Plus app can be configured to receive push alarms based on event and time lapse queries, and gives users the ability to use two-way audio, QR codes for fast device registration, and image capture while on the move. Security, safety, and loss prevention personnel can also remotely respond to and investigate incidents or suspicious behavior using notifications generated by alarm-in, motion detection, trip zones, video loss, and text-in functions. The new app also incorporates the benefits of IDIS's Smart UX Controls, with: full pan, tilt, and zoom control of DirectIP® and DirectCX® cameras; calendar search, playback, and bookmark functions; simple drag and drop to change the size and position of the video; and pinch zoom for PTZs and fisheye dewarping. Manage surveillance operations remotely "The pandemic has forced many organizations to adapt quickly to changing work patterns, and move from fully to partially operational facilities. It's now more important than ever for security and safety personnel to be able to manage their surveillance operations remotely, flexibly and on the move," says Andrew Myung, President, IDIS America. "The new Mobile Plus app provides much needed help by putting the vital tools and functions of IDIS Solution Suite VMS directly into the hands of customers, wherever they are and whenever they need them." The IDIS Mobile Plus app also supports dual stream options for playback, which means users can choose between lower mobile data consumption and higher image quality of up to 4K, depending on mobile bandwidth availability. iPad users can now also benefit from slide over and split view functionality. Language options include English, Russian, Japanese, and Korean and Mobile Plus supports Apple iOS from version 11.0 and Android 5.0 Lollipop (API 21) onward.