Corbin Russwin Electronic Locks
(7)
Electronic lock system products updated recently


Why DIY Does Not Spell Doom For Professional Security Installers
There's no question that the popularity of Do-It-Yourself (DIY) security and home automation products is on the rise. The reasons for the growth in DIY sales are numerous, including increased awareness of home automation products, fast set-up, limited (if any) installation costs, and interoperability with other smart security products. In fact, with the parallel rise of smart home hubs like Alexa and Google Home, many people are opting to attempt the set-up of smart home devices without any professional assistance. According to a 2018 Residential Security Market Report prepared by Parks Associates and Security Sales & Integration magazine, "More than 60% of installing dealers now report that DIY systems are biting into demand for their services." But the rise in DIY is not entirely bad news for security and home automation installers and dealers. There are a number of ways to view this glass as half-full. Let's look at a few of them. Increase In Revenue For Dealers With their lower cost and perceived ease of installation, DIY products have broken down barriers for additional purchaseThere are reasons for dealers and installers to be cheerful about the rise of DIY. For one thing, according to that same Residential Security Market Report from Parks Associates, residential security dealers are doing quite well. The report states, "In 2017, revenues were up an average 7.72% for security dealers." What about installations? The report goes on to say, "For 2017, the average number of installs per dealer was 22 per month, compared to 17 per month in 2016." So, revenues are up for security dealers, and at least part of the reason can be attributed to the fact that DIY products can raise overall awareness of and spur interest in other home automation and security products. With their lower cost and perceived ease of installation, DIY products have actually broken down barriers for the additional purchase, and installation, of complete, professionally installed systems. Wireless, Connected Smart Locks For example, the sale of wireless, connected smart locks (viewed by some consumers as DIY) can lead to opportunities for further home automation product sales and professional installations. Connected smart locks can actually act as an extension of a smart hub or controller. They can be used to wirelessly communicate with and control all the devices that make up a home automation system, including lighting, entertainment, thermostats, air, alarms, shades and more. With their lower cost and perceived ease of installation, DIY products have actually broken down barriers for new security installations And they can do all this from a prime, convenient location – the front door, as well as other points of entry like the side or back doors. Plus, smart lock conversion kits like Kwikset Convert let homeowners easily bring home automation capabilities to their door without altering the aesthetics of the entry. Connected smart locks can allow homeowners to set up their home with custom scenarios, right before they step inside. For example, residents can program their lock so that every time they unlock the door, a foyer light goes on, temperatures begin to rise to a set level – even connected coffee makers can begin to make a cup. Portfolio Of Home Automation Products One of the best ways to mitigate the 'threat' of DIY sales is for dealers and installers to become more versatileSmart locks are just one example of the potential of DIY products to spark a homeowner's interest in a wide range of other home automation devices, many of which would benefit from professional installation. One of the best ways to mitigate the 'threat' of DIY sales is for dealers and installers to become more versatile and offer a complete portfolio of home automation products. The larger the home automation offering, the more devices there are to sell and install, the larger the installation required, the greater the need for professional installation. Many homeowners who feel like they have a certain level of handiness will start by trying to do it themselves with a DIY product. But things don't always go as planned, especially if they are attempting to set up a robust home automation system. First off, just because a product is DIY doesn't mean that the old products that are being replaced are going to easily make way for the new. A DIY thermostat or smart lock might require that the old equipment (and possibly wires) get tugged out of the wall. Messy holes might need to be filled. Advantages Of Professional Installation Even after the old system has been removed, homeowners planning on setting up a connected system may soon realize they don't have the electrical skills or technological know-how to install and connect all devices, get a system programmed correctly, and get everything up and running smoothly. Professional installers have learned from experience; there's very little that they haven't seen before. With their years of experience, installers know the best way to automate a home and how to create a custom smart home experience Do-it-yourselfers might be able to solve problems by searching the internet and finding videos. But, then again, they might not. After going the DIY route once, many full-home automation system enthusiasts are beginning to realize that the best way to get things done right the first time is to leave the installation and set-up to a professional. Professional installers can and should bring an extra level of experience and guidance to the process. Their services should go beyond tech installation and also include interface design. With their years of experience, installers know the best way to automate a home – how to create a custom smart home experience that doesn't make the user feel less than smart. Selling Additional Home Automation Products If a problem arises due to installation error, the DIYer does not have any recourse to correct these mistakesResidential security dealers who offer professional installation should be willing to embrace the DIYer who has attempted to do a self-install but has not been able to complete the process successfully. With an open mind to this scenario, they can save the day for the DIYer, as well as create an opportunity to sell additional home automation equipment that the DIYer may not have known to be available. The disparity between DIY and professional installation also brings to light the fact that there are no 'satisfaction guarantees' and no 'installation/labor warranty' available when a home automation system is installed by a DIYer. If a problem arises with either the equipment connectivity due to installation error, or if a piece of equipment is installed incorrectly, the DIYer does not have any recourse to correct these mistakes. This may not be as critical if a DIYer installs a minor piece of equipment, but with something as critical as securing and protecting their home with a home automation and security system, most people want full peace of mind that everything has been installed correctly. Reduces Connection Instability According to a 2017 study by the analyst firm, IHS Markit, "The quality of the equipment is usually higher in professionally installed systems, and professional configuration and setup greatly reduces the potential for connection instability…" This is an issue that DIYers may come to realize over time. On the other hand, one issue DIYers may recognize right away, especially if they are attempting to connect multiple devices, is that the connectivity may be inconsistent. Professionally installed devices operating on a wireless protocol might deliver better, consistent, longer-range connectivity IHS Markit explains that, "DIY systems rely on open protocols and Wi-Fi connectivity that can sometimes be unreliable, creating connection issues. Some of the sensors can become unrecognizable to the system, requiring intervention from the user. In contrast, professional wireless systems rely on UL- or EN-certified equipment to operate on the basis of proprietary frequency, enabling them to work with the control panel much more seamlessly." In other words, professionally installed devices operating on a wireless protocol, even an open-source protocol like Z-Wave, might deliver better, consistent, longer-range connectivity, and fewer headaches. Not Everyone Is A DIY Customer There are customers who want someone to install the devices correctly and help them learn how to use and maintain themThere's no doubt that there's a segment of the security and home automation market that loves to spend their free time doing their own home improvement. They are watching videos, reading how-to books and manuals, and enjoying every minute. There's also a segment of the market whose top goal is to save money up front. For these customers, there's no getting around the joy of saving money with the lower cost of many DIY products. But there are also a great number of prospective customers out there for whom DIY is of absolutely no interest. These consumers do not want to be their own IT department. They want expert help: they want someone to install the devices correctly and help them learn how to use and maintain them. The IHS Markit study points out what many home automation dealers already know: that the elder and aging-in-place markets are an ideal destination for the security and convenience of home automation products. The study says, "Many senior citizens are not tech savvy enough to install a DIY system by themselves, so they tend to rely on professionally installed systems that are usually maintained by a family member." Along with the senior citizens market, there are many other market segments out there that still desire worry-free professional installation. Installers should offer a range of products that includes some DIY products, and some leave-it-to-a-pro products Producing Complete And Custom Solutions Perhaps the best way for dealers and installers to stave off that feeling of doom that they might have about DIY is to tackle the problem head on and be creative. Offer a range of products that includes some DIY products, and some leave-it-to-a-pro products – consider the DIY product a great entry point for a more comprehensive system. Play up the peace of mind that comes with professional installations and support that pitch with flexible monitoring contracts and service plans. Share what you do and why; relay your passion for producing complete and custom solutions and communicate how you add value to any and every sale. No one, not even the most tech-savvy consumer, wants to install their own products if the end result is that the product doesn't work the way it should. That's where the pros can, should and will always come into play.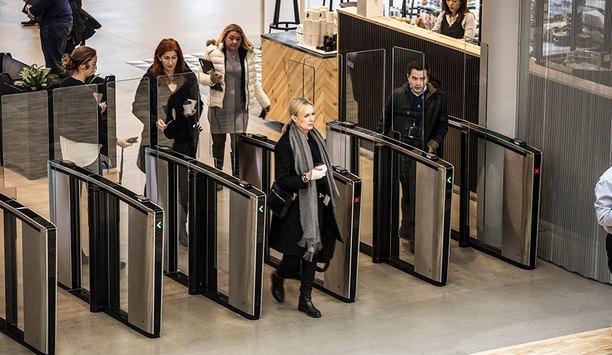 Choosing Your Security Entrance Installation In Line With Your Company Culture
The extensive analysis and discussion preceding any decision to implement a new physical security solution – whether it's hardware, software or a combination of both – often focuses on technology, ROI and effectiveness. When it comes to deciding what type of security entrances to install at your facility, you will almost certainly also consider the aesthetics of the product, along with throughput and, if you're smart, you'll also look into service concerns. Each of these factors has its important place within the evaluation process, and none should be overlooked as they all have a significant effect on how well your entrances will perform once they are installed. Culture Influences Door Solution Decisions How significant will the change from current entrances to security entrances be for employees? Still, one additional factor actually trumps everything: if you have not considered your organization's culture in choosing a security entrance, you may be missing the most important piece of the puzzle. Culture is a part of every other decision factor when selecting an entry solution. Before you make a decision about what type of entrance to deploy, you need to consider and understand the values, environment and personality of your organization and personnel. For example, how significant will the change from current entrances to security entrances be for employees? If people are accustomed to simply walking through a standard swinging door with no access control, this will be a culture change. Beyond this, whether you are considering a type of turnstile, a security revolving door or possibly a mantrap portal, simply walking through it will be a significant change as well. Training Employees On Door Security You'll want to know whether employees have ever used security entrances before. If these types of entrances are in place in another part of the facility, or in a facility they've worked in at an earlier time, the adjustment will not be as great as if they've never used them at all. Consider, too, how your personnel typically react to changes like this in the organization or at your facility. They may be quite adaptable, in which case there will be less work to do in advance to prepare them. However, the opposite may also be true, which will require you to take meaningful steps in order to achieve buy-in and train employees to properly use the new entrances. With the increased importance of workplace security, discussing new entrances with workforces will help maintain a safer environment Communicate Through The Decision-Making Process All of this will need to be communicated to your staff, of course. There are a number of ways to disseminate information without it appearing to come down as a dictate. Your personnel are a community, so news about changes should be shared rather than simply decreed. As part of this process, you'll need to give some thought to the level of involvement you want for your staff in the decision-making process. Finally, do not overlook the special needs among your personnel population. You undoubtedly have older individuals on staff, as well as disabled persons and others who bring service animals to the office. Entrances need to be accessible to all, and you never want to be in the position of having a gap in accessibility pointed out to you by the individual who has been adversely affected. New Security Entrance Installation By communicating early and often with your personnel, you can alleviate a great deal of the anxiety Once you have made the decision about which security entrances to install, training your personnel on how to use the new security entrances – both before and after the installation – will help to smooth the transition. Because workplace security is such a big issue right now, it makes sense to discuss the new entrances in the context of helping to maintain a safer environment. They will prevent violent individuals from entering, decrease theft, and most of all, promote greater peace of mind during the workday. If you can help them take control of their own safety in a responsible way, you have achieved much more than just a compliant workforce. By communicating early and often with your personnel, you can alleviate a great deal of the anxiety and concern that surrounds a significant change in the work environment. Schedule Group Meetings Consider your employees; what type of communications do they respond best to? A few suggestions to educate staff on the benefits of the new entrances include: Typically, you would communicate a general message 2-3 months in advance and then provide more specific information (for example, impacts to fire egress, using certain entrances during construction) in a follow up message closer to the installation date. Schedule group meetings to: announce the rationale for increased security, share statistics on crime, review the new security changes that are coming, show drawings/photos of the new doors/turnstiles, and show the orientation videos available from the manufacturer. These meetings are an excellent way to work through user questions and directly address any concerns. Once the installation of a new security system is complete, it is a good idea to have an "ambassador" on board to help employees use these new systems Ensure You Monitor Public Areas If you are implementing a lot of new changes, such as a new access control system, new guard service and security entrances, you might consider hosting a 'security fair' on a given day and have the selected vendors come for a day with tabletop displays to meet employees and answer questions during their lunch. This could be a great way to break the ice in a large organization. Make user orientation videos (provided by the manufacturer) available in several ways, for example: Intranet Site Monitors in public areas—lounges, cafeteria, hallways, etc. Send to all staff as email attachments Immediately after installation, once the doors or turnstiles are operational but before they are put into service, train 'ambassadors' on how to use the door/turnstile. Have these people monitor and assist employees during peak traffic times. What Is The Ultimate Success Of The Installation? By communicating clearly and openly with your population you can greatly facilitate adoption and satisfaction If you have thousands of employees, consider dividing them into groups and introduce the new entrance to one group at a time (Group A on Monday, Group B on Tuesday, etc.) to allow a little extra orientation time. Place user education 'quick steps' posters next to the door/turnstiles for a few weeks to help employees remember the basic steps and guidelines, e.g., 'stand in front of the turnstile, swipe badge, wait for green light, proceed.' Ask your manufacturer to provide these or artwork. While there are always going to be people who are resistant to change, by communicating clearly and openly with your population you can greatly facilitate adoption and satisfaction. Your responsiveness to any issues and complaints that arise during and after the implementation is equally fundamental to the ultimate success of the installation.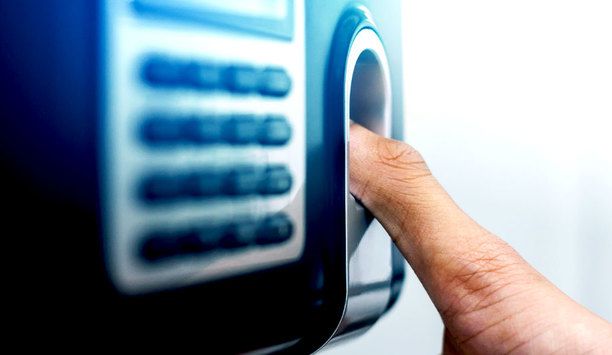 Debunking The Myths Of The Security Of Access Control Systems
It's not surprising that people are nervous about the security of newer technologies, many of which are part of the Internet of Things (IoT). While they offer greater efficiency and connectivity, some people still hesitate. After all, there seems to be a constant stream of news stories about multinational corporations being breached or hackers taking control of smart home devices. Both of these scenarios can feel personal. No one likes the idea of their data falling into criminal hands. And we especially don't like the thought that someone can, even virtually, come into our private spaces. The reality, though, is that, when you choose the right technology and undertake the proper procedures, IoT devices are incredibly secure. That said, one of the spaces where we see continued confusion is around access control systems (ACS) that are deployed over networks, particularly in relation to mobile access, smartcards, and electronic locks. These technologies are often perceived as being less secure and therefore more vulnerable to attacks than older ACS systems or devices. In the interest of clearing up any confusion, it is important to provide good, reliable information. With this in mind, there are some myths out there about the security of ACS that need to be debunked. The fact that these devices communicate with an ACS via Bluetooth or Near Field Communication (NFC) leads to one of the main myths we encounter Myth #1: Mobile Credentials Are Not Secure The first myth we have to look at exists around mobile credentials. Mobile credentials allow cardholders to access secured doors and areas with their mobile devices. The fact that these devices communicate with an ACS via Bluetooth or Near Field Communication (NFC) leads to one of the main myths we encounter about the security of credentialed information. There is a persistent belief that Bluetooth is not secure. In particular, people seem to be concerned that using mobile credentials makes your organization more vulnerable to skimming attacks. While focusing on the medium of communication is an important consideration when an organization deploys a mobile credentialing system, the concerns about Bluetooth miss the mark. Bluetooth and NFC are simply channels over which information is transmitted. Believing that Bluetooth is not secure would be the same as suggesting that the internet is not secure. In both cases, the security of your communication depends on the technology, protocols, and safeguards we all have in place. So, instead of wondering about Bluetooth or NFC, users should be focused on the security of the devices themselves. Before deploying mobile credentials, ask your vendor (1) how the credential is generated, stored, and secured on the device, (2) how the device communicates with the reader, and (3) how the reader securely accesses the credential information. When you deploy smartcard technology as part of your ACS, you should choose the latest generation, such as MiFARE DesFIRE EV1 or EV2 and HID iCLASS SEOS Myth #2: All Smartcards Are Equally Secure The question "how secure are my smartcards?" is a serious one. And the answer can depend on the generation of the cards themselves. For example, while older smartcards like MiFARE CLASSIC and HID iCLASS Classic offer better encryption than proxy cards and magstripe credentials, they have been compromised. Using these older technologies can make your organization vulnerable. As a result, when you deploy smartcard technology as part of your ACS, you should choose the latest generation, such as MiFARE DesFIRE EV1 or EV2 and HID iCLASS SEOS. In this way, you will be protecting your system as well as your buildings or facilities. Some traditional readers and controllers can also pose a serious risk to your organization if they use the Wiegand protocol, which offers no security. While you can upgrade to a more secure protocol like OSDP version 2, electronic locks are a very secure alternative worth considering. It is also important to understand that not all smartcard readers are compatible with all smartcard types. When they are not compatible, the built-in security designed to keep your system safe will not match up and you will essentially forego security as your smartcard-reader will not read the credentials at all. Instead, it will simply read the non-secure portion—the Card Serial Number (CSN) —of the smartcard that is accessible to everyone. While some manufacturers suggest that this is an advantage because their readers can work with any smartcard, the truth is that they are not reading from the secure part of the card, which can put your system and premises at risk. Using electronic locks can help protect facilities and networks through various security protocols, including encryption and authentication Myth #3: Electronic Locks Are More Vulnerable These days, there are still many who believe that electronic locks, especially wireless locks, are more vulnerable to cybercriminal activity as compared to traditional readers and controllers. The concern here is that electronic locks can allow cybercriminals to both access your network to get data and intercept commands from the gateway or nodes over the air that would allow them access to your buildings or facilities. The reality is that using electronic locks can help protect facilities and networks through various security protocols, including encryption and authentication. Additionally, because many of these locks remain operational regardless of network status, they provide real-time door monitoring. This means that many electronic locks not only prevent unauthorized access but also keep operators informed about their status at all times, even if a network goes down. Outdated technology and old analogue systems are more vulnerable to attacks When it comes to deploying electronic locks, it is important to remember that, like any device on your network, they must have built-in security features that will allow you to keep your information, people, and facilities safe. Be Prepared To Unlock Future Benefits Ultimately, the information in your IP-based ACS is at no greater risk than any other information being transmitted over the network. We just have to be smart about how we connect, transmit, and store our data. In the end, maintaining the status quo and refusing to move away from old technology is not a viable option. Outdated technology and old analogue systems are more vulnerable to attacks. The reason it is so important to debunk myths around ACS and, at the same time, get people thinking about network security in the right way is that network-based systems can offer an ever-increasing number of benefits. When we deploy new technology using industry best practices and purchase devices from trusted vendors, we put ourselves and our networks in the best possible position to take full advantage of all that our increasingly connected world has to offer.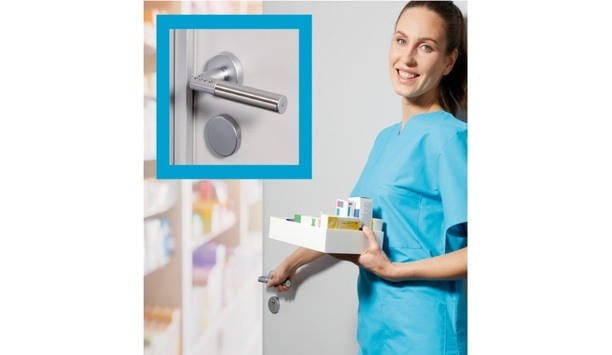 ASSA ABLOY's Code Handle Electronic PIN Lock, The Right Choice For Health Premises
In any busy medical facility — surgeries, dental practices or physiotherapy suites — it's all too easy to accidentally leave a door unlocked. With expensive equipment or controlled drugs on the other side, any opening invites an opportunist. But if a customer installs a Code Handle electronic PIN lock, they need never worry again. The secure, easy-to-fit Code Handle fits right over an existing locking cylinder. The user can simply swap the door handle for a sleek, low-profile Code Handle, and fix it in place with two screws, to instantly add PIN security to any consultation room, medicine store or equipment cupboard. With Code Handle, there is no wiring and no expensive access control to fit. Two standard batteries (CR2) slot inside the handle, typically lasting 30,000 lock/unlock cycles before replacement. The Code Handle comes with a master code and 9 different user PINs — it's that simple to free staff from the inconvenience of carrying or keeping track of mechanical keys. PINs are easy to set and change whenever an office manager decides. Staff won't need any specialist or outside help to manage your Code Handle doors. Extra level of security The Code Handle integrated PIN keypad is equally easy for users. Anyone authorized enters their 4-digit code on the handle to unlock the door. Doctors, nurses and other professionals, as well as admin staff, practice managers, security guards and cleaning teams, come and go with their own PINs. For added security and peace of mind, a Code Handle locks itself when the door closes. Now a user can be sure nobody has seen the confidential patient file on their desk or entered the drug cupboard without permission. Code Handle rooms In any healthcare facility, not all staff should have access to every room. People don't want just anyone walking in on their consultation. Doctors and patients expect privacy. With Code Handle rooms remain confidential. Where would the controlled drugs or hazardous waste bins be kept? Fit a Code Handle so as to no longer need to track a physical key or get the lock changed when it goes missing. And many treatment and examination rooms house expensive or dangerous equipment, including X-ray machines, dental tools and specialist physiotherapy kit. With Code Handle, all this gets the extra level of security it deserves — without the expense of fitting access control.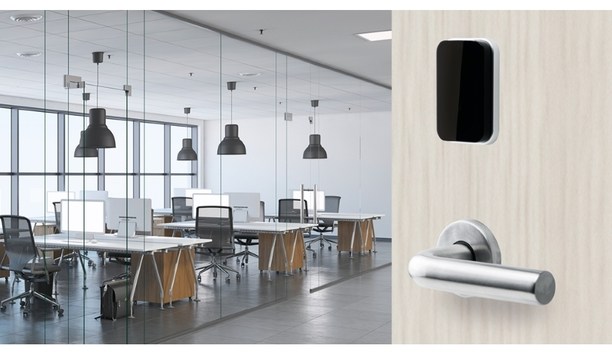 ASSA ABLOY's SMARTair Lock Combines Advanced Electronic Access Control With Electromechanical Mortise Lock
Now the customer can combine the advanced access control of a wireless electronic escutcheon with the intelligence and superior security of an electromechanical mortise lock. With a robust design, the new SMARTair Lock is built to secure doors where high daily traffic and a large number of access events are all in a day's work. This new wireless device in the SMARTair product range is built around three main elements. The external reader with multi-color LED is available in several different finishes to blend with the existing doors. The lock's internal control and battery-powered RF module also houses a button for electronic privacy. Finally, a battery-powered electromechanical clutch unlocks the door when a valid credential is presented to the external electronic reader. The new SMARTair Lock works with any DIN-compliant door handle — the users can choose their own. Streamlined security management The new SMARTair Lock can be installed quickly and wirelessly without disrupting your working day Users can also choose to install an additional mechanical cylinder, enabling them to unlock the door quickly and manually in any emergency. The lock incorporates admin-friendly features for streamlined security management. Sensors monitor and report when a door is left open or closed incorrectly, or when an attempted intrusion is detected. A SMARTair Lock also registers any unlocking events made via mechanical key. The new wireless lock works with any SMARTair management option, including offline, update-on-card and real-time, online system management. Its RFID reader accepts all common RFID credentials, including MIFARE®, iCLASS® and DESFire. The lock also works with the future-proofed Openow cellphone solution from SMARTair, and the SMARTair Remote app. Simple and efficient The new SMARTair Lock can be installed quickly and wirelessly without disrupting the user's working day and make access in schools, hospitals and any other high-traffic location safer, simpler and more efficient — reducing wasted time and expense while ensuring that the premises are more secure.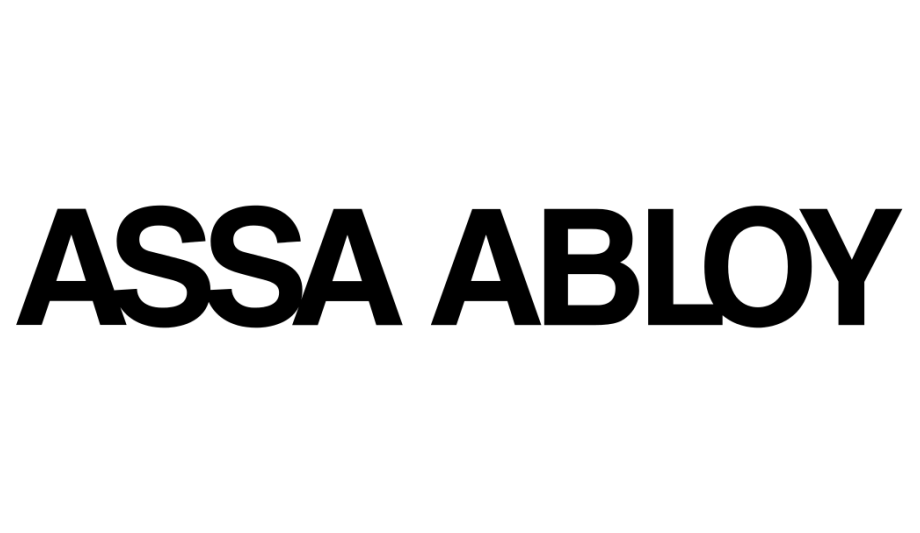 ASSA ABLOY Unveils Mortise Lock Status Indicators With Enhanced Viewing Capabilities For Better Security And Privacy
ASSA ABLOY Group brands Corbin Russwin and SARGENT released a new status indicator for, respectively, the ML2000 Series and 8200 Series mortise locks. Featuring the largest viewing window available on the market, a reflective coating for improved clarity in low light conditions and a patent-pending curved design, these mortise lock status indicators combine emergency preparedness and enhanced privacy to meet the needs of any type of facility. "Schools, offices and all types of commercial spaces need to prioritize safety and create inclusive environments," says Bill Grambo, President, Access and Egress Hardware Group, ASSA ABLOY. "Our mortise lock status indicators make it easier to see if a door is locked from a distance and at almost any angle, thereby avoiding awkward disturbances or interruptions and enabling a more secure and private experience in a given space." Improving security through efficient design With its viewing window 25% larger than other indicators on the market and a reflective coating, it's easier to see the lock status on these indicators, even in low-light conditions. Because of the curved design, it's also possible to view the lock status from any angle. Available in both sectional and escutcheon trim, these mortise lock status indicators help users secure an opening and determine more quickly when that opening is locked. Quickly seeing that a room is occupied can avoid awkward moments in restrooms in public facilities ASSA ABLOY's mortise lock status indicator also offers the option to include engraving on the lock escutcheon or sectional plate to visually confirm the direction to turn the key or thumbturn to lock or unlock the door. By clearly displaying the status of an opening, ASSA ABLOY's latest mortise lock status indicators prevent interruptions when a person attempts to open a locked door. Quickly seeing that a room is occupied can avoid awkward moments in restrooms in public facilities. Enhanced safety and privacy These indicators can also prevent classroom interruptions, maintain a secure and quiet environment in rooms for nursing mothers, and keep a space distraction-free for office meetings or employee meditation. The result is an inclusive environment where end users can focus and enjoy a more peaceful experience. Upgrading to the latest mortise lock status indicators is quick and easy. For facilities with existing ML2000 or 8200 series mortise locks, an upgrade kit is available with either escutcheon or sectional trim to secure to the lock body. The upgrade kit uses the existing door preparation and leaves no holes. Security and individual privacy are increasingly important in all manner of spaces, and ASSA ABLOY's latest mortise lock status indicators provide both of these experiences. The ease of installation facilitates safety and comfort in facilities ranging from education to healthcare to commercial buildings, and the industry-leading features signal what's next in the evolution of inclusive spaces.
Featured white papers
A Blind Spot In Governance, Risk And Compliance
Download
H.265 High Efficiency Coding: Video Compression For Security Applications
Download
How To Overcome The Storage Challenges Of Adopting Surveillance AI
Download