Genetec Access Control Softwares
(4)
Browse Access Control Softwares
Access control software products updated recently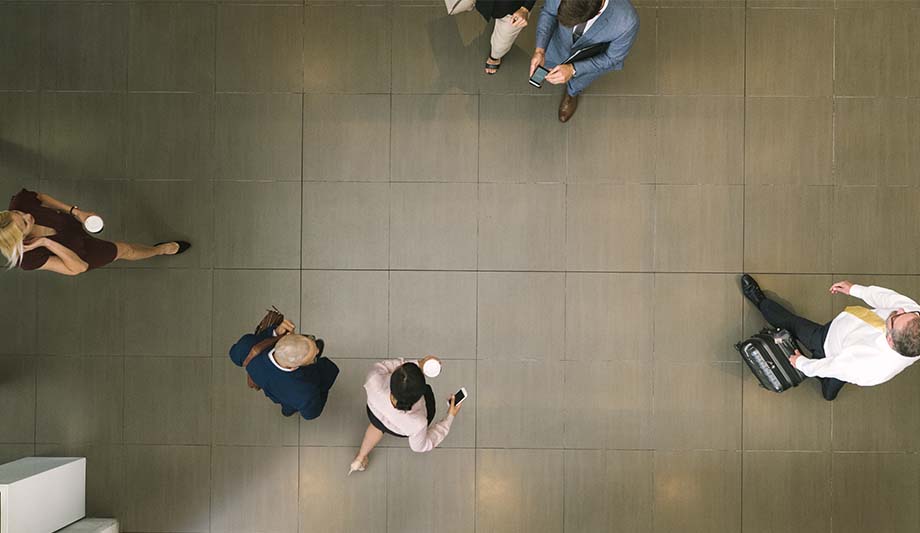 4 Ways To Keep Your Workplace Protected From COVID-19
The unprecedented global impact of COVID-19 has taken its toll on all of us, but as cases of the virus thankfully recede, employers are now forced to confront how they can enable a safe return to work for employees. For many employers, this means they will have to carry out a COVID-19 risk assessment, redesign workspaces to maintain social distances, carry out more frequent cleaning, manage the transmission risk and find alternatives to touch-based security devices. Protecting workplace occupants in any emergency requires preparation and clear communication. This is especially critical in a health crisis involving an infectious disease. These are some of the essential best practices that could help organizations reduce the impact on their employees and operations during this pandemic. 1. Use a visitor management system With a visitor management system, organizations have a single source of real-time and historical insights into who is, or was recently, in the workplace. This is especially important because of the need to perform contact tracing should anyone in the organization show symptoms of COVID-19, meaning everyone they have been in contact with needs to be contacted and asked to isolate. Yet still, first impressions are made at the front desk or lobby, where the visitor experience needs to be a positive one. At the same time, though, any emergency event requires that there be strict control over who is entering the workplace. This policy also needs to be clearly communicated to visitors. Doing this minimizes risk to visitors as well as the workforce. In addition to delivering a high-quality visitor experience, the ideal visitor management system must: Enable organizations to meet regulatory compliance mandates and facilitate check-in at a self-service kiosk to minimize wait times. Customize the visitor experience to support specific security needs, such as accelerating and simplifying check-in or requiring additional security pre-checks. Automate compliance as it relates to visitor access rules with historical visit reports. 2. Pre-check questions at visitor registration kiosks Organizations can strengthen security at the registration kiosk using a flexible, enterprise-grade visitor management system to add visitor sign-in steps. This has proven successful in the past when used to control the spread of infectious disease during an outbreak. An example of this is a U.S. children's hospital which managed to reduce facility infection rates by 25 percent over a two-year period using a commercial, off-the-shelf physical identity and access management (PIAM) solution from HID Global. The solution provides two particularly important capabilities that can be used by organizations to protect their workplace from the uncontrolled spread of an infectious disease: Enhance visitor registration policy with additional mandatory questions to help identify any visitors who may need other screenings. Extend the visitor registration kiosk with a mandatory pop-up asking further questions during visitor check-in. 3. Understand who has visited your workplace Successful controlling the spread of infection throughout a facility requires the ability to automatically maintain an auditable trail of activity. This can be done using an enterprise-grade visitor management system that makes it easy to retrieve historical visit reports. This provides a timeline of who was in the workplace, and when they were there. Key features include: A single dashboard providing useful visitor insights at your fingertips. Historical reports that provide visitor details including location and contact information, all in compliance with General Data Protection Regulation (GDPR) and other privacy regulations. 4. Clearly communicate how infection risks can be reduced Global organizations must actively communicate with visitors and employees on the outbreak of infectious diseases and follow best practices outlined by the World Health Organization (WHO). Here are several things organizations can do in this area to help maintain a safe and healthy workplace: Re-enforce and communicate WHO best practices with guideline posters in the front lobby and throughout the workplace. Add posters that also encourage regular and thorough washing of hands. Encourage everyone to cough or sneese into their shirt sleeve in their flexed elbow or cover their mouth and nose with a tissue. Encourage everyone to keep a relatively safe distance from each other and use alternatives to handshakes when saying hello. Organizations must contend with a variety of workplace challenges during the outbreak of an infectious disease. These challenges can be solved with best practices that include a comprehensive visitor management system that automates critical check-in policies and maintains an auditable trail of visitor activity.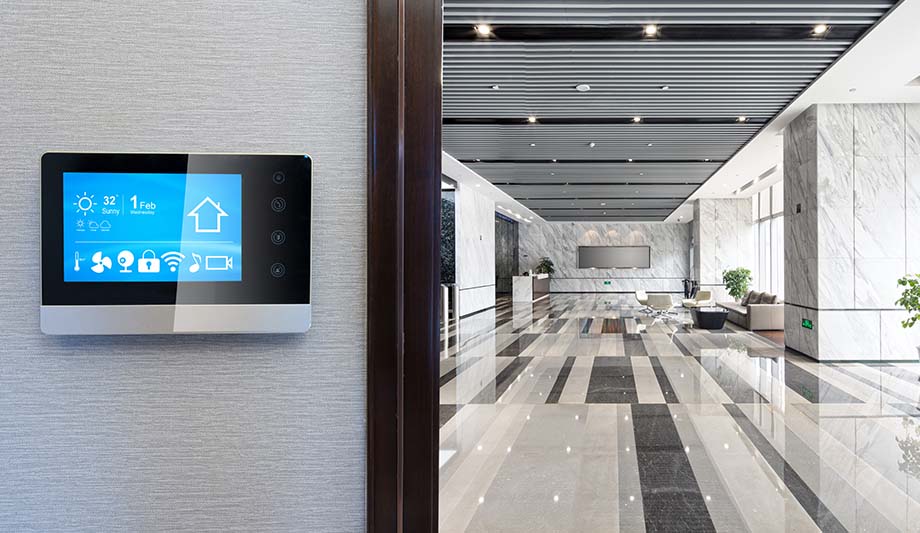 The Role Of Building Systems To Ensure Safety As Employees Return To Work
Returning to work after the global pandemic will not be business as usual, and security systems are an important asset when it comes to helping to keep occupants and buildings safe. For example, video analytics can provide insight into how spaces have previously been used and can help to predict where and when occupants encounter each other or congregate. These foot-traffic patterns can inform settings for a variety of devices – like ventilation and temperature controls – and even help owners create social distancing plans and monitor personal protective equipment (PPE) compliance. "While the 'new normal' is still being defined, we believe there will be a greater focus on creating healthier environments while also complying with new regulations," says Marcus Logan, Global Offering Leader, Honeywell Commercial Security. "Temperature, humidity, energy efficiency, security, safety, comfort, productivity, and demonstrating compliance with regulations are all a part of a healthy building." For example, social distancing is a new concept for the workplace. How do you make that happen in an open work setting, in breakrooms, elevator lobbies and meeting spaces? Optimized systems create healthier environments Anxious employees will need reassurance about returning to the workplace Building owners will need to look at how they can optimize their systems – or deploy new ones – to create a healthier environment. Building technologies, like those provided by Honeywell's Healthy Buildings solutions, provide building owners with more control over critical factors to encourage sustained compliance with changing building standards, safety guidelines, government-issued regulations, and a company's risk management policies. These solutions also provide transparency for occupants into a building's status, says Logan. Hygiene will be a critical issue: People will want to know that the spaces are ready for their return. Increased cleaning procedures and schedules will evolve, and a way will be needed to demonstrate the procedures are effective and that they have been strictly adhered to. Identifying ways to measure effectiveness of sanitisation and track compliance to the procedures will be a key challenge to solve. This is a space that will evolve significantly in the coming months and years, says Logan. Access control and video analytics Contact tracing is a new requirement in some businesses, and security technology – like access control and video analytics with advanced reporting – can help. Access control technology integrated with video analytics can be used to trace occupant movements within a facility. These technologies capture data that can be used with advanced reporting to provide a digital footprint of where a person has been within a facility and if they may have been exposed to someone identified as being infected with a contagious virus. Building owners can then proactively notify exposed individuals evolve to self-quarantine and minimize further spread of an infection. Video analytics can help to predict where and when occupants encounter each other Anxious employees will need reassurance about returning to the workplace. They will not only seek confidence that the building is optimized for a healthier environment but also that processes are in place to quickly identify and respond to potential issues. Transparency and visibility into how the building works and the health of the environment will help to reassure occupants returning to the workplace. "One way to do this is to share building analytics with occupants – to help them understand factors about the indoor air quality or occupancy density," says Logan. Controlled health, safety and security Honeywell's solutions provide building owners with more control over critical health, safety and security factors to encourage sustained compliance with changing building standards, safety guidelines, government-issued regulations and a company's risk management policies, Logan adds. Visibility into how the building works and the health of the environment will help to reassure occupants returning to the workplace Every day there is new information coming from the medical and scientific community about COVID-19, and the building industry is just starting to learn what it all means. Logan warns that there is no single solution that will keep every environment healthy and safe. A good strategy features deploying a combination of solutions, optimising systems and being vigilant to make sure that companies are sustaining compliance to new and changing regulations, says Logan. "Today more than ever we must be mindful of the changing culture of how buildings are managed by making apparent the need to be mindful of health and well-being in all aspects of our lives," says Logan. Honeywell has developed outcome-based solutions that allow building owners to transparently address building quality factors while supporting their business continuity needs in the uncertain environment. "We're giving them the data they need to confidently reassure their employees to accelerate their business operations," he adds.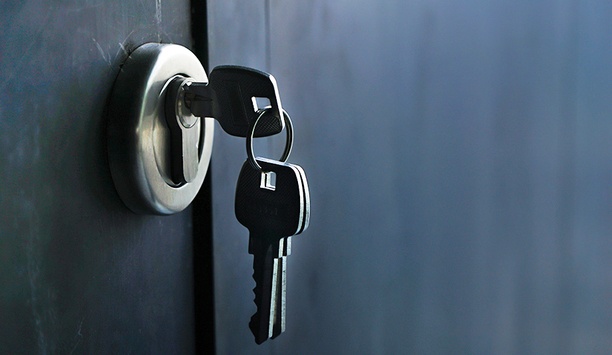 Managing Security During Unprecedented Times of Home Working
Companies are following government guidance and getting as many people as possible working from home. Some companies will have resisted home working in the past, but I'm certain that the sceptics will find that people can be productive with the right tools no matter where they are. A temporary solution will become permanent. But getting it right means managing risk. Access is king In a typical office with an on-premise data center, the IT department has complete control over network access, internal networks, data, and applications. The remote worker, on the other hand, is mobile. He or she can work from anywhere using a VPN. Until just recently this will have been from somewhere like a local coffee shop, possibly using a wireless network to access the company network and essential applications. CV-19 means that huge numbers of people are getting access to the same desktop and files, and collaborative communication toolsBut as we know, CV-19 means that huge numbers of people are getting access to the same desktop and files, applications and collaborative communication tools that they do on a regular basis from the office or on the train. Indeed, the new generation of video conferencing technologies come very close to providing an "almost there" feeling. Hackers lie in wait Hackers are waiting for a wrong move amongst the panic, and they will look for ways to compromise critical servers. Less than a month ago, we emerged from a period of chaos. For months hackers had been exploiting a vulnerability in VPN products from Pulse Secure, Fortinet, Palo Alto Networks, and Citrix. Patches were provided by vendors, and either companies applied the patch or withdrew remote access. As a result, the problem of attacks died back. But as companies race to get people working from home, they must ensure special care is taken to ensure the patches are done before switching VPNs on. That's because remote desktop protocol (RDP) has been for the most part of 2019, and continues to be, the most important attack vector for ransomware. Managing a ransomware attack on top of everything else would certainly give you sleepless nights. As companies race to get people working from home, they must ensure special care is taken to ensure the patches are done before switching VPNs on Hackers are waiting for a wrong move amongst the panic, and they will look for ways to compromise critical serversExposing new services makes them also susceptible to denial of service attacks. Such attacks create large volumes of fake traffic to saturate the available capacity of the internet connection. They can also be used to attack the intricacies of the VPN protocol. A flow as little as 1Mbps can perturbate the VPN service and knock it offline. CIOs, therefore, need to acknowledge that introducing or extending home working broadens the attack surface. So now more than ever it's vital to adapt risk models. You can't roll out new services with an emphasis on access and usability and not consider security. You simply won't survive otherwise. Social engineering Aside from securing VPNs, what else should CIO and CTOs be doing to ensure security? The first thing to do is to look at employee behavior, starting with passwords. It's highly recommended that strong password hygiene or some form of multi-factor authentication (MFA) is imposed. Best practice would be to get all employees to reset their passwords as they connect remotely and force them to choose a new password that complies with strong password complexity guidelines. As we know, people have a habit of reusing their passwords for one or more online services – services that might have fallen victim to a breach. Hackers will happily It's highly recommended that strong password hygiene or some form of multi-factor authentication (MFA) is imposedleverage these breaches because it is such easy and rich pickings. Secondly, the inherent fear of the virus makes for perfect conditions for hackers. Sadly, a lot of phishing campaigns are already luring people in with the promise of important or breaking information on COVID-19. In the UK alone, coronavirus scams cost victims over £800,000 in February 2020. A staggering number that can only go up. That's why CIOs need to remind everyone in the company of the risks of clickbait and comment spamming - the most popular and obvious bot techniques for infiltrating a network. Notorious hacking attempts And as any security specialist will tell you, some people have no ethics and will exploit the horrendous repercussions of CV-19. In January we saw just how unscrupulous hackers are when they started leveraging public fear of the virus to spread the notorious Emotet malware. Emotet, first detected in 2014, is a banking trojan that primarily spreads through 'malspam' and attempts to sneak into computers to steal sensitive and private information. In addition, in early February the Maze ransomware crippled more than 230 workstations of the New Jersey Medical Diagnostics Lab and when they refused to pay, the vicious attackers leaked 9.5GB or research data in an attempt to force negotiations. And in March, an elite hacking group tried to breach the World Health Organization (WHO). It was just one of the many attempts on WHO and healthcare organizations in general since the pandemic broke. We'll see lots more opportunist attacks like this in the coming months. More speed less haste In March, an elite hacking group tried to breach the World Health Organization (WHO). It was just one of the many attempts on WHOFinally, we also have bots to contend with. We've yet to see reports of fake news content generated by machines, but we know there's a high probability it will happen. Spambots are already creating pharmaceutical spam campaigns thriving on the buying behavior of people in times of fear from infection. Using comment spamming – where comments are tactically placed in the comments following an update or news story - the bots take advantage of the popularity of the Google search term 'Coronavirus' to increase the visibility and ranking of sites and products in search results. There is clearly much for CIOs to think about, but it is possible to secure a network by applying some well thought through tactics. I believe it comes down to having a 'more speed, less haste' approach to rolling out, scaling up and integrating technologies for home working, but above all, it should be mixed with an employee education program. As in reality, great technology and a coherent security strategy will never work if it is undermined by the poor practices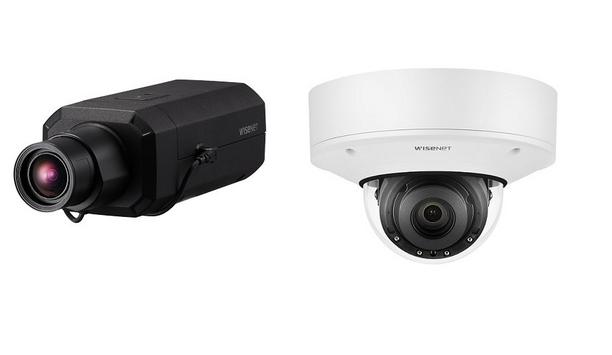 Hanwha Techwin America Announces 4K AI Cameras With Deep Learning Analytics
Hanwha Techwin America, a global supplier of IP and analog video surveillance solutions, announced a line of 4K AI cameras. Part of the Wisenet P series, the new AI-based cameras capture pristine images at up to 4K resolution while including powerful, in-camera deep learning algorithms for advanced object detection, classification and error-free analytics. Utilizing object recognition versus motion detection all but eliminates false alarms while also providing valuable business and operations insight. AI cameras analytics "Our new AI cameras have solid performance in both analytics and deep learning applications," said Ray Cooke, Vice President - Products, Solutions, and Integration, Hanwha Techwin America. "The included, license-free analytics detect and classify a range of objects including people, vehicles, license plates, and faces. This technology will provide more reliable edge based intelligence, and open new opportunities in security as well as business and operations intelligence." Unique attributes of the objects are also stored as metadata alongside the video information including: Colors of people's clothes for both top and bottom People's clothing length for both top and bottom People wearing of glasses or not People wearing or carrying a bag Age group Gender Vehicle types Vehicle colors Hanwha's plugin for Video Management Software This metadata can be read by a VMS server and used in post-event forensic search to significantly reduce time spent investigating specific events. Wisenet P series AI cameras offer integration with Wisenet WAVE and other popular VMSs from Milestone and Genetec using Hanwha's plugin. As businesses re-open with new policies regarding social distancing and occupancy limits, it's never been more important to accurately count customers and employees as they enter and exit the premises. Unlike traditional, imprecise methods of people counting with dedicated overhead cameras, the Wisenet P series AI cameras deliver the accuracy with people counting based on the camera's AI object detection algorithm. Reducing Server bandwidth for analytics Wisenet P series AI cameras are equipped with a 'BestShot' feature which ensures that only the most suitable image of classified objects is sent to a backend server. The full video image can be up to 4K resolution to see details of objects, along with tagged attributes metadata. Users have the option to set the image resolution to less than 4K for full video streaming or use BestShot to minimize bandwidth and storage requirements for server-based analytics. Additional key features include: Digital auto-tracking: provides two simultaneous streams of video, enabling operators to see the camera's full field of view, while simultaneously viewing a Full HD digital PTZ auto-tracked image of a person or vehicle Upgraded Business Intelligence: integration with Wisenet Retail Insight providing gender and age group counting 12V DC power supply (50mA max): provides power for external sensors including LEDs, PIR sensors, and glass break detectors, eliminating the need for an additional power supply AI Dome cameras series The new Wisenet P series AI cameras are available in the following configurations: PND-A9081RV – 4K AI dome camera with built-in IR illumination PND-A9081RF – 4K AI flush-mount AI dome camera with built-in IR illumination PNV-A9081R – 4K AI vandal-resistant dome camera with built-in IR illumination PNO-A9081R – 4K AI bullet camera with built-in IR illumination PNB-A9001 – 4K AI box camera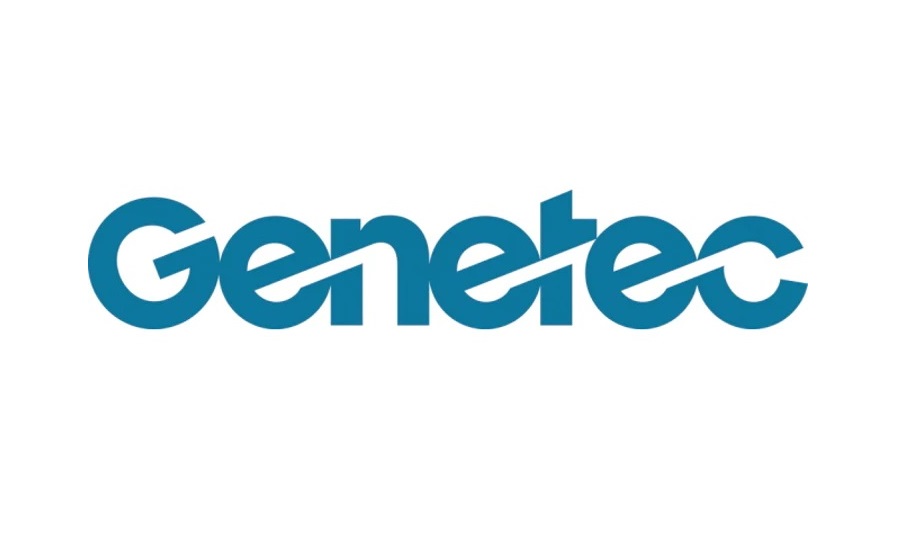 Genetec's Focus On Unified Platform, Cyber-Security And Privacy Cited As Core To Its Recognition As Top Global Video Surveillance Software Firm
According to latest research from its video surveillance and analytics intelligence service, Omdia (Informa), Genetec Inc. ('Genetec'), a global technology provider of unified security, public safety, operations, and business intelligence solutions, continues to build its position as the world's major developer of video surveillance software with a widening share of the global market. Overall, Genetec grew at three times the pace of the global video surveillance solutions market and demonstrated the fastest growth of all major software companies across all geographies (based on Omdia reported 2018 and 2019 data). Video surveillance software major "Genetec is encouraged by this news but we remind ourselves that the true measure of success is not to be found in market share figures but whether or not our partners and customers feel like we have delivered against the service levels and outcomes they expect," states Pierre Racz, President, Genetec Inc. Pierre adds, "Our independence and single-mindedness have helped us earn the trust of the market, and our investment in research and development have helped us deliver products at the cutting edge of client needs." Importance of privacy and cyber-security We strongly believe that security and privacy can coexist and deliver greater benefits together than in isolation" He continues, "We have a broader obligation to our communities and society. As such we have been outspoken about privacy and cyber-security. We strongly believe that security and privacy can coexist and deliver greater benefits together than in isolation. We also believe that this is what fuels our continued success with organizations that share these values. We will continue to work hard to earn their trust." Enterprise, government, education, and public safety organizations alike are seeking greater privacy and cyber-security functionality, as well as additional operational value and return on investment from their physical security systems. Unified physical security platform Their requirement for a secure video surveillance solution as part of a truly unified physical security platform has resulted in Genetec outpacing market growth across all geographies. "The Genetec share of the global video surveillance software market continues to grow year on year," said Jon Cropley, Principal Analyst, Video Surveillance at Omdia, adding "The company reported high growth in all regions including in EMEA where, in spite of a slower market that contracted by over 3%, Genetec revenues increased by 19%." Video encoders, recorders and software provider Additionally, according to the report, Genetec is now the top Western supplier for back-end video surveillance equipment that includes recorders, encoders and software, demonstrating an increasing demand for trustworthy devices from a recognized firm in privacy and cyber-security. Comparing year-on-year Omdia Research Statistics (2018 to 2019): Genetec increased its lead as the top video surveillance software in the world, with 11.9% market share (up from 10.6% in 2018). Genetec global market share growth increased 18.7% year on year, from 10.6% in 2018 to 11.9% in 2019. Genetec saw the fastest growth of the ten largest vendors in EMEA at 19% in 2019. Genetec posted Asia's highest video surveillance software growth at 37%, compared to 11.1% growth for the market in general.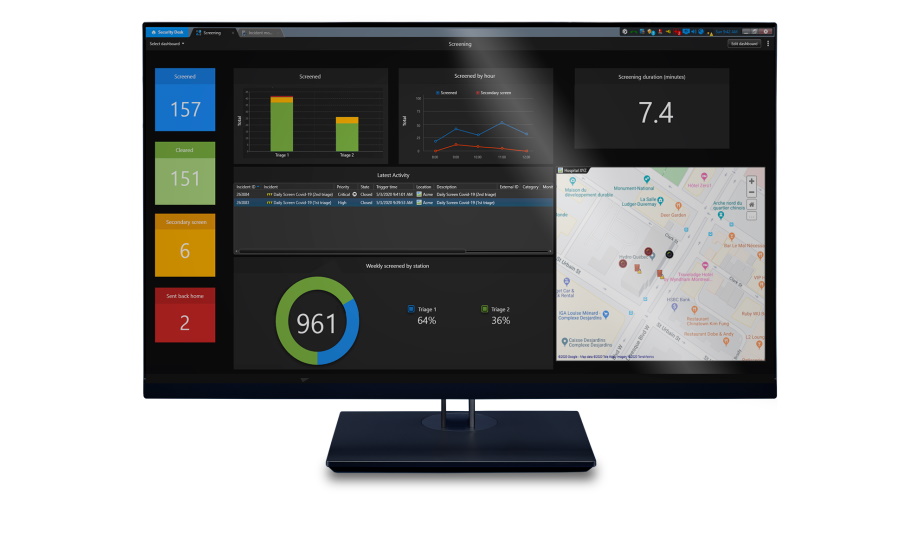 Genetec Customers Use Mission Control Decision Support System To Screen Employees And Visitors
As hospitals, manufacturing establishments, large retail stores, and public-facing businesses strive to put in place health screening measures to minimize the risks of outbreaks, they often have to rely on manual processes that are time-consuming and error-prone. To address the challenge, Genetec Inc., a renowned technology provider of unified security, public safety, operations, and business intelligence solutions is working with customers on new ways of using Genetec Mission Control, the decision support system of Genetec Security Center, to help automate the screening process for employees and visitors entering facilities. Decision management system Mission Control also keeps track of every step of the response process, enabling comprehensive after-action review Genetec Mission Control is a collaborative decision management system that is already widely used by airports, critical infrastructure organizations, and security departments to coordinate incident response through greater situational intelligence and guided action. Designed to eliminate doubt, it filters out noise to provide the essential data, insights, and tools needed to respond to situations quickly and collaboratively. Mission Control also keeps track of every step of the response process, enabling comprehensive after-action review and continuous improvements to standard operating procedures. Mission Control can also be used to streamline screening processes and ensure accurate record-keeping. Maintaining safety compliance The system digitizes the screening questionnaire used by the organization and walks admission personnel through each step to identify individuals requiring additional assessment. It also centralizes the data collected and automates supervisor notification. With Mission Control, customers can significantly speed up the screening process while maintaining safety compliance and minimizing operational disruption. Whereas most solutions either require custom coding or the involvement of the manufacturer, Mission Control provides an intuitive configuration interface that lets administrators create a tailored questionnaire to guide personnel performing the screening and automatically identify the need for additional verification. Connected security systems "This is a great example of the unique value offered by Mission Control," said Gabriel Labrecque, Mission Control Product Manager at Genetec. "Where traditional decision management systems are slow to adapt and hard to use, customers are able to tap into the capabilities of Mission Control to rapidly address an emerging challenge. This is done by simply using out-of-the-box Mission Control features and tapping into data from their existing security systems." Key features of Mission Control for screening applications include: Centralized data: Mission Control leverages data from connected security systems to streamline screening, eliminating the need to extract and record data in multiple locations. Guided operating procedures: The system automatically identifies individuals requiring secondary screening based on questionnaire responses, instead of relying on personnel following offline procedures. Automation: When employees are delayed by secondary screening or sent back home to self-isolate, data is automatically tracked, and managers and employees can receive a copy of the screening questionnaire. Dashboards: Using Security Center dashboards, customers can keep track of the latest screening metrics to measure efficiency, track trends, and assess resource allocation, as well as the impact of screening on an organization. centralized data collection Mission Control offers an intuitive design and administration interface. Procedures can be created and customized in a few clicks, so that screening staff can easily keep up with changes to guidelines. Its centralized data collection provides real-time data from each screening station.
Related white papers
Beyond Security - Access Control For Multi-Tenant Sites
RFID and Smartphone Readers in Physical Access Control
Access Control & Intelligent Vehicle Screening