William Hucker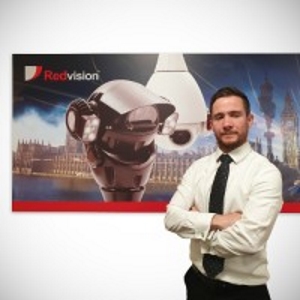 William Hucker
General Manager,
Redvision CCTV Ltd.
William Hucker is the General Manager at Redvision CCTV Ltd. Previously William Hucker was an Associate Design Engineer - Pipelines at Fluor Corporation.
News mentions
Redvision, the UK's renowned manufacturer of high-performance, CCTV cameras and housings, now offers a washer bracket for its newly-released, X2-COMBAT rugged, ball PTZ camera. Will Hucker, General Manager at Redvision, explains, "The RVX2-WASH bracket is firmly attached to the 4" PCD base mount of the X2-COMBAT using M8 bolts." "It includes a single delivery, universal nozzle to squirt water onto the camera's window. This is cleaned away by the camera's silicon wiper, which is now part of the standard build. The RVX2-WASH bracket nozzle connects to the washer pipe of any standard CCTV wash pump system." IR detection "The washer pump motor is switched on using the dedicated 'Wash' auxiliary output on the X2-COMBAT ALARM camera; a command from Redvision's VMS1000 control system; and an ONVIF command from any third-party VMS. The RVX2-WASH bracket is made from Marine Grade, 316, stainless steel for exceptional resistance to extreme marine, hazardous and toxic environments." The X2-COMBAT camera is the next generation of Redvision's market-leading X-Series. It boasts a 7-year MTBF and brings new levels of performance, such as a 3MP, 30x zoom camera module and IR detection distances exceeding 300m at night. The X2-COMBAT is first anodized, and its brackets and mounts zinc-plated, before being finished in light gray (RAL 7035) or black (RAL 9005) powder-coat paint. The cameras and brackets can also be ordered in any bespoke color from the RAL range.
Redvision has confirmed that it is still making its highly successful, analog, X-SERIES™, rugged PTZ dome camera. What's more, the camera now uses Sony's next-generation, 2MP, STARVIS sensor, improving its performance still further and enhancing Redvision's reputation as the industry-benchmark in rugged CCTV cameras. Will Hucker, General Manager of Redvision, said, "Installers will be pleased to know that our analog X-SERIES™ cameras are still in production and available to order. However, we have phased in the Sony STARVIS camera block to deliver even better performance. Its low-light capability is now an exceptional, 0.0015 Lux at night and its Infra-Red illumination distance is 150m, or 120m using white light." Ensuring optimal visibility The X-SERIES™ camera can be configured as a dome or PTZ using a removable cover" "The X-SERIES™ camera can be configured as a dome or PTZ using a removable cover. The camera has an optically correct, flat window to protect the camera block and has an optional, silicone, long-life wiper to remove rain and dirt. This ensures optimal visibility outside, all year round, come rain or shine!" The RVX30™ series has 100 programmable pre-sets, 8 tours, 24 programmable privacy zones and multiple alarm options. Advanced pre-set and tour technologies ensure the camera reaches pre-set positions correctly focused, with ideal light settings, following an alarm or during a tour. Rapid deployment systems The RVX30™ has an operating temperature range of -25º up to +60ºC. Mount options include pedestal, swan, wall and pendant, to suit all applications. The cameras are anodized before being finished in light grey or black powder-coat paint for exceptional toughness. They can also be ordered in any matt or gloss RAL color as a cost-option. The X-SERIES™ is successfully used in many applications including public space, local authority, hazardous, marine, defense, high security, town center and rapid deployment systems.
Redvision appoints Will Hucker as General Manager of its manufacturing site in Hampshire. This follows the company's sustained expansion in UK and international markets. Will is responsible for the efficient running of the facility, as well as overseeing the company's growing product portfolio, including the IP and analog, X-SERIES™ rugged ball PTZ cameras; VEGA™ rugged housings; VMS1000™ control system; and RedCop™ rapid deployment, CCTV towers. Will comes from Fluor Ltd, one of the world's largest engineering, procurement, construction (EPC) and maintenance companies. He brings with him extensive experience in the latest mechanical engineering, CAD, electronics and construction technologies. Engineering and commercial aspects Will said, "Having proven myself in multi-nationals, I felt it was time to join a smaller team where I can have a huge impact on the design, development, engineering and commercial aspects of the business. Redvision has many new products planned for 2020, aimed at tough, outdoor, surveillance applications. I am delighted to be joining the company at such a critical time of growth and change." Will studied Mechanical Engineering at the University of Southampton. When not at work, Will enjoys cricket, golf, skiing and football, where he is an avid supporter of the Saints (Southampton FC).
Experts sections