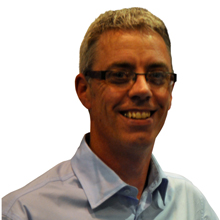 Lee will be working to provide access control sales support and promote Mul-T-Lock's access control portfolio
High security locking specialists, Mul-T-Lock has appointed a dedicated Sales Manager for access control, with a brief to further develop the company's growing range of electronic security products in the UK.
Lee Howard joins Mul-T-Lock, bringing a wealth of product and market experience, having most recently worked as Area Sales Manager for Elbene Security & Fire products, working closely with specification teams to deliver exact end user requirements.
Lee will now be responsible for supporting Mul-T-Lock's new "Combined Solutions" offer, working closely with the company's regional sales teams to provide access control sales support to new and existing sales channels and promote Mul-T-Lock's innovative access control product portfolio to end users.
Included in Lee's responsibilities will be developing opportunities with Smartair, Mul-T-Lock's innovative standalone wire free access control system and CLiQ, an advanced electromechanical locking solution. Lee will also be introducing CLiQ Remote to channel partners, which offers multi site management of electromechanical locking systems.
Commenting on Lee's appointment, Mul-T-Lock's Managing Director Steve Ross said: "Lee has extensive experience of dealing with customers from design and installation to ongoing technical support and service, and has the product knowledge to meet the requirements of end users looking for a customised access control solution.
"Access control is becoming an increasingly popular choice for business and commercial property owners, especially in these difficult economic times.
"Lee's appointment will help our team incorporate products such as Smartair and CLiQ into specifications as a 'Combined Solution' to enable our customers to offer the assurance of mechanical security with the flexibility and durability of access control."
Download PDF version