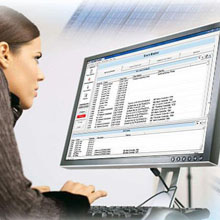 Pinnacle Access Control Platform

offers ultimate
flexibility to SMB users
At ASIS 2015, Sielox is demonstrating several new features and functionalities, and integrations that have been added to the latest release of the company's Pinnacle® Access Control Platform, which has become the go-to solution for Small-to-Medium Business (SMB) applications with 1 to 20 doors.
"Pinnacle's unique combination of enterprise level performance, unlimited scalability, ease of installation and implementation, and integral third party integrations without annual licensing fees results in a unique value proposition for SMBs," said Karen Evans, CEO and President, Sielox. "SMBs represent the single largest market for professional security systems and Pinnacle provides the perfect access control solution for this market without compromising performance or capabilities."
Among the new functionality Sielox will demonstrate at Booth 1245 is a new contemporary appearance that features font type and size and layout designed to improve Pinnacle's ease of use.
Third Party Integration
Pinnacle's extensive access control capabilities are complemented by numerous third party integrations that enable enterprise level performance without additional ongoing license fees. These include a smart elevator interface that delivers huge ROI with a 30% savings in energy efficiency, a one-card campus solution, visitor management and video surveillance integration, and much more. In conjunction with a Sielox 1700 controller, Pinnacle can support up to 32 wireless locks over and above the two hard-wired doors/readers per controller. Wireless lock solutions are an effective technology that dramatically reduces installation costs.
In addition to its existing integration with Schlage AD400, AD300 and Salto wireless locks, Pinnacle has added integration with Schlage engage platform and NDE locks. Attendees can learn more about each of these integrations and get hands-on experience with them throughout ASIS 2015.
Built-In Utilities
Pinnacle's many built-in utilities and shortcuts enable functions such as database cleanup, counting applications, remote lock/unlock and report viewing to be performed quickly and easily. One example of these practical features is called Event Link, which displays images of cardholders to verify their identities on a viewing monitor before allowing access – an ideal solution for daycare pickup approvals among other applications. Pinnacle also features an Event Video Link that automatically pushes events to any DVR or NVR that supports ATM or POS protocols in applications where cash or credit transactions occur.
For integration of video into the access control system, Pinnacle includes Pinnacle Argos®, a Video Management Software (VMS) solution for small-scale surveillance system control, as well as built-in drivers for up to 32 cameras. At present, Argos is integrated to work with Costar cameras, DVRs and NVRs. Argos facilitates video push integration for Pinnacle-generated events. A video player is also integrated in Pinnacle Argos VMS software, making it possible to save and play event-related video from a flash drive or from connected DVRs. Pinnacle Argos is a web-based application that can be deployed from any computer running Microsoft Internet Explorer. There is no extra charge for this included VMS, nor are there any annual camera licensing fees or video drivers required.
Multiple Servers And Devices
Pinnacle can run in a virtual environment, enabling it to reside on any one or multiple network servers – eliminating the need and cost of a dedicated host server. To help ensure that operations are always up and running, failover features transfer the operation to a functioning server if an imminent server failure is detected.
To maximize its flexibility with SMB user operations, Pinnacle features an optional web client that allows the management or monitoring of the system from any computer or mobile device. Unlike competitive offerings, not only does Pinnacle retain the same look and feel across all supported devices, but it also has the same functionality across all devices. Authorized mobile users can use the identical procedures, and have the same capabilities, as they would in their on-site offices.
Download PDF version