IDTECK Access Controllers
(28)
Browse Access Controllers
Access control controller products updated recently
Why Is Key Management So Important?
More and more business security practices are going digital. Mechanical keys are still the backbone of most corporate security plans, and it can be very expensive for companies to switch to electronic access control on a large scale. Therefore, enterprises need to choose the most suitable access control system. What is key management? Key management is the process of protecting, tracking, and scheduling mechanical keys. Why is this important? Because the key carries access to sensitive locations and assets within the organization, when you increase the security of the key, you can enhance the security of these valuable resources. The key management system also controls the cost of using physical keys. The system reduces the overhead caused by key loss or security breaches. Some smaller companies may be able to adopt a paper-and-pencil key management protocol. Larger companies, or those who want to better understand and control keys, usually choose to use an electronic key management system. Key management systems can store and assign keys securely and increase the efficiency of organization Why use a key management system? The key management system can become the cornerstone of your key control process. At the most basic level, key management systems can accomplish two things that paper and pen systems cannot: they store and assign keys securely, and they increase the efficiency of your organization's use of keys through automation and analysis. What can key management systems do? 1) Improve access control By better protecting the keys, you can improve the access control to the spaces and devices unlocked by these keys. You can use your key management to simplify the process of providing temporary employees with one-time-key access. In addition, the system can record all their key access records, so that everyone's behavior can be traced. 2) Enhanced accountability traceability The software is a good key management system that can generate reports on key usage, user access requests, access exceptions, and loss. In addition, you can track and audit key usage in real-time. Combined with a comprehensive key control strategy, you will implement better accountability for key use to meet any industry or risk management compliance standards. 3) Reduce costs and prevent losses When an employee loses a key, you will incur direct costs for a replacement key or relocking it when it is lost When an employee loses a key, you will incur direct costs, including purchasing a replacement key or relocking it when it is lost. However, the indirect cost of key loss is usually more significant. This is because employees first spend time looking for the lost key and then process the replacement request, all of which time is not spent on production work. 4) Improve workflow As we discussed, keys are often used in important workflows. The key management system allows you to better control these workflows. A passive electronic lock system, also known as a key-centric access control system, has outstanding advantages in key management. Compared with the electronic access control system, the passive electronic lock system's "passive" characteristics have reduced the update cost for many enterprises.
The Automated Future Of Retail And How To Secure It
While the foundation of autonomous retail has been built up over the past few years, it is only now that retailers are beginning to fully experiment with the technology. There were an estimated 350 stores globally in 2018 offering a fully autonomous checkout process, yet this number is forecast to increase dramatically with 10,000 stores anticipated by 2024. This acceleration in the growth of unmanned retail stores has, in part, been boosted by the COVID-19 pandemic and a demand for a more contactless, socially distanced shopping experience. Physical security technologies Innovative physical security technologies can play a significant role in protecting a site while supporting its operation Many retailers are now exploring such solutions as a way to streamline their services and simplify store operations while reducing overheads. Of course, the security of unmanned sites is a concern, with many eager to embrace such a design, but wary about the prospect of leaving a store unguarded. This is where innovative physical security technologies can play a significant role in protecting a site while supporting its operation and also helping to improve customer experience. Comprehensive integrated solution To make the autonomous retail vision a reality, a comprehensive solution is needed that integrates network cameras, IP audio speakers, and access control devices. The cameras can be employed to monitor entrance points and sales areas, including checkout terminals, and can be monitored and operated remotely from a central control room. This offers management full visibility of operations, regardless of the number of stores. Recorded video material can be processed, packaged, and passed to authorities, when necessary, by applicable laws. Optimizing operations As autonomous stores do not require staff to be present and run largely independently, managers can be notified automatically via mobile device if an event occurs that requires their attention. This could range from a simple need to restock popular items or clean the premises after a spillage, to a criminal break-in or attack. Again, network video surveillance cameras installed inside and outside of the premises provide high-quality video of any incident as it occurs, enabling immediate action to be taken. Improving customer experience Access control mechanisms at the entrance and exit points enable smooth, touch-free access to customers Access control mechanisms at the entrance and exit points enable smooth, touch-free access to customers, while IP audio speakers allow ambient music to be played, creating a relaxed in-store atmosphere and also offering the ability to play alerts or voice messages as required. Due to the automated nature of such audio broadcasting, consistency of brand can be created across multiple locations where playlists and pre-recorded voice messages are matched in terms of style and tone from store to store. Boosting profits The accessibility of premises 24/7 can ultimately lead to an increase in sales by simply allowing customers to enter the store and make a purchase at any time, rather than being restricted by designated retail hours. This also serves to improve customer loyalty through retail convenience. Utilizing data from the access control system, managers can configure lights to turn on/off and ambient music to power down when the last person leaves the shop, to be reactivated the next time someone enters the premises. This approach can also conserve energy, leading to cost savings. Designing a future proof solution The threat of vandalism is greatly limited if everyone entering the shop can be identified, which is something that is already happening in Scandinavia using QR codes linked to an electronic identification system called BankID. This process involves a user being identified by their bank details, and their credentials checked upon entering the store. This not only streamlines the transaction process but vastly improves security because only those who want to legitimately use the services will go through the identification process, helping to deter antisocial or criminal behavior. Physical security technology should be reliable and of high quality, without compromising the service to customers VMS-based network solution Both inside and outside of the premises, physical security technology should be reliable and of high quality, without compromising the service to customers, or hampering their experience. Door controls, network cameras, and loudspeakers, together with a comprehensive video management system (VMS), enable retailers to control every element of their store and remove any uncertainty around its management or security. Such a system, network-enabled and fully scalable to meet ongoing business requirements, can be offered using open APIs; this allows configuration and customization while ensuring that the retailer is not limited by the technology or tied into any particular set-up or vendor as their requirements evolve. Additional security benefits As more businesses launch their unmanned stores, the benefits of such technology to streamline and improve every aspect of their operations become ever clearer. A comprehensive solution from a trusted security provider can bring complete peace of mind while offering additional benefits to support the retail business as it seeks a secure future.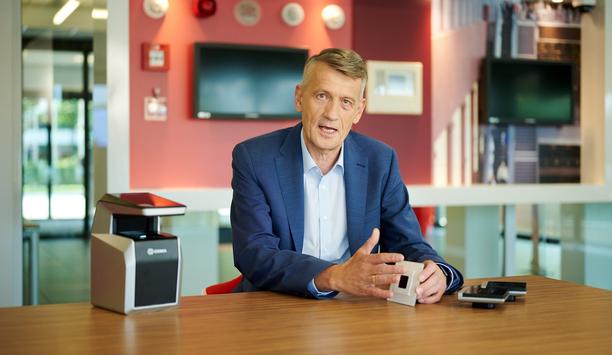 'We Want To Become Better Known For Access Control' - Q&A With Bosch Building Technologies' Gregor Schlechtriem
Gregor Schlechtriem has worked in the access control market for over 20 years and is now responsible for the Access & Intrusion Business Unit at Bosch Building Technologies. In this interview, the expert talks about key industry trends, the impact of the COVID-19 (Coronavirus) pandemic, technical innovations and his company's strategy. Mr. Schlechtriem, you have many years of experience in the security technology market. What is your background and what are your responsibilities as Senior Vice President at Bosch Building Technologies? Gregor Schlechtriem: I am a trained engineer and electrical technician, and have been involved with access control in the broadest sense, since I started my career in the late 1980s. I started in the field of parking garage technology and then switched to security technology in 2001, as Managing Director of micos GmbH, which specialized in traditional access control. micos GmbH was known for its highly available and highly secure access control systems, for critical infrastructure and government applications. Many systems from that time are still in use today and continue to be supported and upgraded. Bosch is continuing micos' business here? Gregor Schlechtriem: Exactly, micos was taken over in 2004 by Bosch Security Systems, now known as Bosch Building Technologies. Since then, we have continuously been developing the access control business. Being part of the Bosch Building Technologies division, we benefit a lot from international cooperation with colleagues Being part of the Bosch Building Technologies division, we benefit a lot from international cooperation with colleagues and from overlap with other product lines, such as intrusion detection technology and video security. This gives us the opportunity to implement outstanding project solutions for demanding customers in an international environment. In developing this business, I rely on my experience from other interesting roles at Bosch that I took on, after micos was bought in 2004. For a time, I worked in the European System Integrator Business, which I also had the privilege of managing for several years, as well as being directly responsible for business units. In Fairport, USA, I had the overall responsibility for intrusion detection technology for many years, as I later did in Eindhoven for video systems. Since 2018, the global access control and intrusion detection business has once again been my direct responsibility. At Bosch Building Technologies, we have in the meantime assigned sales to the respective business units, so that we can develop our product and solution portfolio, in close cooperation with sales and our regular customers. Our main task now is to make our access control portfolio accessible to a broader market. We want to make Bosch much better known, as an access control provider, in the international market. After all, with our own access product portfolio, the power of the Bosch Group and over 40 years of experience in this sector, we have a lot to offer. As an expert in access control, how do you see the industry developing? In which direction is it currently evolving? Gregor Schlechtriem: First of all, I see that security requirements are constantly increasing. Whereas there are currently still simple 'key replacement systems' that merely record card numbers, such an approach, to a large extent, no longer meets today's security and user experience requirements.The core task of access control has not changed over the years In the beginning, access control was more or less a kind of key replacement. Later, there was the possibility of increasing security via a pin code, i.e., via verification through simple data inputs. The next step in this direction was biometrics, which is another key step up, because it allows verification by means of unmistakable characteristics. However, the core task of access control has not changed over all the years and has basically always remained the same: access control means determining who has an access request and checking whether this request can be fulfilled. What's next on this path to greater security? Gregor Schlechtriem: Biometrics-based access control is becoming increasingly powerful and user-friendly through the use of artificial intelligence (AI). Here, data protection plays a major role, as wherever identities are established and movement data is recorded, it is necessary to reconcile the evolving technology with data protection.Biometrics-based access control is becoming increasingly powerful and user-friendly through the use of artificial intelligence The question of data protection is becoming even more significant, as systems increasingly migrate to the Cloud. Bosch puts particular emphasis on ensuring that, even in the cloud, the data generated in access control is always in line with data protection rules, regardless of where it is located. In my opinion, this trend towards the Cloud will continue, because companies are increasingly looking for complete service offerings, so that they can focus on their core business. Also, a system in the Cloud is easier to maintain and always up-to-date with the latest software, which makes cloud solutions even more attractive for providers and users. How can higher security be reconciled with a good user experience? Gregor Schlechtriem: Today, the card still plays a central role in the user experience, as the essential credential. Another current trend is 'one card for everything': with the increasing availability of secure multi-function smart cards, the possibility arises to use cards beyond the pure access function, for example, for payment in the canteen, at the catering and coffee machines, and in the parking garage, as well as simple access to other properties and so on.The security of cards has evolved significantly and kept pace with requirements The security of the cards, the reading and encryption processes, has evolved significantly and kept pace with requirements, although we are also facing an installed base that no longer meets these requirements, due to outdated systems. Today, it is standard for communications between reader and card to be encrypted. In some cases, the keys are also only held centrally to further increase security. The security systems industry was also affected by the COVID-19 (Coronavirus) pandemic. How do you think the industry has changed? What technical solutions have emerged during this time? Gregor Schlechtriem: First of all, there is a certain need for retrofitting in the industry due to changes in how buildings are used. For example, American retailers used to be open around the clock and always had staff on site. Now, due to COVID-19, stores are also closed, and this results in a whole new need for intrusion detection and access control systems to protect the buildings. For access control, an obvious task has arisen as a result of the COVID-19 pandemic, namely to track contacts, as far as this is compatible with data protection. We actually expected more to happen here, but in our observation, many companies did quite little, despite clear and simple steps that could have been implemented relatively quickly. The installed access control systems clearly lag behind the technical possibilities. Another topic that the COVID-19 pandemic has brought into focus is hygiene Another topic that the COVID-19 pandemic has brought into focus is hygiene. Companies should actually have invested in contactless systems here and retrofitted speed gates or motorized doors. But in many cases this was not put into practice. The door opener is still often used, which has to be operated manually and therefore, is touched multiple times. But, if everyone presses the same button, that doesn't help hygiene. Surprisingly, this is different in North America. Here, 'request-to-exit' proximity detectors are used almost everywhere, which avoids this problem completely and releases the door, when an authorized person approaches it. Mobile access and smartphone-based access control are also growing markets. What kind of developments do you see in these areas? Gregor Schlechtriem: I already mentioned that users increasingly want to be able to use one card for several applications. But, what we are seeing here is that even with the most modern cards, which have a lot of applications loaded on them, we are reaching performance limits and the user experience suffers. If you compare the card with the smartphone as a credential, you have a much more attractive integration platform there, which is significantly faster and delivers much better performance. For us, the mobile credential or the smartphone is the future, because it simply offers more possibilities that the card will not be able to provide in the long term. What is the specific direction Bosch is taking here? Gregor Schlechtriem: We are currently working on a broad implementation. A whole team is working on the user experience around the smartphone, because it's understood that smartphone-based access has to work just as easily, as it currently does with a card.A whole team is working on the user experience around the smartphone In theory it does, but if you look at some of the actual implementations, this topic is still relatively complex. In terms of user experience and automation, we still have quite a way to go, and we are working hard on that at the moment. The user experience is one side of the coin, the other side concerns establishing security in the smartphone as a whole. In other words: How do I make the smartphone secure enough as a mobile credential, to meet my access control requirements? We are also working intensively on this. That's actually an IT task. Do you do this yourself at Bosch or do you work with external experts here? Gregor Schlechtriem: We have our own powerful Bosch IT, which also manages our company smartphones. If our company smartphones are lost, the data on them is automatically deleted. The devices use biometrics to identify users, before they can access the data. It is a sound security concept that a card cannot offer. Moreover, we are working with other partners in the IDunion project, to create the additional infrastructure around mobile credentials as well. What exactly is the IDunion and what role does Bosch play? Gregor Schlechtriem: Digital identities must be openly accessible, widely usable, interoperable, and secure. This applies not only to access control, but to the digitised economy in general. The IDunion project has set itself the task of creating the infrastructure for this, in the form of an independent wallet, i.e., secure identity storage on smart devices. The project is funded by the German Federal Ministry for Economic Affairs and Energy (BMWI), because digitisation is also a critical social issue. We are intensively involved in the 'Physical access to the building' work package in this consortium. Through this involvement, we want to ensure that our access control systems benefit from this infrastructure and are open to future digital business models. Does 'digital identity management', which includes biometrics and mobile access, also play a role for Bosch? Yes, it plays an important role for us, and I wouldn't consider these topics separate Gregor Schlechtriem: Yes, it plays an important role for us, and I wouldn't consider these topics separate. For me, a mobile device has the advantage that it has already ensured and verified my identity from the moment of interaction. That's the fascinating thing about it. If I only allow the device to communicate with the access control system, if I have identified myself first, I have implemented biometrics and access control together in a widely accepted process. From my point of view, this is a very interesting perspective, in terms of security and user experience, because the biometrics procedures in smartphones are, I think, the best currently available. In my view, the smartphone has the potential to take over central functions in access control in the future. What are your goals for the access control business of Bosch Building Technologies in the near future? Gregor Schlechtriem: We will continue to focus on specific solutions for large customers. That is the continuation of our current strategy. In these projects, we will introduce new topics as I have just described, i.e., primarily new technology elements. I believe that, precisely because of the longevity of access control, a long-term migration capability is also of particular importance. We want to reach out to the broader market and make more widely available, what we have developed in terms of technology and innovation. We are currently in the process of setting up and optimising our sales organization, so that it becomes much more widely known that we at Bosch have our own powerful access control portfolio, which can be used for all kinds of applications. In addition, we want to differentiate ourselves in the market with our systems, in line with the motto of our founder, Robert Bosch: 'Technology for life'. The user experience with Mobile Access should be simple, straightforward, and secure: You hold your smartphone in front of the reader and the door opens.
Related white papers
10 Top Insights In Access, Cloud And More
Protecting Dormitory Residents and Assets
Top 5 Ways to Ensure Visitor Safety and Security