Access Control Softwares
(4)
Browse Access Control Softwares
Access control software products updated recently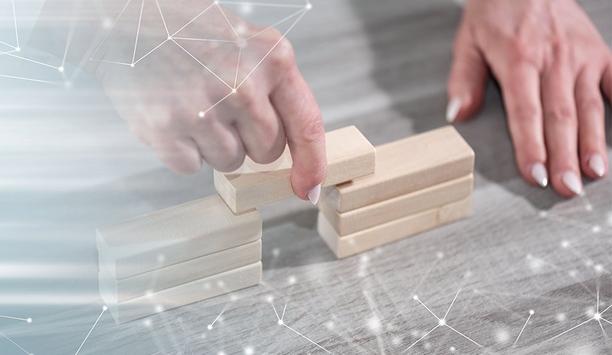 Tackling The Challenge Of The Growing Cybersecurity Gap
The SolarWinds cyberattack of 2020 was cited by security experts as "one of the potentially largest penetrations of Western governments" since the Cold War. This attack put cybersecurity front and center on people's minds again. Hacking communication protocol The attack targeted the US government and reportedly compromised the treasury and commerce departments and Homeland Security. What's interesting about the SolarWinds attack is that it was caused by the exploitation of a hacker who injected a backdoor communications protocol. This means that months ahead of the attack, hackers broke into SolarWinds systems and added malicious code into the company's software development system. Later on, updates being pushed out included the malicious code, creating a backdoor communication for the hackers to use. Once a body is hacked, access can be gained to many. An explosion of network devices What has made the threat of cyberattacks much more prominent these days has been IT's growth in the last 20 years, notably cheaper and cheaper IoT devices. This has led to an explosion of network devices. IT spending has never really matched the pace of hardware and software growth Compounding this issue is that IT spending has never really matched the pace of hardware and software growth. Inevitably, leading to vulnerabilities, limited IT resources, and an increase in IoT devices get more attention from would-be hackers. Bridging the cybersecurity gap In the author's view, this is the main reason why the cybersecurity gap is growing. This is because it inevitably boils down to counter-strike versus counter-strike. IT teams plug holes, and hackers find new ones, that is never going to stop. The companies must continue fighting cyber threats by developing new ways of protecting through in-house testing, security best practice sources, and both market and customer leads. End-user awareness One of the key battlegrounds here is the education of end-users. This is an area where the battle is being won at present, in the author's opinion. End-users awareness of cybersecurity is increasing. It is crucial to educate end-users on what IoT devices are available, how they are configured, how to enable it effectively, and critically, how to use it correctly and safely. Physical security network A valuable product that tackles cybersecurity is, of course, Razberi Monitor™, which is new to ComNet's portfolio. Monitor™ is a software platform that provides a top-down view of the physical security network and ecosystem. Monitor™ is a software platform that provides a top-down view of the physical security network and ecosystem It monitors and manages all the system components for cybersecurity and system health, providing secure visibility into the availability, performance, and cyber posture of servers, storage, cameras, and networked security devices. Proactive maintenance By intelligently utilizing system properties and sensor data, Razberi's award-winning cybersecurity software prevents problems while providing a centralized location for asset and alert management. Monitor™ enables proactive maintenance by offering problem resolutions before they become more significant problems. Identifying issues before they fail and become an outage is key to system availability and, moreover, is a considerable cost saving.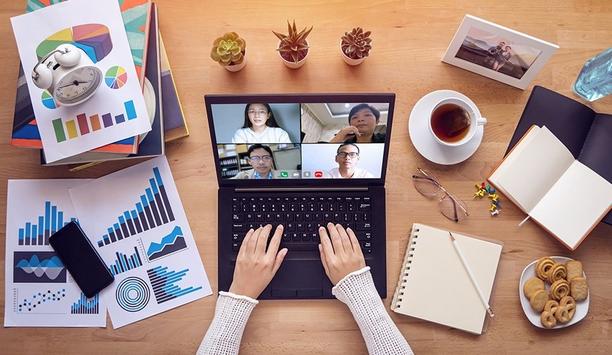 Hybrid Working And The Threat Of Desk Data
The transition to remote working has been a revelation for many traditional office staff, yet concerns over data security risks are rising. Mark Harper of HSM explains why businesses and their remote workers must remain vigilant when it comes to physical document security in homes. Pre-pandemic, home offices were often that neglected room in people's homes. But now things are different. After the initial lockdown in 2020, 46.6% of UK workers did some work at home with 86% of those doing so because of the pandemic. Semi-Permanent workspaces Since then, many have found that over time, those semi-permanent workspaces have become slightly more permanent – with official hybrid working coming into effect for an assortment of businesses and their teams. The adoption of hybrid working can in fact be seen as one of the few positives to come from the pandemic, with less travel, more freedom and higher productivity top of the benefits list for businesses and their employees. The handling of sensitive documents, is a growing concern for office managers But those welcomed benefits don't tell the whole story. The transition to remote working has undoubtedly impacted workplace security, with various touch points at risk. The handling of sensitive documents for example, is a growing concern for office managers. In simpler times, sensitive data was more or less contained in an office space, but with millions of home setups to now think about, how can businesses and their office managers control the issue of desk data? Physical document security As of January 2021, it's said that one in three UK workers are based exclusively at home. That's millions of individuals from a variety of sectors, all of which must continue in their efforts to remain data secure. With that, reports of cyber security fears are consistently making the news but that shouldn't be the sole focus. There is also the underlying, but growing, issue of physical document security. The move to remote working hasn't removed these physical forms of data – think hard drives, USBs and paper based documentation. A recent surge in demand for home printers for example, only exemplifies the use of physical documents and the potential security issues home offices are facing. Adding to that, research conducted in 2020 found that two out of three employees who printed documents at home admitted to binning those documents both in and outside of their house without shredding them. Data security concern Without the right equipment, policies and guidance, businesses are sure to be at risk Those findings present a huge data security concern, one that must be fixed immediately. The Information Commissioner's Office (ICO) has since released guidance for those working from their bedrooms and dining tables. Designed to help overcome these challenges, the 'security checklists' and 'top tips' should be the first port of call for many. Yet throughout, the ICO make reference to 'following your organization's policies and guidance' – highlighting that the onus isn't solely on the individuals working from their makeshift offices. Office managers have a monumental task on their hands to ensure teams are well equipped within their home setups. Without the right equipment, policies and guidance, businesses are sure to be at risk. But it would be wrong to insinuate that unsecure desk data has only now become an issue for organizations. Modern office spaces Keeping clear desks has long been a battle for many office managers. In fact, clear desk policies are practiced in most modern office spaces, with it recognized as a key preventative to personal information being wrongly accessed and so falling foul of GDPR legislation. Throwing sensitive documents in the bin was never an option pre-pandemic However, the unsupervised aspect of home working has led to a potentially more lax approach to these policies, or in some cases, they can't be followed at all. For those taking a more laid back approach, organization leaders must remind staff of their data security responsibilities and why clear desk policies have previously proven effective. Ultimately, throwing sensitive documents in the bin was never an option pre-pandemic and this must be carried through to home workspaces now. Securely destroy documents There are also concerns over the equipment people have access to at home. For example, without a reliable home shredding solution, data security suddenly becomes a tougher task. To add to that, several recommendations state that employees working from home should avoid throwing documents away by instead transporting them to the office for shredding once lockdown rules ease. While this is an option, it does pose further issues, with document security at risk of accidental loss or even theft throughout the transportation period, not to mention the time spent in storage. The best and most effective way to securely destroy documents is at the source, especially in environments where higher levels of personal data is regularly handled. Correct shredding equipment The recent findings on home office behavior represent a true security risk Only when home workers implement their own clear desk policies alongside the correct shredding equipment (at the correct security level), can both home office spaces and regular offices become data secure. Realistically, these solutions should, like the common home printer, become a staple in home office spaces moving forward. The likelihood is that many UK workers will remain in their home offices for the foreseeable future, only to emerge as hybrid workers post-pandemic. And while the current working environment is more ideal for some than others, the recent findings on home office behavior represent a true security risk to organizations. With this in mind, it's now more key than ever for business leaders, their office managers and homeworkers to all step up and get a handle on home data security policies (as well as maintaining their standards back at the office) – starting with the implementation of clear desk policies. After all, a clear desk equals a clear mind.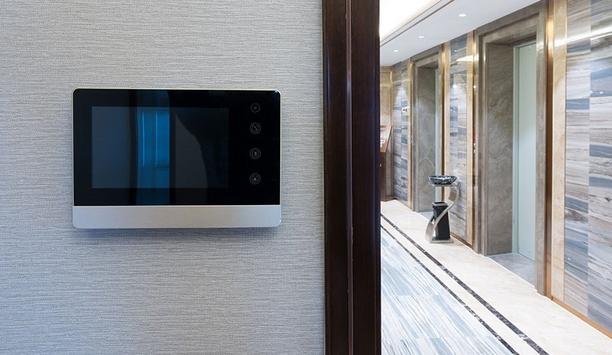 Video Intercoms For A Smarter, Safer Workspace
Though many office workers across the globe have found themselves working remotely for the past year, we are seeing a bit of a silver lining, as vaccine rollouts hint at a return to some pre-pandemic sense of normalcy. However, while some of us might opt for a fully-remote work life, others are anticipating a hybrid solution. Even before the pandemic, offices were taking a new, more open layout approach—moving past the days of cubicles and small office configurations. Going forward, offices and other workspaces will be tasked with supporting a hybrid work solution, as well as increasing hygiene measures. Video intercom solution This is where an IP video intercom solution can assist. Below are four ways they can help usher in a smarter, safer work environment: Video intercoms assist in creating a more hygienic work environment - The outbreak of COVID-19 has raised awareness of germs and just how easily a virus can be transmitted by face-to-face contact. Germ barriers are popping up in many aspects of our daily lives, where we were not likely to see them before Unfortunately, the door is also the easiest of these germ barriers to breach As such, we're becoming accustomed to seeing plexiglass barriers at restaurants, grocery stores, and even coffee shops. However, many don't realize that one of the best germ barriers is a simple door. Unfortunately, the door is also the easiest of these germ barriers to breach. All it takes is a knock or a doorbell ring to make us open our germ barrier and be face-to-face with whomever is on the other side. Increasing hygiene safety A simple step to increase hygiene safety and visitor security in commercial buildings and workspaces is an IP video intercom. Installing a video intercom will allow staff to see and speak with visitors without breaching that all-important germ barrier. A video intercom system provides a first line of defense, enabling the user to visually confirm the identity of the person on the other side of the door first before granting access. It can also be used to make sure proper procedures are being followed before a person is allowed to enter, such as using hand sanitizer, wearing a mask, and following social distancing guidelines. Basic security needs A major topic of conversation the past year has been how to manage occupancy in all facilities Video intercoms for occupancy management and basic security - A major topic of conversation the past year has been how to manage occupancy in all facilities—ranging from grocery stores and retail shops to restaurants and commercial buildings. Workspaces and offices are no exception. A video intercom provides a quick and convenient method of seeing who, or what, is on the unsecure side of the door before opening. For basic security needs, if a business has a door opening into an alley, a video intercom would be used to ensure no one is waiting outside to force their way in when the door is opened. Personal protection equipment Such solutions can also be used to ensure a person is carrying proper credentials, or wearing proper personal protection equipment (PPE), before entering a sensitive area. For example, if a lab has a room which can only be accessed by two persons at a time wearing specific protective gear, a video intercom could ensure each person is properly equipped, before allowing access that particular room. Additionally, for office or workspaces that have shared common areas, such as a cafeteria, gym or even conference rooms, managing access to these spaces will remain a priority, especially with post-pandemic restrictions in place. Video intercoms are a comprehensive safety and security tool for any workspace Deliveries of packages, work-related materials, or even food are common in any office or workspace. Video intercoms can assist in facilitating safe deliveries by visually and audibly confirming the identity of the individual. The visitor could be your next big client, your lunch delivery, a fellow employee with a faulty access card, or your mail. Video intercoms are a comprehensive safety and security tool for any workspace. Visitor management systems Video intercoms provide a cost-effective solution in small to mid-sized office facilities - One significant advantage of video intercom systems is the variety of applications available. Systems range from simple one-to-one video intercoms, to buzz-in systems, to full-fledged visitor management systems in mixed-use buildings. While they might lack the resources and manpower many enterprises have, small-to medium-sized offices can also take steps to ensure the safety of their staff and customers. Like any business, controlling who comes into the building is a primary way of maintaining safety. Video intercoms work in conjunction with access control systems to provide an identifying view of visitors or employees with lost or missing credentials. They allow staff to both see and hear those on the unsecured side of the door to determine intent before granting access. Most quality video intercoms will provide a clear enough image to allow an identification card to be read by holding it close to the lens, adding another opportunity to verify identity. Touchless intercom activation One major trend is the option of providing a touchless door activation Video intercoms provide a touchless option - Even prior to COVID-19, one major trend is the option of providing a touchless door activation or touchless intercom activation of a video intercom for those without proper credentials. Though touchless isn't a new solution to the access control market, the pandemic introduced a renewed focus on these types of solutions to provide hygienic access to visitors. For offices and other workspaces looking to make investments into post-pandemic solutions to assist in reopening, touchless can support these efforts. When it comes to smart, secure workspaces, many people think instantly of cameras or monitors, access control, and alarm systems. Proper access credentials However, video intercoms are often the missing piece of a building's security puzzle. A video intercom provides an identifying view that is not always available from a camera covering a large area. They allow those without proper access credentials a method of requesting entry, and just like cameras, they can be activated by alarms to allow staff to clearly see and communicate. If a workspace or office is important enough to be secure, it's important enough to be sure of who is there before the door is opened. In 2021, it's not enough to ensure the physical security of your staff and visitors, but also to ensure they are accessing a hygienic environment. Video intercoms provide that security and peace of mind.
Related white papers
Facing the Ever-evolving Hacker Head-on
Four Areas to Consider in Frictionless Access Control
Cloud Video and Smart Cities