LG Iris Access Control Softwares
(1)
Browse Access Control Softwares
Access control software products updated recently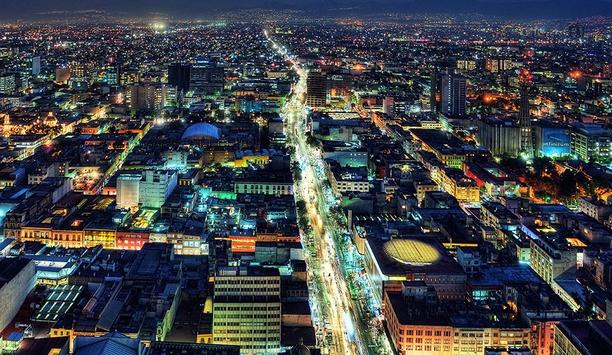 Safety In Smart Cities: How Video Surveillance Keeps Security Front And Center
Urban populations are expanding rapidly around the globe, with an expected growth of 1.56 billion by 2040. As the number of people living and working in cities continues to grow, the ability to keep everyone safe is an increasing challenge. However, technology companies are developing products and solutions with these futuristic cities in mind, as the reality is closer than you may think. Solutions that can help to watch over public places and share data insights with city workers and officials are increasingly enabling smart cities to improve the experience and safety of the people who reside there. Rising scope of 5G, AI, IoT and the Cloud The main foundations that underpin smart cities are 5G, Artificial Intelligence (AI), and the Internet of Things (IoT) and the Cloud. Each is equally important, and together, these technologies enable city officials to gather and analyze more detailed insights than ever before. For public safety in particular, having IoT and cloud systems in place will be one of the biggest factors to improving the quality of life for citizens. Smart cities have come a long way in the last few decades, but to truly make a smart city safe, real-time situational awareness and cross-agency collaboration are key areas which must be developed as a priority. Innovative surveillance cameras with integrated IoT Public places need to be safe, whether that is an open park, shopping center, or the main roads through towns Public places need to be safe, whether that is an open park, shopping center, or the main roads through towns. From dangerous drivers to terrorist attacks, petty crime on the streets to high profile bank robberies, innovative surveillance cameras with integrated IoT and cloud technologies can go some way to helping respond quickly to, and in some cases even prevent, the most serious incidents. Many existing safety systems in cities rely on aging and in some places legacy technology, such as video surveillance cameras. Many of these also use on-premises systems rather than utilising the benefits of the cloud. Smart programming to deliver greater insights These issues, though not creating a major problem today, do make it more challenging for governments and councils to update their security. Changing every camera in a city is a huge undertaking, but in turn, doing so would enable all cameras to be connected to the cloud, and provide more detailed information which can be analyzed by smart programming to deliver greater insights. The physical technologies that are currently present in most urban areas lack the intelligent connectivity, interoperability and integration interfaces that smart cities need. Adopting digital technologies isn't a luxury, but a necessity. Smart surveillance systems It enables teams to gather data from multiple sources throughout the city in real-time, and be alerted to incidents as soon as they occur. Increased connectivity and collaboration ensures that all teams that need to be aware of a situation are informed instantly. For example, a smart surveillance system can identify when a road accident has occurred. It can not only alert the nearest ambulance to attend the scene, but also the local police force to dispatch officers. An advanced system that can implement road diversions could also close roads around the incident immediately and divert traffic to other routes, keeping everyone moving and avoiding a build-up of vehicles. This is just one example: without digital systems, analyzing patterns of vehicle movements to address congestion issues could be compromised, as would the ability to build real-time crime maps and deploy data analytics which make predictive policing and more effective crowd management possible. Cloud-based technologies Cloud-based technologies provide the interoperability, scalability and automation Cloud-based technologies provide the interoperability, scalability and automation that is needed to overcome the limitations of traditional security systems. Using these, smart cities can develop a fully open systems architecture that delivers interoperation with both local and other remote open systems. The intelligence of cloud systems can not only continue to allow for greater insights as technology develops over time, but it can do so with minimal additional infrastructure investment. Smart surveillance in the real world Mexico City has a population of almost 9 million people, but if you include the whole metropolitan area, this number rises sharply to over 21 million in total, making it one of the largest cities on the planet. Seven years ago, the city first introduced its Safe City initiative, and ever since has been developing newer and smarter ways to keep its citizens safe. In particular, its cloud-based security initiative is making a huge impact. Over the past three years, Mexico City has installed 58,000 new video surveillance cameras throughout the city, in public spaces and on transport, all of which are connected to the City's C5 (Command, Control, Computers, Communications and Citizen Contact) facility. Smart Cities operations The solution enables officers as well as the general public to upload videos via a mobile app to share information quickly, fixed, body-worn and vehicle cameras can also be integrated to provide exceptional insight into the city's operations. The cloud-based platform can easily be upgraded to include the latest technology innovations such as license plate reading, behavioral analysis software, video analytics and facial recognition software, which will all continue to bring down crime rates and boost response times to incidents. The right cloud approach Making the shift to cloud-based systems enables smart cities to eliminate dependence on fiber-optic connectivity and take advantage of a variety of Internet and wireless connectivity options that can significantly reduce application and communication infrastructure costs. Smart cities need to be effective in years to come, not just in the present day, or else officials have missed one of the key aspects of a truly smart city. System designers must build technology foundations now that can be easily adapted in the future to support new infrastructure as it becomes available. Open system architecture An open system architecture will also be vital for smart cities to enhance their operations For example, this could include opting for a true cloud application that can support cloud-managed local devices and automate their management. An open system architecture will also be vital for smart cities to enhance their operations and deliver additional value-add services to citizens as greater capabilities become possible in the years to come. The advances today in cloud and IoT technologies are rapid, and city officials and authorities have more options now to develop their smart cities than ever before and crucially, to use these innovations to improve public safety. New safety features Though implementing these cloud-based systems now requires investment, as new safety features are designed, there will be lower costs and challenges associated with introducing these because the basic infrastructure will already exist. Whether that's gunshot detection or enabling the sharing of video infrastructure and data across multiple agencies in real time, smart video surveillance on cloud-based systems can bring a wealth of the new opportunities.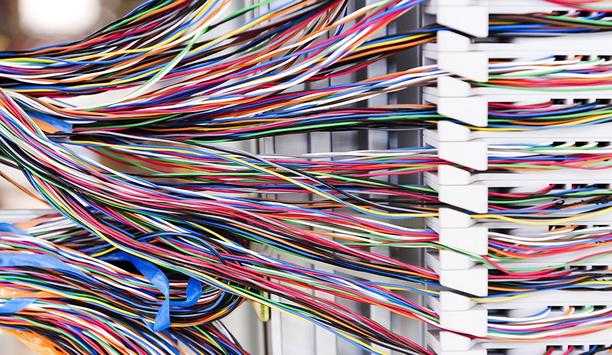 How Businesses Can Prepare Their Communications Infrastructure And Critical Event Management Plans For The Next Chapter Of The Global Pandemic
The global pandemic has created a working environment filled with uncertainty and, at times, fear, as COVID-19 cases surge yet again and businesses continue to navigate a complex web of infectious disease mitigation protocols and managing the distribution of a potential vaccine. Organizations are operating in an environment where a critical event, posing significant risk to its employees and daily operations, could occur at any moment. Even with a vaccine showing light at the end of a very dark tunnel, the pandemic unfortunately may be far from over, and the communication of accurate public health information to a widely distributed, often remote workforce is vital to keeping employees safe and businesses running. Organizations that plan ahead, invest in an emergency management system and share key updates quickly, reliably and securely, can keep employees safe while ensuring business continuity when it matters most. Taking time to plan and prepare Throughout the pandemic, U.S. offices have gone through alternating stages of reopening and re-closing Throughout the pandemic, U.S. offices have gone through alternating stages of reopening and re-closing. However, whether businesses are operating at a limited or full capacity, medical experts are expecting continuous waves of COVID-19 cases, as community transmission continues to hit record highs. The only way for businesses to keep their employees and customers safe, protect their operations, and retain trust with their key stakeholders during these tumultuous times is to be proactive in nature. Organizations need to put a business resiliency plan in place now that outlines key actions to take if (or when) an issue relating to local spread of the novel coronavirus arises. By having a plan in place and practicing it regularly, organizations can minimize risks and maximize employee safety surrounding critical events, such as suspected or confirmed exposure to COVID-19 in the workplace. Context of emergency management Ensuring the safety of employees (and others within the company's facilities) needs to be the number one priority for organizations; and in any crisis scenario, a prepared and practiced plan maximizes a company's chances of success. In PwC's 2019 Global Crisis Survey, business leaders across a range of industries shared their experiences, expectations, and top strengths and weaknesses in the context of emergency management. By a wide margin (54% vs. 30%), organizations that had a crisis response plan in place fared better post-crisis than those who didn't. When it comes to ensuring the wellbeing of staff, businesses need to think through a comprehensive, iterative infectious disease mitigation and operational continuity strategy and practice it as often as possible. Investing in proper technology A vital step in adequate critical event management planning is investing in the proper technology infrastructure For today's modern organization, a vital step in adequate critical event management planning is investing in the proper technology infrastructure to streamline the communication of vital information. Organizations should explore risk intelligence, critical communication and incident management software to keep their people safe, informed, and connected during critical events - and, thankfully, decision-makers are starting to take note. The Business Continuity Institute 2020 Emergency Communications Report found that 67% of organizations at least use emergency notification and/or crisis management tools. Reliable risk intelligence system Building upon that trend, a reliable risk intelligence system can anticipate and analyze the potential impact of incidents, such as increases in local cases of COVID-19, send vital updates to a distributed workforce of any size on multiple devices regarding infectious disease mitigation protocols and public health directives, and then help incident response teams virtually collaborate while maintaining compliance standards. Automating as much of this process as possible through technology allows human decision makers to efficiently and effectively focus their time, effort and expertise on what matters most in a crisis situation - implementing sound operational continuity strategies and, more importantly, ensuring employees' safety and well-being are prioritized and appropriately considered when stress rises. Communicating vital updates This is the cultural component of incident management based on emotional intelligence, empathy, effective employee engagement, and authentic listening that makes or breaks an organization's response to challenging situations. Employees must be aware at a moment's notice to stay away from or exit contaminated areas If employees are exposed in the workplace to a confirmed or suspected case of COVID-19, employers must be prepared to quickly update staff on vital next steps, as outlined by the CDC and other public health authorities, and arm key functions - such as security operations, HR, facility management, legal and compliance - with the information they need to mitigate potential spread of the virus, including: Closing/cleaning the office: Employees must be aware at a moment's notice to stay away from or exit contaminated areas. From there, it is critical that businesses communicate clearly with cleaning staff to follow procedure, use the right disinfecting products and sanitise high-touch surfaces. Alerting key groups that may have been exposed: Employers have a duty to rapidly notify workers of potential exposure to COVID-19. Having the proper communication infrastructure in place can streamline contact-tracing as well as the subsequent testing process, and save vital time. Ensuring work-from-home continuity or diverting workflows to alternative physical environments: Every work environment looks different today. Whether an organization is managing a distributed workforce, full-capacity essential workers or something in between, there needs be a communication system in place to ensure business continuity. Outlining next steps for reopening: After a potential exposure, employees require the proper reassurance that they will be returning to a safe working environment in an organized, thoughtful manner, which is aligned to public health best practices. Whether it is coordinating a limited capacity return to the office or outlining new infectious disease mitigation protocols - such as steps for receiving a vaccine in the coming months - employees must continue to be updated quickly, comprehensively, and often. Incident management technology There is no doubt that organizations will continue to face a myriad of challenges as they navigate business operations during the pandemic into 2021, as the general public awaits the broad deployment of a vaccine. Public and private sector leaders still have months ahead of them before daily operations even begin to resemble "business as usual." To best prepare for the next chapter of the global pandemic, organizations should outline a plan tailored to infectious disease mitigation protocols; explore augmenting their crisis management policies with risk intelligence, crisis management and incident management technology; and focus employee communications on containing and rapidly resolving events associated with COVID-19 exposure. Keeping employees safe, informed, and connected during critical events are mandatory considerations for leaders as they analyze existential threats to their business in 2021 and beyond.
Biometrics Provides Industries With Security, Access Control And Data Protection
Several major players vigorously employ biometric recognition technologies around the globe. Governments use biometrics to control immigration, security, and create national databases of biometric profiles. Being one of the most striking examples, the Indian Aadhaar includes face photos, iris, and fingerprints of about 1.2 billion people. Financial institutions, on their part, make use of biometrics to protect transactions by confirming a client's identity, as well as develop and provide services without clients visiting the office. Besides, biometric technology ensures security and optimizes passenger traffic at transport facilities and collects data about customers, and investigates theft and other incidents in retail stores. Widespread use of biometrics Business, which suddenly boosted the development of biometrics, is an active user of biometric technology Business, which suddenly boosted the development of biometrics, is another active user of biometric technology. Industries choose biometric systems, as these systems are impossible to trick in terms of security, access control, and data protection. Being in demand in business, these three tasks are also relevant for the industry. However, the use of biometrics at industrial sites is discussed unfairly seldom. Therefore, it is the face identification that is the most convenient there, as workers often use gloves, or their hands may be contaminated, and the palm pattern is distorted by heavy labor. All these features make it difficult to recognize people by fingerprints or veins and significantly reduce identification reliability. Therefore, industries seek facial recognition solutions. Thus, let us demonstrate the application of face recognition technology at different enterprises, regardless of the area. Facial recognition use in incident management Facial biometric products are known to automate and improve the efficiency of security services by enriching any VMS system. These systems provide an opportunity of instantly informing the operator about recognized or unrecognized people, and their list membership, as well as save all the detected images for further security incident investigation. Furthermore, some sophisticated facial biometric systems even provide an opportunity to build a map of the movements of specific people around a site. Besides, it is relevant not only for conducting investigations but also in countering the spread of the COVID-19 virus. Identifying and tracking COVID-19 positive cases Therefore, if an employee or visitor with a positive COVID-19 test enters a facility, the system will help to track his/her movement and identify his/her specific location. It will also help to take the necessary measures for spot sanitary processing. Thus, the introduction of biometric facial recognition at the industrial enterprise can improve and speed up the incidents' response and investigations without spending hours watching the video archive. Access control system to secure physical assets The right access control system can help industries secure physical and informational assets The right access control system can help industries secure physical and informational assets, cut personnel costs, and keep employees safe. Facial recognition systems may enrich access control systems of any company by providing more security. As biometric characteristics, by which the system assesses the compliance of a person with the available profiles in the database, cannot be faked or passed. The human factor is also reduced to zero, due to the fact that while identity documents can be changed, the inspector can make a mistake or treat his/her task carelessly, be in collusion with an intruder, the biometric system simply compares a person in front of the camera with the biometric profiles database. Biometric facial identification software For example, RecFaces product Id-Gate, a specialized software product for reliable access control to the site, checks the access rights by using biometric facial identification alone or in conjunction with traditional IDs (electronic passes, access keys, etc.), which means that there is almost a zero probability of passing to the site by someone else's ID. The access control system's functionality allows one to strictly account the number and time of all the facility's visitors and also track their movement. When unauthorized access is attempted or a person from the stop list is detected, Id-Gate sends an automatic notification to the access control system and operator. Enhanced data and information security Even despite the division of access to different industrial enterprise areas, the security service needs to provide independent information system security. Employees with the same facility access rights may have different access rights to data. However, in that case, a personal password is not enough, as an employee may forget it, write it down and leave it as a reminder, tell a colleague to do something for him/her during the vacation, or just enter it at another person's presence. Password-free biometric authentication systems make the procedure user-friendly and secure Password-free biometric authentication Password-free biometric authentication systems make the procedure user-friendly and secure. Such systems usually provide an option of two-step verification when successful password entry is additionally confirmed by biometric recognition. Hence, it is particularly relevant due to the current lockdown in many countries. To sum up, the application of biometric technologies solves several issues of the industry, such as: Optimizes and partially automates the work of the security service, as it provides reliable identification and verification of visitors/employees, reduces the amount of time spent on finding a person on video and making a map of his/her movements, without spending hours on watching video archive in case of investigation. Provides a high level of reliability and protection from unauthorized access to the enterprise and the information system. Provides a two-step verification of the user/visitor (including password and biometric data) and almost eliminates the risk of substitution of user data/ID.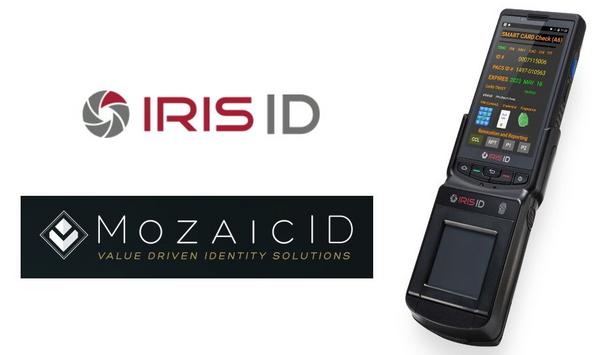 Iris ID ICAM M300 Biometric Reader Compatible With MozaicID Smartcard Software Credential Application
Iris ID, a pioneering provider of iris recognition technology, announced the compatibility of its iCAM M300 handheld, multi-modal biometric reader and the MozaicID iCAM M300 smartcard software credential application. This application enables the mobile device to accommodate a range of Personal Identity Verification (PIV) compatible credentials including PIV Interoperable (PIV-I) and the Transportation Worker Identification Credentials (TWIC), a smartcard used by workers requiring access to secure areas of U.S. maritime facilities and vessels. Secured identity authentication The MozaicID app uses the iCAM M300's detachable FBI-certified Sherlock fingerprint sensor from Integrated Biometrics to authenticate workers' identities by comparing a live fingerprint to a stored template embedded in the credential. The application will also check the trust status of the presented credential. The iCAM M300 also enables mobile enrollment of workers with its embedded camera simultaneously capturing both iris and facial modes for contactless identity authentication. Authorities statement Mohammed Murad, vice president of global sales and business development, Iris ID, said compatibility with the MozaicID app adds to the versatility of the iCAM M300. "Iris ID and MozaicID have combined best of breed technologies to create an accurate and more secure means of identifying maritime employees wherever their jobs take them," he said. "The iCAM M300 provides an unparalleled intuitive user interface, which makes the process easier for the user and operator." Jim Parroco, chief executive officer of MozaicID said "MozaicID is dedicated to providing effective, relevant, and user-friendly security solutions. We institute intuitive and innovative technology in our software with proven results. The product offering, we have with Iris ID provides an excellent security solution in response to a specific need." Features and benefits Supports other contact or contactless Personnel Identity Verification (PIV) smartcards such as Common Access Cards (CAC) used by military, civilian, and vendor employees in controlled government spaces Commercial Identity Verification (CIV), used by commercial organizations to meet federal government access control standards Comes equipped with software development kits (SDK's) ready to deploy a wide variety of Android-based identity application Organizations requiring remote identity verification, such as the U.S. Customs and Border Patrol and law enforcement departments, use the water- and dust-resistant iCAM M300 Provides magstripe and contactless card support, as well as an MRZ reader to verify ePassports Communications protocols include NFC, Wi-Fi, Bluetooth, GPS, 4G LTE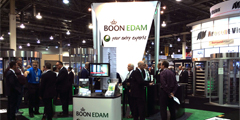 Boon Edam Announces Enhanced Presence At ASIS International 2016, Florida
Boon Edam will expand its booth presence and installs turnstiles at ASIS 2016's main entrance Boon Edam, a provider of security entrances and architectural revolving doors, has announced a greatly enhanced presence at the 62nd ASIS International Seminar and Exhibits in Orlando, Florida from September 12th-14th. In addition to expanding the booth to the largest footprint ever at the ASIS event, the company will also be the first official Turnstile Sponsor of the Exhibition. Official Turnstile Sponsor As the first official Turnstile Sponsor at ASIS International since the event's inception, Boon Edam will install 18 lanes of barrier-free Speedlane 2048 optical turnstiles at the main entrance to the exhibits. The Speedlanes will be the first product that attendees encounter as they enter the exhibit hall. Larger Booth For Increased Customers Due to unprecedented sales growth over the last several years, Boon Edam has expanded its booth size at ASIS to the largest footprint ever—now 40'x40', with several designated meeting areas to accommodate larger groups from global and enterprise customers. Product Demonstrations The booth will include the following products for live demonstrations: A full complement of Speedlane Lifeline optical turnstiles, which were launched last year and offer on-trend styling and an intuitive user experience. The booth will include a Speedlane Swing, Slide and Open. BoonTouch, a proprietary desktop touchpad with integrated software that enables efficient traffic management for many types of Boon Edam security entrances. BoonConnect, an IP-addressable, proprietary software system that provides diagnostic and configuration tools for the Tourlock security revolving door and Circlelock mantrap portal. Users can access door operations and events using devices such as a tablet, laptop or smartphone via secured corporate network. Tourlock 180+90, the best-selling security revolving door in the industry due to its high throughput and ability to prevent tailgating and piggybacking without manned supervision. Circlelock mantrap portal is an anti-piggybacking solution for sensitive areas. ASIS, will be demonstrating the procedure for secondary biometric authorization inside the portal using the latest iris scanning technology by Iris ID Systems, Inc., called the iCAM7S Series reader. Circlelock Wall Mount portal is a special half portal that can be used to retrofit an existing swing door into an unmanned and reliable anti-piggybacking solution. This special portal will demonstrate authorization using facial recognition technology from Stone Lock Global, Inc., called Stone Lock Pro. Speedlane 300 optical turnstile, a practical optical turnstile with contemporary styling for detecting and deterring unauthorized entry. Turnlock 100 full height turnstile, ideal for rugged outdoor environments and controlling access at the perimeter/fence line. Trilock 75 waist high turnstile, a durable and versatile crowd control solution that works in a variety of applications, from outdoors to Class A office building lobbies.
Biometrics Prove Best For Preventing Time & Attendance Fraud
Time and attendance has proven to be a successful use of biometric technology traditionally used for controlling access to highly sensitive areas Security technology is increasingly being used to help organizations tackle challenges going far beyond controlling access to office buildings and monitoring parking lot activity. Video, in particular, has become the darling of many markets. Retailers use live and recorded video to assess promotional sales efforts. Manufacturers confirm employees are following mandated safety regulations. Transit officials debunk false liability claims with a review of recorded mobile video. But here's a relatively new one – biometrics. Long thought perfect for controlling access to highly sensitive public and private research and military facilities, they are showing up in offices, hotels — even in remote fruit fields and sugar processing plants — for employee time and attendance. It's proven to be a successful use of the broad technology. Risks Of Mechanical And Electronic Clocks The process of keeping track of employees' hours has long been open to fraud and other issues. Mechanical time clocks — in use since the 1800s — and even more modern electronic clocks using magnetic stripe or proximity cards are open to a process known as 'buddy punching.' That's a scheme in which an employee clocks in and/or out for a friend who may be late or not even at work. Mechanical systems are also slow, potentially leading to long queues during shift changes resulting in wasted time and lost productivity. Mechanical cards also need to be keystroked into the payroll system, requiring significant back office time for data entry. Electronic cards can be shared. They may also be lost or stolen, costing additional time and money in back office expense. Even small errors in collecting and processing employee time and attendance can add substantially to the cost of payroll, already a major expense for any organization. Studies by a leading international human resources consulting firm have shown even small payroll errors and fraud can boost operating costs by up to 10 percent. Biometric Time And Attendance Solution But fraud, delays and lost credentials can be largely eliminated by a biometric solution. Common biometric systems involve hand or fingerprint readers, facial identification or iris recognition. Each technology records and then compares physical characteristics unique to every individual. However, changes in weight, hairstyle, finger or hand size, cuts or even the effects of manual labor can trigger the need for re-enrollment – in all except iris-based solutions. Fraud, delays and lost credentials can be largely eliminated by a biometric solution Iris Recognition Advantages The structural formation of the human iris (the visible coloured ring around the pupil), is fixed from the first year of life and remains constant. And few people can't use the technology, as most individuals have at least one eye. Even blind people have successfully used iris recognition. At employee enrollment, iris systems utilize an industry-standard camera to capture an image of the iris. Software converts that to a small template stored in a terminal database. Authentication requires employees to stand roughly 18 inches from an iris reader and the process takes about two seconds. With multiple readers installed, long lines are eliminated. Also eliminated is fraud. Since every user's iris is unique and required to be present at the reader, time fraud schemes are virtually impossible. The system can also prevent another type of back-office time fraud known as "ghost employees" – non-existent people added to the payroll. Security is also enhanced. The digital templates can't be used to produce any sort of visual image, affording a high-level of defense against employee identity theft. An iris recognition system can also grant facility access as employee's clock in for work. Iris Recognition Case Study Here's an example of how an iris recognition system has benefitted a major Turkish fruit and vegetable grower and one of Europe's largest providers of juice. The nature of the local work force created a major time-and-attendance challenge. "Fingerprint and facial recognition systems were tried briefly. Facial recognition suffered from workers' changes in hairstyle, facial hair, glasses and protective gear" New labourers arrive daily seeking work. Once hired, they might work a few days and then leave before returning a week later. Unreliable schedules made standard time cards virtually impossible to manage. The company's security integrator suggested smart cards as an option. But that wasn't much of an improvement as authorizing, printing, distributing and tracking cards for thousands of on-and-off workers continued the human resources nightmare. Also, improper use of the cards threatened to cut into the company's profits. Both fingerprint and facial recognition systems were tried briefly. The constant cuts and scars workers get from the manual labor impaired the accuracy of readers. Facial recognition suffered from workers' changes in hairstyle, facial hair, glasses and protective gear. Daily payroll reports are transmitted to the company's Istanbul headquarters using wide area networks in the fields and satellite communication. Software links the received data to a payroll module which automatically calculates employee hours and produces paychecks. The system currently has more than 10,000 enrolled workers. More are being added on an almost daily basis. Once a worker is in the system, it doesn't matter how often he may leave. When he returns, the iris system immediately recognizes him. Also, the contactless iris-based technology inhibits the transfer of virus or bacteria as there is no direct employee contact with the biometric readers. If these systems can work in remote areas of Turkey, they can certainly work in downtown Boston. And they do. There, a boutique hotel uses iris-based identity authentication to keep the hours of its employees. The same system also allows VIP guests to enter their suites without a key card. Reductions In Cost Recent reductions in both product and deployment costs have made using biometrics, including iris recognition, a practical time and attendance investment for organizations of almost any size and in any location. Of course, biometrics still remains the go-to choice for protecting sensitive locations and international borders, as well as national identity and voter registration programmes.
Related white papers
Cloud Video and Smart Cities
Physical Access Control In Higher Education
A Brief History of Access Control Credentials