Hikvision Access control systems & kits
(21)
Browse Access control systems & kits
Access control system products updated recently
Biometrics Provides Industries With Security, Access Control And Data Protection
Several major players vigorously employ biometric recognition technologies around the globe. Governments use biometrics to control immigration, security, and create national databases of biometric profiles. Being one of the most striking examples, the Indian Aadhaar includes face photos, iris, and fingerprints of about 1.2 billion people. Financial institutions, on their part, make use of biometrics to protect transactions by confirming a client's identity, as well as develop and provide services without clients visiting the office. Besides, biometric technology ensures security and optimizes passenger traffic at transport facilities and collects data about customers, and investigates theft and other incidents in retail stores. Widespread use of biometrics Business, which suddenly boosted the development of biometrics, is an active user of biometric technology Business, which suddenly boosted the development of biometrics, is another active user of biometric technology. Industries choose biometric systems, as these systems are impossible to trick in terms of security, access control, and data protection. Being in demand in business, these three tasks are also relevant for the industry. However, the use of biometrics at industrial sites is discussed unfairly seldom. Therefore, it is the face identification that is the most convenient there, as workers often use gloves, or their hands may be contaminated, and the palm pattern is distorted by heavy labor. All these features make it difficult to recognize people by fingerprints or veins and significantly reduce identification reliability. Therefore, industries seek facial recognition solutions. Thus, let us demonstrate the application of face recognition technology at different enterprises, regardless of the area. Facial recognition use in incident management Facial biometric products are known to automate and improve the efficiency of security services by enriching any VMS system. These systems provide an opportunity of instantly informing the operator about recognized or unrecognized people, and their list membership, as well as save all the detected images for further security incident investigation. Furthermore, some sophisticated facial biometric systems even provide an opportunity to build a map of the movements of specific people around a site. Besides, it is relevant not only for conducting investigations but also in countering the spread of the COVID-19 virus. Identifying and tracking COVID-19 positive cases Therefore, if an employee or visitor with a positive COVID-19 test enters a facility, the system will help to track his/her movement and identify his/her specific location. It will also help to take the necessary measures for spot sanitary processing. Thus, the introduction of biometric facial recognition at the industrial enterprise can improve and speed up the incidents' response and investigations without spending hours watching the video archive. Access control system to secure physical assets The right access control system can help industries secure physical and informational assets The right access control system can help industries secure physical and informational assets, cut personnel costs, and keep employees safe. Facial recognition systems may enrich access control systems of any company by providing more security. As biometric characteristics, by which the system assesses the compliance of a person with the available profiles in the database, cannot be faked or passed. The human factor is also reduced to zero, due to the fact that while identity documents can be changed, the inspector can make a mistake or treat his/her task carelessly, be in collusion with an intruder, the biometric system simply compares a person in front of the camera with the biometric profiles database. Biometric facial identification software For example, RecFaces product Id-Gate, a specialized software product for reliable access control to the site, checks the access rights by using biometric facial identification alone or in conjunction with traditional IDs (electronic passes, access keys, etc.), which means that there is almost a zero probability of passing to the site by someone else's ID. The access control system's functionality allows one to strictly account the number and time of all the facility's visitors and also track their movement. When unauthorized access is attempted or a person from the stop list is detected, Id-Gate sends an automatic notification to the access control system and operator. Enhanced data and information security Even despite the division of access to different industrial enterprise areas, the security service needs to provide independent information system security. Employees with the same facility access rights may have different access rights to data. However, in that case, a personal password is not enough, as an employee may forget it, write it down and leave it as a reminder, tell a colleague to do something for him/her during the vacation, or just enter it at another person's presence. Password-free biometric authentication systems make the procedure user-friendly and secure Password-free biometric authentication Password-free biometric authentication systems make the procedure user-friendly and secure. Such systems usually provide an option of two-step verification when successful password entry is additionally confirmed by biometric recognition. Hence, it is particularly relevant due to the current lockdown in many countries. To sum up, the application of biometric technologies solves several issues of the industry, such as: Optimizes and partially automates the work of the security service, as it provides reliable identification and verification of visitors/employees, reduces the amount of time spent on finding a person on video and making a map of his/her movements, without spending hours on watching video archive in case of investigation. Provides a high level of reliability and protection from unauthorized access to the enterprise and the information system. Provides a two-step verification of the user/visitor (including password and biometric data) and almost eliminates the risk of substitution of user data/ID.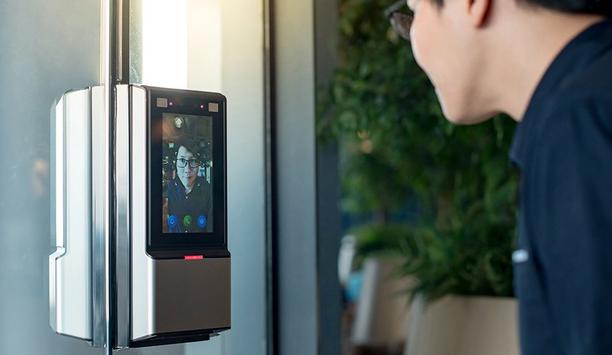 Physical Security in 2021: Post-Pandemic Solutions
In a world forever changed by the coronavirus pandemic, companies worldwide are now expanding their concept of physical security to best safeguard their facilities and employees. Few incidents have had as much of an impact on businesses globally as the COVID-19 pandemic; much of the world is still struggling to contain COVID-19, navigating the lasting effects and exploring what the "new normal" looks like. While some organizations are still engaged primarily in "anywhere operations", i.e. remote work, many organizations are implementing strategic physical security solutions that better protect everyone through the use of video surveillance technology and advanced intelligence capabilities. As this new normal takes hold within the business environment, security strategies will largely be centered around several key initiatives like access control, people counting, occupancy controls, temperature screening, contact tracing, and reducing office touch points. With the use of a video management system (VMS) in the shadow of COVID-19, occupancy data from a VMS can trigger a lockdown and not permit new entrants until the occupancy drops below a certain threshold; this is significantly useful for organizations that have returned to in-person work. But there's a caveat: though many legacy security systems are being re-evaluated to allow for touchless or frictionless access control — a move designed to eliminate the need for employees and visitors to physically touch a surface when using an access control system — upgrading the outdated technologies can be cumbersome and expensive, especially for organizations that had not planned for an interruption like the pandemic. Security contractors will be vital So, what is the solution? Security contractors will play a vital role in helping end-users across a range of vertical markets — large and small — to achieve their goals in the new paradigm. For some, this may mean leveraging existing access control and video surveillance systems with upgrades where needed. For others, an entire overhaul is made possible with budget friendly solutions for businesses to migrate to integrated access control through end-to-end security solutions that tie into existing infrastructures without major disruptions (meaning the organization will never be left vulnerable). Cybersecurity is becoming even more intertwined with physical security There is massive transformation occurring in the security industry, most notably the movement to digitise physical access and integrate it with video management systems and surveillance. This shift means that cybersecurity is becoming even more intertwined with physical security, allowing organizations the ability to correlate the metadata of people's behaviors and activities — a plus point for those looking to remain vigilant against future pandemic-esque business interruptions. Access, video, and audio are converging into consolidated platforms. Due to lower costs and pairings with IP-based, wireless infrastructure, there are infinite solution configurations. IT security requirements are beginning to apply to physical security because of this integrated infrastructure. Multi-factor authentication The security industry is also beginning to see a trend of multi-factor authentication, which is going to dominate in the days to come as it makes solutions more reliable. Most people carry smartphones these days, which have green check communication capabilities that allow easy multi-factor authentication. Costs are going down, and algorithms are getting better, making more people willing to try it. Some new solutions have both the fingerprint reader and a camera for facial biometrics Some new solutions have both the fingerprint reader and a camera for facial biometrics. Cameras and CCD modules cost almost nothing, and they do not have to be super high-end anymore, especially if organizations are doing one-to-one verification. It's not just about security now; it is security, health, and safety. Access control with video, intelligent readers, and credentials is a perfect platform for next generation solutions.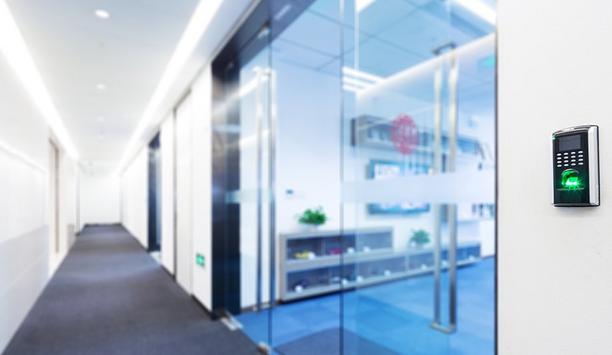 Access Control and Door Entry Management: How Technology is Driving Change
Access control and door entry is a huge responsibility, and challenge, for local authorities and housing associations UK wide. For councils, they're accountable for the security and safety of many public facilities such as leisure centers, libraries as well as residential housing developments which are often large scale and home to hundreds of people. Housing associations manage affordable rental housing which also means they're responsible for the appropriate access control management for each individual house or apartment. Technology developments have enabled better entry systems that are far more secure yet also more convenient and easier to manage. For example, with modern intercom and access control systems, remote management and communication is something that offers local authorities and housing associations features that enable them to reduce costs and cut their carbon footprints by managing multiple sites from one place. On the other hand, such technological innovation has meant that local authority and housing association specifiers and consultants now have a wide range of systems and products to choose from which can cause issues in ensuring the right system for a specific building or development is chosen. Choosing an appropritate access control system In choosing an appropriate system, local authorities and housing associations need to opt for a cost effective solution that can be easily maintained with excellent support from the manufacturer and guarantees that the system and system parts will remain supported for the duration of its expected life cycle. It is also important that the chosen system is flexible to cater for the varying needs of the tenants and visitors. Of increasing importance is the reduction of anti-social behavior which new technology can help by providing the use of data loggers which track the use and events of a door entry system, allowing specific evidence to be located by integrating with CCTV. Using technology to our advantage Through advancements in management systems and services, we can gain a much better visual representation of the events and general usage of an intercom entry system and not just its proximity access control. Systems, for example, can now send email alarms or notifications to the administrator or management. We are now able to modify user rights and access levels on the go from a mobile app which enables a much greater control over service and maintenance engineers, such as making sure they have full access when required via an app, rather than arriving to site with the incorrect keys or access fob. Systems, for example, can now send email alarms or notifications to the administrator or management Dealing with tenant's lost and stolen keys has never been so easy either. The blocking or deletion of lost fobs and adding a new fob can be carried out in minutes while at the same time removing the cost of sending an engineer to the development to program new fobs. This greatly reduces the carbon footprint of the whole task as fobs can now be sent out via mail to a secure location for collection. Technology has also helped local authorities and housing associations to overcome the issue of not being able to have a concierge or building manager available 24/7 at some developments. Now with internet communication, it's possible for tenants and visitors to get in touch with someone should they need assistance, whether that's from within the apartment or from an entrance point. For example, lets take the Videx VX2200 with IP concierge integration. This system is exceptionally flexible, enabling calls to be answered on Videx intercoms and also mobile phones if required. With the integration of the IP concierge each block can be either standalone or networked via the internet back to a central control room. Reduced maintenance costs and carbon footprint We work with a wide range of local authorities and housing associations to help them overcome access control and door entry challenges. One organization we have recently partnered with is The Living Group to help them greatly reduce their maintenance costs and carbon footprint by installing the MiAccess offline proximity system on many of their developments across the North East. Technology developments have enabled better entry systems that are far more secure yet also more convenient and easier to manage By installing an appropriate system, The Living Group has managed to overcome issues caused by the existing system's limitations and also enabled much more flexibility when it comes to effectively managing the access control system of all their included developments. For those responsible for effective and appropriate access control, the management of the systems are easier, quicker and there's no delay or on-going costs for needing a specialist program to modify fobs and access rights as this can now all carried out in-house. Improved security legislation Further advancements in programmes such as Secured by Design (SBD), a police initiative that improves the security of buildings and their immediate surroundings to provide safe places to live, work and visit, means that there's more security legislation being implemented that's making intercoms and access control more secure, without affecting ease and convenience. Videx holds an SBD accreditation and we know, from first-hand experience, how it's making a difference in keeping tenants safe. When you combine the safety features promoted by an SBD member company like ourselves with the likes of the Videx event logging, image capture and ability to modify access users on the go, for example, we can help to create a very safe and secure environment. Personally, I think there needs to be a greater emphasis on the role of security legislation Technology has completely transformed the way local authorities and housing association are able to choose, install and manage door entry and access control systems for tenants and visitors alike. Personally, I think there needs to be a greater emphasis on the role of security legislation such as Secured by Design to ensure all councils and housing association consultants are up to date with what constitutes a robust and secure system that's also cost effective too. In my role, I see weaknesses in systems and constant ongoing costs that could easily be avoided. For instance, features such as timed remote entry means local authority and housing association management no longer need to worry about keys being lost, the wrong keys being supplied or locks needing to be changed. With new systems such as the Videx MiAccess and Videx WS4 range, we can help to massively reduce a housing association's or council's carbon footprint and engineer costs by allowing them the access to management and control from an offsite location. Crime prevention We can also use live and logged events to help prevent crime in different ways, from antisocial behavior growing around a tenant being called or visited much more regularly than others, to knowing a tenant is currently still living at a property but isn't paying rent or answering to any correspondence. Technology enables local authorities and housing associations to receive detailed data and therefore behavioral insights on the people under their management and care. If consultants and specifiers are advised on the most appropriate systems that meet their specific entry needs, they can ensure greater, safer and more convenient access control that meets the requirements of both the end user and the those responsible for its effective management.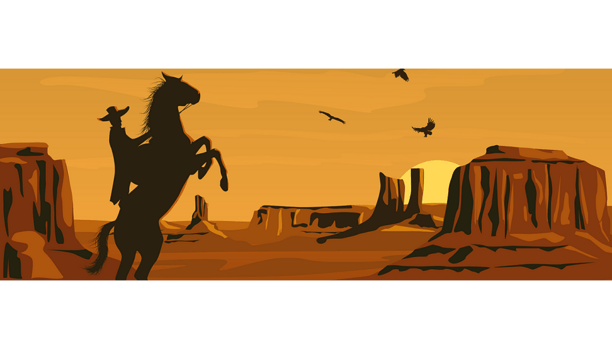 Hikvision Shares Awareness Of Cybersecurity Vulnerabilities With IoT Devices
As the media often reports, the world of cybersecurity can be seen like the 'Wild West'. There's now a wide range of Internet of Things (IoT) devices connected to the web, making this a hot topic. Among these devices are security cameras. IoT devices are computers that use software that makes them vulnerable. As the famous cybersecurity evangelist Mikko Hypponen says, "If a device is smart, it's vulnerable!" Hypponen is right. On a daily basis, new vulnerabilities are found in software, regardless of the manufacturer. In 2019, more than 12,000 vulnerabilities worldwide were made public and reported as a CVE (Common Vulnerability and Exposure) in the National Vulnerability Database (NVD). Unfortunately, vulnerabilities are a given. What really matters is how a company deals with and resolves vulnerabilities. Cybersecurity vulnerabilities Awareness of cybersecurity vulnerabilities is vitally important to protect one, one's business and the Internet Awareness of cybersecurity vulnerabilities is vitally important to protect one, one's business and the Internet, but it's also important to understand that a vulnerability is not synonymous with "backdoor", and is not necessarily indicative of "cheap quality." But there are companies out there that are embedding safeguards into their development processes to reduce the risks. One could see them as 'Sheriffs', taking steps to make this Wild West a little safer. Hikvision 'Secure-by-Design' Manufacturers of IoT devices can significantly reduce these vulnerabilities during the production of devices Security cameras, like all other IoT devices, are vulnerable to cyberattacks. Fortunately, manufacturers of IoT devices can significantly reduce these vulnerabilities during the production of devices, using a process called 'Secure-by-Design'. Implementation of Secure-by-Design requires a commitment on the part of the manufacturer's management team and a serious investment in resources and technology, which can result in a longer production process and a higher cost of the IoT device. Cost is often the reason why some IoT device manufacturers do not use Secure-by-Design (and are indeed cheaper). Hikvision is a producer of IoT devices that takes security and privacy very seriously and has implemented Secure-by-Design in its production process. Management supports this process and has even set up a dedicated internal cybersecurity structure charged with product cybersecurity. This group is also the central point of contact for all other cybersecurity matters. Product testing Hikvision Security Development Life Cycle (HSDLC) is an essential part of Hikvision's cybersecurity program The Hikvision Security Development Life Cycle (HSDLC) is an essential part of Hikvision's cybersecurity program. Cybersecurity checks take place at every stage of product development — from concept to delivery. For example, product testing takes place during the verification phase, the company also regularly invites well-known security companies and public testing platforms to conduct penetrating testing. There is no guarantee if Hikvision products are immune to hacking, but the HSDLC is a testament to a manufacturer that makes every effort to produce products that are as cyber secure as possible. In addition to the Secure-by-Design process, Hikvision opened a Source Code Transparency Center (SCTC) lab in California in 2018, being a lab to open such a center. At this center, U.S., the Canadian government and law enforcement agencies can view and evaluate the source code of Hikvision IoT devices (IP cameras and network video recorders). Hikvision firmware Hikvision has a Vulnerability Management Program in place when a vulnerability is discovered It's important to emphasize that no product is 100 percent secure. Hikvision has a Vulnerability Management Program in place when a vulnerability is discovered in a product. To date, vulnerabilities that have been reported to Hikvision and/or made publicly known, have been patched in the latest Hikvision firmware, and are readily available on the Hikvision website. In addition, Hikvision is a CVE CNA, and has committed to continuing to work with third-party white-hat hackers and security researchers, to find, patch and publicly release updates to products in a timely manner. These vulnerabilities are collected in the National Vulnerability Database (NVD) and are public. Hikvision recommends that customers who are interested in purchasing security cameras inquire about a manufacturer's cybersecurity practices and if they have an established Vulnerability Management Program. Cybersecurity questions to consider The cybersecurity of IoT devices is a topic that needs to be addressed in a serious way and it should play an essential role in the product development process, beginning at the concept phase of an IoT product. This requires time, investment and knowledge. Consider the following questions: Trust on the manufacturer of a low-cost security camera Manufacturer with a dedicated cybersecurity organization Manufacturer on handling the vulnerabilities These are the questions that everyone should ask themselves when making a purchase, be it a camera or any other IoT product. Cybersecurity practices There is no absolute 100% guarantee of security, but Hikvision has practices to ensure the cybersecurity for its cameras. Cooperation, with its customers, installers, distributors and partners, and full transparency are key elements to successfully secure IoT devices. When one reads cybersecurity news, one is invited to look beyond the headlines, and really get to know the companies that produce the IoT devices. Before one buys a security camera or any IoT device, it is advisable to check out the manufacturer's cybersecurity practices, look for a company with a robust vulnerability management program, a company that aligns itself with Secure-by-Design and Privacy-by-Design and a company that employs cybersecurity professionals who are ready and eager to answer one's questions. One may remember that there are Sheriffs out there, as well as bandits.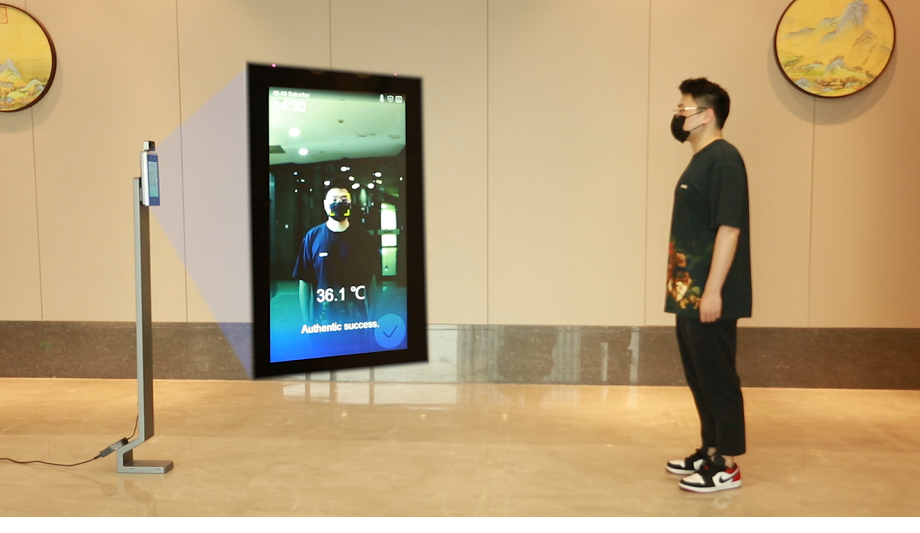 Hikvision Introduces MinMoe And Flow Control Solutions For Density Control, Temperature Screening, Mask Detection And Access Control
Businesses are now gradually reopening in many countries, and people can return to restaurants, office buildings, and public spaces. A safe reopening process will rely heavily on effective public health strategies, including increased testing for the virus, social distancing, occupancy restrictions, and cleaning and disinfection activities. In many countries, temperature measurement and the wearing of masks have been commonly made mandatory in both business and public environments. While social distancing and occupancy restrictions are considered necessary in public areas such as shopping malls and transportation hubs, workplaces like office buildings and industrial parks are looking for solutions featuring authorized entries with confidence. In lifting the restrictions for businesses and public areas, innovative video technologies can also help organizations meet and exceed health guidelines for safe and effective reopening. Temperature screening at entry The Centers for Disease Control and Prevention (CDC) in the United States, a very well-known public health organization, have issued new guidelines for reopening offices. The CDC advises daily health checks including temperature screenings before employees enter a workplace. To achieve this, security cameras equipped with thermographic video technology can be an effective tool for rapid and safe initial temperature screening. Applications include, for example, schools, industrial parks, hospitals, office buildings, malls and hotels, etc. Hikvision's temperature screening solutions offer various product types including installed thermographic cameras, handheld thermographic cameras, metal detector doors, and MinMoe access terminals that can be flexibly deployed for a wide range of applications. Video monitoring for mask compliance Wearing masks is recommended as a measure to contain respiratory droplets and protect the general public. Masks are also commonly included in worldwide health guidelines towards reopening. Store managers also need to identify and mitigate areas where shoppers may congregate Hence, compliance with this guideline has become crucial to many organizations. Video technology can help monitor the use of protective masks in clever and unobtrusive ways. AI algorithms can detect whether a person is wearing a mask. The system then triggers a pre-defined action if no mask is detected, such as, for example, a voice prompt or a link to an access system to deny entry. This provides a simple way to monitor the situation, or even to remind people of the rules. Hikvision's thermal and AcuSense cameras, as well as MinMoe temperature screening terminals are equipped to detect masks. A specialized interface on Hikvision's DeepinMind NVRs can also be used to visually display temperature and mask status together, making monitoring much easier. Crowd density control Social distancing plays an important role in "flattening the curve" in the spread of the coronavirus. These technologies use people counting and 3D modeling to measure the distance between people accurately In various countries, the recommended physical distancing might differ slightly, but maintaining a distance of a meter or more (3-6 feet) will remain a key recommendation of health authorities. In addition, store managers also need to identify and mitigate areas where shoppers may congregate, so as to ensure safe shopping spaces. Technologies incorporating social distancing and occupancy detection can be put into places like these to assist the process. Hikvision Flow Control Hikvision's Flow Control system utilizes highly accurate people counting technology. A clear, dynamic display and real-time alerts ensure pre-defined capacity thresholds are never exceeded, even in locations with multiple entrances and exits, such as, for example, shopping malls and supermarkets. Video solution provides the necessary features and functionalities to assist with the process of social distancing A digital sign can be integrated at entrance areas to display real-time occupancy data, as well as temperature and mask information, letting customers know when it is safe to enter premises. In waiting areas such as cash registers in supermarkets and indoor ATMs in malls, Hikvision's video solution provides the necessary features and functionalities to assist with the process of social distancing. These technologies use people counting and 3D modeling to measure the distance between people accurately. The exact measurement can be adjusted, well within the social distancing minimum separation guidelines. Touch-free access control Schools and workplaces have previously made use of traditional access control and time attendance systems such as ID card swiping, PIN codes, or fingerprint scans, which require staff and students to frequently touch shared surfaces. This only increases the risk of spreading infection. With touch-free access control terminals, organizations can not only eliminate the risk, but greatly enhance their daily operational efficiency. Hikvision's MinMoe temperature screening terminals unify temperature screening, mask detection, and access control & time attendance in one model. The system only grants entries when the guidelines are met, which is particularly useful in highly-populated workplaces like industrial parks and office buildings.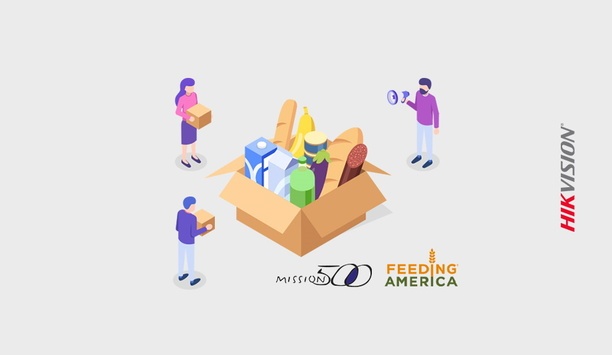 Hikvision USA Donates Funds To The Security Industry's COVID-19 Relief Response Project
Hikvision USA announces it is donating $5,000 to help kick off the Security Industry's COVID-19 Relief Response project, organized by Mission 500. Mission 500, a non-profit organization that works with the security industry to serve the needs of children and communities in crisis, has partnered with Feeding America, the largest domestic hunger-relief organization, with the goal of providing 'one million meals' to families in need across the U.S. Creating unprecedented uncertainty Hikvision's donation will be used as matching funds for the first $5,000 donated to the project. Please click here to learn more about Mission 500's 'Million Meal Challenge' and to make a donation. Hikvision is always happy to partner with Mission 500 and it is pleased to work with Feeding America for the first time. For every $1 donated, Feeding America is able to provide 10 meals to families through its network of 200 foodbanks. "The COVID-19 crisis has created unprecedented uncertainty. With schools closed and many people out of work, hunger is a dire problem in our communities," said Marianne Chew, Hikvision USA Director of Marketing. "Working together, we can make a difference. Hikvision USA is very grateful to have the opportunity to work with Mission 500, Feeding America, and others in the security industry to support children and families in need," she added. Showing collective strength Ken Gould, Chairman of the Board, Mission 500 said that the security industry has repeatedly shown its collective strength. "Hikvision's donation to this initiative will provide 50,000 meals to children and families across the US, and Hikvision is inviting the people and companies in the industry to match this, as the first step in reaching the one million meal mark." Every year Hikvision employees participate in numerous Mission 500 volunteer events including the Security 5/2K, the Puerto Rico service trip where Hikvision employees helped victims of Hurricane Maria rebuild their homes, and kit building events for Title 1 school children in Connecticut and Florida.
Related white papers
Physical Access Control In Higher Education
11 Considerations For Embedded System RFID Readers
Beyond Security - Access Control For Multi-Tenant Sites