Viisage Access Control Softwares
(1)
Browse Access Control Softwares
Access control software products updated recently
Wire-Free, Mobile First And Data Rich? The Future Of Access Control Is Within Almost Anyone's Reach
The 2020s will be a wireless decade in access control, says Russell Wagstaff from ASSA ABLOY Opening Solutions EMEA. He examines the trends data, and looks beyond mobile keys to brand new security roles for the smartphone. The benefits of wire-free electronic access control are well rehearsed. They are also more relevant than ever. A wireless solution gives facility managers deeper, more flexible control over who should have access, where and when, because installing, operating and integrating them is easier and less expensive than wiring more doors. Battery powered locks Many procurement teams are now aware of these cost advantages, but perhaps not their scale. Research for an ASSA ABLOY Opening Solutions (AAOS) benchmarking exercise found installation stage to be the largest contributor to cost reduction. Comparing a typical installation of battery-powered Aperio locks versus wired locks at the same scale, the research projected an 80% saving in installers' labor costs for customers who go cable-free. Battery powered locks all consume much less energy than traditional wired locks Operating costs are also lower for wireless: Battery powered locks all consume much less energy than traditional wired locks, which normally work via magnets connected permanently to electricity. Wireless locks only 'wake up' when presented with a credential for which they must make an access decision. AAOS estimated a 70% saving in energy use over a comparable lock's lifetime. Find out more about wireless access control at ASSA ABLOY's upcoming June webinar Deploying wireless locks In short, every time a business chooses a wireless lock rather than a wired door, they benefit from both installation and operating cost savings. A recent report from IFSEC Global, AAOS and Omdia reveals the extent to which the advantages of wireless are cutting through. Responses to a large survey of security professionals — end-users, installers, integrators and consultants serving large corporations and small- to medium-sized organizations in education, healthcare, industrial, commercial, infrastructure, retail, banking and other sectors — suggest almost four locations in ten (38%) have now deployed wireless locks as a part or the whole of their access solution. The corresponding data point from AAOS's 2014 Report was 23%. Electronic access control Electronic access control is less dependent than ever on cabling Without doubt, electronic access control is less dependent than ever on cabling: Even after a year when many investments have been deferred or curtailed, the data reveals fast-growing adoption of wireless locks, technologies and systems. Is mobile access control — based on digital credentials or 'virtual keys' stored on a smartphone — an ideal security technology for this wire-free future? In fact, the same report finds mobile access is growing fast right now. Among those surveyed, 26% of end-users already offer mobile compatibility; 39% plan to roll out mobile access within two years. Before the mid-2020s, around two-thirds of access systems will employ the smartphone in some way. The smartphone is also convenient for gathering system insights Driving rapid adoption What is driving such rapid adoption? The convenience benefits for everyday users are obvious — witness the mobile boom in banking and payments, travel or event ticketing, transport, food delivery and countless more areas of modern life. Access control is a natural fit. If you have your phone, you are already carrying your keys: What could be easier? IBM forecasts that 1.87 billion people globally will be mobile workers by 2022 Less often discussed are the ways mobile management makes life easier for facility and security managers, too. Among those polled for the new Wireless Access Control Report, almost half (47%) agreed that 'Mobile was more flexible than physical credentials, and 36% believe that mobile credentials make it easier to upgrade employee access rights at any time.' IBM forecasts that 1.87 billion people globally will be mobile workers by 2022. Workers in every impacted sector require solutions which can get the job done from anywhere: Access management via smartphone offers this. Site management device The smartphone is also convenient for gathering system insights. For example, one new reporting and analytics tool for CLIQ key-based access control systems uses an app to collect, visualise and evaluate access data. Security system data could contribute to business success. The app's clear, visual layout helps managers to instantly spot relevant trends, anomalies or patterns. It's simple to export, to share insights across the business. Reinvented for learning — not just as a 'key' or site management device — the phone will help businesses make smarter, data-informed decisions. The smartphone will also play a major role in security — and everything else — for an exciting new generation of smart buildings. These buildings will derive their intelligence from interoperability. Over 90% of the report's survey respondents highlighted the importance of integration across building functions including access control, CCTV, alarm and visitor management systems. Genuinely seamless integration They offer greater peace of mind than proprietary solutions which 'lock you in' for the long term Yet in practise, stumbling blocks remain on the road to deeper, genuinely seamless integration. More than a quarter of those polled felt held back by a lack of solutions developed to open standards. 'Open standards are key for the momentum behind the shift towards system integration,' notes the Report. As well as being more flexible, open solutions are better futureproofed. Shared standards ensure investments can be made today with confidence that hardware and firmware may be built on seamlessly in the future. They offer greater peace of mind than proprietary solutions which 'lock you in' for the long term. Open solutions and mobile management are critical to achieving the goals which end-users in every vertical are chasing: scalability, flexibility, sustainability, cost-efficiency and convenience.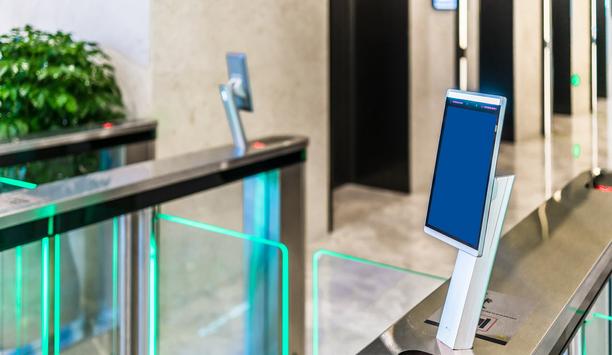 Secure Access Control Is Helping To Shape The Post-Pandemic World
With the continued rolling back of COVID restrictions in the UK, there is a palpable sense of relief. A mixture of mass vaccinations, widespread testing, and track and tracing of the infection is helping to enable a healthy bounce back for businesses – with secure access control taking an important role in facilitating this. However, rather than just being a reaction to the wake of the pandemic, there is every sign that the economy, and consequently the security sector as well, are both rebuilding and reshaping for the long-term new normal. Prioritizing Safety Already deemed an essential service even during the first wave of the pandemic, the security industry has of course taken a vital role in protecting people and property throughout the crisis. Now that venues in the UK are starting to reopen again, our services are key to occupancy management and ensuring that disease transmission is limited as far as possible. Access control is also key in reassuring people that their safety is a priority. Making the upgrade It's all been about choosing the most suitable components and technology that already existed with a few "tweaks" Businesses and organizations have a duty of care to their employees and the safety of visitors – so controlling access, employing lateral flow testing, and deploying suitable Track & Trace mechanisms are all key components. I think those outside our industry are surprised to learn that most of the technology being deployed and used hasn't just magically developed since COVID appeared – it's all been about choosing the most suitable components and technology that already existed albeit with a few development "tweaks" or adjustments for the situation at hand. This includes using or installing facial recognition readers rather than using fingerprint or contact tokens, it is swapping to automatic request to exit sensors instead of buttons; it is using powered secure doors rather than having people all grab the same handle. Using cellphone credentials is also a key technology choice – why not use the highly secure, easy to manage, cost-effective, and of course contact-free benefits of this approach? Touchless solutions We have seen a clear shift in organizations looking to protect their staff and visitors. For instance, we have a big utility customer in Southeast Asia that has just replaced close to 200 sites using fingerprint readers with an additional facial recognition capability. We have also seen a big rise in demand for touchless request to exit sensors and Bluetooth Low Energy Readers for use with smartphone authentication. Working together Integration of security systems is of course nothing new, but in the post-pandemic or endemic age, it has perhaps never been more important. Installations need to be simple, straightforward, and rapid to help maintain safe distancing but also to ensure systems can be deployed as soon as they are needed. The world is changing and developing rapidly and there is simply no place for systems that don't work with others or cause the end-user considerable cost and inconvenience to upgrade. This flexible delivery of security solutions perfectly matches the evolving and increasing demands of the market. It's clear that end-users want systems that work well and can easily integrate with their existing systems – not only security but all the other business components which work in unison with each other over a shared network. Great opportunities ahead The recent work-from-home trend is also clearly changing the way organizations and businesses interact with the built environment. Lots of companies are downsizing, offices are being split up, there is lots of revitalization and reuse of existing office space – all of which creates considerable opportunities for security providers. UK inflation more than doubled in April 2021 with unemployment figures dropping and the Pound rising in value There are also, in the UK at least, clear signs that the construction industry is rapidly growing again -with a forecast of 8% rebound and growth this year. UK inflation more than doubled in April 2021 with unemployment figures dropping and the Pound rising in value – all positive signs for UK-based security providers. Undoubtedly the highly successful UK vaccination rollout has helped considerably, but there are signs that the Eurozone looks set to improve considerably over the next few months as well. Using integrated access control Undoubtedly the pandemic has made security markets around the world more aware of the benefits of integrated access control in managing the needs of the new normal COVID endemic environment. For example, as a business, we have always had keen interest from the UK healthcare sector, but over the last 12 months, we have seen a big growth in previously modest international markets including Morocco, Kuwait, Bahrain, Thailand, Singapore, Hong Kong, and Thailand – all of which are very keen to adopt improved access control solutions. Learning the lessons Nobody would deny the last year or so has been unprecedentedly tough on everyone, as a society we have had to make huge changes and sacrifices. Governments, organizations, and businesses all need to be better prepared in the future, to understand the things that went wrong and those that were successful. However, there is a world beyond the immediate pandemic and its effects. Flexible working practices and the changes these will have to the way we live and work will undoubtedly present great opportunities for the security sector in helping the world evolve. The pandemic has been a wake-up call for many organizations with regards to their duty of care to employees – particularly when it comes to mental health and providing a sensible work/life balance. Where we work and the safety of these facilities has received far more scrutiny than before. Flexible security systems Integrated security solutions have a vital role to play in not only protecting the safety of people during the post-lockdown return to work but also in the evolution of the built environment and move towards smart cities - which inevitably will now need to consider greater flexibility in securing home working spaces rather than just traditional places of work. Importantly, powerful access control and integrated security systems need to be flexible to the uncertainties ahead. The COVID pandemic has shown that nothing can be considered certain, except the need for greater flexibility and resilience in the way we operate our professional and personal interactions.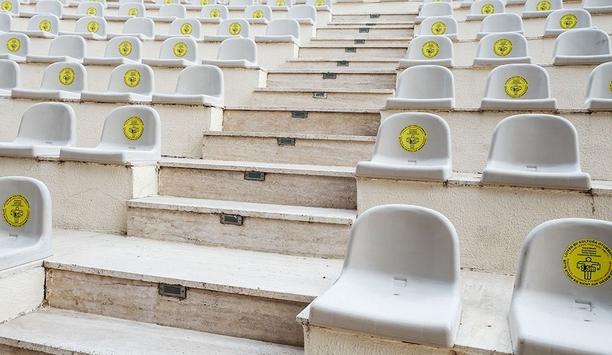 Government Steps In To Promote The Protection Of Public Venues
COVID restrictions across the UK are slowly easing and many public venues, including stadiums, are beginning to reopen following a year of closures and uncertainty. According to recent ONS figures, criminal offenses – excluding fraud and computer misuse – dropped significantly during the lockdown periods of 2020. In fact, 25% less crime was reported in April 2020 compared to the same month in 2019. However, as lockdown measures eased each time, crime levels quickly crept up, sadly emphasizing the remaining very real threat of theft, terrorism, and random acts of violence. Considering protective measures These stats reiterate just how crucial it is for venue owners to consider protective measures to ensure the public can enjoy the site, or space, safely. To support this, the government launched a consultation in February, on newly proposed anti-terrorism legislation to help better protect the general public when they visit public venues. The Protect Duty Bill builds on 'Martyn's Law', legislation campaigned for by the mother of one of the victims of the 2017 Manchester Arena attack. The consultation will consider ways of developing robust security measures in public areas The consultation will consider ways of developing robust security measures in public areas. Currently, there is no legal obligation for venue operators and owners of public locations to take the responsibility of protecting the public. This Bill will ensure they are liable and certify they take steps to assess and mitigate the security risks. Achieving improved security Publicly accessible locations are any spaces the general public have permission to enter. This comprises of three main categories: public venues with a capacity of over 100 people, e.g., entertainment venues, tourist attractions, and shopping centers; large organizations like retail or entertainment chains with a minimum of 250 staff; and public spaces such as parks, beaches, and thoroughfares. Public spaces are significantly tougher to protect, and the government is intent on exploring the most effective way to achieve improved security, alongside the parties responsible for these locations. This means establishing responsibility for safety in these spaces, considering what the reasonable expectations are, and the potential role played by legislation in mitigating the issues. Providing security framework Measures must be put in place to ensure they're ready to take appropriate action at any time It's impossible to predict or prevent all terrorist attacks, so any publicly accessible location has the potential to be a target. Measures must be put in place to ensure they're ready to take appropriate action at any time, should an incident take place. The consultation aims to provide a security framework to help venues be prepared, by considering the adequacy of adopted security measures, systems, and processes. The consultation document includes a list of recommendations for venues: Be alert to suspicious behaviors, engage the person in a welcoming and helpful manner, or report them to the police. Be alert to abandoned bags. Be security-minded, especially online. Avoid providing specific information that could aid a terrorist, for example, floor plans with security details. Encourage and enable a security culture. Complete and provide ACT (Action Counters Terrorism) Awareness e-learning. Have a clear action plan. How would you respond to an incident inside or outside your site? Periodically review and refresh the risk assessment. Security-Minded culture The framework comprises of three key points that should be strongly considered for all spaces and organizations: Completing a risk assessment – This involves understanding potential terrorist motivations, targets, type of attack, and how those motivations and methodologies might change or evolve. A systemic approach to security – It's vital to think of security as a combination of physical and behavioral interventions to ensure a far more secure area or venue. Physical measures such as fences, bollards, CCTV, and blast-resistant glazing should be installed alongside a security-minded culture. Vigilance should be encouraged and the appropriate training offered to staff involved in the day-to-day running of the establishment. Investigate the ins and outs – while it may be tempting to choose a product and hope for the best, it's crucial to investigate further to ensure your system doesn't conflict with other safety measures, including health, safety, and fire regulations. Practical preparedness measures Venues should also consider a 'reasonably practicable' organizational preparedness system To meet the terms, be sure to use all the information and guidance provided by the government, and police services. The guidance is designed to help realize the risks, and the potential impact they could have on people and property. These will vary per site as each venue is unique and will have a specific purpose which will influence the security measures required. Venues should also consider a 'reasonably practicable' organizational preparedness system. This doesn't mean that all employees have to become security staff, but rather providing training and planning so that everyone knows how to react quickly in case of an emergency. First and foremost, the government is offering advice on understanding threats and attack methods, practical preparedness measures, and how to stay vigilant and plan for incidents. There are also plans for a new digital platform to be launched later this year for advice and training purposes. High-Quality products In addition to this, sectoral and regional engagement days have been outlined in the proposal, with updates and revisions to training and e-learning programs. An app devoted to ACT was launched in March 2020, and the government authorities Career Transition Partnership (CTP) and Center for the Protection of National Infrastructure (CPNI) are also providing advice. Organizations that specialize in delivering and supporting security solutions can help owners There are plans for the government and businesses to have increased engagement with the security industry. Organizations that specialize in delivering and supporting security solutions can help owners and operators of publicly accessible locations comply with the Protect Duty. It's becoming more important than ever before to ensure the market can provide sufficient high-quality products, services, and expert information to those who require it. Maintaining appropriate standards The government may consider introducing new schemes to promote and maintain appropriate standards such as accredited training and approved contractor schemes or regulation, in addition to existing initiatives. A renewed focus on integrated security in public venues is hugely encouraging. We have demonstrated for years that it is very possible to make a site both secure and aesthetically pleasing, in keeping with its existing surroundings. Furthermore, in many cases security can positively enhance user experience. Many visitors feel reassured by carefully integrated physical security when they attend large scale events, meaning they'll visit again. Do this in a hostile way and people will be put off. Robust protection in these venues and spaces is all about achieving a careful balance, and with the right guidance and fit-for-purpose solutions, we can help to create a safer spaces for everyone.
Related white papers
Delivering a Smart, Secure and Healthy Workplace with Cloud
Trusted Execution Environment in Access Control
Four Areas to Consider in Frictionless Access Control