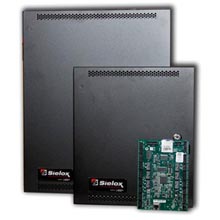 The 1700 Controller is designed with all
logic built into its field-programmable
processor, allowing for fast design change
& easy field updates
Sielox, an industry leader in integrated access control and emergency response technologies, is highlighting its unique "no end of life" 1700 Controller at ASIS 2015 in booth 1245 along with other innovative hardware, software and mobile technologies. The enhanced 1700 Controller features a number of updates designed to increase the functionality and flexibility.
Ultimate Versatility
"We are continually enhancing the 1700 Controller to offer the highest levels of functionality that customers require in their access control solution," said Karen Evans, CEO and President, Sielox. "We will continue to expand the number of best-in-breed wireless locks the 1700 Controller supports to provide end users with ultimate versatility, value and scalability."
Because the 1700 Controller has been uniquely designed with all logic built into its field-programmable processor, it allows for fast design changes to accommodate new features and enables easy field updates. As a result, the 1700 Controller has no estimated end-of-life. A built-in SD card stores a backup of all configuration data, allowing for instant recovery in the event of a failure. The entire access database can also be downloaded onto the SD card to facilitate access operation in the event of network failure.
Improved Network Performance
Among the many enhancements Sielox has made to the 1700 Controller are improved IP network performance and enhanced wireless lock solutions. The controller features on-board Ethernet to bring true IP connectivity all the way to the processor. Unlike competitor offerings, this approach removes the restrictions of low-speed converters and adapters to support communication at standard IP speeds. Not only does this accelerate communications, speed up installation and enable remote diagnostics, it supports overall higher performance. Additional features include field-replaceable socketed relays, which reduce the cost and time of repairs by allowing instant replacement of the failed components.
The 1700 Controller is compatible with a wide range of wireless locking systems, and now Sielox has added support for AD Schlage locks and Schlage's privacy and deadbolt modes. Installers and end users are also now able to mix and match Schlage AD400, AD300 and Engage NDE locks on the same RS-485 connection to a single 1700 Controller. With the ability to communicate with up to 16 gateways, the 1700 can support 32 total locks per controller.
Sielox has seen increasing interest and adoption from a wide variety of markets, including retail, multi-family homes, commercial buildings and more. Made in the USA, the 1700 Controller is also FIPS 201 compliant for federal applications.
Download PDF version