October 2010, Malta Freeport, located in the heart of the Mediterranean, ranked among the top European ports and is the third largest transshipment and logistics center in the region. Due to its law enforcement under ISPS Code, the IP Surveillance System is required to consistently support governments evaluating risks and offset with changes in threat and vulnerability for ships and port facilities, including certain equipments, monitoring and controlling access, and monitoring the activities of people and cargo.

In order to meet the aforesaid requirements, there are more than 60pcs of IP cameras implemented and controlled in central management room to provide 24x7 basis monitoring via fiber backbone network.

Problem & Issue

After 9/11 attacks in NY, the global society was alerted and threatened by terrorism, including Europe. For preventing any security breaches in monitoring a large and wide area of seaport, the region needed the most powerful and scalable system to manage busy shipping and transit traffic, security of goods and people safety. In addition to, the capability to look up for details in live videos becomes crucial, and this can only be achieved by megapixel system. For the above reasons, an IP-based surveillance system is the exact solution for this.

Solution & Benefit

As Karim Cassar, Tenders & Technical Research Executive at Alberta, said: "I selected GVD products over competitive products for its good response and support. And the system is working very well to date".

Most durable IP surveillance system

GVD provides a total solution, especially designed to empower megapixel. GVD cooperates with world leading IP camera vendors and the strong system provider Alberta to provide the best performance of megapixel surveillance. Monitoring under GVD NVR M600 series, server class rack mount, the real time video can be seamlessly sent to the control center just by one click, in combination with the alarm pop-up feature, so that any critical scene will not be missing. GVD is absolutely worth the cost comparing to other NVR providers, for providing not only the hardware, but also the software.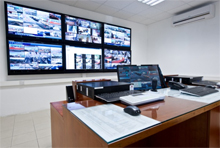 GVD E100/E200 series helps surveillance staff to construct real time CCTV wall


Advanced streaming technology

Under GVD Time Sector Engine's intelligent search and flexible video streaming capability to optimize both bandwidth and storage, allowing resolutions from 4 CIF to 2 mega pixel for fixed and PTZ cameras, not only delivers live, recorded and playback video, but also highly demanded remote access anytime from anywhere.

Smarter CCTV Wall

From GVD E100/E200 series, surveillance staffs manage to construct real-time CCTV Wall easily and to monitor for 24x7 long, due to its high resolution for better viewing, high frame rate for later investigation, and capability of decoding large data for long term operation etc.
Download PDF version
Download PDF version