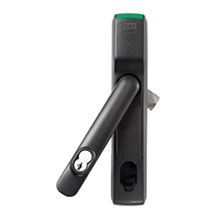 The HES K200 cabinet lock makes it simple and cost effective to bring access control to cabinets
In order to bring access control to cabinets and drawers where audit trail and monitoring are becoming increasingly critical, HES, an ASSA ABLOY Group company, is introducing two new locks this year at ASIS 2015, the K200 Cabinet Lock and KS200 Server Cabinet Lock, which was recognized last week in the 2015 ASIS Accolades Competition for a Security's Best Award. The K200 and KS200 expand the current HES cabinet lock portfolio, building upon the K100, KS100, 610 Series and 660 Series.
Seamless Integration
Ideal for medical and education applications, the HES K200 Cabinet Lock makes it simple and cost effective to bring access control to cabinets and drawers, offering a convenient, single credential solution for compliance and safety throughout the facility. Using Wiegand communication between the multi-technology reader and an existing access control system, it enables real-time audit capabilities and door monitoring at the drawer or cabinet level.
With over three million data centers in the U.S., this growing market is demanding critical protection for not only its perimeters and interior openings, but also its server cabinets. The HES KS200 Server Cabinet Lock extends access control to protect data center assets from intrusion and expensive downtime, by bringing real-time access control in a single-card system to individual server cabinet doors. Designed to install quickly and easily, with minimal modifications on most swing-handle style server rack doors, the KS200 uses Wiegand wiring to integrate seamlessly with existing access control systems and ID badges. It supports a Small Format Interchangeable Core (SFIC) mechanical key override and provides robust, cost-effective access control to meet strict regulatory compliance and protect data.
"There is a critical need in today's environment to control access to drawers and cabinets that contain medication, supplies, documents, data and more," said Michael Webb, Vice President of New Product Development, ASSA ABLOY EMS & OEM Group. "We've seen tremendous growth in this market beyond our existing cabinet locks, and are proud to expand our offerings in this space with the additions of the K200 and KS200."
Download PDF version
Download PDF version