IP cameras Comparison: Bosch, Messoa
(4)
| | | | | |
| --- | --- | --- | --- | --- |
| | Bosch NPC-20012-F2L | Messoa NCH517 | Messoa NCB750 | Messoa LPR606 |
| Chip Inch Size | 1/4 | 1/3 | 1/4 | 1/3 |
| Digital (DSP) | ✔ | -- | -- | ✔ |
| Specialist Type | Infrared | Network | Network | Infrared |
| Sensitivity Lux | 0.0 | -- | 0.4 | 0 |
| Auto Iris | ✔ | ✔ | -- | ✔ |
| Direct Drive | ✔ | -- | -- | -- |
| Voltage | 5 V DC | 24 VAC | 12 V DC | 24 V AC |
| Motion Activated | ✔ | ✔ | ✔ | ✔ |
| Focal Length mm | 2.5 | 8 ~ 80 mm | 4 | 9 ~ 22 |
| Mount Type | Bracket | -- | Wall | -- |
| Picture Elements HxV | 1280 x 720 | 1920 x 1080 | 1280 x 800 | 2304 x 1536 |
| Image Frame Rate | 30 fps | -- | 30 fps | 30 fps |
| Inclusion DVR/ Web Server | ✔ | -- | -- | -- |
| Back Light Compensation | ✔ | ✔ | -- | ✔ |
| White Balance | ✔ | -- | ✔ | ✔ |
| Electronic Shutter Range | 1/30 ~ 1/150000s | 1/10000 ~ 1/3.75 sec | -- | 1/16000s ~ 1/7.5s |
| S/ N (Signal/ Noise) Ratio dB | > 50 | -- | -- | -- |
| Colour Type | -- | Colour / Monochrome | Colour / Monochrome | Colour / Monochrome |
| Resolution | -- | 2 MP | 800 x 450 | 3 MP |
| Lens Mount | -- | C/CS | CS | -- |
| Wide Dynamic Range | -- | ✔ | ✔ | ✔ |
| Signal Mode | -- | NTSC / PAL | -- | NTSC, PAL |
| Auto Gain Control | -- | -- | ✔ | ✔ |
People also viewed these products
Featured security companies
Related Videos
Hikvision Explains Highlights And Key Features Of Their PTZ Cameras
Hikvision Launches Smart Managed Switches
NVT Phybridge's PoE Switches And Capabilities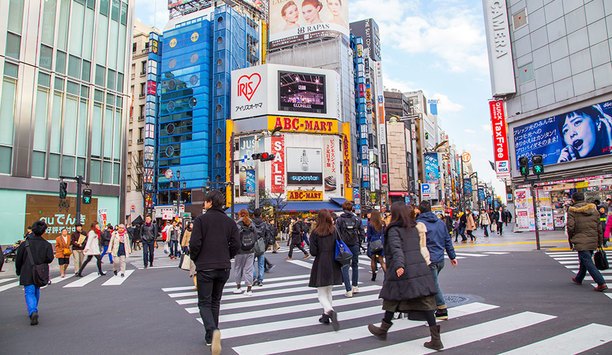 MESSOA Maven IP Cameras Secure Tokyo Shopping District
The cameras deliver exceptional image quality for accurate identification at crime-prone spots The shopping District, or Shoutengai, in Koto-Ku, Tokyo is located next to a busy train station that gathers many restaurants, shops, and sake bars together in this newly vibrant neighborhood. As the area becoming more commercially alive, there was an increasing concern for crimes taken place within the district, especially during late nights. For the purpose of crime prevention, the Shopping District Association began to consider deploying surveillance cameras at the crime hot spots as a way to strengthen the public safety in the neighborhood. Yet with its limited finances, the association had to look for an effective solution at a lower cost that would cope with its tight budget. Solution With the help from MESSOA, more than 60 Maven series NCR365 IR bullet cameras and a dozen of NOD385 IR dome cameras were introduced in this project. Equipped with a 3MP CMOS sensor and removable IR-cut filter for 24/7 monitoring, these cameras deliver exceptional image quality for accurate identification at crime-prone spots. Both cameras support onboard memory with microSD card slot that utilizes edge recording technology. Up to 64GB of HD quality CCTV footage can be recorded locally on each camera without the need of installing NVRs, saving a significant amount of installation costs. Structure-wise, both the NCR365 and NOD385 are IP67 certified, featuring built-in heater and weatherproof enclosure to ensure the cameras are capable of withstanding any harsh environments in Japan, particularly in winter times. Result By utilizing the edge-based recording technology, the whole project eliminated the need for a centralized recording server or storage, helping the association saving a great deal of costs as planned. This solution did not compromise reliability thanks to SD card's solid state without any moving parts like a hard drive. The files can be securely stored and easily retrieved when needed. The motorized lens with auto focus of the NCR35 provided benefits to the project as well by drastically facilitating the time-consuming installation. Technicians were able to get the job done fast with easy by taking advantage of remote configuration with simple mouse clicks. The simplified set up cut the installation process short and saved lots of labor costs as result. Bosch FlexiDome IP And AutoDome Junior HD Cameras Offer Visual Feedback For Martial Art Center
Bosch cameras capture live video of sparring, pattern exercises and provide direct, visual feedback to students Dojang Seeks Visual Feedback System for Students Master Seung's Taekwondo teaches the martial art to a wide range of students – from children under the age of seven to older students who participate in competitions, even partaking in the Junior World games. The dojang sought a way to better analyze the skills of students and to provide visual feedback that would help them understand and improve their performance. Problem: Dojang Looks to Enhance Coaching Tools Dojang coaches understand the importance of visual feedback when instructing students in the art of Taekwondo Video cameras would require adjustable shutter speeds to clearly capture fast motion of students in action Software must enable easy viewing and annotation of student actions Solution: Bosch FlexiDome IP and AutoDome Junior HD Cameras with Dartfish TV and TeamPro Software Progressive scan technology keeps images sharp and prevents motion blur IP cameras offer automatic or selectable shutter speeds to accommodate a range of scene settings HD PTZ camera enables coaches to zoom in to any part of a scene to examine specific details without losing clarity Video is easily exported to Dartfish TV and TeamPro software for annotation, analysis and effortless sharing with students Results: Effective Coaching Method Helps Improve Performance IP and HD cameras with Dartfish TV and TeamPro software enable dojang coaches to capture live video of sparring or pattern exercises and provide direct, visual feedback to students Video support of verbal direction helps to improve students' skills Solution enhances the student experience and helps to set the dojang apart from other local facilities Bosch's 120 FLEXIDOME IP Cameras Monitor Dallastown Area School District
Bosch VIP XD Decoders transform the digital signal to analog for viewing on monitors End User: Dallastown Area School District Dallastown Area School District is located in York County, 34 miles south of Harrisburg, in the south central part of the Commonwealth of Pennsylvania. The district serves nearly 6,000 students in five kindergarten through fifth grade elementary schools, a sixth to eighth grade middle school, and a grade nine through twelve high school. The district employs 417 instructional staff, 277 support staff and 30 administrators. Business Objective: The school district's IT department sought a flexible IP video surveillance system that would allow administrative staff and the school's resource officer to easily search and playback recorded video to determine the events surrounding incidents at the schools. Secretaries also needed to view video of the entranceways from their desks, in order to see a person requesting access to the school before unlocking the doors. Solution: Nearly 120 FLEXIDOME IP cameras monitor the hallways and cafeterias in the district's high school and middle school. Day/Night cameras provide an extended dynamic range and mechanically switching IR filter to capture video in areas that have low light or that are near windows with excessive light. For recording video, the cameras stream signals across the district's separate security IP network for storage on five RAID arrays For recording video, the cameras stream signals across the district's separate security IP network for storage on five RAID arrays. Video Recording Manager (VRM) creates a virtual pool of storage using all of the RAID arrays, divides the total capacity into one gigabyte blocks and allocates storage for video recording to each of the IP cameras as needed. With cameras that stream directly to RAID arrays, the district avoids using NVRs, which would have required extra time and funds to support. The district's streamlined system design and use of VRM software made installation easier. For example, recording settings were programmed in less than a day, compared to the five days needed for an NVR-based system. The system design is extremely flexible, allowing the IT department to adjust frame rates of cameras in important locations without stopping the system from recording, reallocating storage disk space or reformatting the storage. The district uses video management software to search and playback video. Bosch VIP XD Decoders also transform the digital signal to analog for viewing on monitors. Result: The school district reports that the system helps administrators more quickly identify which students were involved in incidents that happen in the schools. The students are more likely to be truthful about the role they played, when they see themselves on recorded video. In addition to the cameras already installed, the district's IT department plans to install AutoDome IP cameras around the exterior of the school buildings and in and around the five elementary schools in the district to help protect the younger students from external threats.