ComNet Switchers & Switches
(43)
Browse Switchers & Switches
CCTV switcher products updated recently
Surge Protection For Security Installations: 2017 Saw Increased Investment
In 2017, DITEK saw how power surges from the many natural disasters that took place damaged many businesses. In a natural disaster, or even everyday business operations, a facility's entire investment in security, life safety and surveillance systems technology can be disabled or rendered useless in a few seconds. Surge protection solutions can mitigate those risks and protect security investments. Proactive Approach To Risk Mitigation Throughout 2017, we also witnessed a change in how enterprises view surge protection, which included how investments are being made in surge protection to protect valuable security, life safety and surveillance systems, while also reducing downtime, manpower costs, liability vulnerabilities, and possibly compliance issues that can force businesses to actually cease operations. Effective security management is about mitigating risks. But risks cannot be mitigated without a proactive approach. Enterprises and integrators, who take the time to assess risk and to develop a strategy to incorporate effective detection, deter and response criteria to protect physical assets will be successful in 2018. 2018 And Beyond That strategy includes designing surge protection into new security systems, while also adding surge protection to existing systems. Enterprises and security integrators who implement a surge protection strategy during security planning processes – or after – will be exercising prevention and mitigation, and they will be successful in 2018 and beyond. Surge protection devices have an untapped potential for enterprise surveillance and security systems In 2017, Ditek continued to offer security end users a solid surge protection solution. We also successfully educated system integrators, who are seeking value-added products or services to incorporate into their portfolios, on the importance of surge protection devices. Educating Security Integrators We believe that surge protection devices have an untapped potential for enterprise video surveillance and security systems, because they can and do meet safety and security challenges that have been rarely identified in the past. We are looking forward to 2018, when we will continue to develop new surge protection products – including a new product engineered to protect up to twelve individual fuel dispensers, which is critical to the financial operation of convenience stores. We will also continue to educate security integrators about the importance of including surge protection in the design/build RFP, to not only secure an enterprise's valuable security equipment, but also to help integrators to differentiate their capabilities and knowledge from the competition.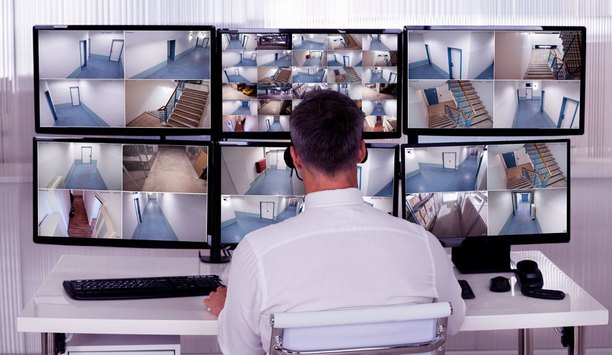 Technology Evolution Leads To Changes In Security Control Room Furniture
Technology is changing the look and function of today's security control rooms. Old-school CRT (cathode-ray tube) monitors are giving way to the thinner, flat screen monitors in the control room environment, but the transition is gradual. Randy Smith of Winsted still sees many control rooms that need to make the conversion, which is a boon to his company's business. Furniture today is designed differently to accommodate the thinner monitors, often with larger screens. Need For Integrated Rack Systems With the increase of IP-based systems comes the need for integrated rack systems that include advanced functionality such as cable management, adds Jim Coleman, National Sales Manager, AFC Industries. Server rooms are environmentally controlled by cooling systems and power systems monitored on the IP network. Low-profile flat screens allow centers to utilize space vertically, thus creating a smaller footprint for the consoles. Additionally, with IP-based systems, workstations will have a smaller footprint because there is less cumbersome equipment. In most cases the servers are stored in a secured, climate controlled environment to eliminate overheating of the servers and maintain their security, says Coleman. This environment also helps with cable and power management. AFC builds technical furniture racks that adhere to the precise needs of computer network server room operators. The company designs and fabricates LAN workbenches with versatile functionalities, and server room workstation racks that are scalable. There is a complete line of IT workbenches, IT computer racks and computer server rack mounts with flexible mounting options. In most cases the servers are stored in a secured, climate controlled environment to eliminate overheating of the servers and maintain their security Flexible Control Room Designs Matko Papic, Chief Technology Officer of Evans Consoles, says the transition from bulky CRT equipment to flat-screen (lower profile) monitors was a major disruption in control room design; it changed the whole dynamic. Another evolution is the use of IP video streaming, which allows more flexibility in manipulation of audio-video content, and requires more flexible control room designs. Another shift, driven by larger, higher-definition monitors, is a shift to fewer monitors that display more information. Instead of a smaller monitor for each information stream, larger monitors now consolidate that information into "dashboard" displays. Looking ahead, control rooms will need to be more flexible, both in the initial design and the ability to adapt to changing technology, says Papic. Legacy customers who are currently using PCs may be moving to more remote applications. Sit-stand equipment will continue to be increasingly prevalent. "There will be more emphasis on flexibility, technology integration, and the ability to change over the life of the system," says Papic. Consolidation Of Multiple Operations Into A Single System A trend in security is consolidation of multiple physical operations into a single system, says Papic. As a result, more customers are taking more interest in alarm management and situational awareness. How is the technology being used in terms of alarm triggers? How can the systems react rapidly and provide information to a larger audience in the control room? These questions impact how control rooms are designed, and Evans Consoles can adapt lessons learned from other markets to these trends in the security arena. Greater use of technology is inevitable, says Coleman of AFC Industries. "It is virtually impossible for humans to monitor all security data at the street level in our cities," he says. "As computers become more powerful and their programs more all-encompassing, we will see a greater shift to robotic and technology uses that will provide enhanced monitoring capabilities and safety reactions." Read our Control Rooms series here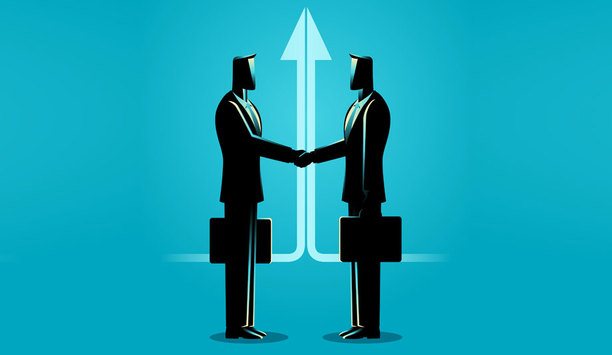 Will Security Industry Consolidation Stifle Innovation?
The security industry will continue to see consolidation through acquisition in 2017. At the advent of IP camera adoption, we saw a great decline in large vertically integrated companies, which spurred a new era of innovation within smaller IP camera manufacturers, VMS providers and other hardware companies for storage and managed switches. We are now living in a new era of consolidation that is taking us full-circle back to vertical integration. Ultimately, the industry as a whole suffers because this consolidation will stifle innovation until the next big technology disruption takes shape. Interoperability Across Different Verticals This time last year, we noted that the marketplace was moving toward converged technologies and the need for alarm management across multiple platforms into a common interface, turned out to be a popular request. If anything, we are only seeing just the beginning phases of this transition. The biggest surprise is that interoperability is not only confined to security technology, but also extends to parallel systems such as building automation, safety and environmental controls, and even Enterprise Resource Planning (ERP) software. Using Video Event Management Software (VEMS) alongside these intelligent platforms proves to be a valuable verification process for many new and exciting vertical markets. Arteco plans to continue the revenue growth and brand awareness achieved in 2016 Event-Based Video Security Software At Arteco, our highest growth sectors tend to be slightly insulated from economic fluctuation in the sense that we focus on securing critical infrastructure (electrical utilities and communications) as well as corporate and education campuses. Unfortunately, the continued growth in active shooter incidents have made physical security concerns top of mind for many organizations regardless of economic impact. The unexpected repercussions are that many new security technologies are emerging that cater to real-time event notification on both the macro and micro level. The exciting part of this trend is that users are leveraging a layered approach with multiple autonomous applications working together toward a common goal to improve security, which will hopefully ensure a high level of protection. Business Growth And Challenges Business has continued to grow year-over-year, and 2016 was a huge step forward for Arteco not only in terms of revenue growth, but also increased brand awareness in the United States and abroad. Our biggest challenge continues to be the crowded VMS market, which is filled with lower cost or even free substitute products. We are making great strides in overcoming this challenge by having a wonderful team of people, both on the technical and sales side of the organization, who are focused on finding new and innovative ways to advance intuitive, open and affordable event-based and intelligent video security software into 2017. See the full coverage of 2016/2017 Review and Forecast articles here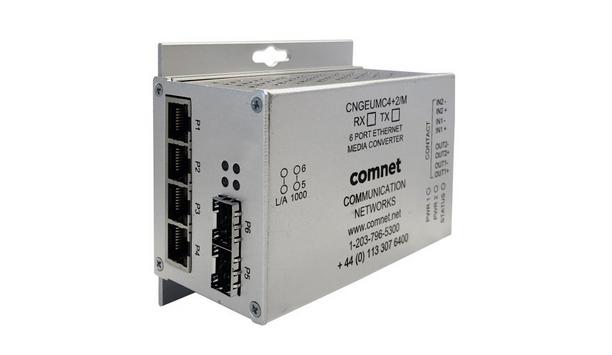 ComNet Expands Their Line Of Cybersecurity Products By Adding Intelligent Media Converters
ComNet, Communication Networks of Danbury, Connecticut, an ACRE company, and a USA-based manufacturer of fiber optic transmission and networking equipment, is expanding the line of Cybersecurity products by adding to its line of intelligent media converters. These intelligent media converters with Link Guardian create a physical layer of protection that limits network traffic to one-way communication between the source and destination networks. The ComNet CNGEUMC4+2(TX, RX)/M is designed to prevent cybersecurity attacks by limiting data flow to one direction between a secured and unsecured network. External cyber threats How the devices are deployed will determine which direction the data will flow. Called a 'Unidirectional Media Converter', this physical security is more effective than software-enabled network firewalls. This data connection is un-hackable and invulnerable to malware. The ComNet CNGEMUMC4+2(TX, RX)/M is a hardened four-port all-gigabit intelligent Media Converter. This product is designed to provide deterministic data transfer in only one direction (unidirectional), to segment and protect networks, devices, and other digital assets (databases, historians, SCADA, PLCs, DCS, etc.) from external cyber threats. Distance extending device The primary purpose is as a distance extending device, but they can also be used as an entry point to a network" It has four 10/100/1000Base-T(X) copper ports and two 1000Base-FX SFP ports. It effectively only allows data to travel in one direction. The CNGEMUMC4+2(TX, RX)/M provides exclusive functionality for easy field deployment including DIP switch-based operation of RSFP (redundant SFP) for creating redundant fiber connections. According to Andrew Acquarulo Jr., ComNet CEO and President, "Media converters are generally simple to use. The primary purpose is as a distance extending device, but they can also be used as an entry point to a network. By adding features such as Link Guardian, we are offering our customers another way of making their network more reliable and secure from unauthorized access. This keeps us front and center in terms of innovation." More competitive position The company believes that these features give them a more competitive position in the market and allows ComNet to be unique and differentiate the product line. "Making any network operate more efficiently and effectively is another way of how ComNet moves the market. Cybersecurity/ unauthorized access is a monumental concern for all security networks." "By leading with our advanced technology, such as Link Guardian, we position ComNet and our solutions as the company to turn for 'new and better' transmission options. Our position is that if you are concerned about the long-term success of your application, choosing ComNet ensures it will be," said Skip Haight, ComNet VP of Marketing.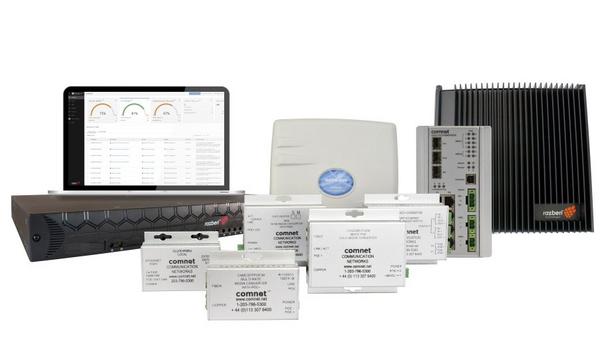 ComNet Announces That Its Parent Company, ACRE Has Acquired Razberi Technologies' Product Line
ComNet, Communication Networks of Danbury, Connecticut, a USA-based manufacturer of fiber optic transmission and networking equipment and an ACRE brand, announced that ACRE has acquired Razberi Technologies and the product line will be added to and sold under the ComNet brand and portfolio of products. ComNet will now be selling Razberi products through its established channels. Intelligent video appliances The Razberi product line of intelligent video appliances, automated security software, and health monitoring software is designed to protect and monitor IP-based surveillance systems and complements the ComNet line of innovative network communication solutions. The Razberi appliance allows cameras, access control points, and other devices to add layers of protection while lowering the threat of cyber security risks to businesses. According to Tom Galvin, Razberi founder and Chief Product Officer, "We're excited to join with ComNet and add more value to their deep network product line. ComNet can now offer a more comprehensive infrastructure for video transmission, storage, management, and cyber security." Open video surveillance platform Bringing Razberi Technologies into the ComNet product portfolio made sense on many levels" Razberi's open video surveillance platform includes intelligent appliances combined with automated cyber security and health monitoring software. In combination with a wide range of top third-party video management software (VMS) applications and IP cameras, enterprises can flexibly deploy a best of breed solution that reduces their total cost of ownership and reduces the likelihood of a costly cyber breach. "Bringing Razberi Technologies into the ComNet product portfolio made sense on many levels," said Andrew Acquarulo Jr., ComNet's Chief Executive Officer and President, adding "ComNet has strongly considered adding an enhanced surveillance product line that would make a significant impact on the market and bring a measurable improvement to any application. We believe Razberi is that product." Enhancing cyber security and securing business networks ComNet believes the Razberi product line is a cost-effective solution and its cyber security products can complement ComNet's emphasis on securing business networks. "With the intense focus on cyber security, the unique Razberi products directed to cyber threats, CameraDefense and ApplianceDefense now combined with ComNet Port Guardian, present a formidable defense against unauthorized network access," said Skip Haight, ComNet Vice President of Marketing, adding "Our position is that if you are concerned about the long-term success of your application, choosing ComNet ensures it will be."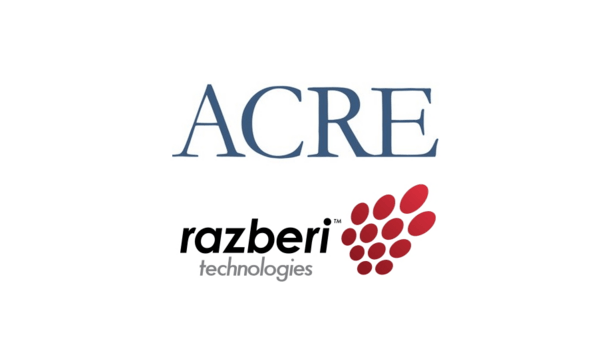 ACRE Announces The Acquisition Of Texas-Based Razberi Technologies For Strengthening Its Product Portfolio
ACRE, a global brand providing state-of-the-art security systems, announced the acquisition of Razberi Technologies based in Farmers Branch, Texas. This purchase will enhance ACRE's strategic expansion plans for strengthening its video and communications business and product portfolio. This is the latest M&A transaction since ACRE completed the acquisitions of two access control businesses - Open Options in December 2018 and RS2 in May 2019; both of which have continued to prosper and build ACRE's overall market position. Razberi will significantly increase ACRE's position in the communications and video market, enhancing the ComNet portfolio and providing complementary technologies to its access control brands. System health monitoring technology In addition, Razberi provides increased cybersecurity protection and threat response times Razberi, which was founded in 2011, has developed a portfolio of products that enable enterprises to deploy a simple, secure best-of-breed video surveillance system. Razberi's open product platforms work with third-party video cameras, video management and video analytics software. In addition, Razberi provides increased cybersecurity protection and threat response times. ACRE will leverage the technology and expertise of Razberi beyond video across its access control brands for providing server builds, cybersecurity and system health monitoring. ACRE CEO Joseph Grillo stated that this transaction will continue to expand ACRE's competitive position in a highly fragmented market with great growth potential. Advanced cyber security "The acquisition of Razberi boosts ComNet's reach in the communications space and enhances our product portfolio with the addition of advanced cybersecurity and system health monitoring technologies," said Grillo. "We are excited to join the ACRE organization with its strong global reach that will open new opportunities for the Razberi product range," said Tom Galvin, Founder and Chief Product Officer, Razberi. Tom Galvin will remain as the General Manager of the business post-acquisition and will be instrumental in integrating Razberi into ACRE. Imperial Capital were the advisors to Razberi on this transaction. Financial details of the transaction were not released.