Axis Communications Security Camera Mounts
(32)
Browse Security Camera Mounts
Security camera mount products updated recently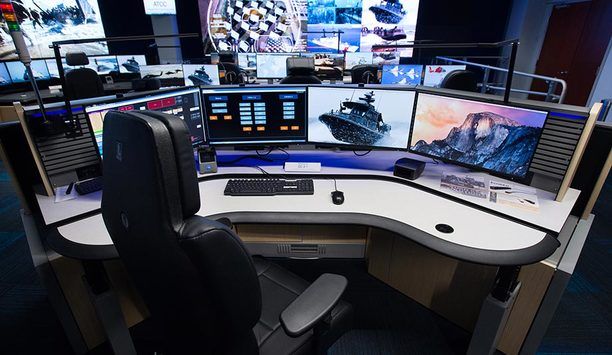 Ergonomic Standards Increase Control Room Productivity
Ergonomics are a critical, but often misunderstood aspect of designing control rooms for security. Ergonomics have a deep impact on the integrity of an operation, and the issue goes beyond the control room furniture. Matko Papic, Chief Technology Officer of Evans Consoles, divides ergonomics into three areas: physical (reach zones, touch points, monitors); cognitive (the individual's ability to process information without overlooking a critical element) and organizational (how the facility operates in various situations; e.g., is it adequately designed for an emergency event?). He says the Evans approach is to determine the precise placement required for each element an operator needs, and then to design and build console furniture to position it there. Basically, the idea is to tailor the control room to the operation. What tasks must an operator perform? Are they manageable or should they be divided up among several operators? Control room design should accommodate the need to collaborate, and be flexible enough to adapt to various situations. It all begins with understanding the information that needs to be processed, says Papic. Increased Productivity In The Workplace Because personnel are often stationed at a specific console, desk or workstation for long hours, physical problems and productivity issues can result, says Jim Coleman, National Sales Manager, AFC Industries. Ergonomically designed furniture and related products have been proven to increase productivity and alleviate physical stress in the workplace. Ergonomic furniture solutions are crafted for the ultimate in safety, adaptability, comfort and functionality. Coleman says AFC Industries can tailor furniture to specific needs and environment. For example, a height-adjustable workstation can be combined with adjustable monitor arm mounts to create a relaxed, comfortable environment. Furniture offers modern designs, comfortable ergonomics, and comprehensive features. Rugged materials withstand the 24/7 use of command control centers. Health Benefits Of Ergonomic Workstations A sedentary office environment is often an unhealthy one. "For people who sit most of the day, their risk of heart attack is about the same as smoking," says Martha Grogan, Cardiologist at the Mayo Clinic. Ongoing research and studies have shown that a change in posture (i.e., using ergonomic sit-to-stand workstations) is an effective means to combat these negative health issues. Using sit-to-stand workstations helps to eliminate musculoskeletal disorders caused by long-term sitting. They can also improve productivity and focus from the increased blood flow. Energy levels can rise and employees burn more calories. Control room design should accommodate the need to collaborate and be flexible enough to adapt to various situations "The ergonomic environment we create for control rooms involves considering every need of the staff at each workstation and their equipment, as well as workflow within the entire room," says Coleman. "From the proper setting of screen focal lengths to sound absorption and glare reduction, each requirement and phase of a control room design is a necessary process to ensure the protection and safety of people and property." Emergency Operations Center "The military has figured out that you are more alert when you are standing," says Randy Smith, President of Winsted, and the realization is guiding emergency operations center (EOC) design toward sit-stand. "As soon as there is an emergency, everybody stands up," Smith adds. Designing EOC environments also requires systems be integrated with annunciating signal lights to facilitate communication among operators. Winsted's sit-stand consoles can be combined with a motorized M-View monitor wall mount, enabling a 60-inch wall monitor to be raised and lowered to match the positioning of the sit-stand console. Larger, wall-mounted screens are easier to use for operators, since a larger monitor size can make it easier to read text on a screen, for example. Combining the larger monitor with sit-stand capabilities provides the best of both options. Many operators today stand for 50 percent of their day, says Smith. Ergonomic standards guide the design of Winsted's control room consoles, including ISO 11064 standards for the design of control centers. The furniture also is designed to accommodate industrial wire management (larger wire bundles), unlike furniture that might be bought in an office supply store. Read part 3 of our Control Rooms series here {##Poll37 - How well do you incorporate ergonomics into your control rooms?##}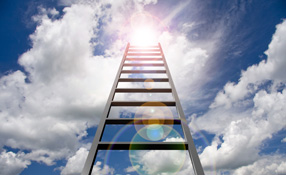 Improving Security System Installations With Acceptance Testing
Endless possibilities for security deployment have been made possible with technological advancements Significant technological advancements have created endless possibilities in how security is not only deployed, but also leveraged by the end user – the customer. For example, customers can now view surveillance at eight different offices in eight different states from a single, central location. A security director can manage an enterprise-wide access control system, including revoking or granting access control privileges, for 10,000 global employees from the company's headquarters in Chicago. However, with that increased level of system sophistication comes an added level of complexity. After successfully completing the installation of a security system, integrators are now expected to formally and contractually prove that the system works as outlined in the project specification document. Tom Feilen, Director of National Accounts for Koorsen Security Technology explains that this formal checks and balance process is gaining momentum in the security industry. The step-by-step process of Acceptance Testing is more commonly being written into bid specifications, especially for projects that require the expertise of an engineer and/or architect. Simply put, it is a way for the end user to make sure the system they paid for works properly and is delivered by the integrator as outlined in the project's request for proposal. While Acceptance Testing can be a time consuming process, it is a valuable industry tool. It is estimated that at least 95 percent of integrated security systems today have been brought through the Acceptance Testing process. Security systems have become more complicated in recent years. The introduction of IP-based, enterprise-wide and integrated solutions have all opened the door to more sophisticated access control and surveillance systems than ever thought possible. This process can vary depending upon the size of the project, but for a larger scale project, it is not uncommon for Acceptance Testing to take several weeks from start to finish. This timeline can be especially lengthy when the project involves hundreds of devices, such as access control readers, surveillance cameras, video recorders, intrusion sensors, and intercom systems. Most integrated security systems today have been brought through the Acceptance Testing process What is involved in the Acceptance Testing process? While the specific process can vary from integrator to integrator, many follow a similar process with their customer to ensure the system works accurately and that the customer has the proper certification documentation. The initial part of the process typically involves generating a report of each device installed as part of the system. This list enables the systems integrator to systematically test each device ensuring that individual devices are not specific points of failure for the overall system. For example, in a building equipped with a system that automatically releases the egress doors upon the fire alarm activation, it is important to make sure each door's electro-magnetic locking system is operating properly. The systems integrator would not only test that a door releases when the fire alarm sounds, but also to make sure the access control system is notified if the door is propped open or held open longer than in normal usage parameters. For a door that is also monitored by a surveillance camera, part of the testing would also involve making sure that an image being transmitted to a video monitor is coming from the correct surveillance camera and that the actual angle of the image is what the customer has requested and is correctly labeled as such. If a device does not function as it should, it is then added to a punch list that would require the systems integrator to repair that device within a certain period of time. Once repairs are made, the system integrator would then submit a letter to the client stating that every device has been tested and works properly. It is also important for the integrator that once the testing process is complete to obtain a customer sign off (Certificate of Acceptance) on all systems tested and documentation provided. This limits liability once the system is turned over. From a safety perspective, Acceptance Testing is also used to verify that T-bars and safety chains are installed on cameras that are mounted in drop ceilings. It can confirm that panels are mounted in a room that is properly heated and cooled to avoid major temperature swings. Also, as part of the Acceptance Testing checklist, it can insure that power supplies that drive all the security systems are properly rated with the recommended batteries for back-up. And, that emergency exist devices or card readers are not mounted more than 48-inches above ground. An Acceptance Testing process serves to protect the end user's investment After the project is complete, Acceptance Testing protects both parties involved against liability issues. One example is if the building has a fire and the functionality of the life safety system comes into question. Acceptance Testing can be used to prove that the system was able to function as specified and dispel any concerns about its performance. At that time, all close out sheets are turned in, along with as-built drawings and a manual providing a complete listing of each device and system installed. Today, these manuals not only come in paper form as part of a large binder, but also digital files saved to a disc. The benefit of providing the customer with a binder or documentation of the system is that should the end user/customer replace the person who manages security at the company, valuable information will not leave with that former employee. While this checklist to close out a project may appear trivial at first, it is an important part of the security project process. By implementing an Acceptance Testing program, it serves to protect the end user's investment, ensuring that the systems integrators hired for the project is knowledgeable and provides quality work. For the integrator, it helps towards the end goal of a satisfied customer.
Salient Systems Provides Best Of Breed Security Systems To Launch Bexar County Metro's Emergency Operations Center
It has been a long time coming, but the Bexar County Metro 911 Emergency Operations Center (EOC) is up and running, and the security systems implemented to protect the facility are among the best of the best. The regional operations center unifies emergency operations into one cutting-edge facility. A New Home Built in San Antonio, Texas, the EOC provides a new home for the Bexar County Sheriff's communications operations and is an alternate site for the San Antonio police and San Antonio fire and EMS operations. The facility is a joint operations center not only for Bexar County but also for Comal (New Braunfels) and Guadalupe (Sequin) counties. Tight security system All three counties touch dividing lines and are considered part of the San Antonio metro area. Bexar Metro 911 Executive Director Bill Buchholtz said building the facility has stayed on budget of $40 million, "give or take a couple of million." The electrical system meets Tier IV data center standards for maintaining operations regardless of any unplanned activity, and the mechanical system meets Tier III standards. Because the building is under a tight security system inside and out, it was also important that redundant systems were in place, as well as uninterrupted power. Employees based at the monitors on the main floor are given breaks every so often to decompress, relax and interact. Early stages of planning Alterman staff was fortunate to work with the general contractor in the early stages of planning security Alterman Technologies was hired to provide, install and direct the security solutions effort for general contractor Whiting-Turner, who directed construction on the 81,500 square foot facility located on 11 acres of land. Alterman Technologies' staff was fortunate to work with the general contractor in the early stages of planning security for this facility. According to James Carmen, Alterman's Project Engineer, being able to make early and consistent contact allowed for the integrator to help specify the types of security that they felt would most satisfy the end user. It also allowed the installation crew to be able to meet their integration deadline of 8 months, long before the overall construction of the facility was complete. Enterprise access control systems "We were able to evaluate all components of the security solution when we saw the demonstrations of the Lenel, Axis and Salient products," Carmen said. "We're pleased with the decisions we made to deploy this security equipment." To keep the facility secure, Alterman Technologies installed 170 IP cameras inside and out to enforce perimeter security. Now that the facility has been formally dedicated and is fully in use, if a person doesn't have a reason to be on property, they aren't getting inside. The facility is secure. Alterman Technologies installed 120 door enterprise access control systems, including iClass biometric readers. Video management systems To monitor both the outside perimeter and inside the building itself, 110 5 MP Axis Communications IP cameras were paired with Salient Enterprise video management systems integrated with the Lenel access control solution. Inside the operations center, the facility is outfitted with 100 55-inch video control systems side by side, all of which are integrated with video and audio control solutions. During Hurricane Harvey, operators inside are able to coordinate any and all emergency and rescue operations Inside the facility, there is a first-floor, open room for 104 operator desk consoles, where operators can keep tabs on all three counties. Operators sit in a 13,878-squarefoot Public Safety Answering Point (PSAP) to handle all 911 calls, formerly managed at 25 different locations. In fact, during the recent Hurricane Harvey, operators inside are able to coordinate any and all emergency and rescue operations. Getting behind the power "The ability to have multiple supervisor control stations is a key feature, providing access to sources and allowing supervisors to manipulate the wall and change presets as needed," said Art Salinas, Project Manager for Alterman Technologies. "It's a great system with no real limitations. I believe the client has been pleased with the capability to control and preview content before it goes on the wall. They currently have about 30 preset displays." With the number of cameras and the video streaming to the facility, Salinas had to be certain the equipment he was recommending and the software that would power the system would work without a hitch, 24 hours a day, seven days a week. "Our work to determine the right kind of solution was very involved, and we evaluated all the systems," Salinas said. "When it came right down to it, we selected Lenel's OnGuard for access control, Axis Communications IP cameras and Salient's VMS and its PowerUltra servers. All of this is securely stored in an enclosed network so there is no worry of outside hacking." Perimeter security system With three counties and multiple agencies using this facility, the security solutions have to be dependable" Salient Regional Sales Representative Paul Fisher said the choice of VMS was truly an important decision because it had to be strong enough to stop any breaches but also be able to provide the ability to run the perimeter security system and the internal security. "Our VMS solution is able to take the lead with all the streaming video and push it wherever it is directed," Fisher said. "With three counties and multiple agencies using this facility, the security solutions have to be dependable, yet easy to use. We were invited in to demonstrate the system, and we were able to show numerous details that would benefit the end user. We are able to provide reliability and scalability, and we're a local company, so that worked to our benefit as well," Fisher said. Law enforcement officials The facility is designed to provide uninterrupted 911 services during various emergencies, including terrorist attacks and natural disasters. There also is an onsite helipad for access by law enforcement officials, should area roadways be closed or congested, and for staging for media during a public emergency. The building is constructed to withstand an EF3 tornado strike and to operate without any public utilities for an extended period of time. "The mission of the facility is to provide that emergency response when a caller is quite possibly going through the worst experience of their life," said James Hasslocher, Bexar Metro 911 Network District Chairman.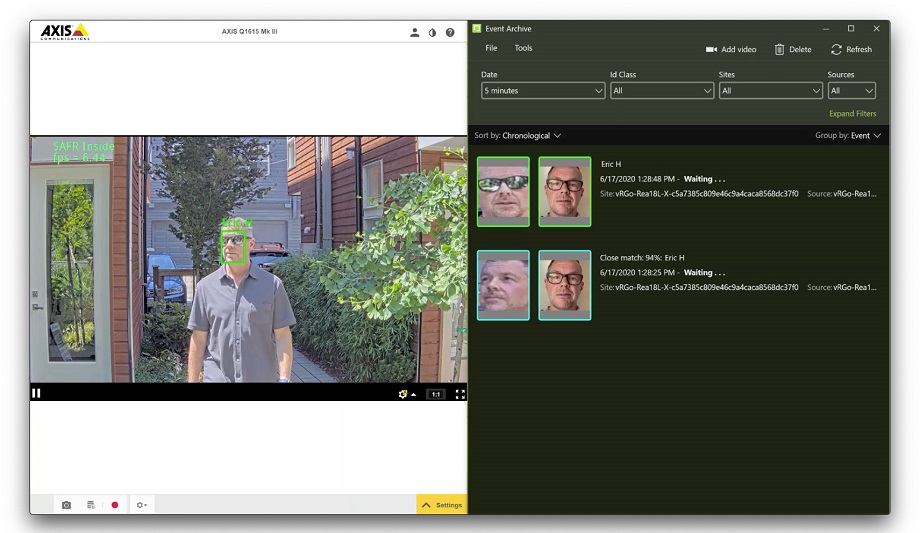 Realnetworks Inc. Announces SAFR® Inside App Component Of Facial Recognition And Computer Vision Platform
SAFR from RealNetworks, Inc., announced SAFR® Inside, a new app component of its Facial Recognition and Computer Vision Platform that runs on ACAP enabled cameras with edge processing capabilities. SAFR Inside reduces network traffic and server overhead and thus lowers overall deployment costs. The first version of SAFR Inside runs on the new AXIS Q1615 Mk III Network Camera announced. Facial recognition and mask detection SAFR Inside enables network cameras like the AXIS Q1615 Mk III to reduce video processing server overhead and achieve new lows in total cost of ownership. A 100-camera installation can now be run on a single on-premise SAFR recognition server Take the example of a retail grocery chain deploying SAFR for mask detection on a few traditional IP cameras at dozens of locations. Until now, this customer would have had to install a new server at each location. By installing cameras with SAFR Inside and pairing them with SAFR's Cloud Platform, the grocery chain eliminates the need for on-premise servers entirely. A four-camera per location installation would have required a $2,000 server at each store. Without it, the chain saves at least $500 in up-front costs per camera, not including system configuration costs or on-going support requirements. Single on-premise SAFR recognition server Large-scale on-premise deployments such as at a casino or stadium would experience similar up-front cost savings. By choosing cameras with SAFR Inside instead of a traditional IP camera, a 100-camera installation can now be run on a single on-premise SAFR recognition server - achieving an estimated savings of $500,000 or $500 per camera. "Our customers are always looking for ways to reduce the total cost of ownership when deploying SAFR," says Eric Hess, Sr. Director Product Management for SAFR. "By bringing our world-leading AI into the camera, we are delivering lower costs and more flexible deployment options for our end users." Touchless access control systems SAFR can both ensure employees are wearing masks and recognize them with the mask on The SAFR Inside app supports some of the SAFR Platform's most requested features for fighting COVID-19. Improve public health safety by automatically playing an audio reminder when someone is, or is not, wearing a protective face mask. Reduce opportunities for viral transmission by introducing touchless access control systems using SAFR's facial recognition on live video. SAFR can both ensure employees are wearing masks and recognize them with the mask on. AI capabilities "We are very pleased to bring SAFR Inside to the AXIS Camera Application Platform," said Reza Rassool, CTO of RealNetworks, "Their worldwide leadership and quality products are a perfect fit for our highly accurate, high performance facial recognition platform. We look forward to expanding our relationship into the future." "SAFR Inside is the first Axis Application Development Partner (ADP) application to take full advantage of the new AI capabilities of our AXIS Camera Application Platform," said Robert Muehlbauer, Senior Manager, Business Development, at Axis Communications. "With advanced computer vision technology like SAFR combined with the AI enabled AXIS Q1615 Mk III, we see many use cases, including integrated solutions that utilize our IP audio and IP intercom technologies. We look forward to SAFR Inside running on more Axis cameras and intercoms in the future."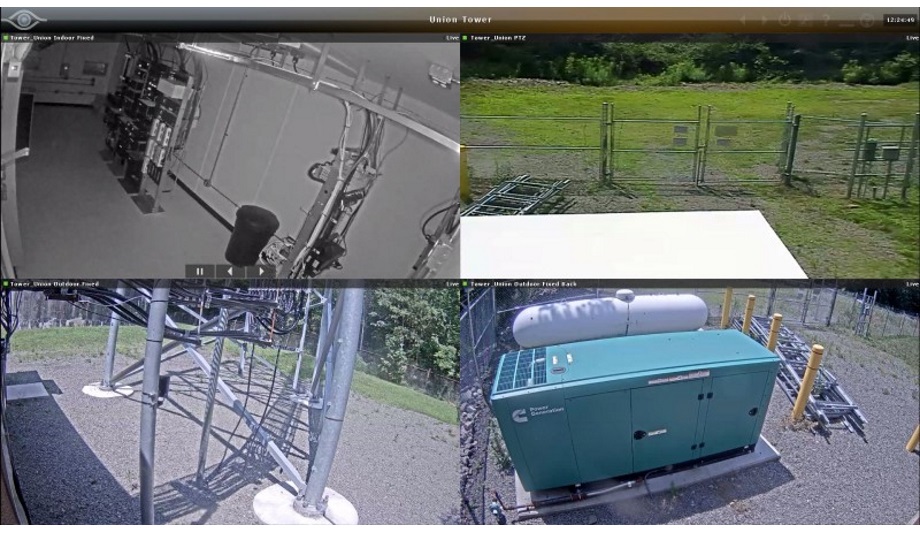 Broome County Upgrades Video Surveillance Infrastructure With Networked Axis Cameras And Qognify's Ocularis VMS Integration
When Broome County, in the US State of New York, took the decision to upgrade its public safety radio network, it required the highest quality video surveillance system to safeguard its US$ 23 million investment in critical infrastructure. New radio network Working with Integrated Systems, a solution combining networked Axis cameras, illuminators and radar motion detectors, with Qognify's Ocularis video management system (VMS) was installed, to deter, detect and respond to unauthorized activity, at each of its nine new radio towers. The new radio network replaces a system that was in place since the 1970's and improves communications for police, fire, along with other emergency services and public works departments for the municipalities across the county. 24/7 security monitoring Each of the radio tower sites required a combination of networked PTZ and fixed cameras" Such mission critical infrastructure requires reliable round-the-clock security monitoring, so Integrated Systems was approached, for its reputation in the delivery of technology solutions to government and industry, to specify and install a new video surveillance system. President of Integrated Systems, Mark Hamilton, explains, "Each of the radio tower sites required a combination of networked PTZ and fixed cameras, as well as radar motion detection to provide comprehensive coverage that would ensure any unauthorized activity would be swiftly detected, automatically recorded and alerts triggered, to initiate a timely and appropriate response." Axis camera and radar detection technology Axis camera and radar detection technology was chosen for interior and exterior use at each radio tower site and the award-winning Ocularis to provide the all-important integration. Hamilton adds, "Early in our engagement with Broome County we urged them to migrate from their disparate video surveillance architecture, whereby VMS, NVR and DVR systems were all being managed individually across the county." He further said, "Our recommended solution was a single unified, IP-based system that was county-wide sanctioned. To achieve this, we specified the Ocularis VMS from Qognify." Ocularis video management system Ocluaris is a VMS that is ideal for large-scale projects such as Broome County, with an emphasis on tactical real-time operations and live visualization, it is supported by full system redundancy and 24/7 availability. Integrated Systems were impressed by Ocluaris's rich feature set, intuitive user interface (including visually mapping of the entire camera estate) and impressive scalability. What's more with Axis as a Qognify Technology Partner it instilled the confidence Broome County needed to switch to a more unified approach to video surveillance. PTZ and fixed cameras installed All surveillance camera footage is recorded and centrally archived at the County Data Center Using Ocularis, authorized personnel at the Central Security Building and Emergency Management Services Center have 24/7, 365-days access to live and archived footage from every camera at each of the nine sites. The PTZ cameras installed give a 360-degree view of each radio tower site, while fixed cameras monitor the tower yards main gates and shelter doors. Meanwhile, the radar motion detection system guards the perimeter. All surveillance camera footage is recorded and centrally archived at the County Data Center via the county's microwave data network. "If any suspicious activity is detected an operator can rapidly view, review and replay all relevant footage through Ocularis," explains Hamilton. Use of video analytics and visual maps To aid the speed of response, the operator also benefits from the use of visual maps to rapidly determine what cameras are available across each site, as well as video analytics to minimize time required to trawl through footage to identify activities of interest. Broome County has been impressed with the Axis and Qognify solution, which has also been integrated with its existing county-wide video network that includes street cameras, buildings and mobile video command systems. The success of the project has been recognized with a prestigious Security Solutions Award. Hamilton concludes by saying, "Qognify's Ocularis is now the lead VMS that Integrated Systems specifies whenever embarking on a new video surveillance project."
Featured white papers
Automatic Vehicle Identification: State Of The Industry 2020
Download
How Analytics Engines Mitigate Risk, Ensure Compliance And Reduce Cost
Download
11 Considerations For Embedded System RFID Readers
Download