Access Control Softwares
Sorry no products match your search. Your search criteria may have been too narrow. If you remove some of your search criteria, this may yield more productive results.
Browse Access Control Softwares
Access control software products updated recently
Happy, Engaged Employees Are The Key To A Profitable Business
It is a truism that in the physical security industry your workforce and your reputation are the business's largest and most important assets. Managing your workforce with empathy to ensure happy, engaged employees can be a balancing act. However, providing flexible working practices that are still profitable for your business is achievable, and something that every security business should be aiming for. SmartTask CEO, Paul Ridden discusses the hidden benefits of an engaged workforce and the role that good workforce management has to play. The importance of an engaged workforce can't be stressed enough because motivated employees are what makes a business successful. Highly engaged staff According to Gallup, disengaged employees are a drain on any business. On average, they have 37% higher absenteeism, 18% lower productivity and 15% lower profitability. When the impact to the bottom line is calculated, you're looking at the cost of 34% of a disengaged employee's annual salary. Conversely, highly engaged staff show a 40% reduction in absenteeism, and almost 60% less turnover. Engaged employees show up every day with enthusiasm and purpose Engaged employees show up every day with enthusiasm and purpose. They tend to work harder, treat customers well (leading to more business), and, are more likely to remain with the company. Employee engagement is determined by factors such as feeling clear about your role at work, and having the right tools to enable you to do your job to the best of your ability. Being recognized for your hard work and diligence is also a key factor. Enabling security businesses Workforce management, when done well, can make a significant difference to all of these factors, and therefore help to foster an engaged workforce, which is good for business. Traditionally, workforce management and time & attendance (clocking on and off) systems may have seemed a bit 'big brother', however, this is no longer the case. In a world where almost everyone carries a smartphone, people are quite used to the idea of constant connectivity. This can be harnessed to enable security businesses to run more smoothly and efficiently, benefitting everyone. Indeed, being able to prove that a contracted service has been delivered is not only good for customer service, and invoicing, it is also provides recognition for hardworking staff. Workforce management solution Staff that feel empowered in such a way are more likely to feel happy and engaged Providing Flexibility and Work/life Balance - While we all know that contracts are contracts, and security businesses must deliver, ditching paper based systems in favor of an electronic workforce management solution, can provide additional flexibility to workers, supporting work/life balance. For example, shifts and rosters, which can be designed in a fraction of the time with a purpose-built solution, can be published further in advance, giving employees enough notice of work patterns to plan their lives around their shifts. People are more easily able to swap shifts or sign up for additional work, and the control room still has oversight to see exactly who is working where and when. In addition, staff can see their accrued holiday entitlement more easily, and request leave from their smartphones. Staff feel more in control of their lives when they can discuss their work patterns and holidays with family while at home simply by referring to an app on their device. Staff that feel empowered in such a way are more likely to feel happy and engaged with the business. Delivering work schedules Task lists for completion while onsite sent directly to their mobile device is convenient for all Convenience and Duty of Care - Using an app to deliver work schedules and assignment instructions provides your employees with the tools and information they need to do their job while removing the stress of dealing with paper-based forms. Task lists for completion while onsite sent directly to their mobile device is convenient for all, and helps to prove compliance with any regulatory requirements, including Duty of Care. Check calls are part of daily life for security workers. Remembering to make them can be cumbersome, but with an app, they can be built into the employee's Actions for the day/shift, with an automated prompt to make the call. Managing finances better Payroll Visibility and additional Services for Staff - With an online time & attendance solution where people clock in and out electronically, they are able to check their hours accrued and see what their salary will be. If a shift is missed, for example, they are able to query with the payroll department much sooner, leading to more accurate and timely pay. Additional services can be provided, such as 'pay in advance' schemes, where workers are able to draw down a percentage of their earned salary before payday. This enables staff to manage their finances better and avoid taking payday loans. Keeping electronic records The benefits to the business of a workforce management solution are many The benefits to the business of a workforce management solution are many. Saving time on back office processes such as designing rosters, managing shifts/attendance/service delivery, holidays and absence. Reducing reliance on manual systems, keeping electronic records provides audit trails, proves compliance and streamlines invoices for all work completed. Having detailed records also means better analysis of the business. Managing rosters and schedules is one thing, ensuring that every shift is profitable is much more complex. However, with electronic workforce management all the variables, fixed costs, recurring costs, salaried people, hourly people and the cost of equipment required, that go into costing a shift can be analyzed to ensure every shift is profitable. Providing better safeguards In a post-COVID world, people have embraced technology at a pace not previously imagined. Technology has enabled us to keep in contact with loved ones, enabled those that can to work remotely, and provides better safeguards to key workers that cannot work remotely. In a post-COVID world, people have embraced technology at a pace not previously imagined Providing people with the right tools to do their job is a major step forward in empowering your workforce to do well. Electronic systems that reduce paperwork, also reduce the drudgery of form filling. At head office that frees people up for more proactive, strategic and customer facing work, that really makes a difference to your business. Affordable software solutions Out in the field, electronic systems keep people safer, more informed and helps them to manage their work/life balance. A winning combination for everyone. Paul has spent most of his working life in the computer industry, with the last ten years spent focusing on software solutions for the security, cleaning, FM and logistics sectors. Part of Paul's role is to use his passion and entrepreneurial approach to build a technology team that can develop and deliver affordable software solutions that take advantage of the latest technologies and help deliver value to all SmartTask users, large and small.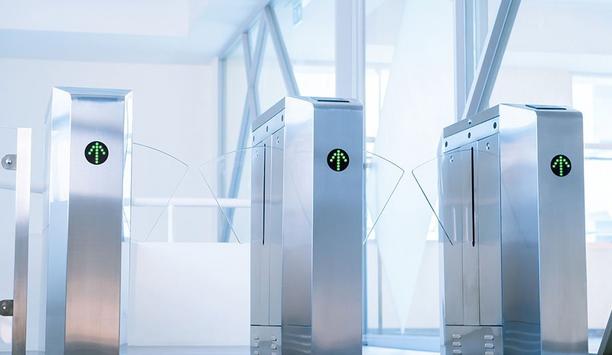 Physical Access Control: Critical Steps To Ensure A Smarter Future
Steven Kenny, Axis Communications, looks at the benefits of physical access control systems within smart environments, and how knowledge gaps and dated methods can inhibit adoption. Physical security is becoming more dynamic and more interconnected, as it evolves. Today's modern access control solutions are about so much more than simply opening doors, with digitalization bringing multiple business benefits, which would simply not be possible using traditional models. Digital transformation While the digital transformation of processes and systems was already well underway, across many industries and sectors, it is the transformation of physical security from a standalone, isolated circuit, to a network-enabled, intelligent security solution that brings many benefits to the smart environment. Yet, with more organizations now looking to bring their physical security provision up to date, there are many considerations that must be addressed to maximize the potential of access control and video surveillance. Not least of which is that connecting physical security devices to a network presents risk, so it is increasingly important for IT teams to play a role in helping to facilitate the secure integration of physical and network technologies, as these two worlds increasingly converge. Improved access control in smart environments These urban constructs are capable of reducing waste, driving efficiencies and optimising resources The smart city offers significant benefits, reflected in the US$ 189 billion that is anticipated to be spent on smart city initiatives globally by 2023. These urban constructs are capable of reducing waste, driving efficiencies, optimizing resources and increasing citizen engagement. Technology, which is increasingly being incorporated to protect access points within the smart environment, can take many forms. These range from simple card readers to two factor authentication systems, using video surveillance as a secondary means of identification, right through to complex networks of thermal cameras, audio speakers and sensors. Frictionless access control During the COVID-19 pandemic, frictionless access control has provided an effective 'hands free' means of accessing premises, using methods such as QR code readers and facial recognition as credentials to prove identity. Frictionless access control brings health and safety into the equation, as well as the security of entrances and exits, minimizing the risk of infection, by removing the need to touch shared surfaces. Such systems can be customized and scaled to meet precise requirements. Yet, an increasing integration with open technologies and platforms requires collaboration between the worlds of physical security and IT, in order to be successful. Barriers to adoption Traditional suppliers and installers of physical security systems have built up a strong business model around their expertise, service and knowledge. Network connectivity and the IoT (Internet of Things) present a constantly shifting landscape, requiring the traditional physical security vendor to learn the language of IT, of open platforms, IP connectivity and software integration, in order to adapt to market changes and remain relevant. Many are now beginning to realize that connected network-enabled solutions are here to stay Those who cannot adapt, and are simply not ready for this changing market, risk being left behind, as the physical security landscape continues to shift and demand continues to increase. With end users and buyers looking for smarter, more integrated and business-focused solutions from their suppliers, it is clear that only those who are prepared will succeed in this space. Time will not stand still, and many are now beginning to realize that connected network-enabled solutions are here to stay, particularly within smart constructs which rely on such technology by their very nature. The importance of cyber hygiene Connecting any device to a network has a degree of risk, and it is, therefore, imperative that any provider not only understands modern connected technologies, but also the steps necessary to protect corporate networks. Cameras, access control systems and IP audio devices, which have been left unprotected, can potentially become backdoors into a network and used as access points by hackers. These vulnerabilities can be further compromised by the proliferation of connected devices within the Internet of Things (IoT). While the connection of devices to a network brings many advantages, there is greater potential for these devices to be used against the very business or industry they have been employed to protect when vulnerabilities are exploited. Cyber security considerations Cyber security considerations should, therefore, be a key factor in the development and deployment of new security systems. Access control technologies should be manufactured according to recognized cyber security principles, incident reporting and best practices. It is important to acknowledge that the cyber integrity of a system is only as strong as its weakest link and that any potential source of cyber exposure will ultimately impact negatively on a device's ability to provide the necessary high levels of physical security. The future of access control There is a natural dispensation towards purchasing low-cost solutions There is a natural dispensation towards purchasing low-cost solutions that are perceived as offering the same value as their more expensive equivalents. While some have taken the decision to implement such solutions, in an attempt to unlock the required benefits, while saving their bottom line, the limited lifespan of these technologies puts a heavier cost and reputational burden onto organizations by their association. The future of access control, and of physical security as a whole, will, therefore, be dependent on the willingness of suppliers to implement new designs and new ways of thinking, based around high-quality products, and to influence the installers and others in their supply chains to embrace this new world. Cyber security key to keeping businesses safe In addition, cyber security considerations are absolutely vital for keeping businesses safe. The integration of cyber secure technologies from trusted providers will provide peace of mind around the safety or corporate networks, and integrity of the deployed technologies. As we move forward, access control systems will become data collection points and door controllers will become intelligent I/O devices. QR codes for visitor management and biometric face recognition for frictionless access control will increasingly be managed at the edge, as analytics in a camera or sensor. The future of access control presents an exciting and challenging time for those ready to accept it, to secure it and to help shape it, offering a true opportunity to innovate for a smarter, safer world.
Why Access Control Is Important
When we talk about security, people are often quick to jump to conclusions and picture bouncers, heavy steel doors and alarms that go off as soon as a door is opened. Access control is in fact one of the most common and least invasive methods of adding extra security to a home, communal or business premises – controlling who is able to enter a space based on the use of entry codes, key fobs, and/or access cards. Communal flats and office blocks are where access control is often an important factor in keeping the building secure, though private residences also have their own lowkey methods of access control with burglar alarms and personalized codes. With that said, what is it that makes access codes so effective across so many spaces – and why are they so important in today's society? Benefits of access control Every time you visit an office space, enter a block of flats, or drive into a gated community, you will likely be faced with restricted access and a code pad – plus a button to ring through if you are a visitor. This is a prime example of access control, whereby the owner of the premises has installed a gate or security door which requires a code to enter from the outside. Pressing the request button puts you through to a controller who can then either grant access or deny access. The primary benefit of access control is that it ensures that a space remains secure Some of these code pads have cameras so that the controller can see the visitor – some just have a microphone and speaker. The primary benefit of access control is that it ensures that a space remains secure – only visited by those who are granted access. This restriction helps to keep residents and property safe, not only deterring burglars but ensuring that they are unable to gain entry without permission. Access control panels Some of the examples of access control panels in use include: Private car parks, granting access to employees or residents or paying guests based on the location. Communal buildings and flat entranceways, granting access to residents. These kinds of access control panels will have multiple buttons, one for each flat so that guests can buzz and speak to their contacts. Offices, granting access to employees and their guests. Another key benefit of access control is that entry and exit data can be tracked Another key benefit of access control is that entry and exit data can be tracked, and data can be used for anything from tracking the use of a building, to understanding and logging when individuals have entered and left the premises. For those who have ever watched a Detective drama, you will know how crucial this kind of data can be to determining alibis! Replacing lost keys Inhouse, this can also be useful in identifying who is around when an incident occurs, and in ascertaining how many people are in the premises in the event of a fire or emergency situation. On top of knowing when individuals are accessing certain spaces, access controls can also be used to restrict access to spaces during certain time periods – for example at the end of a shift, or overnight. This is most often found in commercial spaces and car parks, as private residences will grant access at all hours to residents. Access control plays an important role in security and can impact everything from your insurance bills and insurance cover to the amount you spend on replacing lost keys. By keeping certain spaces restricted, only granting access to those who are supposed to be there for work or through their private residence, you are able to keep individuals safe and protect them from the effect of theft. Preventing unlawful access Access control is particularly crucial in tracking the movement of employees should an incident occur In a workspace, access control is particularly crucial in tracking the movement of employees should an incident occur, as well as making the life of your team much easier in allowing them to move between spaces without security personnel and site managers present. It can also reduce the outgoings of a business by reducing the need for security individuals to be hired and paid to remain on site. For a private homeowner or flat owner, access control is what grants you the privacy and security that you deserve in your own space. Whether the control is placed on the outside of a bin store, car parks, communal entrance way or your own personal flat, creating barriers to prevent unlawful access can make a private residence more appealing to tenants or homeowners, and can also provide information and data about who has entered a building and when. Vacant property security The value of access control is that there are a range of solutions according to your budget, your requirements, and the way that you intend to use access control across your site or inside space. For the most part, access control is considered to be a cost effective way of increasing security, cutting back on personnel while ensuring that access is only granted to those who are supposed to be a specific space. The value of access control is that there are a range of solutions according to your budget According to construction site and vacant property security company Sicuro, access control systems with a built in camera are becoming increasingly popular, particularly on the exterior of a building when it comes to granting access to visitors – as those inside can see who is asking to be let in. Managing access control Meanwhile, across inside workspaces and sites, access control managed by pin numbers or fingerprints is often sufficient. Access control is an important part of modern security, ensuring that everywhere from office spaces to private residences are protected from unwanted or unlawful visitors. For the most part, access control is managed automatically, tracking and storing data on who has entered and exited a specific space and at what time – though some examples are tracked and managed manually (for example in a school reception or private residence).
Related white papers
Delivering a Smart, Secure and Healthy Workplace with Cloud
Trusted Execution Environment in Access Control
Four Areas to Consider in Frictionless Access Control