OT Systems Power supplies & batteries
(6)
Browse Power supplies & batteries
Power supply & battery products updated recently
Surge Protection For Security Installations: 2017 Saw Increased Investment
In 2017, DITEK saw how power surges from the many natural disasters that took place damaged many businesses. In a natural disaster, or even everyday business operations, a facility's entire investment in security, life safety and surveillance systems technology can be disabled or rendered useless in a few seconds. Surge protection solutions can mitigate those risks and protect security investments. Proactive Approach To Risk Mitigation Throughout 2017, we also witnessed a change in how enterprises view surge protection, which included how investments are being made in surge protection to protect valuable security, life safety and surveillance systems, while also reducing downtime, manpower costs, liability vulnerabilities, and possibly compliance issues that can force businesses to actually cease operations. Effective security management is about mitigating risks. But risks cannot be mitigated without a proactive approach. Enterprises and integrators, who take the time to assess risk and to develop a strategy to incorporate effective detection, deter and response criteria to protect physical assets will be successful in 2018. 2018 And Beyond That strategy includes designing surge protection into new security systems, while also adding surge protection to existing systems. Enterprises and security integrators who implement a surge protection strategy during security planning processes – or after – will be exercising prevention and mitigation, and they will be successful in 2018 and beyond. Surge protection devices have an untapped potential for enterprise surveillance and security systems In 2017, Ditek continued to offer security end users a solid surge protection solution. We also successfully educated system integrators, who are seeking value-added products or services to incorporate into their portfolios, on the importance of surge protection devices. Educating Security Integrators We believe that surge protection devices have an untapped potential for enterprise video surveillance and security systems, because they can and do meet safety and security challenges that have been rarely identified in the past. We are looking forward to 2018, when we will continue to develop new surge protection products – including a new product engineered to protect up to twelve individual fuel dispensers, which is critical to the financial operation of convenience stores. We will also continue to educate security integrators about the importance of including surge protection in the design/build RFP, to not only secure an enterprise's valuable security equipment, but also to help integrators to differentiate their capabilities and knowledge from the competition.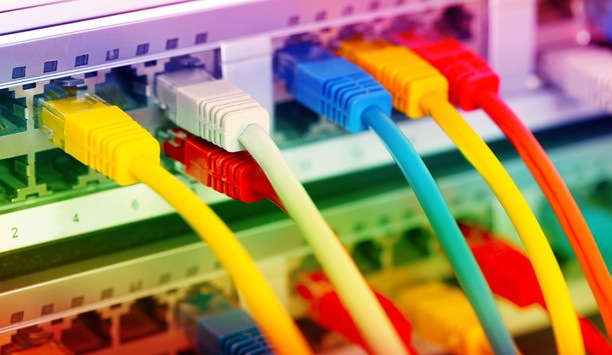 Adaptive Transmission Systems Evolve With Advanced Communications
The security market in 2016 saw an uptick in the economy, the introduction of new technologies, increased compliance requirements in key verticals, and rising concerns over the need for greater security. Users interested in upgrading or deploying new systems consistently chose networked system platforms. This trend further drove the demand for adaptive transmission solutions as a means of repurposing existing analog infrastructure to accommodate IP devices on a networked platform. As this migration accelerated, product feature sets continued to evolve with the inclusion of advanced communications that let you monitor, control and report power/diagnostics from anywhere. These new products have also helped to stimulate new business opportunities for integrators by expanding their service offerings to include remote monitoring of these devices as a new source of recurring monthly revenue (RMR). PoE And Adaptive Transmission Solutions In last year's 2016 forecast, we discussed the integration trend and how PoE and adaptive transmission solutions with network communications were rapidly gaining traction and market share. As the year progressed, the trend increased with customers migrating towards systems that provided more data, faster transmission rates and more versatility, and accessibility anytime from anywhere. Altronix responded with more advanced product solutions. This growing trend makes it more critical than ever for the core power and transmission infrastructure that make up the foundation of these systems to include network communications for true integration. As effective and efficient as integrated IP systems have become, the cost to upgrade or install new networked systems can be prohibitive. In 2017, security professionals will require expanded options to capitalize on existing infrastructure while accommodating IP devices with new levels of performance. These new products will greatly reduce installation and maintenance costswhen deploying orupgrading systems We will see the introduction of new products that offer greater levels of integration with bundled capabilities such as PoE, network switches, versatile adaptive transmission capabilities to accommodate different types of cabling, greater bandwidth and speed, and management capabilities. These new products will greatly reduce installation and maintenance costs when deploying or upgrading systems. Altronix 2016 Business Overview Altronix's evolution as a designer and manufacturer of versatile power supplies and accessories – and the addition of innovative PoE and adaptive transmission solutions with network communications – was significant in 2016. We have continued to deliver new products incorporating advances in power and communication technologies that solve real-world installation issues with the highest levels of performance and cost-efficiency. One of the most significant technologies contributing to our extensive portfolio of power and adaptive transmission products is our innovative LINQ™ Technology, which provides remote control of power, along with monitoring and reporting of diagnostics from anywhere you have internet access. LINQ completes the network communication cycle for networked systems by providing true integration for power supply and adaptive transmission products that are the foundation of every system. Altronix will continue to design, manufacture and introduce new power and adaptive transmission solutions in 2017 that live up to our longstanding reputation for outstanding quality, performance and reliability. See the full coverage of 2016/2017 Review and Forecast articles here Save Save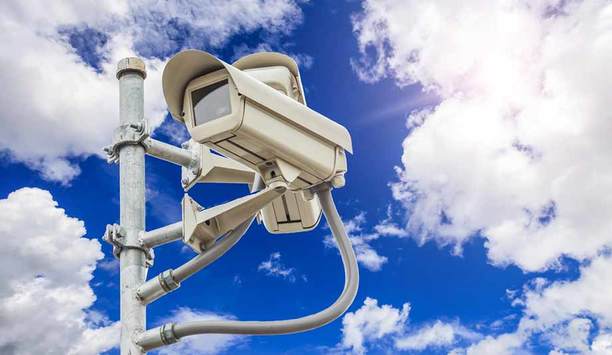 Extenders Convert Media For Longer Video Distance Runs
IP/PoE systems eliminate the need for local power, thus saving installation costs Cost considerations are an important reason to use existing installed cable as part of a new system infrastructure. Extenders in the form of media converters can help. For almost three decades, video surveillance systems existed in the form of analog systems. Video coaxial cable was the primary method of transmission with a limited distance of about 750 feet. Analog systems required separate power supply located at each security camera site. Today, new technology often solves one problem and creates another. Internet Protocol/Power over Ethernet (IP/PoE) systems eliminate the need for local power supply, thus saving installation costs. The drawback is the restriction to only 328 feet and the required use of Cat 5e or above cable. Extended Transmission Distance So tens of thousands of video surveillance cameras are waiting to be converted to IP, and have been transmitting over coax at distances two-and-a-quarter-times greater than the Ethernet limit. The advent of extenders helps to solve this problem. In addition, the use of extenders for Cat cable and even single-pair alarm wire helps to add to the types of IP/PoE conversions while extending distance as far as three thousand feet. Tens of thousands of camerasare waiting to be converted to IP,and have been transmitting overcoax at distances two-and-a-quarter-times greater than theEthernet limit Considerations While Using Extenders Use of extenders requires taking several considerations into account. First and most important is a careful reading of specifications. A statement can be true while not applying to your applications. Let's take IP/PoE transmission over coax as an example. A manufacturer's product can state it has this feature and will meet your transmission requirement of X number of thousand feet. However, a careful reading reveals that achieving this requires RG 6 cable while you have RG 59 installed. You need to maintain a 100Mbps bandwidth and provide your cable with 12.95 watts of power. But as both bandwidth and power decrease with distances obtainable from many types of extensions, you realize that both are much less at the extended distance you require. In short, just depending on a product to make a simple specification statement is not enough when it comes to infrastructure considerations and especially with regards to extenders. Save Save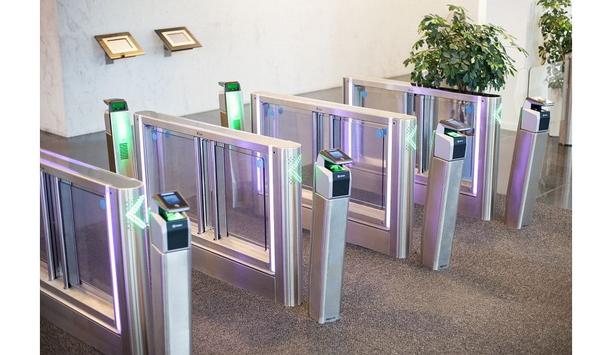 IDEMIA Installs Biometric Access Control Solution With MorphoWave Compact Devices And Digicon DFlow Speedgates At Paris HQ
IDEMIA, the globally renowned company in Augmented Identity, moved to its new headquarters in September 2018, in an 11-floor building located in La Défense business district, in Paris, France. The building brings together 1,300 employees out of total worldwide staff strength of close to 15,000 people. Biometric access control Due to the sensitive nature of its activities in this building, and given its position on the biometrics market, IDEMIA decided to deploy biometric access control throughout the entire building, a first in this business district and a fantastic opportunity to showcase IDEMIA's flagship products in real life. Most employees get to the office via nearby metro and tram stations, and therefore, arrive within the same 30-minute window. This creates the need for a high throughput access control solution, for entrance and exit peak-times. Access to the six elevators serving the eleven floors is given after a first control at speed gates in the lobby area. MorphoWave Compact devices deployed IDEMIA opted for MorphoWave Compact associated to Digicon's dFlow speedgates IDEMIA opted for MorphoWave Compact associated to Digicon's dFlow speedgates. MorphoWave Compact devices were mounted on a special stylish stainless steel pedestal. Four dFlow lanes were installed, with readers for entry and exit. MorphoWave Compact is IDEMIA's flagship biometric device for physical access control. It performs a 3D scan and verification of four fingerprints in less than one second, in a quick and easy touchless 'wave' gesture within the reader. dFlow speedgates These features make the product particularly well-suited for such high-traffic locations, with the capability to authenticate up to 50 people per minute, thanks to advanced algorithms based on Artificial Intelligence. With dFlow speedgates, Digicon introduces a new vision for access control gates, one with continuous flows and normally open doors. dFlow enables free flow, ushering new levels of comfort and security. Frictionless biometric solution The installation is highly acclaimed by employees who appreciate the frictionless use of MorphoWave Compact and its natural 'wave' hand gesture, as well as Digicon's 'always open' dFlow concept, that enables them to get to the elevators in only a few seconds. Of course, IDEMIA was well-placed for this biometric employee access control deployment, being the provider of MorphoWave Compact. The employees were immediately convinced by the frictionless and hygienic experience it offered them. The team in charge of the security of the building found the MorphoWave Compact and dFlow combination more secure and less intrusive than other access control systems. Most importantly, what is true for a company like IDEMIA will also be true for any company in need of a high level of security delivered in a frictionless and convenient way, especially in high-traffic locations like in an HQ lobby.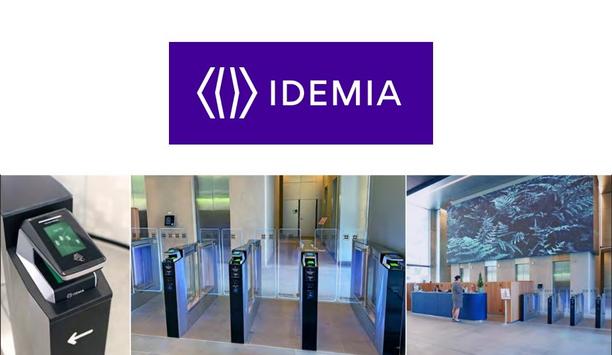 IDEMIA's MorphoWave™ Compact And COMINFO's EasyGate SPT Deliver Frictionless And Secure Access To Employees
The 100 Mount Street premium-grade office tower completed in May 2019, is the tallest (152m) building in North Sydney. With an innovative cross-braced exoskeleton structure and a soaring glass curtain wall, the tower celebrates Sydney's history of excellence in architecture and structural engineering. The 35-story office tower offers panoramic views of Sydney Harbor, Sydney Opera House, and Sydney Harbor Bridge, and is occupied by some of Sydney's best-known companies. The site also benefits from its proximity to key transport infrastructures with a train station, bus stops, ferry wharf, and taxi stand all within walking distance. This high traffic location required a convenient and secure way to ensure controlled access for the 2,000 people entering the building everyday, while maintaining the aesthetics of the 8 meters-high ceiling lobby. Efficient control access to the building In order to efficiently control access to the building, the security contractor supplied top quality COMINFO EasyGate SPT entrance control gates equipped with IDEMIA's MorphoWave™ Compact high-end biometric contactless devices. COMINFO is an experienced manufacturer of turnstiles and speed gates. EasyGate SPT models were installed, equipped with the latest MDD motor technology (Magnetic Direct Drive: no gearbox, no oil, no brush) and advanced infrared optical sensors which ensure safe passage and detect tailgating and cross-over, to ensure that only authorized people can pass through the gates. MorphoWave Compact™ is the flagship biometric device for physical access control from IDEMIA, the front-runner in Augmented Identity. The terminal performs a 3D scan and verification of 4 fingerprints in less than 1-second, in a quick and easy touchless wave gesture. Aesthetic integration The features of the product are particularly well-suited for high traffic locations with the capability to authenticate up to 50 people per minute thanks to advanced algorithms based on Artificial Intelligence. COMINFO carried out an aesthetical integration of MorphoWave™ Compact into EasyGate SPT, resulting in a powerful solution that brings the latest physical access control system using only a simple wave of a hand. This project was deployed by Centaman, COMINFO's partner for Australia/New Zealand First to implement biometric technology Dexus and Dexus Wholesale Property Fund who owned the building were the first to implement this biometric technology in office buildings and have now more than 2,000 people registered with their biometrics, removing the need for physical access cards or touching anything when entering or leaving the secured premises. The installation is highly acclaimed by employees who appreciate the frictionless and hygienic use of MorphoWave™ Compact and EasyGate SPT.
Sharps Pixley Provides A Contactless Biometric Authentication To Safe Deposit Customers With IDEMIA's MorphoWave
Sharps Pixley is a British bullion house, formed in 1957 when two historic private bullion partnerships merged. In 2015 Sharps Pixley decided to put physical gold back on the streets of London via a flagship high street presence in St James's Street, just off Piccadilly. In this very special shop, not only can customers buy products but they can also store them on-location in new, state-of-the-art safe deposit box facilities. Sharps Pixley needed to upgrade their ageing control system for their safe deposit box service. Old biometric system They were facing a number of challenges with their old biometric system which was substantially impacting customer experience and satisfaction: Capturing fingerprints during the enrollment phase, especially with older clients, would typically take several attempts. During the verification process, the shop operator faced similar issues thus requiring multiple system restarts to get the device working correctly. The software was unstable and would often crash. New additional functionalities were also required to be able to offer the correct secure services to the clients: Two person authentication to access a single safety deposit box. Manual authentication in addition to biometric identification. Replacing the key fob with a biometric solution. Access control technology Arana Security was contracted to help. Operating in the UK and Middle East, Arana Security specialises in biometric solutions, access control technology, surveillance and monitoring systems. They set about to design a new application for Sharps Pixley, to enhance the security, authentication and usability of the system - adding new next-level security clearance and a fresh and improved enrollment of clients' biometrics. For the important biometric part, Arana Security and Sharp Pixley selected IDEMIA's MorphoWave Compact contactless fingerprint device to enable fast, smooth and accurate verification of clients. MorphoWave Compact performs a 3D scan and verification of four fingerprints in less than one second, in a quick, easy and hygienic touchless hand wave gesture. Thanks to advanced algorithms based on Artificial Intelligence, the accuracy is very high, even with ageing fingers. Contactless biometric devices The system provided has improved the client's service and provided a more robust, secure and reliable solution The implementation of MorphoWave Compact contactless biometric devices meant less time wasted at the desk waiting for confirmation of IDs and less stress on both the clients and employees. The system provided has significantly improved the client's service and provided a more robust, secure and reliable solution. Sharps Pixley's comments: "We approached the Arana team with a particularly unique set of problems to resolve including a security system that used hardware and software originally designed for a totally different purpose. I knew what I wanted but was not sure if it was possible. I was essentially an explorer deep in the jungle with a perfect map in my own head, but with no tools or machinery to hack my way out." Provides palpable reassurance "Arana did more than just clear a path for me to get to my destination - they paved the road for me afterwards. MorphoWave Compact device from IDEMIA is the icing on the cake that makes this all possible. Used properly it is refreshingly simple and intuitive. The team here and our clientele no longer struggle to manage or use our access system. The device itself provides palpable reassurance in the technology and that has true value", says Bruno Garcia, Sharps Pixley.
Featured white papers
5 Security Lessons For Navigating COVID-19
Download
Security Investments Retailers Should Consider For Their 2021 Budget
Download