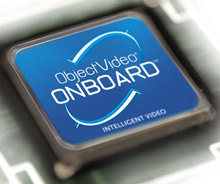 ObjectVideo OnBoard™ technology will enable Dowshu to significantly increase the value and effectiveness of its solutions
ObjectVideo
, the leader in intelligent video, recently announced a partnership agreement with Cork-based
Dowshu
, one of the world's largest suppliers and manufacturers of cutting edge CCTV products. Dowshu's 32 and 64 channel digital video recorders will feature ObjectVideo OnBoard™ video analytics.
ObjectVideo OnBoard™ technology will enable Dowshu to significantly increase the value and effectiveness of its solutions by embedding video analytics into a wide variety of devices, including Dowshu's Intelligent DVRs. The new product set will allow Dowshu DVRs to automate many day-to-day tasks, eliminating the need for constant camera monitoring by security staff. Users will now be able to easily gather business intelligence in retail and other sectors, and be alerted to potential hazards or threats in secure areas.
"The ObjectVideo analytics that we have chosen to embed at Dowshu allow us to offer our customers new and unique features in a DVR, including feature sets that warn users of questionable occurrences. In physical security, Dowshu's Intelligent DVRs offer new solutions from simplistic camera tampering to advanced retail analytics. These analytics deliver business intelligence such as customer counting and advanced queue analysis, allowing users to gather data about how long customers wait to get served, the busiest times in their stores or most visited store areas. This knowledge of visitor habits is invaluable to our customers and we are excited to take the lead in providing this advanced solution," explained Joe Leen, managing director at Dowshu.
"Dowshu's reach into retail, commercial, industrial and public/civil markets in the UK and Ireland is incredibly strong. Enhancing its robust DVR series with ObjectVideo technology provides them a market leading offering," said Brian Eckert, vice president of sales and marketing for ObjectVideo. "By partnering with Dowshu, we are reinforcing our worldwide leadership in intelligent video solutions."
Download PDF version
Download PDF version