IDIS Security Camera Housing
(2)
Browse Security Camera Housing
Security camera housing products updated recently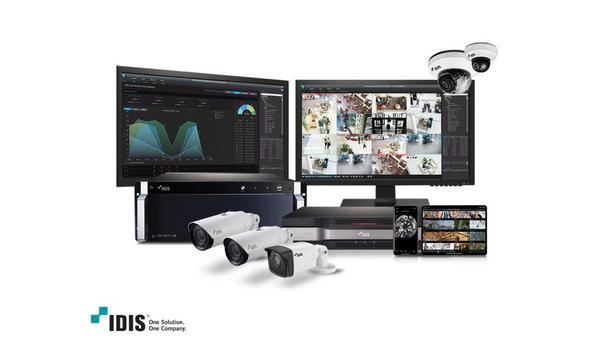 IDIS To Exhibit End-To-End Video Security Solutions And Surveillance Technologies At Security Canada 2020 Virtual Trade Show
IDIS, a global security company that designs, develops, manufactures, and delivers surveillance solutions for a wide range of commercial and public sector markets, is proud to be sponsoring and participating in Canadian Security Association's Security Canada Virtual Trade Show, slated to be held on December 2nd and 3rd, 2020. Security Canada 2020 Visitors to the Security Canada virtual trade show can learn how IDIS's flagship plug-and-play DirectIP solution offering can significantly benefit both end users and systems integrators. DirectIP encompasses a comprehensive line up of powerful network video recorders (NVRs), network cameras, software, monitors, and accessories that seamlessly connect. It packs a strong punch of everything needed to build a complete video surveillance solution. IDIS DirectIP solution IDIS DirectIP solution delivers rich functionality while eliminating complex and time consuming configuration IDIS DirectIP solution delivers rich functionality while eliminating complex and time consuming configuration. Users love that its network throughput delivers high-definition simultaneous recording and real-time monitoring with no visible latency and that cameras and recorders come with the assurance of industry-renowned warranties. From the security integrator's perspective, the DirectIP solution makes installation a snap by mutually authenticating devices, thereby ensuring that engineers don't need to manage passwords, use port forwarding, or have a deep knowledge of IP networking, even for multi-site deployments. In turn, this eliminates the potential for cyber loopholes and combined with dealing with a single vendor for sales and tech support, also ensures a low cost of service. IDIS Center VMS and ISS solutions Attendees to the Security Canada virtual event will be able to see first-hand how IDIS's totally cost and license free IDIS Center VMS (Video Management Software) allows customers to implement surveillance solutions that encompasses up to 1024 devices, so as to enable a centralized management and control environment for customers with multiple sites, at a considerably lower cost than a server-based system. For larger organizations, IDIS Solution Suite (ISS) delivers enterprise-level VMS functionality without the associated price tag. This allows users to choose the powerful modules and functionality they need with a choice of federation service, IDIS Critical Failover which protects against a range of fault conditions, video wall services, and much more. ISS also gives customers the flexibility to add an unlimited number of sites at no additional cost. AI Box for COVID solution IDIS will also unveil its AI Box for COVID at Security Canada 2020 virtual trade show IDIS will also unveil its AI Box for COVID at Security Canada 2020 virtual trade show. This simple add on appliance includes functions that help adherence to government guideless and hygiene best practices to support reopening, and safe return to work strategies to help prevent the spread of infection. The new IDIS Mobile Plus app will also be showcased, which is supporting users to remotely monitor single and multiple sites by putting powerful VMS functionality at their fingertips. With the ability to view 4K and multiple streams and configure alarms and notifications, it's enabling the management of day-to-day operations and the ability to respond to incidents and events on the move. IDIS dome and bullet cameras IDIS will also present an end-to-end solutions specific to retail that includes high-performance 5 MP dome and bullet cameras, a compact 5 MP fisheye camera, and the anti-IR reflection 2 MP micro dome camera, which are all popular choices for indoor and outdoor video surveillance and coverage in all lighting conditions. At the Security Canada virtual event, attendees representing the logistics and warehousing sector will learn how IDIS solutions are helping improve operations by tracking goods in and out, mitigating internal shrinkage, and ensuring health and safety compliance with its high performance 12 MP IR Super Fisheye cameras that can cost-effectively replace 3-4 fixed lens cameras.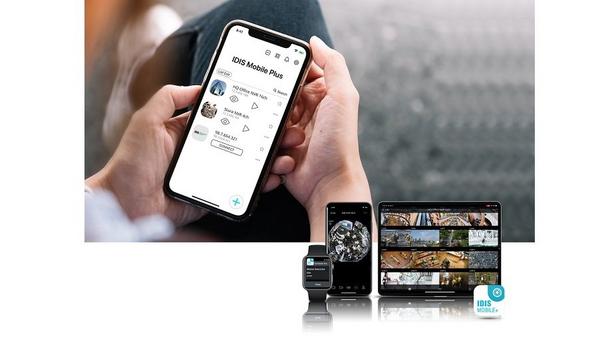 IDIS Mobile Plus App Launched In Integration With IDIS Solution Suite VMS
Video surveillance users can adapt to the challenges of working more flexibly between home, office, stores, and the control room with the newly released IDIS Mobile Plus app. Mobile Plus integrates the company's popular IDIS Mobile app with its network and digital recorders, network cameras, and IDIS Solution Suite VMS. It delivers improved and more powerful functionality - anytime and anywhere – and gives users remote situational awareness of single and multiple sites. The app enables up to 4K live streaming on remote mobile devices, with high image quality in H.264/MJPEG and H.265 formats. Recorded footage can be played back in the same high definition that operators and managers use in from their control rooms or client software. Investigate incidents or suspicious behavior The IDIS Mobile Plus app can be configured to receive push alarms based on event and time lapse queries Users can choose from a range of viewing options - including portrait or landscape, dark mode, simultaneous 1/4/9/16 split screens, and a four-channel synchronized 2 x 2 split screen mode - to quickly receive multiple camera events. The IDIS Mobile Plus app can be configured to receive push alarms based on event and time lapse queries, and gives users the ability to use two-way audio, QR codes for fast device registration, and image capture while on the move. Security, safety, and loss prevention personnel can also remotely respond to and investigate incidents or suspicious behavior using notifications generated by alarm-in, motion detection, trip zones, video loss, and text-in functions. The new app also incorporates the benefits of IDIS's Smart UX Controls, with: full pan, tilt, and zoom control of DirectIP® and DirectCX® cameras; calendar search, playback, and bookmark functions; simple drag and drop to change the size and position of the video; and pinch zoom for PTZs and fisheye dewarping. Manage surveillance operations remotely "The pandemic has forced many organizations to adapt quickly to changing work patterns, and move from fully to partially operational facilities. It's now more important than ever for security and safety personnel to be able to manage their surveillance operations remotely, flexibly and on the move," says Andrew Myung, President, IDIS America. "The new Mobile Plus app provides much needed help by putting the vital tools and functions of IDIS Solution Suite VMS directly into the hands of customers, wherever they are and whenever they need them." The IDIS Mobile Plus app also supports dual stream options for playback, which means users can choose between lower mobile data consumption and higher image quality of up to 4K, depending on mobile bandwidth availability. iPad users can now also benefit from slide over and split view functionality. Language options include English, Russian, Japanese, and Korean and Mobile Plus supports Apple iOS from version 11.0 and Android 5.0 Lollipop (API 21) onward.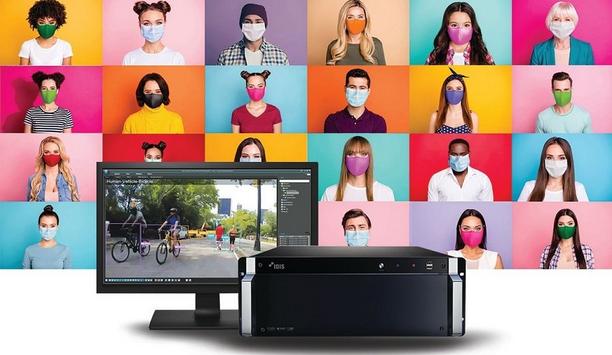 IDIS Launches Return To Workplace Solutions For Businesses Post In Post-COVID-19 Environment At GSX+
IDIS, a global security company that designs, develops, and manufactures surveillance solutions for a wide range of commercial and public sector markets, is proud to be participating in the Global Security Exchange Plus (GSX+) virtual exhibit. While most all industry trade shows have had to opt for online experiences, GSX+ promises to deliver the high calibre of expertise, influence, and resources synonymous with this flagship ASIS International event. Attendees will want to check out the raft of new tech that IDIS is launching at GSX+. It is positioned to transform control room and security operations with greater situational awareness, faster investigations, and an enhanced user experience. Return to Workplace IDIS' newest video technology will support a safe return-to-workplace (RTW) set of strategies that, when combined, continue to deliver on the IDIS promise of a low Total Cost of Ownership. Among the highlights are: Next generation IDIS Deep Learning Analytics with AI-assisted notifications for object, loitering and fall detection, as well as tools that leverage metadata to rapidly speed up investigations. This capability empowers security teams with enhanced situational awareness and operator efficiency, thereby enabling operators to initiate a faster and more appropriate response to life safety incidents, threats, and suspicious activity. New IDIS COVID-19 Solutions. This simple plug-and-play appliance supports safe return-to-workplace strategies across all industry sectors. It includes essential capabilities that facilitate social distancing, people counting, occupancy monitoring / crowd detection, mask detection and, very importantly, reporting compliance. IDIS Mobile and night time image The new IDIS Mobile features an improved user-friendly interface app with split screens and portrait modes that enables users to manage both IDIS VMS options (the free IDIS Center VMS and IDIS Solution Suite) to improve real-time monitoring/verification of incidents and enable instant investigation across multiple facilities/sites on the move. IDIS all-in-one interface - Cloud Manager (ICM) - enables users to view live and recorded video via a web browser with the added assurance of the highest levels of cybersecurity protection and without the need to install any additional software. The new 2MP micro dome camera with its non-bubble, anti-IR reflection structure will be demonstrated to show crisp night time image capture. And with a choice of pearly color options, makes it the ideal choice for facilities with an eye to aesthetics, such as boutiques, jewelery stores, and other upscale venues. IDIS Solution Suite VMS Presentations and demos will be led by IDIS America Regional Sales Directors Jeff Montoya and Jason Burrows. Among the topics and technologies, they will be covering are IDIS' award-winning and cost-effective end-to-end logistics featuring the bestselling 12MP Super Fisheye, as well as the modular and scalable solution IDIS Solution Suite VMS. They'll also present a session that will help end-users understand and calculate the lifecycle and total cost of ownership of their video surveillance solutions. "IDIS is extremely proud to be part of the 2020 GSX+ online-experience platform," says Jeff Montoya, IDIS America Sales Director for the Eastern region. "We look forward to meeting our booth visitors virtually and presenting our innovative surveillance technologies and solutions. We're very pleased also to be introducing our most recent innovations to meet the security challenges of this COVID-19 era."
Featured white papers
5 Security Lessons For Navigating COVID-19
Download
Security Investments Retailers Should Consider For Their 2021 Budget
Download