NVT Power supplies & batteries
(14)
Browse Power supplies & batteries
Power supply & battery products updated recently
Surge Protection For Security Installations: 2017 Saw Increased Investment
In 2017, DITEK saw how power surges from the many natural disasters that took place damaged many businesses. In a natural disaster, or even everyday business operations, a facility's entire investment in security, life safety and surveillance systems technology can be disabled or rendered useless in a few seconds. Surge protection solutions can mitigate those risks and protect security investments. Proactive Approach To Risk Mitigation Throughout 2017, we also witnessed a change in how enterprises view surge protection, which included how investments are being made in surge protection to protect valuable security, life safety and surveillance systems, while also reducing downtime, manpower costs, liability vulnerabilities, and possibly compliance issues that can force businesses to actually cease operations. Effective security management is about mitigating risks. But risks cannot be mitigated without a proactive approach. Enterprises and integrators, who take the time to assess risk and to develop a strategy to incorporate effective detection, deter and response criteria to protect physical assets will be successful in 2018. 2018 And Beyond That strategy includes designing surge protection into new security systems, while also adding surge protection to existing systems. Enterprises and security integrators who implement a surge protection strategy during security planning processes – or after – will be exercising prevention and mitigation, and they will be successful in 2018 and beyond. Surge protection devices have an untapped potential for enterprise surveillance and security systems In 2017, Ditek continued to offer security end users a solid surge protection solution. We also successfully educated system integrators, who are seeking value-added products or services to incorporate into their portfolios, on the importance of surge protection devices. Educating Security Integrators We believe that surge protection devices have an untapped potential for enterprise video surveillance and security systems, because they can and do meet safety and security challenges that have been rarely identified in the past. We are looking forward to 2018, when we will continue to develop new surge protection products – including a new product engineered to protect up to twelve individual fuel dispensers, which is critical to the financial operation of convenience stores. We will also continue to educate security integrators about the importance of including surge protection in the design/build RFP, to not only secure an enterprise's valuable security equipment, but also to help integrators to differentiate their capabilities and knowledge from the competition.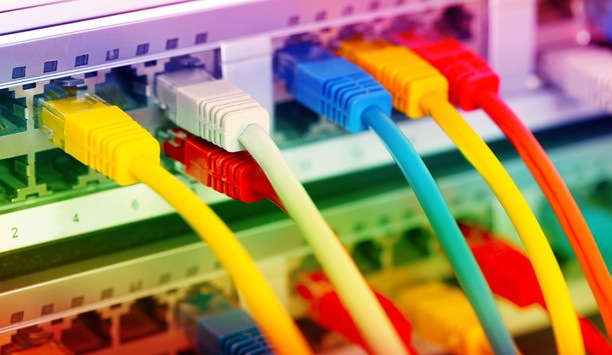 Adaptive Transmission Systems Evolve With Advanced Communications
The security market in 2016 saw an uptick in the economy, the introduction of new technologies, increased compliance requirements in key verticals, and rising concerns over the need for greater security. Users interested in upgrading or deploying new systems consistently chose networked system platforms. This trend further drove the demand for adaptive transmission solutions as a means of repurposing existing analog infrastructure to accommodate IP devices on a networked platform. As this migration accelerated, product feature sets continued to evolve with the inclusion of advanced communications that let you monitor, control and report power/diagnostics from anywhere. These new products have also helped to stimulate new business opportunities for integrators by expanding their service offerings to include remote monitoring of these devices as a new source of recurring monthly revenue (RMR). PoE And Adaptive Transmission Solutions In last year's 2016 forecast, we discussed the integration trend and how PoE and adaptive transmission solutions with network communications were rapidly gaining traction and market share. As the year progressed, the trend increased with customers migrating towards systems that provided more data, faster transmission rates and more versatility, and accessibility anytime from anywhere. Altronix responded with more advanced product solutions. This growing trend makes it more critical than ever for the core power and transmission infrastructure that make up the foundation of these systems to include network communications for true integration. As effective and efficient as integrated IP systems have become, the cost to upgrade or install new networked systems can be prohibitive. In 2017, security professionals will require expanded options to capitalize on existing infrastructure while accommodating IP devices with new levels of performance. These new products will greatly reduce installation and maintenance costswhen deploying orupgrading systems We will see the introduction of new products that offer greater levels of integration with bundled capabilities such as PoE, network switches, versatile adaptive transmission capabilities to accommodate different types of cabling, greater bandwidth and speed, and management capabilities. These new products will greatly reduce installation and maintenance costs when deploying or upgrading systems. Altronix 2016 Business Overview Altronix's evolution as a designer and manufacturer of versatile power supplies and accessories – and the addition of innovative PoE and adaptive transmission solutions with network communications – was significant in 2016. We have continued to deliver new products incorporating advances in power and communication technologies that solve real-world installation issues with the highest levels of performance and cost-efficiency. One of the most significant technologies contributing to our extensive portfolio of power and adaptive transmission products is our innovative LINQ™ Technology, which provides remote control of power, along with monitoring and reporting of diagnostics from anywhere you have internet access. LINQ completes the network communication cycle for networked systems by providing true integration for power supply and adaptive transmission products that are the foundation of every system. Altronix will continue to design, manufacture and introduce new power and adaptive transmission solutions in 2017 that live up to our longstanding reputation for outstanding quality, performance and reliability. See the full coverage of 2016/2017 Review and Forecast articles here Save Save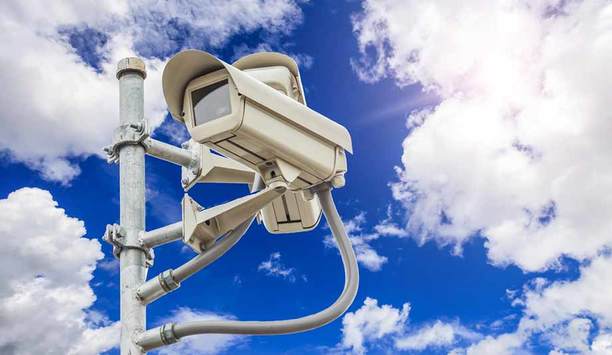 Extenders Convert Media For Longer Video Distance Runs
IP/PoE systems eliminate the need for local power, thus saving installation costs Cost considerations are an important reason to use existing installed cable as part of a new system infrastructure. Extenders in the form of media converters can help. For almost three decades, video surveillance systems existed in the form of analog systems. Video coaxial cable was the primary method of transmission with a limited distance of about 750 feet. Analog systems required separate power supply located at each security camera site. Today, new technology often solves one problem and creates another. Internet Protocol/Power over Ethernet (IP/PoE) systems eliminate the need for local power supply, thus saving installation costs. The drawback is the restriction to only 328 feet and the required use of Cat 5e or above cable. Extended Transmission Distance So tens of thousands of video surveillance cameras are waiting to be converted to IP, and have been transmitting over coax at distances two-and-a-quarter-times greater than the Ethernet limit. The advent of extenders helps to solve this problem. In addition, the use of extenders for Cat cable and even single-pair alarm wire helps to add to the types of IP/PoE conversions while extending distance as far as three thousand feet. Tens of thousands of camerasare waiting to be converted to IP,and have been transmitting overcoax at distances two-and-a-quarter-times greater than theEthernet limit Considerations While Using Extenders Use of extenders requires taking several considerations into account. First and most important is a careful reading of specifications. A statement can be true while not applying to your applications. Let's take IP/PoE transmission over coax as an example. A manufacturer's product can state it has this feature and will meet your transmission requirement of X number of thousand feet. However, a careful reading reveals that achieving this requires RG 6 cable while you have RG 59 installed. You need to maintain a 100Mbps bandwidth and provide your cable with 12.95 watts of power. But as both bandwidth and power decrease with distances obtainable from many types of extensions, you realize that both are much less at the extended distance you require. In short, just depending on a product to make a simple specification statement is not enough when it comes to infrastructure considerations and especially with regards to extenders. Save Save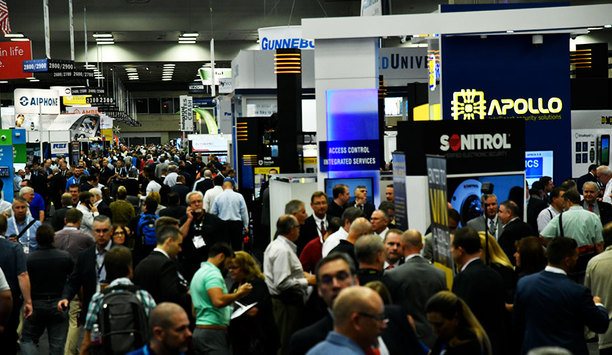 GSX 2018 Day Two: Bluetooth Credentials, Facial Recognition, IoT Devices And AI
More good news for exhibitors on the second day of the Global Security Exchange (GSX) in Las Vegas. Brisk attendance continued early in the day, and then slowed somewhat in the afternoon, but most comments from exhibitors were positive. Exhibitors such as Lenel were "thrilled" with the show, and noticed the steady, good traffic and lots of sales leads. Lenel's position at the front of the hall probably helped. New developments in mobile credentialing are a big trend at GSX, and Lenel's BlueDiamond mobile credentials are traveling on a new path, so to speak. The access control company is introducing the idea of "Pathways" as a way of automatically signaling intent to a Bluetooth-enabled smart phone to open a door. A recognizable "pathway" is programmed into the phone, based on signals from nearby readers and locks and also geolocation signals. The system recognizes when a user travels along the pathway and automatically signals the correct door(s) to be opened along the way without the user having to touch his smart phone.A recognizable "pathway" is programmed into the phone, based on signals from nearby readers, locks and also geolocation signals Providing A Lightweight Alternative "When you trigger a pathway, it's signaling intent to open the door," says Greg Berry, Vice President Mobile Credentialing, Global Security Products, for United Technologies, parent company of Lenel. "Pathways are customized to a user's needs and are the common places you are going all the time." A user who walks the same path daily to the door of an office will find that door opens automatically. Previously using mobile credentials has been "slightly more work than using a badge," says David Weinbach, Manager of Identity and Product Innovation for Lenel. "Now with Pathways, it's less work than using a badge." Specifically, a user no longer has to take out his phone and push a button to signal intent. "Rather than trying to emulate the badge, you create an experience that is better than the badge," adds Berry. "We want to change the paradigm and turn the market on its ear."New browser-based clients are being released with each new version of OnGuard software Other news from Lenel includes the release of more mobile and browser-based clients for OnGuard to be used for greater convenience alongside the Window-based clients. Providing a "lightweight" alternative enables some of the functionality of the Windows client in a format that is easy to access on the go. New browser-based clients are being released with each new version of OnGuard software. Cloud-hosted systems using Microsoft Azure are also among the plans for OnGuard, which ultimately will offer on-premises and cloud options. There's not much comment from the Lenel folks about their parent company United Technologies' plan to acquire S2 Security, which was announced days before the show. They would only say that the acquisition is waiting for regulatory approval, and that the expectation is that the two companies' products will be complementary, given S2's focus on the SMB (small and medium-sized business) market and Lenel's strength at the enterprise level. The acquisition strategy is to grow both businesses. More details to come about the new combined company. Modern Network Infrastructure NVT Phybridge, a PoE connections company located near the back of the hall, also reported steady booth traffic on Day 2. "There are lots of customers and partners here," said Steven Fair, Executive Vice President. "We are pleased with the quality of people, but not overwhelmed with the quantity." FacePRO AI facial recognition is used for real-time searches of terror suspects or criminals throughout a location NVT Phybridge, which provides IP networking products for the telephony industry as well as security, is focused on networking concepts at GSX, in particular the changing requirements for network infrastructure in the age of IoT. We are pleased with the quality of people, but not overwhelmed with the quantity." Fair uses the term "Modern LAN" to describe the new, changing requirements and in consideration of the specific networking needs of each edge device, whether cameras, sensors, or door access control devices. "Start with the edge device — what does it need from the network? What are its needs and have there been any innovations to enable you to connect to the network more economically?" asks Fair. There is also a green aspect to designing network infrastructure. Can existing equipment, such as coaxial or single twisted-pair cabling, be used, and thus save on disposal costs of the used cabling as well as lowering installation costs? Among NVT Phybridge's offerings that can serve the changing networking needs in the IoT era is Smart Path PoE, which offers smart power, smart network access and secure connections. The CLEER family of products provides ethernet over existing coaxial cabling to enable easy transition from analog to IP cameras. The PoLRE products supply ethernet and power to travel over a single unshielded twisted pair cable with reach over 400 meters. The products have been used recently to transition a series of cruise ships from analog to IP video without having to replace cabling and spending only two days in dry dock for the installs. A New Focus Away From AI Panasonic is looking to apply AI-based capabilities to vehicle recognition in the near future, with the ability to identify vehicle characteristics Deep learning and artificial intelligence (AI) seem to be taking a lower profile at this show, perhaps signaling the end of the hype. Companies that mention AI point to specific products that use the technology and are currently available. For example, Panasonic is featuring its FacePRO AI-based facial recognition system. The system uses face images captured from video — grabbing up to 30 to 35 faces a second as video is recorded. The system saves the best of those face images, eliminating extensive duplication, as thumbnails, which are linked to the video footage where the faces appear. To find video in which a face appears, the operator merely drags-and-drops the thumbnail image and commands the system to "go fetch" video that contains that face. The system then produces a timeline showing where the face appears in the feed from each video camera on the premises, so an operator can track the movements of a suspect throughout a facility. The tool helps to simplify and shorten the workflow of locating a suspect in real-time and is affordable for a wider range of uses beyond the traditional airports or high-end applications. The FacePRO software is offered on any Panasonic camera, and works with a separate FacePRO server that is integrated with the video recorder. The system can be added easily to existing systems and is useful for such applications as real-time searches for terror suspects or other criminals throughout a location. Panasonic is also looking to apply AI-based capabilities to vehicle recognition, too, in the near future, with the ability to identify vehicle characteristics such as color, type of vehicle and direction of travel. On the VMS side, Panasonic is transitioning its Video Insight software to a modular approach, tailoring solutions for a growing range of vertical markets, such as transportation and retail, all using "plug-ins" that enhance operation of Video Insight software. No additional license fees are involved That's just a sampling of what I saw on Day 2 of the show. I have more to share in a final show report, including what I see tomorrow on the final (shortened) day.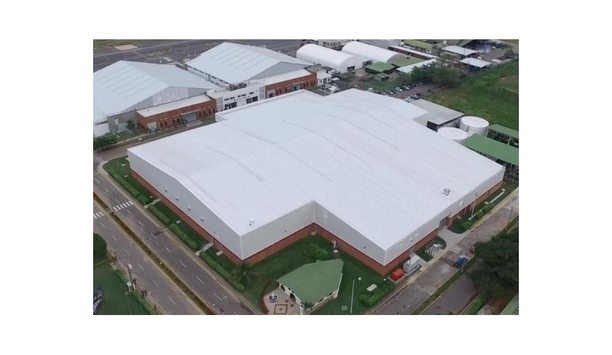 NVT Phybridge's CLEER24 PoE-Based Managed Switch Solution Safeguards Army Aviation Logistics Center
In early 2017, the Colombian government made its state-of-the-art Army Aviation Logistics Center (Spanish acronym, CLAVE), fully operational. Designed and built by the U.S Army Corps of Engineers, CLAVE is an over 9,000 square meter facility designed to provide support for the transportation, storage, distribution, and security of the Colombian Army's aeronautical equipment. To comply with international standards for aeronautical logistical activities, the implementation of a high-level security system was required, and this included deploying a complete IP CCTV surveillance system of over 100 cameras to monitor the entire center and its surroundings. Requirement was for implementing an IP CCTV system that utilizes the coaxial wiring in their new facility. However, barriers posed by long reach requirements between the cameras and surveillance control center, and the financial costs associated with installing IDF closets to support the cameras at distances greater than those supported by standard Ethernet switches (328ft, 100m) – caused CLAVE to seek out a solution based on the principles of the Modern LAN, allowing them to deploy the new IP CCTV system quickly, efficiently, and affordably.Not only did the NVTP solution take the signal and transmit it through the wiring, but it also provided power to the camera" NVT Phybridge CLEER24 The Colombian Army was introduced to the NVT Phybridge CLEER24 (Coax Leveraged Ethernet Extended Reach) managed switch solution, by Colombian distributor SAC. The award-winning CLEER24 solution provides Ethernet and PoE+ over Coax with up to 2,000ft (610m) reach. In just 3 quick and easy setup steps, the plug-and-play switches transformed the cabling into the power-packed IP platform needed to support the new IP cameras for distances up to 2,000ft (610m) – 6Xs farther than standard Ethernet, with no need for costly IDF closets. "In our case where distance limitations were a critical issue, NVT Phybridge made all the difference when other solutions on the market could not," said Paula Rosana Murillo, Business Development Coordinator at SAC. "Not only did the NVTP solution take the signal and transmit it through the wiring, but it also provided power to the camera." Cost-Saving Security Solution CLAVE was able to smoothly and flawlessly deploy 109 cameras across the entire facility, with virtually no disruption to operations and saving tens of thousands of dollars while doing so. For the integrator, this was a professionally enriching experience, "NVT Phybridge, through its Colombian distributor SAC, facilitated access to technical training and support – ensuring the proper usage of these products and allowing the integrator to have greater confidence in the implementation of NVTP technology," commented Oscar Triviño, Project Manager in charge of the CLAVE facility construction. "The implementation of the NVTP solutions generated savings in wiring, electrical infrastructure, and manpower that were estimated at $56,000USD – with the connection of all cameras to the power source being achieved in the most effective way possible."NVT Phybridge technology ensured the quality of all the video content, fully taking advantage of the quality, state-of-the-art cameras used in the project" IP Surveillance And Remote Monitoring With CLEER24 technology, the customer was able to take full advantage of Modern LAN principles, fast-track their IP camera deployment, while eliminating risk and creating a robust platform that can be managed remotely: no Coax replacements, no service outages, no security risks, no network complexity, and no wasted budgets. "NVT Phybridge technology ensured the quality of all the video content, fully taking advantage of the quality, state-of-the-art cameras used in the project and providing an immensely satisfying result for the Colombian Army."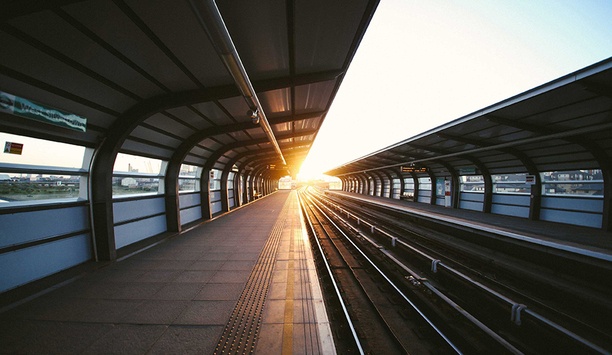 NVT Phybridge EoC Utilizes Axis IP Surveillance Upgrade For Transportation Agency
A transportation agency needed to modernize its analog CCTV systems and cameras to improve surveillance capabilities. But planning the coax infrastructure replacement raised many concerns and barriers, causing delays to the project. NVT Phybridge was trusted to rapidly enable the established cabling to support the new Axis IP devices exactly when and where the agency wanted them. "The NVT Phybridge technology allowed this customer to improve investigations and safety much faster and more cost-effectively than planned." Steven Fair, EVP, NVT Phybridge. The agency wanted to upgrade its analog CCTV systems and devices to newer, IP-enabled surveillance technology across multiple transit facilities spread throughout a vast metropolitan area. The driving requirement for the upgrade was twofold: to improve safety and security monitoring of riders 24/7, and to capture much higher-resolution video recordings for investigation of events. Ethernet Over Coax System The agency wanted to upgrade its analog CCTV systems and devices to newer, IP-enabled surveillance technology The main challenge was physically replacing the existing coax with a new Ethernet infrastructure needed to support IP. The process would be lengthy, complex, costly, and disruptive to transit operations and rider services across hundreds of sites. Additionally, physical construction to replace the cabling and address IDF closet and reach requirements would impact transit customers' access to services, and posed safety hazards to thousands of public transportation users each day. The transportation agency learned about NVT Phybridge Long Reach Ethernet over Coax IP-enabling solutions from their savvy Axis partner. A no-obligation proof of concept was arranged at one of transit stations, and in 3 simple setup steps the award-winning, plug-and-play NVTP EoC switch transformed the existing coax into a power-packed PoE/IP platform able to connect the new CCTV and IP cameras 6Xs farther than Ethernet—up to 2,000ft (610m)—with no IDF closets required along the way. NVTP completely eliminated the complexities and frustrations that had delayed the infrastructure upgrade for too long. Because NVTP innovations use the same repeatable, predictable, and scalable deployment methodology across every location, upgrading each of the many transit facilities would be simple and fast. The NVTP EoC switches fast-tracked the infrastructure upgrade, saving significant project time and costs by avoiding coax replacement Effective IP Surveillance And Security The agency's decision to trust NVTP and Axis with the extensive security upgrade was right. The NVTP EoC switches fast-tracked the infrastructure upgrade, saving significant project time and costs by avoiding coax replacement. The partner was also able to accelerate the endpoints deployments with a simple swap-out of the existing analog cameras for the Axis IP cameras. The agency's new, powerful IP-based surveillance capabilities were up and running in record time at each location. The combined power of NVTP and Axis innovations rapidly enabled this agency to improve investigations and safety much faster than originally planned—without disrupting transit operations, impacting riders' services, or wasting coveted budgets. Pleased with the result of the first several facilities upgrades, the transportation agency has decided to move forward with the remaining upgrades across their entire area using NVTP switches and Axis IP devices to get the job done right.
Featured white papers
5 Security Lessons For Navigating COVID-19
Download
Security Investments Retailers Should Consider For Their 2021 Budget
Download