Tony Yang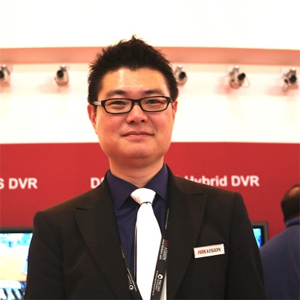 Tony Yang
General Manager Latin America,
Hikvision
Tony Yang is a General Manager at Hikvision Latin America. His skills include marketing communications, product marketing, market research, sales management, strategic planning and brand development etc.
News mentions
The agreement highlights WDC Networks' authorized position to sell Hikvision's full range of IP products in Brazil Hikvision, the world's leading supplier of video surveillance products and solutions, has announced the signing of a distribution agreement with WDC Networks, the largest specialist distributor of IP cameras and surveillance systems in the Brazilian Market. The Partnership Highlights The agreement highlights WDC Networks' authorized position to sell Hikvision's full range of IP products in Brazil. According to the executives of both companies, the partnership demonstrates the belief both companies share in the great potential for security businesses in the Brazilian market. "With the ever-increasing demand for much higher quality images, the market will continue to transit from analog to IP due to the higher resolution it offers. The inability of legacy analog systems to meet this need will see their replacement by IP systems in Brazil's small and medium businesses, such as retail stores, offices and small industries. Hikvision's complete offering of IP product lines with advanced technology and high quality at competitive prices, perfectly matches what WDC Networks needs." said Tony Yang, General Sales Director for Hikvision Latin America. "WDC Networks will be our key partner in reaching our goal of achieving market leadership in Brazil. With the expertise and experience they have already gained in this market, we are confident that we can penetrate small and medium businesses across the country," Yang continued. WDC Networks has always been a pioneer in distributing IP CCTV products in Brazil and the addition of the Hikvision brand will help expand its network of sales channels. "We know how to satisfy the needs of small installers and resellers, we have the logistics capacity and credit lines for them, but we lacked an IP camera brand with good reputation and price. Now, with Hikvision, we can expand our entry in this market." said Vanderlei Rigatieri - WDC Networks CEO. Complete IP Solution Both companies are dedicated to increase the number of specialized channels in 2015/16, and offering them an alternative technology choice, a strong brand, and a profitability guarantee. Looking forward, Hikvision and WDC Networks will provide channel companies with a complete solution, including IP cameras, network switches, Wi-Fi routers, servers and video recording system and management software. "Brazil has more than 5,600 municipalities and, through our sales to local Internet Providers, we already serve every one. Now, we want to provide local security companies with a reliable alternative. With Hikvision's state-of-the-art product technology, our business will definitely grow to a new level. We will work tirelessly to build Hikvision's brand in the Brazilian marketplace." Mr. Rigatieri commented.
Experts sections