Mumtaz Mukherjee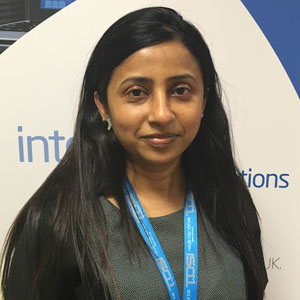 Mumtaz Mukherjee
Software Test Engineer,
TDSi
Mumtaz Mukherjee is the Software Test Engineer at TDSi.
News mentions
Rory and Mumtaz will be helping to develop next generation of software products Integrated security manufacturer TDSi is expanding its software development team with the appointment of Senior Front End Developer Rory Saxby and Software Test Engineer Mumtaz Mukherjee. Mike Sussman, Technical Director at TDSi commented, "Software has become a chief component within physical security systems, so TDSi invests heavily in this discipline. With our continued growth, both in the UK market and overseas, it is vital that our software development team has the capacity to meet customer demand. Both Rory and Mumtaz will be helping to develop our next generation of software products and I am delighted to welcome them to our expanding team." Rory To Help Structure New Products Rory Saxby joins TDSi as Senior Front End Developer from Redweb, where he was responsible for developing and building the front end on large-scale websites. Upon joining TDSi, Rory commented, "My new role allows me to take on more responsibility, helping structure and plan the build of new products. I have the freedom to be creative and continue to use the latest programming techniques, helping us to create new, innovative user experiences. The team at TDSi is great to work with and I look forward to assisting with the production of the highest quality software." Before joining TDSi, Mumtaz Mukherjee worked as a Software Test Analyst for Binisoft Technologies in London and joins the company as part of the Knowledge Transfer Network (KTN), in conjunction with Bournemouth University. In her new role, Mumtaz is responsible for testing the latest versions of TDSi's software products. Mumtaz To Work On Challenging Technology Projects Reflecting upon the move to TDSi, Mumtaz commented, "TDSi has a great reputation for technology innovation and my new role gives me lots of scope to learn new skills, such as LabVIEW FPGA visual programming. We have a very friendly and supportive team, which is particularly important to me as I have relocated from London to make the south coast my home. I am looking forward working on the challenging technology projects this new role presents me." Software is a key part of TDSi's offering and an essential part of the company's product roadmap. TDSi is continuously looking to advance its flagship fully integrated access control solution, which oversees an entire security network (including access control, CCTV and intrusion alarms) and presents all the information through a single portal. TDSi's in-house team have developed new features such as integration with lifts (to better manage people traffic around a busy facility) as well as a tenant event split option, integration with SimonsVoss wireless locking systems and a new web interface offering enhanced functionality for operators.
Experts sections